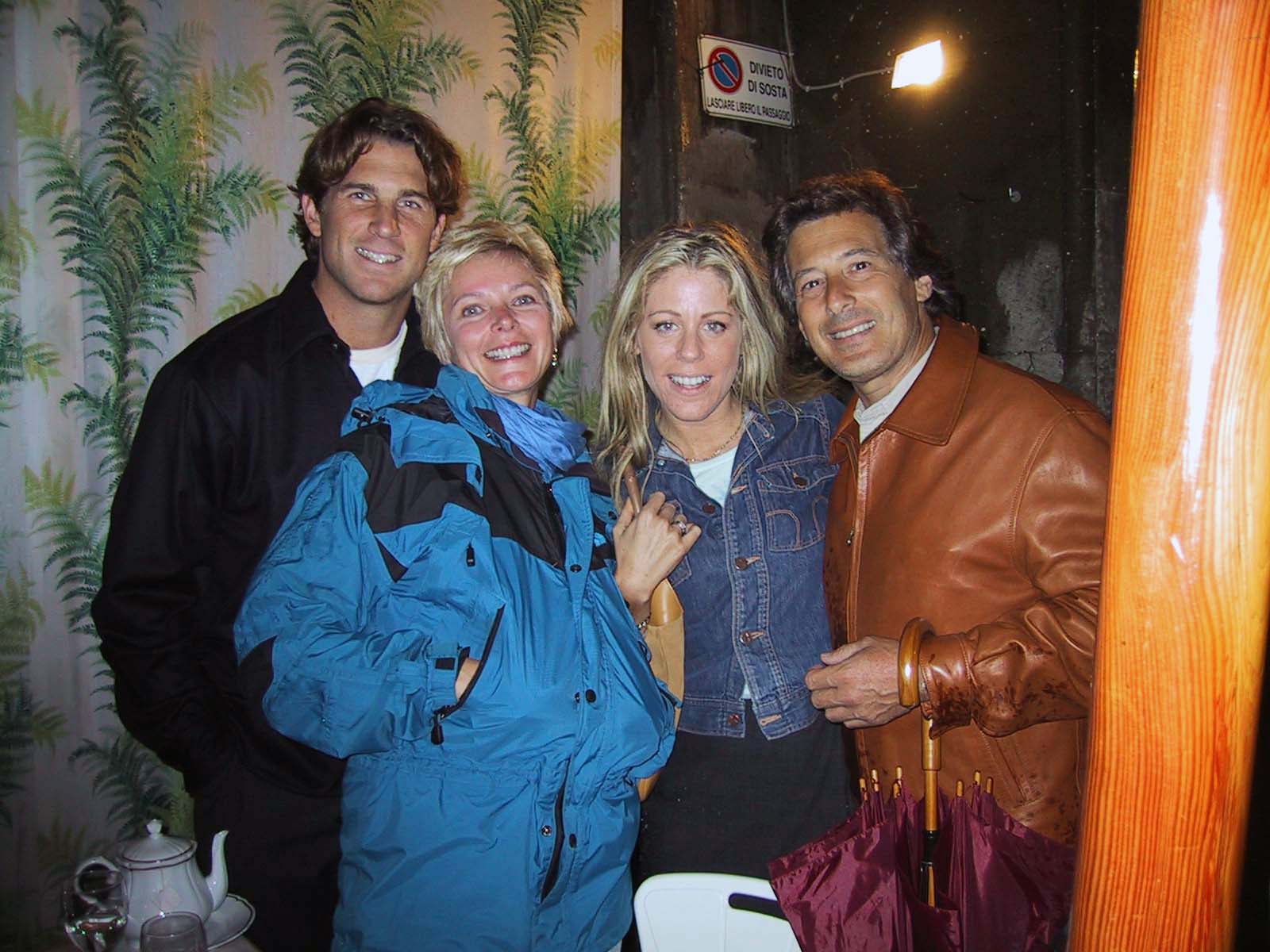 On a visit to the Vatican Museum, we were standing in line for tickets and a yound woman overheard us speaking her native language. "Excuse me", she asked. "Do you mind if I ask you a stupid question?
" "No question too stupid for me," I replied. "Good," she laughed and brought her voice to a whisper. "Is the Mona Lisa in this museum?" I laughed, hoping not to offend her and told her, "no it's in the Louvre in Paris, but it sure would be cool if it was here today."
From that moment we became good friends with Marci Klein and her new husband Scott Murphy. They had come to Rome for their honeymoon.
We toured the Vatican museum together, we got soaked in a long and wet dinner on the terrace of the Alla Rampa restaurant near the Spanish Steps and we've since visited them in New York where Marci is the talent producer for Saturday Night Live.
Actually, for many Italians, it wasn't a stupid question at all. There are many who feel the  painting was stolen from Italy by Napoleon and  it should be returned. It's the same sentiment that Greek holds for the return of the Elgin marbles or Egypt holds for the return of all ancient artifacts. We often read about stolen art returned to their rightful heirs from stolen paintings to small ancient statues but once the art achieves "international" status, it seems untouchable.
On Sunday, April 20, 1911, Vincenzo Peruggia, an Italian worker in the Louvre Museum, hid himself inside the museum after it closed. The next day, Monday, April 21st, he walked out of the museum with the Mona Lisa. His motive, so he said, was patriotism, to bring back to Italy what was rightfully Italian. Of course, he did try to make a small profit along the way from an art dealer in Florence.
Whatever his motives might have been, the Italian court was touched by his patriotic sentiment and Peruggia served only three months for his crime. The painting was returned to the Louvre.
The irony of the story is that in the 16th century, Leonardo Da Vinci gave "La Giocanda" (the Mona Lisa) to King Francis I when he moved to France to become the King's court painter in Amboise, France. The painting had been in France over 200 years before Napoleon was born. By the way, Leonardo's home in Amboise, the "Clos Luce" has been transformed into a wonderful museum dedicated to the creations of Da Vinci. It's a wonderful visit.
Post script 2012
A lot has happened since November 2, 2000.
Marci has since become the Emmy winning producer of 30 Rock and the mother of two sons. We haven't seen her in a few years. Gretchen read somewhere that she and Scott recently split. It happens. But no matter, we'll always remember the laughs we had on that rainy November in 2000.