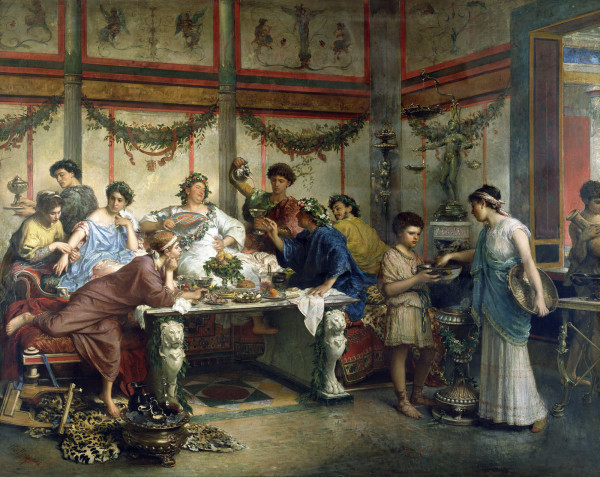 For a foodie or gourmet or buongustaio, Italy offers a number of 3 star Michelin Restaurants. You could spend €220/per person for the 9 course tasting menu at 'La Pergola' in Rome, or €250 for the 9 course tasting menu at 'Enoteca Pinchiorri' in Florence or €195/person for the Sensations menu at the Osteria Francescana in Modena. Add another €150 per person to all of these if you want wine pairing. By the time you walk (or roll) out of the restaurant, you'll be a few kilo heavier and at least €500-€600 lighter.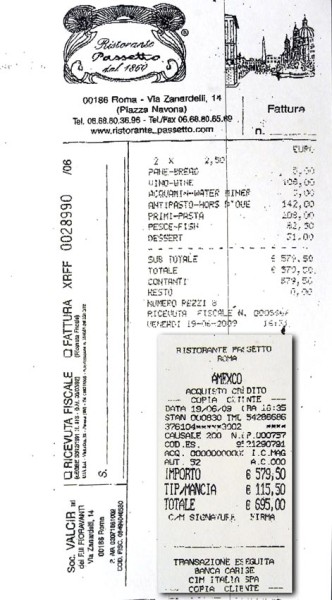 However, you could go to a no star restaurant and end up paying the same amount. It can definitely leave a bad taste in your mouth.
In 2009, a Japanese couple paid 695€ for dinner at 'Il Passetto' in Rome. Il Passetto has been around since 1863 and during the 1930's, 40's and 50's it was a popular haunt of International celebs like Charlie Chaplin, Ava Gardner and Grace Kelley. It's reputation in 2009 was quite different.
The Japanese tourists ate 12 oysters, 4.5 pounds of lobster, 3.3 pounds of sea bass and a bottle of wine. The bill came to 579.50€. The restaurant (adding insult to injury) included another 115.50€ as a tip, bringing the bill to 695€.
A few days later Il Passetto was shut down, allegedly for health reasons although there are many who think it was an investigation in the 'fleecing of tourists'. Il Passetto has since reopened.
In most (high quality) seafood restaurants in Rome you can get an excellent meal for about €60/per person (not including wine). With a good bottle of wine you're looking around €200.
Ordering by weight.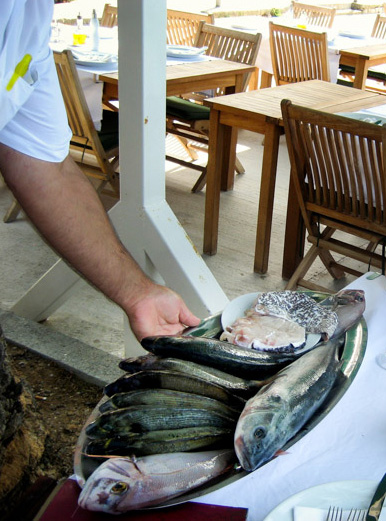 In defense of Il Passetto's meal prices, at an expensive seafood restaurant, fresh lobster can easily sell for up to €15/per 'etto' (100 grams).
Tourists can get confused when buying fish and crustaceans by the 'etto' (100 gram). A kilogram (1000 grams) is equal to 2.2 pounds; 455 grams is equal to 1 pound.
The average size restaurant serving is between ½ – ¾ of a pound (250-350 grams) but remember, the gross weight of the fish includes the head, tail and bones and/or shell. In order to get your ½ to ¾ pound, you'll have to buy a 1½ pound lobster.
In many seafood restaurants, the waiter will bring a fish or crustacean to your table. It looks very fresh and you get that warm anticipation of a great meal to come. However, you forgot one thing. You forgot to ask the weight.
Just ask the waiter to weigh the fish and let you know how much it will be. You could also tell the waiter you would like one or two servings of 300 grams (3 etti) each and ask him to make sure the fish weighs less than 1 kilo. They are usually happy to oblige.
Many restaurants also offer steak by the etto (100 grams). It is easier to order the steak because they can cut the amount to order.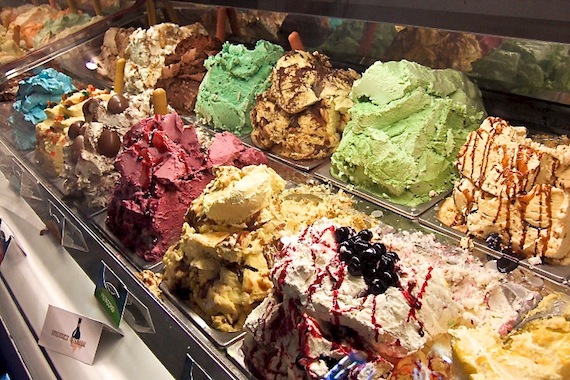 We got distracted by the mountain of gelato and never saw the price.
In May 2013, four British tourists paid 54€ for 4 large waffle cones of gelato at the Gelateria Antica Roma near the Spanish Steps.
This story became an internet sensation. In order to cleanse the palate of bad tourist publicity, then Mayor of Rome, Gianni Alemanno, invited the British tourists to return for a personal tour of the city and, of course, free gelato. Unfortunately he didn't offer to pay the cost of their flights or hotel rooms.
The proprietor of Gelateria Antica Roma responded to 'The Telegraph' (the UK paper that first published the story) and explained that all the prices were all marked. They should have looked before they bought. He went on to explain that the British tourists could have ordered a smaller cone but instead they opted for the large waffle cone with over ½ kilo of gelato inside. The owner further explained they offer a 25€ choice but the British tourists ordered the less expensive16€ choice. I don't think this one helped his case.
In 2014, an American couple called in the police after paying 13€ each for gelato at the Bar il Caffé near the Trevi Fountain. If they looked at the Tripadvisor rating for 'Bar Il Caffé' beforehand they would have read over 90% of the reviews were terrible. In fact, 'Bar Il Caffé' has the dubious distinction of being the worst rated eatery in all of the 8,000 or so places to eat in Rome.
Gelato is a wonderful treat for any time of day but a single serving should not cost more than €5, and that's a large serving. Buying a tub of Gelato to bring to a party is a different story.
Look at the menu board before ordering. Most Gelato shops will charge around €2-€3 euros for a small cone (cono) or cup (copetta), €3-€4 for a medium and €4-€5 for a large. A small serving is 1-2 scoops, a medium is 3 scoops and a large is usually 4 scoops.
If you see €10 or even €16 for a serving, you might want to move on to another place.
Beware of signs that read 'Artigianale' and large puffy clouds of colorful whipped ice cream overflowing the tubs. Yes, it looks fabulous but the reason the gelato is so big and puffy is because it's been whipped full of air, which is mostly what you'll be paying for. You'll also notice these puffy flavors are yellowy yellow or candy red or vibrant green. These aren't the food colors, they're food coloring.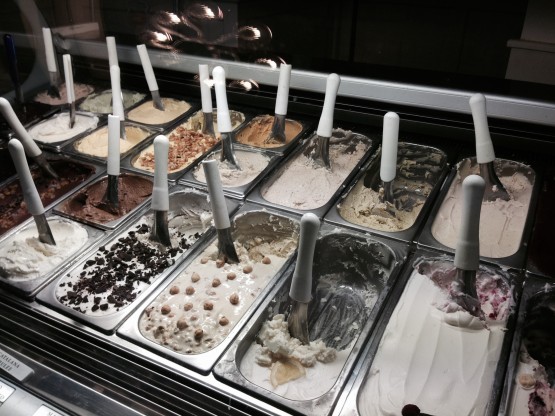 Look for the dense frozen cream that sits flat in the tub. Some of the newer gelato houses have replaced the traditional tub with a metal canister and lid that keeps the flavor and the temperature much longer. Gelato is made fresh every morning and is not expected to last more than the day. Look for the seasonal flavors and try the unusual selections made with wine or ricotta or basil or fennel and caramelized nuts. Your taste buds will thank you.
Every city has favorites. Rome is the city I know the best and my personal favorites include Gelateria del Teatro near Piazza Navona, Fatamorgana in the Monti, Carapina in Campo dei Fiori and Fior di Luna in the Trastevere.
A good Rome gelato guide is from Katie Parla .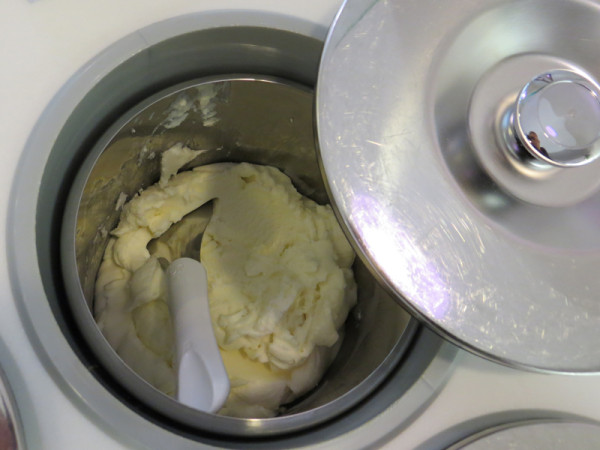 Florence is the birthplace of gelato, invented by the Florentine Renaissance artist, Bernardo Buontalenti in 1532 for a dinner party given by Duke Cosmo I Medici of Florence.
Florentines will still boast as the city that gave the world gelato and there are quite a few good shops to choose, from the old traditional favorites like Vivoli near Santa Croce or Perché No! near the Piazza della Repubblica to the more contemporary La Carraia near the Ponte Vecchio or Carapina near the Uffizi Gallery or even Grom, one of the newer handmade chains that is creeping up in every city in Italy.
Every city and town has a Gelateria to die for. Whether it's Alberto Marchetti in Turin or the Gelateria Alaska in Venice or Il Massimo del Gelato in Milan, just ask around. Italians are more than happy to share their favorite Gelateria.
Look at the menu. It will tell you a lot more than the food prices.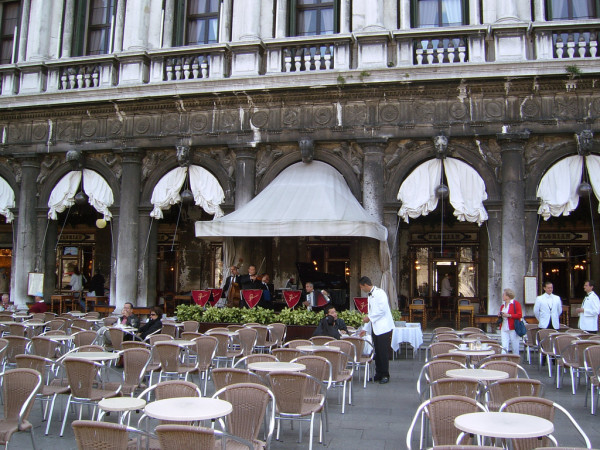 In (2013) some Italian tourists complained when they were charged 100€ to sit at a table at Caffé Florian overlooking the Piazza San Marco. They enjoyed 4 coffees with liquor as a string orchestra entertained them from a small bandstand.
The cost of €100 for 4 coffee drinks sound like robbery but it was all explained on the menu. The coffee drinks were €15/each and there was a supplemental charge of €10/each for the string orchestra.
Granted €15 for the coffee drinks is expensive but they were sitting in the most wonderful seat in Venice with the best show unraveling in front of them.
Caffé Florian is one of the places where you know you'll pay more to sit there. Why? Because it says so on the menu. It also lists the surcharge for music because the Caffé wants to make sure the musicians make a decent wage for their talent, something all my musician friends would appreciate.
You pretty much know when you sit down at Tre Scalini in Piazza Navona, Rome, or Caffé Concerto Paskowski in Piazza della Repubblica, Florence, or Caffé Florian in Piazza San Marco,Venice, you will be paying premium prices for food, drink and entertainment.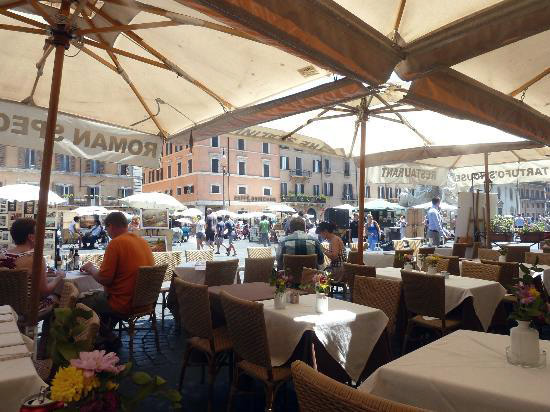 If it's a beautiful day and the Piazza is filled with activity, consider the extra charge an entertainment cost.
By the way, the €15 cocktail does usually comes with a variety of chips, olives, nuts or cheese.
If you want a good meal that doesn't include the 'chi chi' of the grand Piazza, walk a couple of blocks away. Look for places where the locals eat. Get some suggestions from internet sites like yelp.com, chowhound.com, slowtravel.com or tripadvisor.com.
The rule here is when you are ordering food in a foreign country look for what else you'll be charged for.
The more expensive and well known places are very good about advertising their costs.
You need to pay more attention to the lesser well known places .
Pay attention instead of paying extra costs.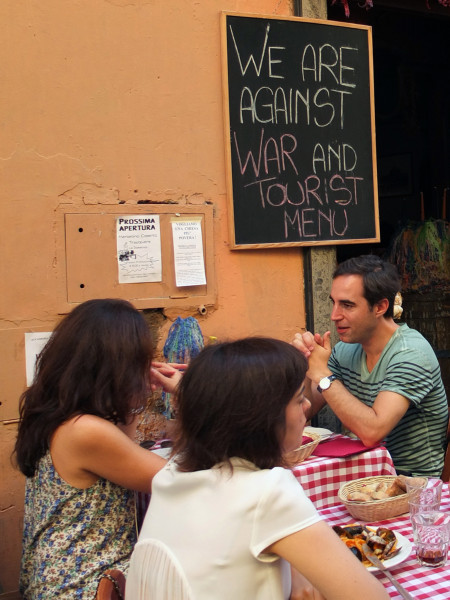 Tourist restaurants are a different lot than the fine restaurants that cater to tourists. Tourist restaurants offer 'a la carte' but they also offer a fixed price (prezzo fisso) for anywhere from €5 for a sandwich (panino) and drink to €10 for a 3 course meal with wine. It's not a bad deal. You will be satiated but it probably won't be the best dining experience you'll have.
Tourist restaurants for the most part are honest. The food and service is OK. You just have to be a little more aware of the little extra charges. If they offer a daily special with fresh seasonal choices, you've found a good place.
The following list is for those annoying restaurants that charge more money to tourists and offer less.
If they hand you the 'English menu' and you think the prices are high, ask for the Italian menu by saying 'Posso avere il menu Italiano' (poh so ahveray il menu Etaliano?) Check to see if the locals are paying the same price.
The charge for 'Coperto e Pane' (bread and cover charge)
The 'coperto' (cover charge) has been outlawed in Rome (and a few other places in Italy) since 2006, but many tourist restaurants still add €1.5 -3€ euros to your bill.
It is usually the first item listed as something like 'coperto e pane' (cover and bread). Even if you don't want the bread, you'll pay for it.
Look at the menu. It'll most likely be in small print at the top or bottom of the menu card, sometimes on the back page. If the menu has no language about charging for 'coperto e pane', you are not obligated to pay it. Protest. Just say to them "non è scritto sul menu" (no nay scree toe sool menu). They'll back down.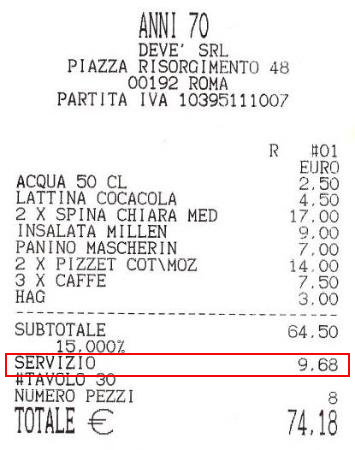 The 'Servizio' (service charge)
Some restaurants will also include a 10%-15% 'servizio' (service) charge for silverware, tablecloths and waiters. Once again, look at the menu. If you don't see it listed you should not be obligated to pay for it.
The free antipasto.
Many restaurants will offer you lots of welcome gifts; free glass of Prosecco when you sit down, free antipasto (amuse bouche) to whet your appetite and free chocolates or cookies at the end of the meal. This happens in expensive and not so expensive eateries.
That being said, there is occasionally the bait and switch' where the waiter will bring an antipasto to the table and then you find it on the bill at the end of the meal.
You'll most likely think they are giving you something for free. In some restaurants they are. However, in some tourist places, you'll see it added to your bill at the end of the meal. If you're not sure, just ask 'quanto costa?' (how much does it cost?) or è gratis? (is it for free?).
I'd like to add that in many restaurants if you ask for a plate of pasta to share for two people, they'll just give you two portions and only charge for one.
Getting the little extras for free at an Italian restaurant is actually more common than paying for them when the bill comes but then, it all depends on where you dine.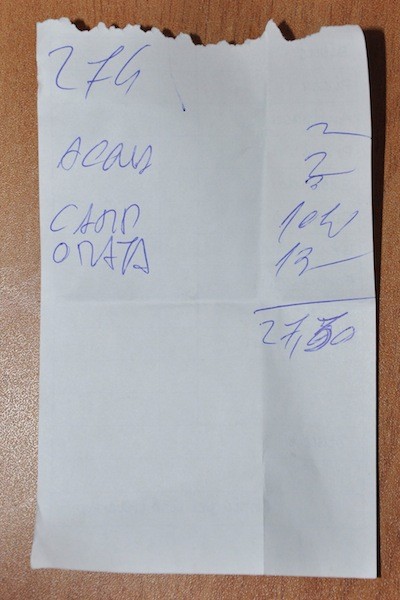 The hand written bill
If you receive the bill as a piece of paper with a total sum on it you could be overcharged.
Some tourist traps will just create a number and hand it to you. You'll have no idea if a coperto or servizio was added.
If this happens, just ask for the detailed bill, 'il conto lungho' or 'il conto dettegliato' (det tay liato).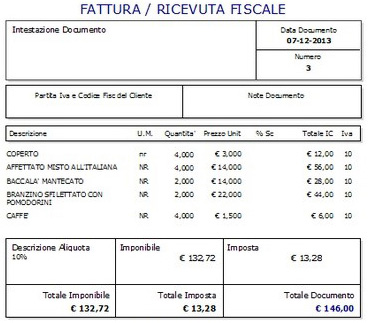 By law the restaurant is supposed to provide you with a detailed version of the bill known as the 'Ricevuto Fiscale' . It's an itemized bill with the tax structure to prove they are paying proper taxes. If a policeman from the Guadia di Finanza spots you leaving a restaurant (or commercial shop) and asks to see your receipt you better have it with you. If not, both you and the restaurant could be culpable for fines.
The Plastic menu
Look at the menu and see if things are seasonal. A good restaurant will add a page of the specials of the day. If all you see is a plastic menu, they don't change their offerings. Everything is probably premade or possibly made elsewhere. Many restaurants these days buy precooked items from food services.
The Hook
Avoid restaurants where (very persistent) people grab you off the sidewalk and try to put you at one of their tables. At some places they'll have 2-3 people trying to sit you down at a table. They can be very persistent and annoying.
The Happy Chef
Do not eat at any place that has a Happy Chef statue welcoming you to the restaurant. It's just bad taste.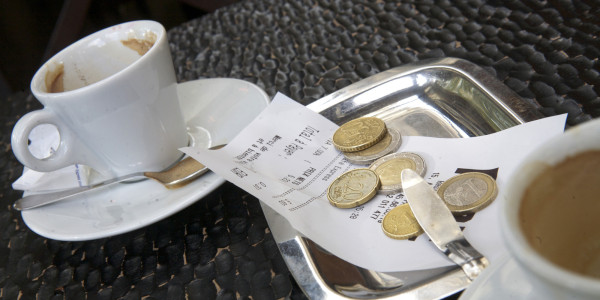 TIPPING – La mancia 
Italians rarely leave a tip, not at restaurants, not at coffee bars, not in taxis.
In fact, Italians tend to get angry when Americans give 20% tips at their favorite restaurants, lamenting 'they're ruining it for Italians'.
Recently in Rome, I've seen local Romani put a small coin on their order receipt at the bar of a coffee shop to get the barrista's attention. They already pre-paid for the coffee at the register, but they feel they're being forced into the practice of offering a tip just to get the barrista to wait on them.
A tip is a voluntary gratuity. It should be given if you enjoyed the meal or the service. Unfortunately, in America it has become a requirement. How many times have you heard, "the food and service was so bad, I only left a 10% tip."
In Italy, 10% is considered very good tip.
Tipping in Italy is different than in the US. First of all, most waiters in Italy are professionals. They don't rely on tips for their earnings. They have health insurance, they get paid vacations and they make decent wages.
Granted, the Coperto e Pane charge might be illegal but it is a custom that's hard to remove. The Servizio has also been around for a long time.
There are some who consider these extra charges as part of the tip however, paying the coperto and servizio is not giving a tip to your waiter. The charges are taken by the house.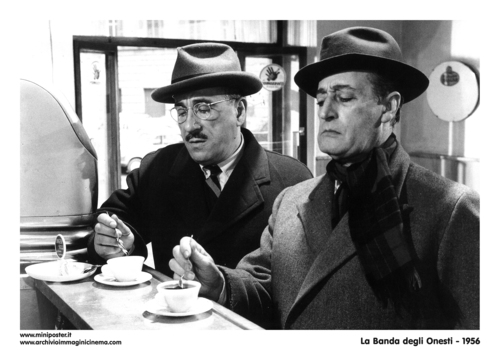 COFFEE – The Bar or The Table
There is no better way to pass the time away in Italy than at a caffé sipping a cup of delicious Italian coffee and watching the people go by.
However, in Italy, you not only pay for the coffee, you also pay for the table.
Locals and regulars alike who visit a caffé for a quick 'pick me up' will first go to the cash register pay for their coffee (usually €1-€2), get their receipt (scontrino) and then sit at the bar (al banco) and wait for the barrista to take the scontrino and fill their order.
If you want to sit at an outdoor table you say 'al tavolo' to the person at the cash register and you'll pay €2-€3 euros more.
Some people get annoyed at this custom but it's really not much to pay for the table service. Consider it a 'sevizio'.
The charge for table service depends on the café. Some of them will have you pay at the cash register, some of them will give you a bill at your table.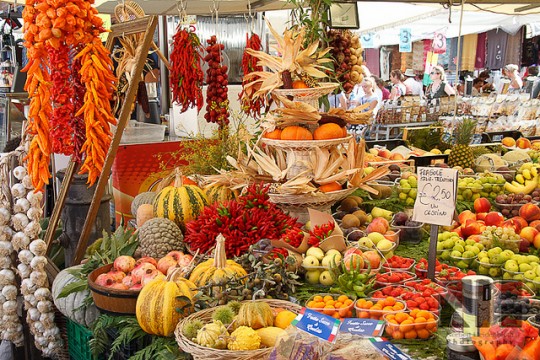 At the market, don't squeeze, ask
One of the wonderful traditions in Italy are the fresh vegetable markets, similar to the Farmer's market in the US.
Some cities have Covered markets, some have outdoor markets. Some have meat and fish booths. The Rialto food markets in Venice have an amazing fish market. The Mercato Centrale in Florence has recently opened up a food court in the upper floor. The Campo dei Fiori market in Rome sells everything from food to clothing to gifts.
The one thing to always remember is "DO NOT TOUCH'. Don't squeeze the fruit, don't fondle the melons, don't taste the grapes. The fruit and veggie vendor will attend to you right away.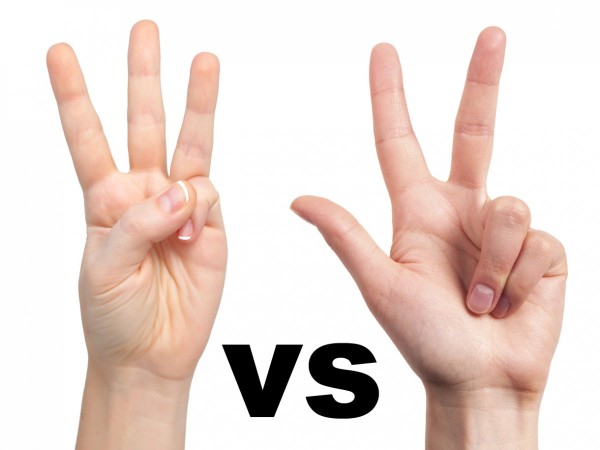 If you want one piece of fruit point your thumb up (not your index finger)
If you want 2 pieces use the thumb and the index finger.
If you want 3 pieces use the thumb, index and middle fingers.
If you want food to eat right away, just say 'per mangiare subito' or to eat right away.
If you want something that will last a few days, just say 'per mangiare dopo domani' or to each the day after tomorrow.
The concern here is not just that innocents bruise the product and then leave them behind, it's a matter of hygiene.
Even in the Supermercati (supermarkets) you'll be asked to put on disposable gloves to select your food.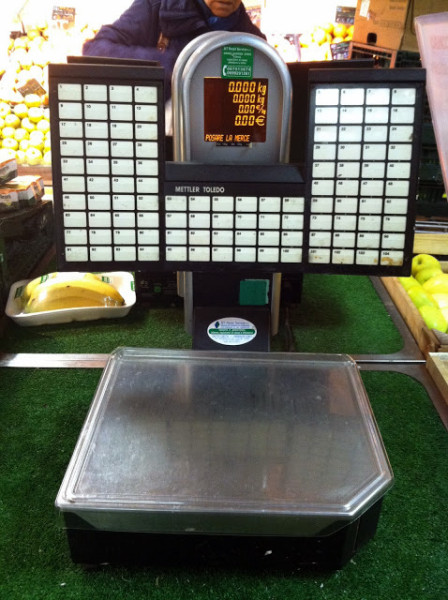 Italian supermarkets have a wonderful system for weighing your produce. In most cases there is a number on the sign that tells you how much the item costs (by the kilo). Put the items you want into a plastic bag, go to the produce scale, put the item on the scale and press the corresponding number on the keypad. The scale will give you a label (etichetta) to stick onto the plastic bag. In some supermercati the scale will have photos of the produce instead of numbers.
All other items at the Supermercato are similar to your shopping experience at home. Just remember that 1 kilo is 2.2 pounds (455 grams = 1 pound).
Mangia Bene.