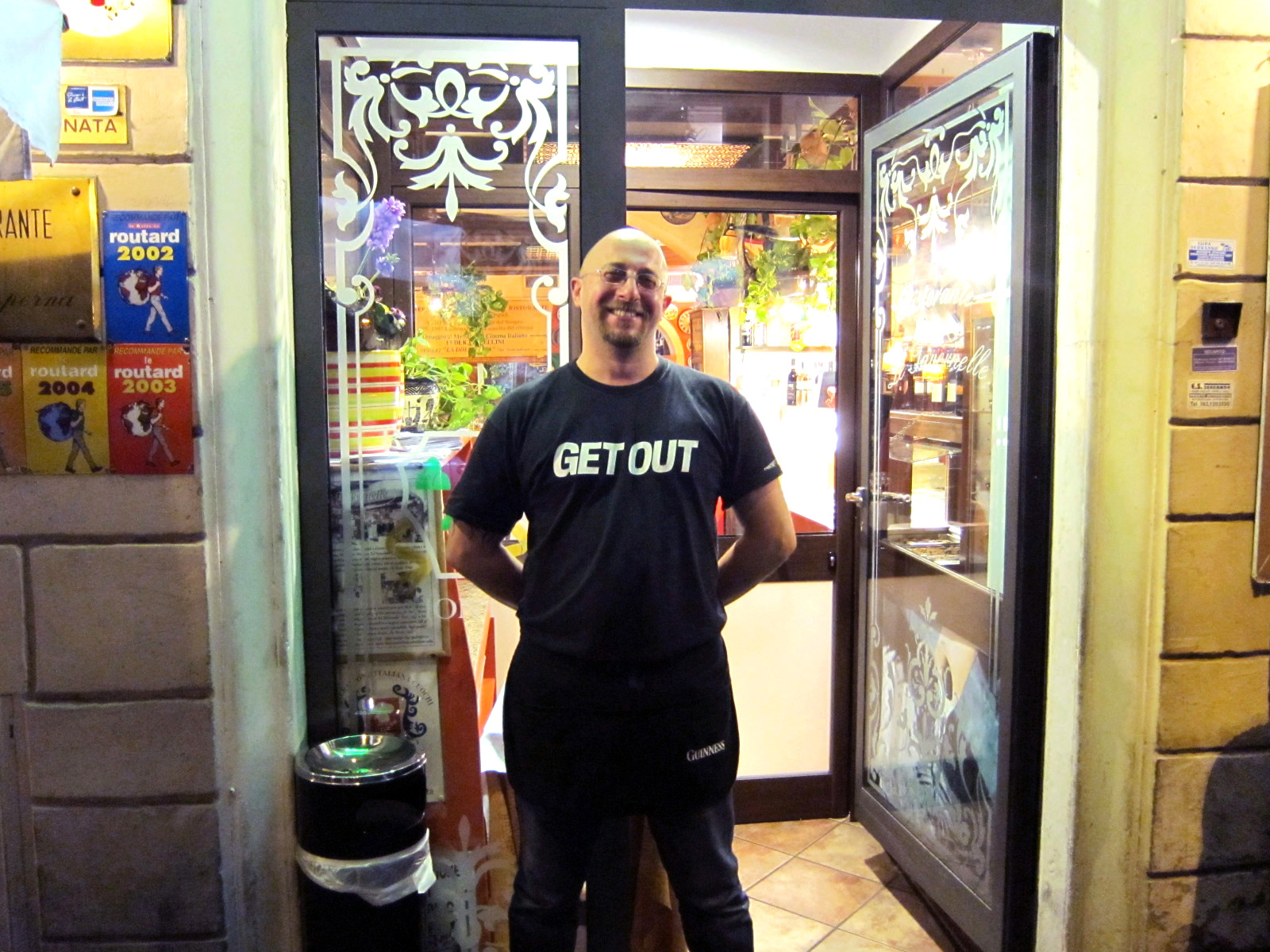 It's difficult to imagine Italian food without tomatoes but prior the late 15th century they didn't exist in Italy. They didn't exist anywhere in Europe. The greatest treasure of the voyage of Columbus wasn't in gold, it was in tomatoes, corn, potatoes, chocolate, vanilla, peppers and chili peppers. The Italian kitchen changed a lot after the 15th century.
Italian Cucina is mostly a traditional style of cooking. Some recipes go back to the 15th century but most of them are more recent. In the 1970's Gaultiero Marchesi started the new school of Italian cooking and since the 1980's many new trendy Michelin star eateries have been successful throughout the country.
Rome does have the 3 Michelin star La Pergola if you're eager for a very expensive 3 star Michelin meal. You can also get an excellent Nuova Cucina at Glass Hostaria, Il Pagliaccio, Antico Arco or La Rosetta. There are countless websites directing you to the most popular eateries in the city and many of them are worth the visit. We keep a list of our own favorites in the travel tips section here on the website.
Wherever you go, look for the traditional Roman foods. You might eat them in other places around the world, but they will never be as good as they are here in Rome.
Antipasti – Appetizers
Bruschetta (brusketta) is 15th century Roman dialect for burnt. Bruschetta is not just preserving a 15th century antipasto, it's also keeping alive an old dialect, one word at a time. In most Roman restaurants and Osterie you'll find them topped with either oil and rubbed garlic, chopped tomatoes and basil and chopped chicken livers.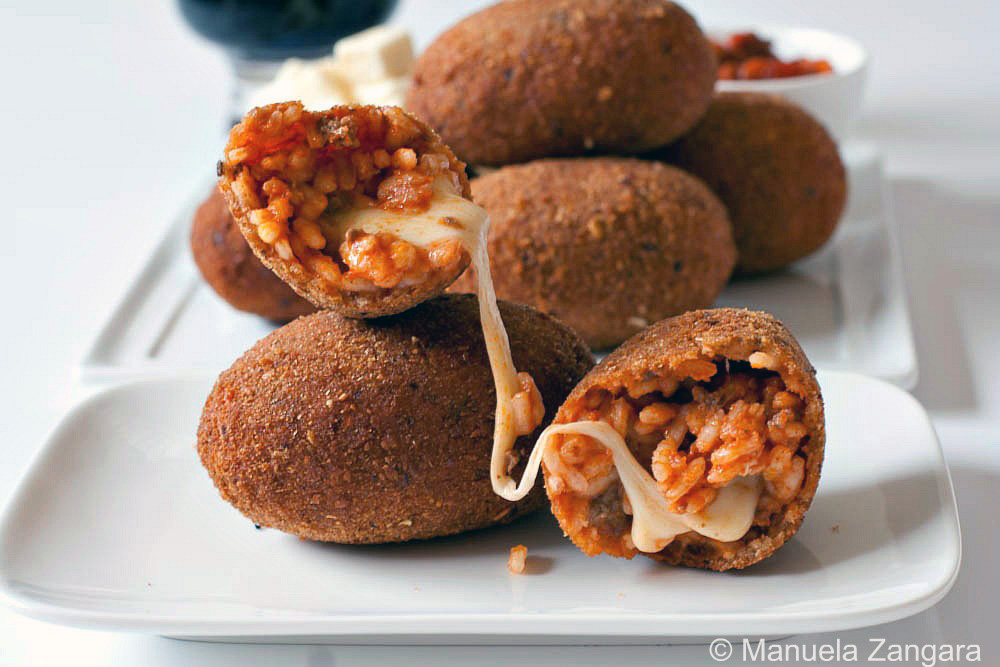 Supplì are the best of the Italian table snacks. You can find them at any Pizzeria. These small elongated fried risotto croquettes are stuffed with mozzarella cheese and meat ragù. Some people compare them to Sicilian Arancini but Supplì are smaller and have a thicker crust.
The name is a corruption of the French word for surprise. The original name is Supplì al telefono. According to the traditional way of eating them, when you break the Supplì in half, the melted mozzarella pulls apart like a stringy wire and the two pieces resemble the two ends of a telephone.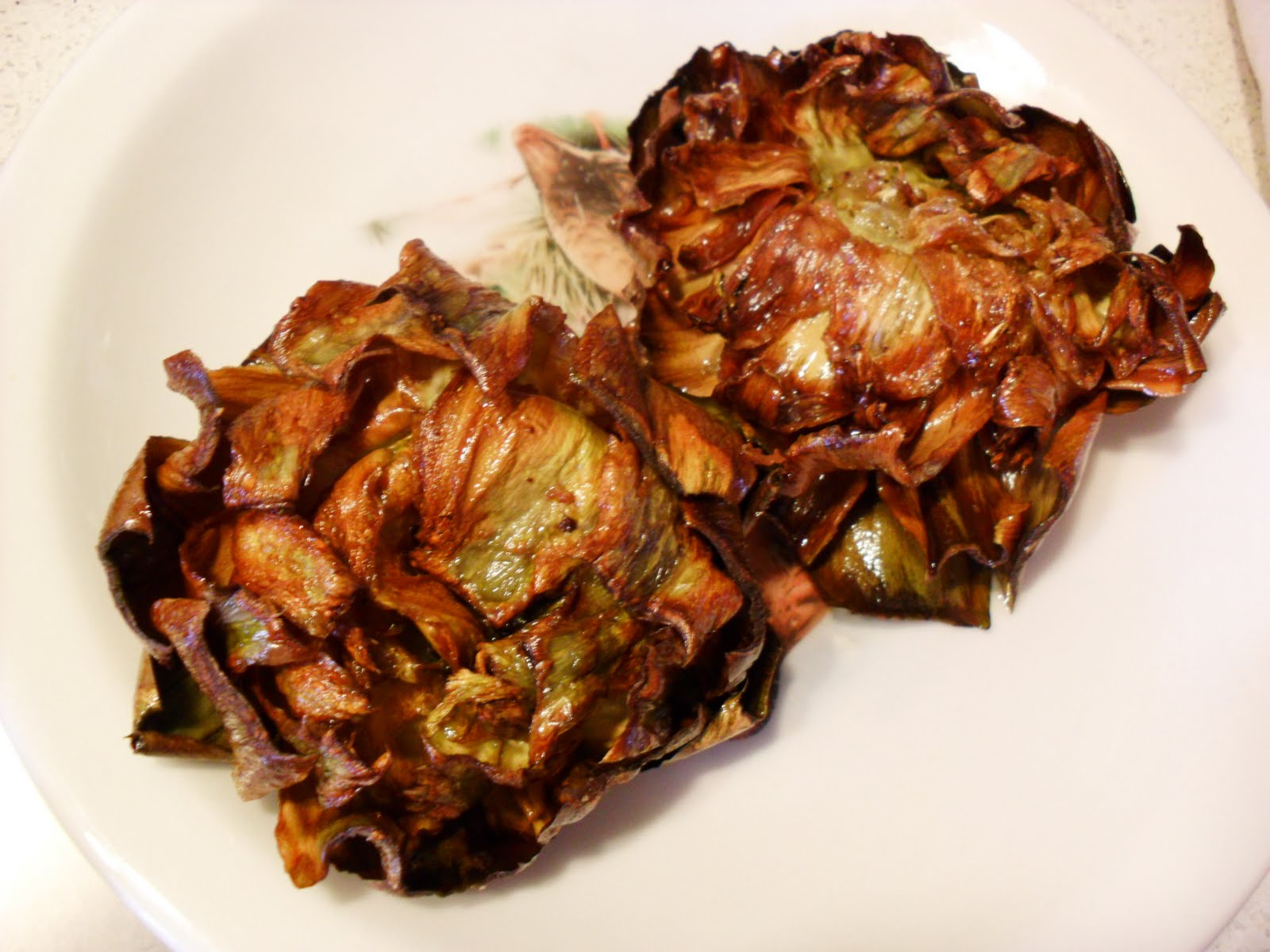 Carciofi all giudia (Jewish style artichokes) were popularized in the Jewish Ghetto of Rome. They are young artichokes flattened and fried in olive oil, sometimes with hot pepper sometimes with garlic. The are seasonal and only available in spring and summer. Carciofi or the family of Cynara plant was known to the ancient Romans as an aphrodisiac.
40% of the world's artichoke production comes from Italy. To put that into perspective, the US produces 3% of the world's artichokes, most of it from Castroville California where in 1949, Marilyn Monroe became the first Queen of the Artichoke Festival.
Another favorite antipasto of the Jewish Ghetto is the Fritto di Fiori di Zucca, a four coated, deep fried zucchini flower stuffed with mozzarella and anchovies, and occasionally parsley. There are many other version of the fried zucchini flower throughout Italy, but the Romans will always tell you it originated here in Rome.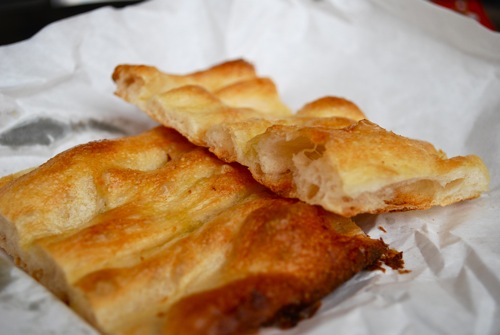 Pizza Bianca is a Roman specialty. Some might compare it to focaccia but it's actually more like Neapolitan pizza, about ½" thick of chewy dough with a crisp top crust covered in olive oil and salt, and occasionally rosemary.  For my money, the best Piazza Bianca is at the Roscioli Bakery off via Giubbonari in the Campo dei Fiori area.
Prima – First Course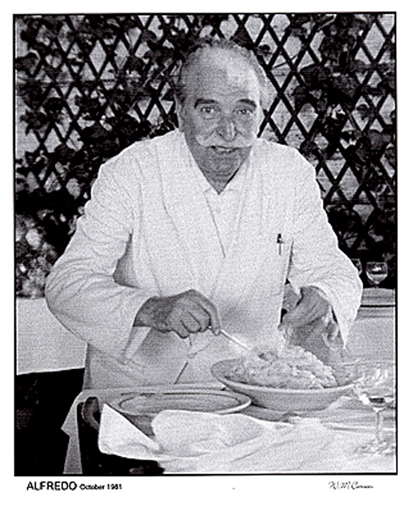 Fettuccine Alfredo might be considered by some to be Rome's most famous Roman pasta, but aside from the tourist traps, it really doesn't exist, at least by the name Fettuccine Alfredo. In 1914, chef Alfredo di Lelio made a dish of Fettuccine pasta with butter, and parmesan cheese for his pregnant wife. She liked it so much he decided to include it on the menu of his restaurant Alfredo alla Scrofa. He called it Fettuccine Al Burro.
In 1920, while on their honeymoon in Rome, Mary Pickford and Douglas Fairbanks ate the Fettuccine al burro at Alfredo's and brought the simple pasta recipe back to American, calling it the Fettuccine from Alfredo's.
In Rome it's still called Fettuccine al Burro or Dopo Burro, although the name became so famous that these days some places will call it Fettuccine all'Alfredo. You can get Fettuccine Alfredo at Alfredo alla Scrofa. Yes, the restaurant that originated the dish is still open, although Alfredo sold it to two of his waiters in 1946. It's more of a tourist place these days.
For the real dish go to Ristorante Il Vero Alfredo  in Piazza Augusto Imperatore, near the Ara Pacis Museum. It's owned by Alfredo III, the grandson of Alfredo di Lelio.
Bucatini alla Amatriciana originated in the 18th century in the small town of Amatrice, about 140km north east of Rome. It is a hearty sauce of tomatoes, guanciale (pork cheeks), pecorino Romano and garlic. Garlic is an approved ingredient, Onions are not. The pasta, Bucatini, is similar to spaghetti, but thicker.
The dish became the staple of Inns on the road to and from Rome. In fact, the word "Matriciana" was synonymous with Inn catering. It's been a staple of the Roman table since the beginning of the 19th century.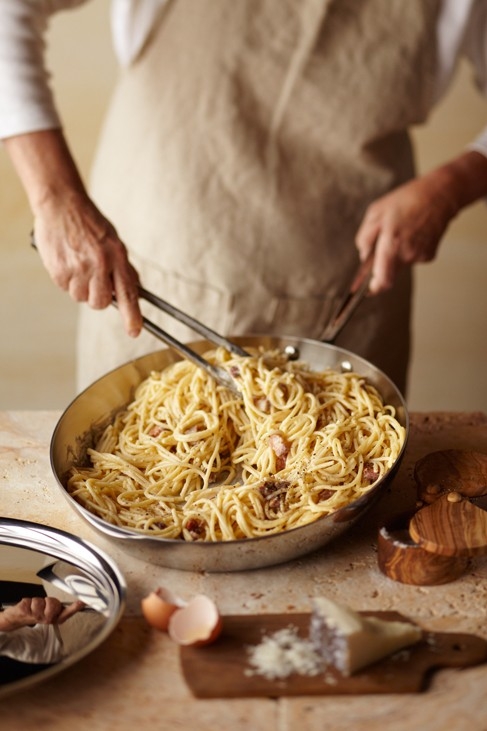 There are those who will tell you that Spaghetti alla Carbonara was a dish made for the Carbonari, the secret revolutionary societies of the early 19th century who paved the way for the Italian Unification. Although it sounds plausible, it's probably not the real explanation.
The most likely story is that when the American GIs occupied Rome after the end of World War II, they gave a lot of their rationed supply of powdered eggs and bacon to the Roman citizens who mixed the eggs with pecorino romana cheese, added the bacon and served it over spaghetti. Due to the fact that coal (carbone) was the abundant source of heating and cooking, the pasta was alla Carbonara.
The original recipe of powdered eggs and bacon changed over the years and now the classic dish is made with fresh eggs, guanciale (pork cheeks) and pecorino romana. For those of you who are not familiar with guanciale, its very much like bacon only a thousand times tastier.
By the way, although Pecorino Romana is used in many traditional Roman dishes, the cheese it really not from Rome. More than 90% of the production comes from Sardinia.
To me, the all time classic Roman pasta is Spaghetti con cacio e pepe. Its another of the simple pastas with pecorino romano, pepper and butter. Its kind of the equivalent of Mac and Cheese to the Romani. Cacio is another word for cheese in Italian. If you add guanciale to the mix you'll have another Roman classic known as Pasta alla Gricia.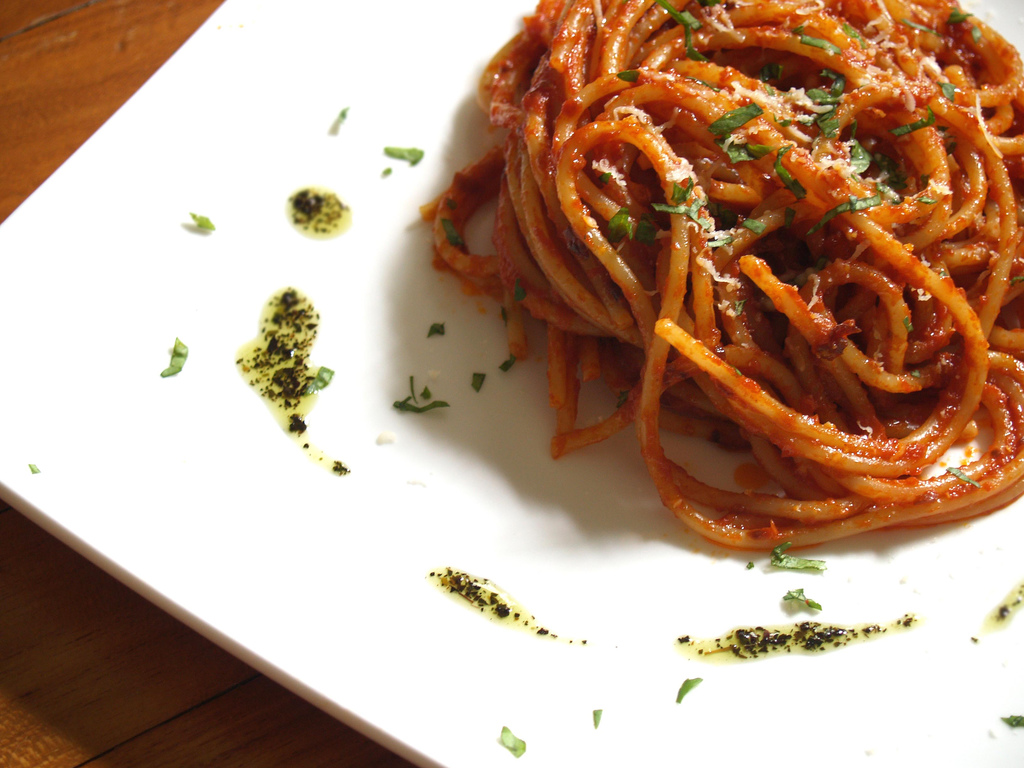 Pasta all'arrabbiata or Penne all'arrabbiata is a pasta with a spicy bite. Arrabbiata means angry. There is a Roman expression that pasta all'arrabbiata is like a woman scorned. The sauce is a mixture of tomatoes, onions and red chili peppers. The heat varies from location to location depending on the amount of chili peppers. I've had some versions that really do turn your face red.
Gnocchi Romana – these gnocchi are made with flour instead of potato like up north. Its usually only served on Thursdays which is why its also known as Gnocchi Giovedi (Thursday Gnocchi) and follows the traditional Roman menu of Gnocchi on Thursday, Fish on Friday and Tripe on Saturday.
Secondi – Main course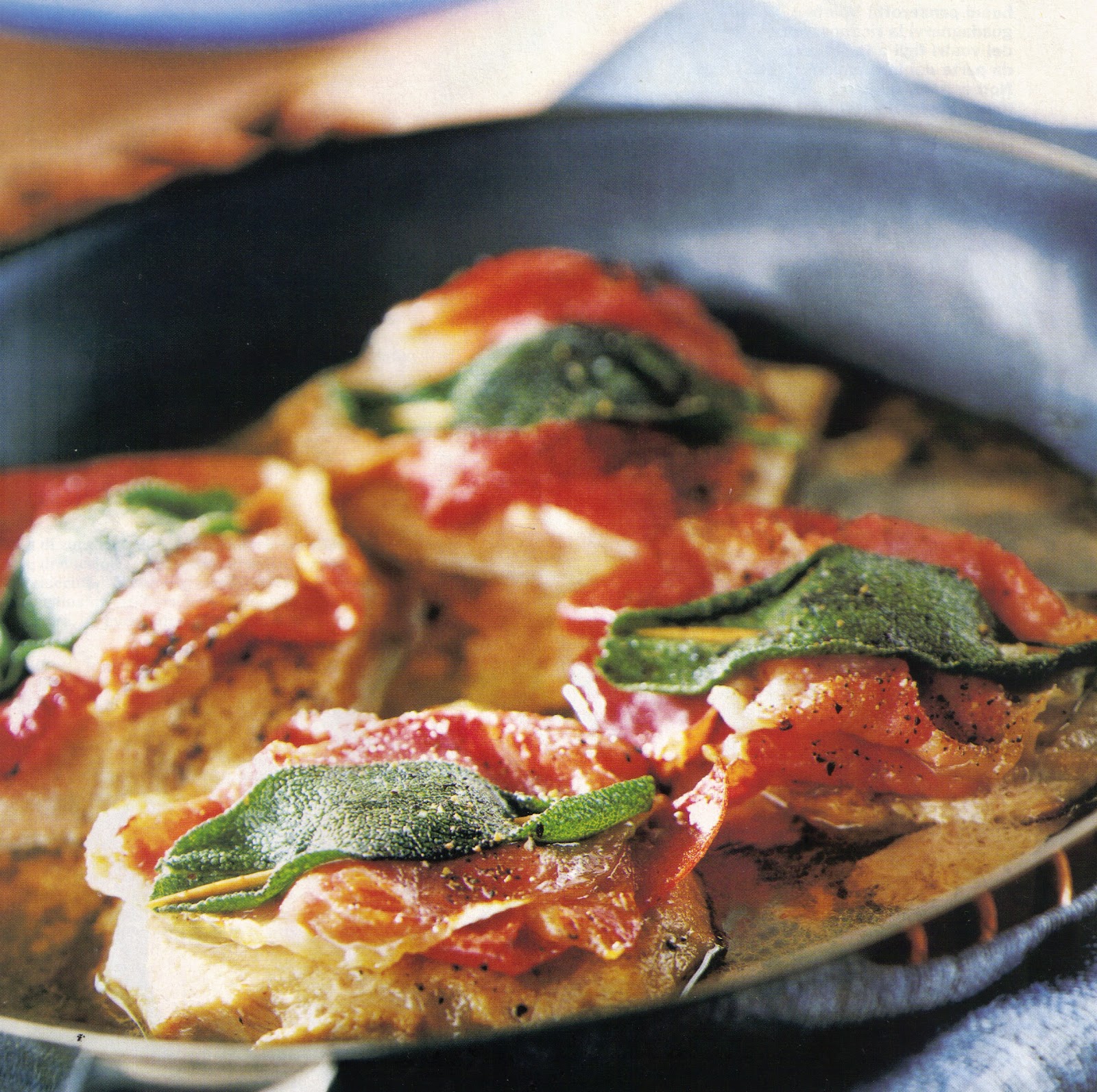 Saltimbocca which literally translates to "jump in the mouth" is a dish of pounded veal cutlets (very thin) or veal scaloppini topped with prosciutto and sage, drenched in flour and cooked in butter and wine. The northern Italians say dish originally came from Brescia but according to the Romani, it was created in Rome in the late 19th century.
Quinto Quarto and the Cucina Povera.
As the story goes that the vaccinari (cow butchers) were often paid with organ meats and other parts of the cow the wealthy class would not eat; the tail, head, heart, liver, pancreas, tongue, thymus, spleen, intestines, tripe, brains and feet. These items became known as the Quinto Quarto, the Fifth Quarter of the cow.
The vaccinari learned how to cook these parts slowly with wine, vegetables and spices. Offal meats are one of the staples of the Cucina Povera and a favorite of the Roman menu.
Coda alla Vaccinara is the most popular of the Quinto Quarto offerings. The oxtail slow cooked for about 2hrs with vegetables, red wine, garlic and lots of spices.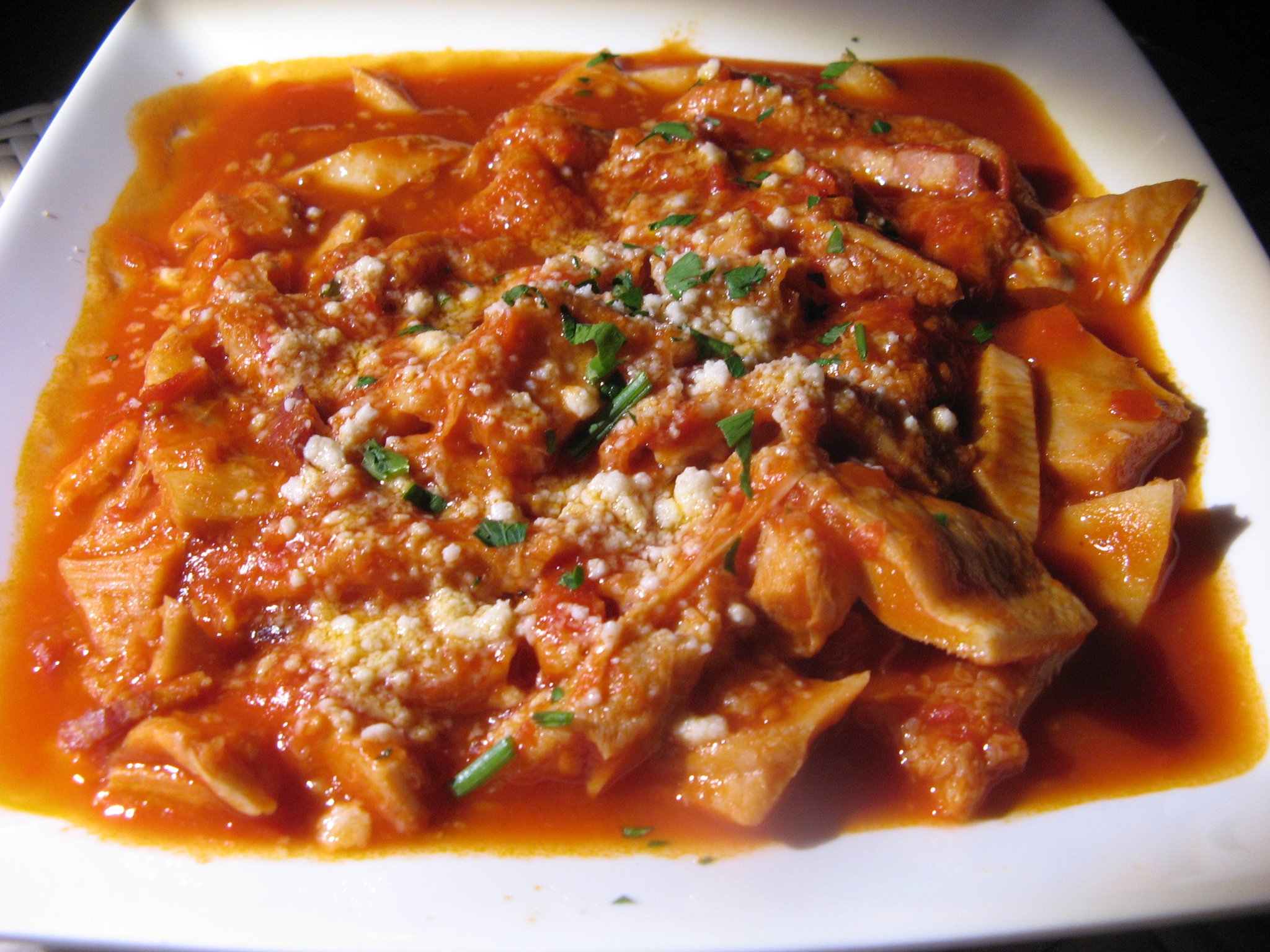 For Trippa alla Romana, the tripe (stomach lining) is stewed in white wine, garlic, onions and tomatoes for a couple of hours and generously dressed with pecorino romana cheese and a bit of mint.
Another of the popular offal dishes Rigatoni con Pajata. Pajata (payata) is the intestine of an unweaned calf that still has partially digested milk inside. When it's cooked it makes the sauce dense and creamy.
For Abbacchio alla cacciatora, the abbacchio is a lamb less than 90 days old. It's dusted with flour and cooked in oil, vinegar, garlic, anchovies and spices. Whenever I see this dish I always think of the story of the Sultan who cried when he was served baby lamb. The Grand Wazir finally asked him, "Sire, why do cry so much every time you eat the baby lamb?" The Sultan replied, "because they are so beautiful and it is so sad to kill them for my meal." The Grand Wazir then asked, "Sire, if it makes you so sad, then why do you eat the baby lambs?" The Sultan wiped away his tear and looked at the adviser. "Because they are so delicious", he said as he took another mouthful.
 Abbacchio al forno where the baby lamb is cooked in the oven is a very popular Easter meal.
Some other very popular Roman dishes you're likely to see are Scaloppine alla Romana (veal scaloppini with artichokes), Filetti di Baccala (reconstituted dried cod, drenched in flour and fried with tomatoes, pine nuts and raisins) and Pollo alla Romana (chicken cooked in white wine with bell peppers) and Porchetta di Ariccia (porketta) is a suckling pig roasted on an open spit.
Captione is a very traditional Christmas dish of eels roasted in red wine. On the day before Christmas the markets are filled with live squirming eels. Small snails called Lumache (lumakay) are eaten on the Feast of St John in June.
Insalade:
The Ancient Romans ate the first ever recorded salad, 'erba salata', a mixture of lettuce, oil, vinegar and salt. The lettuce was called 'Cos' after the Greek island where it was discovered. It later became known as 'Romaine'.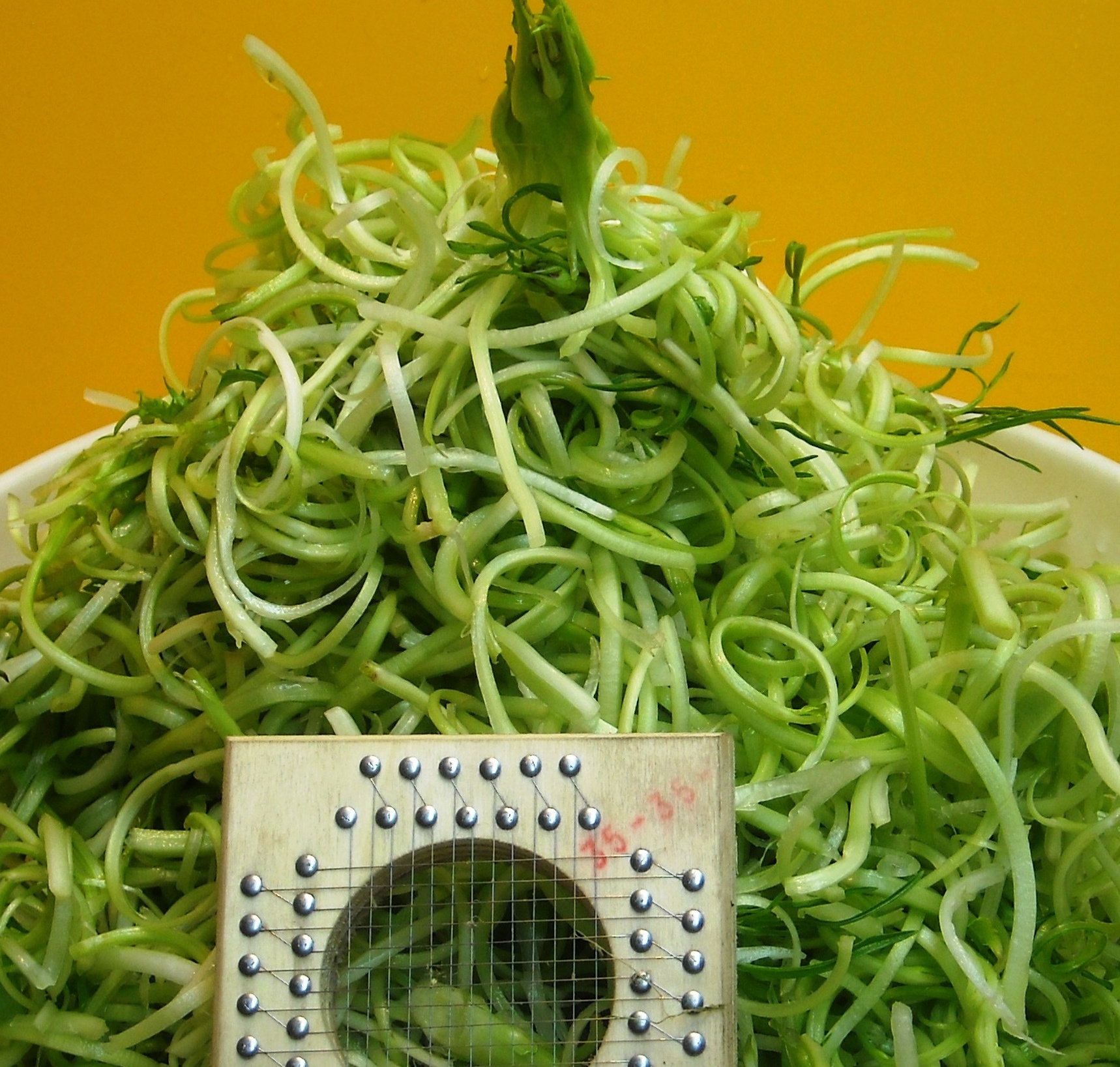 Puntarelle Salad is available from late October through February. The puntarelle (chicory shoots that grow around Rome) are mixed with with olive oil, vinegar, garlic and anchovies.  There are lots of salad offerings at any restaurant but the Insalata Puntarelle is the only real Roman salad.
Dolci – Sweets
Crostata di ricotta is the classic deep dish ricotta cheesecake usually topped with candied fruit, raisins, chocolate chips.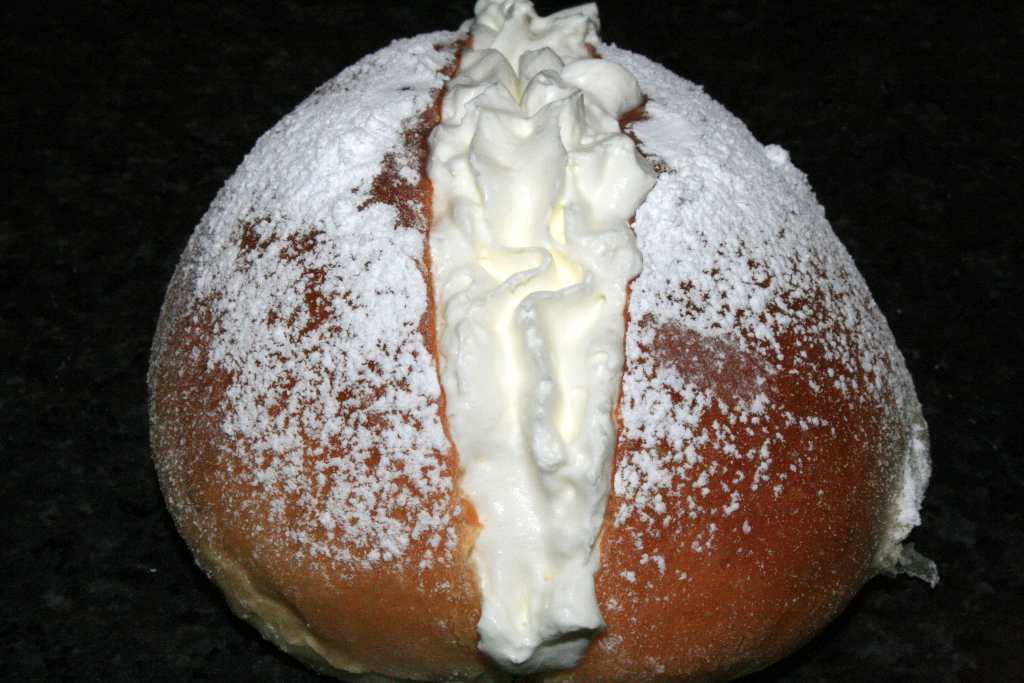 Maritozzi are sweet sugar and almond extract buns filled with whipped cream. Maritozzi translates to "almost married". Roman grooms traditionally give these pastries to the bride and her family at the announcement of the engagement.
Pangiallo is like a Tuscan panforte (fruitcake) with nuts and dried fruit. It's a Christmas treat. It literally translate to yellow bread, Many years ago it was made with saffron that turned the cake yellow. These days it's a rich dark brown in color.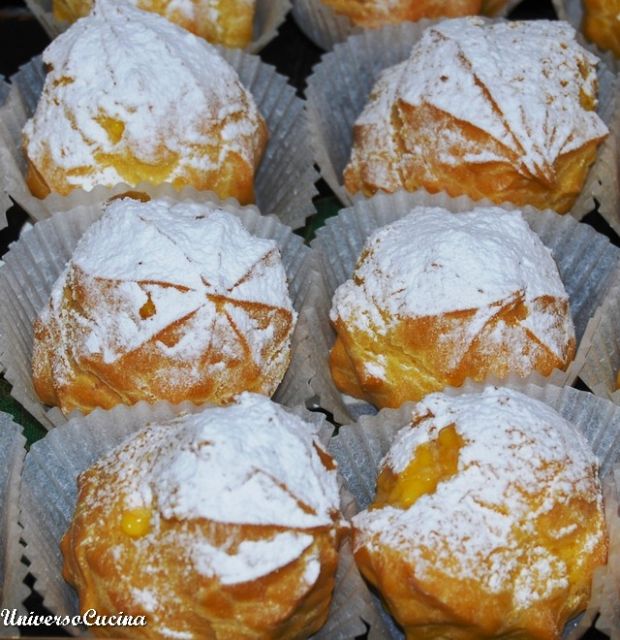 Bignè di San Giuseppe are deep fried dough balls (like donuts) filled with custard or cream. They are called Zeppole in Naples. Bignè (Italian for cream puff) are traditionally served at the Feast of St Joseph in March. Other donut like pastries include Castagnole (they look like walnuts) and Fritelle zuccherate.
Ciambelline al Vino are round biscuits made with frascati wine and anise seed. They are traditionally dipped into either Sambucca (anise liquor) or sweet wine.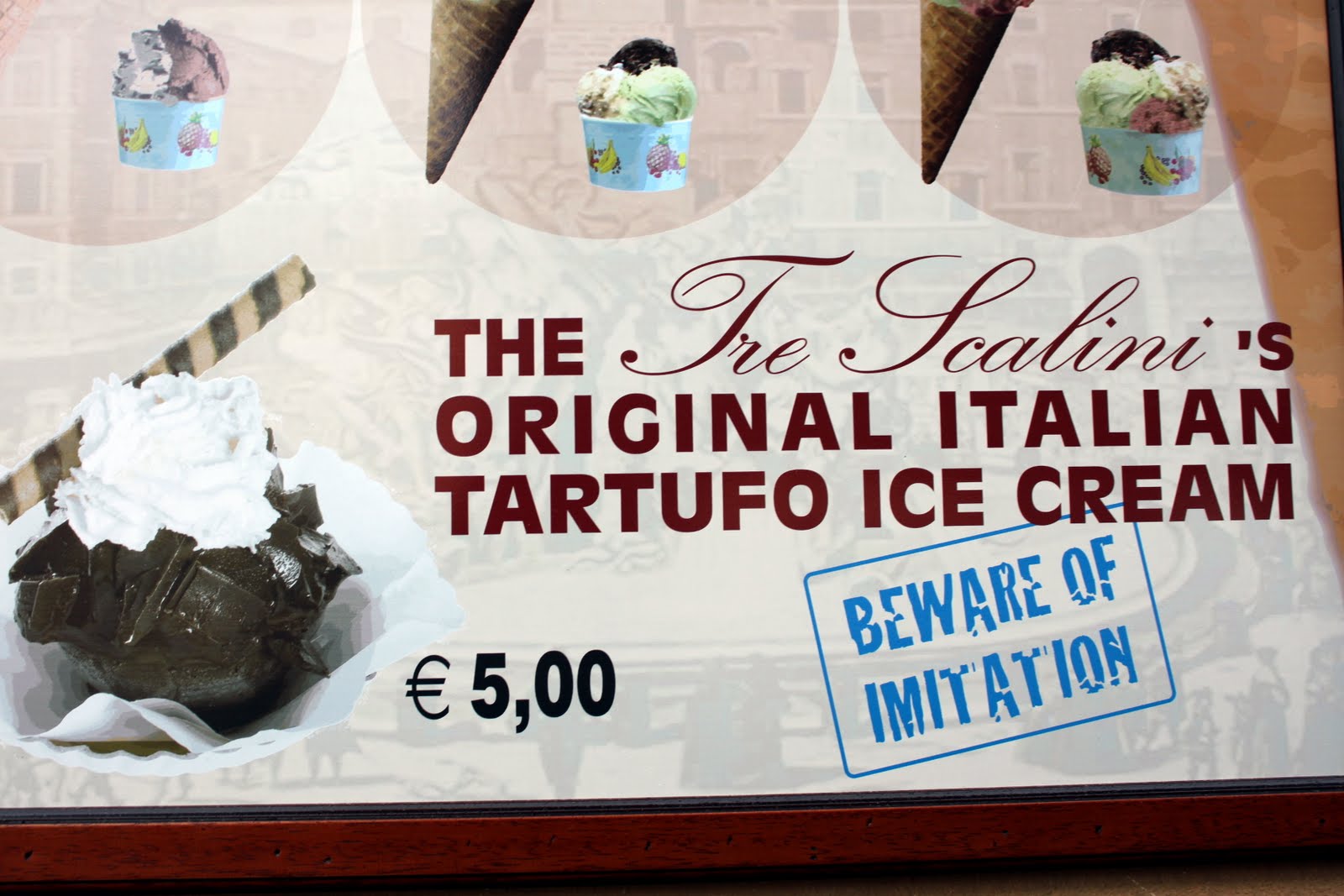 Tartufo is the famous chocolate gelato created at the Bar Tre Scalini in Piazza Navona. It's chocolate ice cream filled with chunks of dark chocolate. There's also a cherry in the center.
And finally, there are the Roman breads. I already mentioned Pizza Bianca as an appetizer. The best bread in Rome however is the Pane di Genzano, a bran covered sourdough bread baked in wood ovens until the crust is dark and thick. Genzano di Roma is a hillside town about 20 miles from Rome. Pane di Genzano is the only bread in Italy and the first bread in Europe with an IGP (Indicazione Geografica Pretteto) certification. The bread is protected by law.
I'd like to thank the internet for all the food photos in this piece. The only photo I can claim as my own is of Enrico at Ristorante Le Tavernelle at via Panisperna 48 in the Monti. Enrico's brother Franco and his old friend Mimmo are the owners of this really great traditional restaurant.