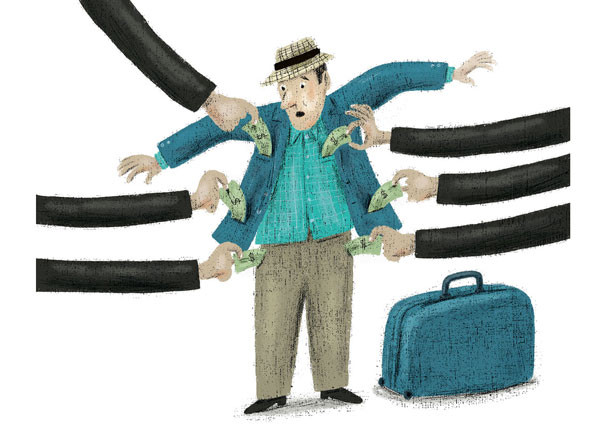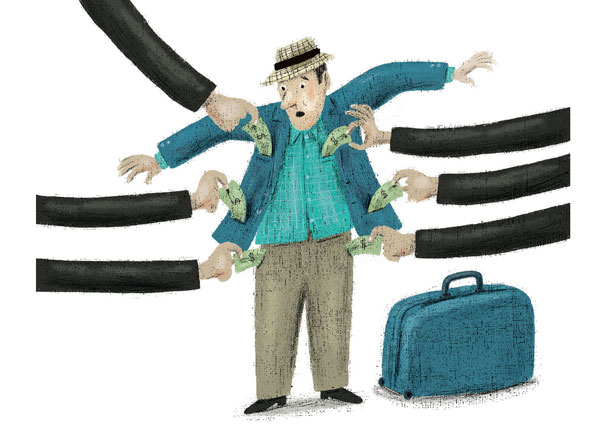 Rome gets over 30 million tourists a year. If you're a thief, con man or pickpocket it's a great place to ply your trade.
Thieves are mostly looking for naïve, innocent tourists and there are a lot of them out there. You objective is to be aware of them and how they work. With a little precaution you'll be fine.
Before we get into the schemes and scams you might run into after you've arrived, here are a couple of tips to help you get safely into the city.
The TSA Airport scam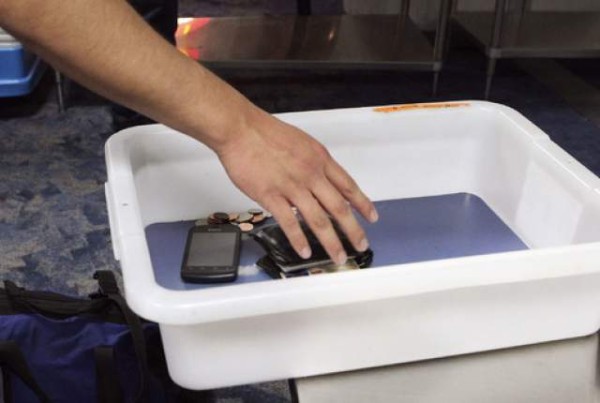 Thieves travel by plane, just like you. In the TSA line they'll watch what you put into the rubber tubs that float down the conveyor belts through the bag scanners. If they see you've just put an expensive watch, a nice phone and your wallet into a rubber tub they will make every effort to get in front of you so they can grab your things before you get through the detector.
They might say I'm sorry my flight is leaving immediately. They might not say anything and just push their way in front of you.
Don't put valuable things in open containers that leave your sight. Before you arrive to the TSA line, put everything except your photo ID and your boarding pass into a small bag and stick it into your carry-on bag.
If you don't have a carry-on bag put them inside of your jacket. If you don't have a jacket or carry-on bag, I'd advise you to get one.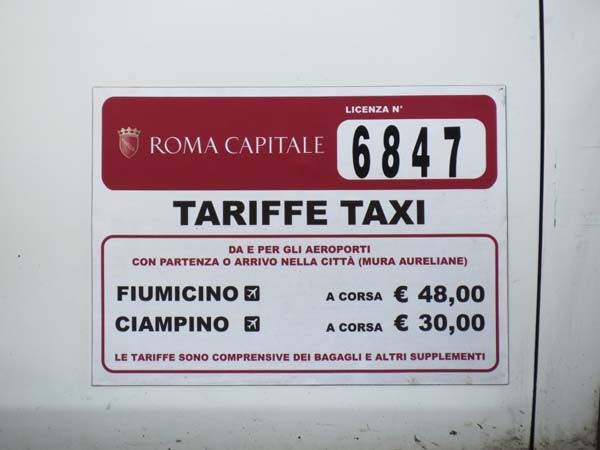 Taxi Scams
In October 2014, a taxi driver was arrested for robbing and overcharging a German tourist and her 20year old daughter. The fare from Fiumicino (Leonardo Da Vinci) Airport to central Rome is a fixed price of €48. That includes one bag each.
The cabbie told the woman the fare was €60. She didn't know the correct price so she agreed and they drove off.
When they got to the hotel the cabbie told then there was an extra charge for the bags. When the woman handed him a €100 euro bill he told them he had no change but he took the bill anyway. He took one bag from the trunk, placed it on the sidewalk and then got back into the cab and sped away. The other bag with contents worth close to $6000 was still in the trunk.
The police were able to identify the thief by the CCTV (Closed Circuit Television) recording of the woman and her daughter getting into the cab at Fiumicino Airport. The cabbie was apprehended. The bag and money returned to the tourists.
There are a few horror stories of tourists getting ripped off by Roman taxi drivers but they are a small percentage. There are also stories of cabbies getting robbed by the fares they pick up.
Most of the cabbies you'll meet in Rome are wonderful and honest people. However, in order to keep everyone honest and for your own peace of mind, it helps to know the rules.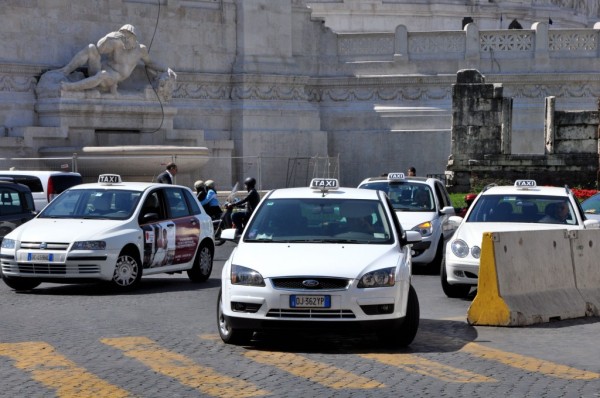 First of all, make sure your cab is a legal and commune approved taxi. They are easy to spot. Roman taxicabs are white, they have a roof lights on top and a meter inside. Anything else could be trouble.
There are a lot of 'gypsy cabs' in Rome. The cars look nice and the drivers are polite (at first).
They will tell you they will charge the same price as a city cab. Don't believe them. They are notorious for adding on extra fees.
The fixed price from Fiumicino (FCO) airport to the Central of Rome is €48, it's €30 if you are coming from Ciampino Airport. The central city covers everything within the Aurelian Walls. It's pretty inclusive of your entire tourist visit. A 10% tip is customary.
Although negotiating a fee will inevitable cost you more, it's always a good idea to confirm the flat rate is inclusive of the fare and the 1st bag.
If you are taking a taxi from the Termini train station you'll pay the meter fee but you'll also be charged a surplus of €2.
If you are taking a metered cab, don't negotiate a price with the cabbie. The meter is the best price.
First of all, make sure the meter is turned on. If the driver tells you the meter is broken, find another cab. If the cabbie tells you he's going to show you a scenic route or a beautiful introduction to his beautiful city, tell him 'no thank you' or get out and take another cab.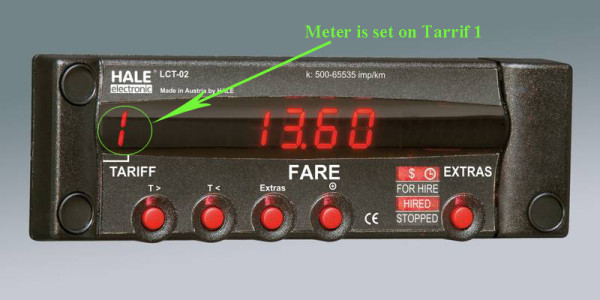 The Taxi Meter will show you the meter drop fee, the Tariff rate and charges for any extra services (surplus rates or extra bags).
Make sure the meter is set to the correct time and day.
The Taxi tariffs are:
Meter drop starting cost from 7am-10pm – €3
Meter drop starting cost for Sundays and Holidays – €4.50
Meter drop starting cost between 10pm and 7am – €6.50
Make sure the meter is set to the correct Tariff rate. Dishonest cabbies will set the tariff rate to 2 or 3 before you get into the cab.
T1 – €1.10 per kilometer until the meter reaches €11
T2 – €1.30 per kilometer from €11 to €13
T3 – €1.60 per kilometer after €13 on the meter
Waiting or being stopped in traffic is computed at a pro-rated cost based on €27 per hr.
Don't pay more for luggage unless you have 2 bags
1st bag is free. The 2nd bag over 35x25x50cm is €1
The basic fare is good for up to 4 passengers. The 5th passenger is €1 more.
Make sure you have small bills. Taxi driver do not like to make change.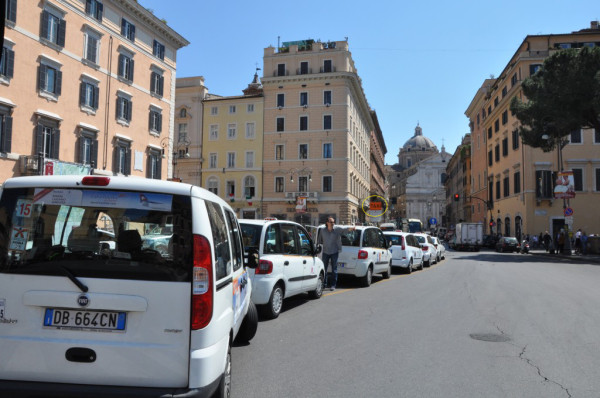 If you want to get a cab in the city, walk on over to a cab stand.
They are marked with an orange sign. Cabs are not allowed to pick you up if you 'hail' them although occasionally they will if there is no taxi stand nearby.
You can also call a cab from your apartment or location but calling a cab by phone will incur a €3.50 charge.
And finally, a 10% tip is common.
Always ask the price first.
Most prices in Italy are fixed and marked. Normally, Italy is not a 'haggle the price' culture. However, there are times when paying in cash will give you a discount (Italians don't declare cash transactions).
However, be aware, cash purchases under the table are illegal. There is a fine upwards of €30 if the Finance Police stops you and your purchase and you don't have a receipt although this very rarely happens. You shouldn't worry about paying cash, just be aware of what you're doing.
If you are at one of the outdoor markets buying food or clothing, always ask the price. If the vendor tell you, "Don't worry, I'm going to give you the best price", be careful. Ask them first, "what is the best price"?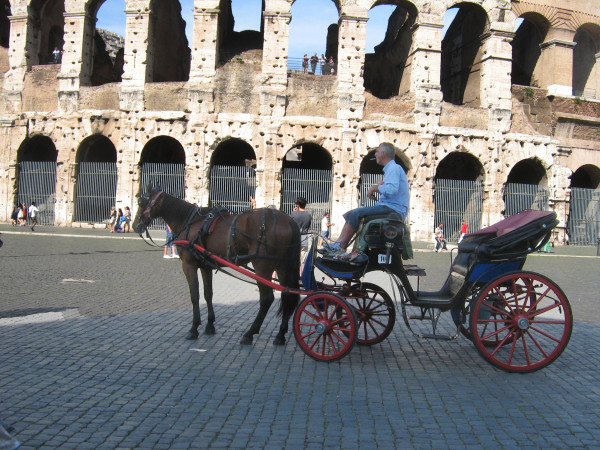 Many people still think taken a horse-drawn carriage through the streets of Rome is a romantic excursion even though the horses suffer from turned ankles on slippery cobblestones, poisonous fumes from cars, extreme heat and back-breaking work. An empty carriage can weigh upwards of 350 pounds. When they are overloaded with 3 people plus a driver, they are hauling close to 1000 pounds. 
The horse-drawn carriages of Rome are called 'Botticelli' after the barrel-shaped carriages of the 1800's that used to transport merchandise. In 2000 there were over 90 licensed carriage drivers. By 2012 the number went down to 42.
They have fought off animal rights activists and bad press but they've remained in business.
The commune of Rome has tried to take some action in favor of the horses. It is now illegal for horse-drawn carriages to operate between 1pm and 5pm when the temperatures are over 40°C (104°F). There are also rules forbidding the carriages to climb the steep hills of Rome, but Rome is a city built on hills. In a proposed 1hour excursion, the driver will eventually hit a hill or two. The rules are rarely enforced. In the past couple of years a few horses have died or fainted onto the cobblestones.
But the purpose of this point is to make sure you don't get ripped off if you decide to have a 'Botticello' ride around Rome.
The going rate is about €150 for a 1hr ride for 2 people. However, coachmen will gladly add more people for more money.
Make sure you get the (all inclusive) price before you get into the cab. Make sure there are no extra charges.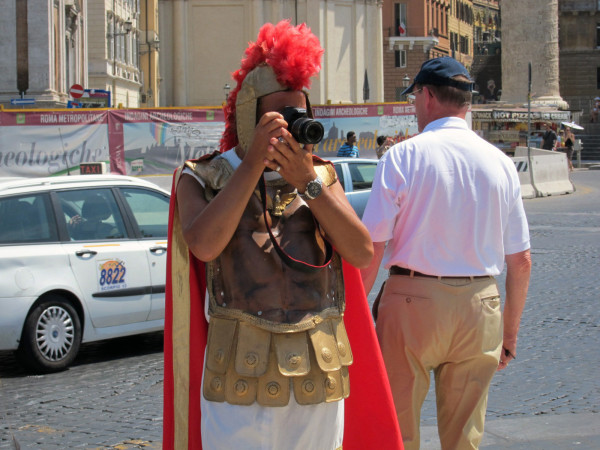 Tourists love getting photos taken with the Gladiators in front of the Coliseum.
It does make for a great holiday card and fun memory for years to come.
Although they do look more like Centurions or Praetorian Guards, these costumed actors prefer to be called Gladiatori.
Most of these fake Gladiators are honest guys making an honest living.
Costumed Gladiators started as a clever bit of entertainment and street theater about 30 years ago but when business got too good, they ended up on the radar of several crime organizations. Criminal costumed Gladiator extortionists have ruined the fun for everyone.
In 2011, a costumed Gladiator enticed a Japanese tourist to pose for a photo and then physically threatened him when he wouldn't hand over 100€.
The city had enough and several sting operations later removed over a dozen Gladiatori and 20 unlicensed tour guides off to jail.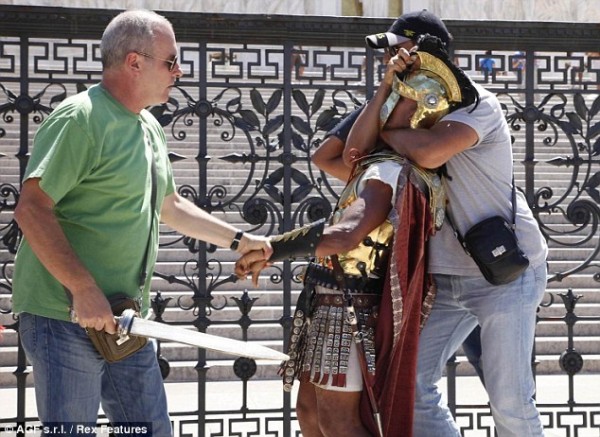 In March 2012, a law was passed removing all street vendors, horse carriages and Gladiatori from the Piazza del Colosseo.
There was a protest, but in the end the city won and now the Gladiatori are banned to the perimeter of the Piazza del Colosseo. However, they are still easy enough to find.
If you want a Gladiator photo, ask the price first. It should be between €2-€4 euros. It can go up to €10 if it's a group shot or if you borrow their costume pieces for the photo. However, always negotiate the price before you snap the photo. Price negotiation here is always allowed.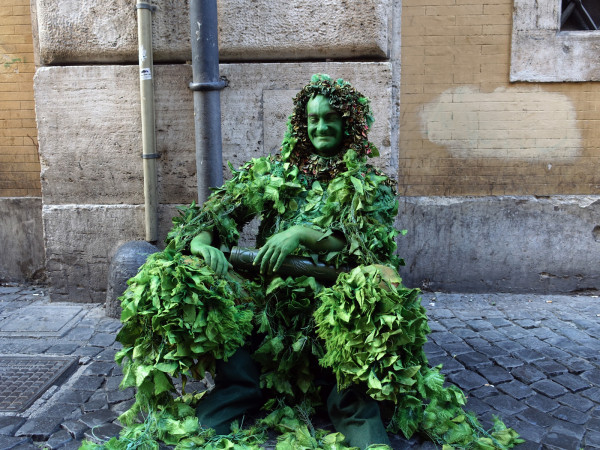 By the way, other costumed characters along the Via dei Fori Imperiali or other tourist locations around the city are also seeking your euros.
If you want to take a photo of a costumed character, offer them a euro or two.
Don't accept gifts from strangers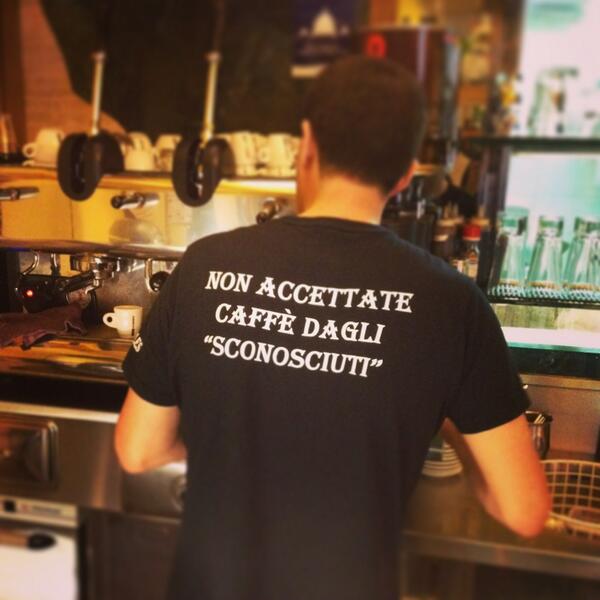 This is something we learned as kids. As a tourist in Rome, it's not a bad idea to remember this.
In 2008, a 74 year old California man and his wife took a bus from their cruise ship at Civitavecchia to the Tiburtina train station in Rome. They were planning on catching the bus to Hungary the next morning but that was a few hours away so they decided to get some sleep in the station waiting room.
Thieves do hang out in train stations late at night. The man and his wife were a little nervous until a kindly middle-aged man befriended them and offered to buy them both a cappuccino at the bar.
When they awoke from their drugged sleep, their bags were gone and they were stripped of all their valuables.
The man went off to call the police. He was still in a drugged daze as he left the waiting room and somehow ended up on the train track where he was killed by the oncoming train heading to Florence.
The thief was caught. Luckily, he was recorded on the CCTV footage from the train station and recognized by the surviving woman.
From around 2007-2010 there were stories, urban legends of thieves spraying bedrooms or injecting narcotic gas into air conditioning systems of houses and apartments. When the residents were safely knocked out, they'd break in and take out.
No one knows how true the gassing legends were but they are often repeated.
People getting drugged in bars and then robbed is not a legend. It does happen. The advice here is don't accept drink from strangers.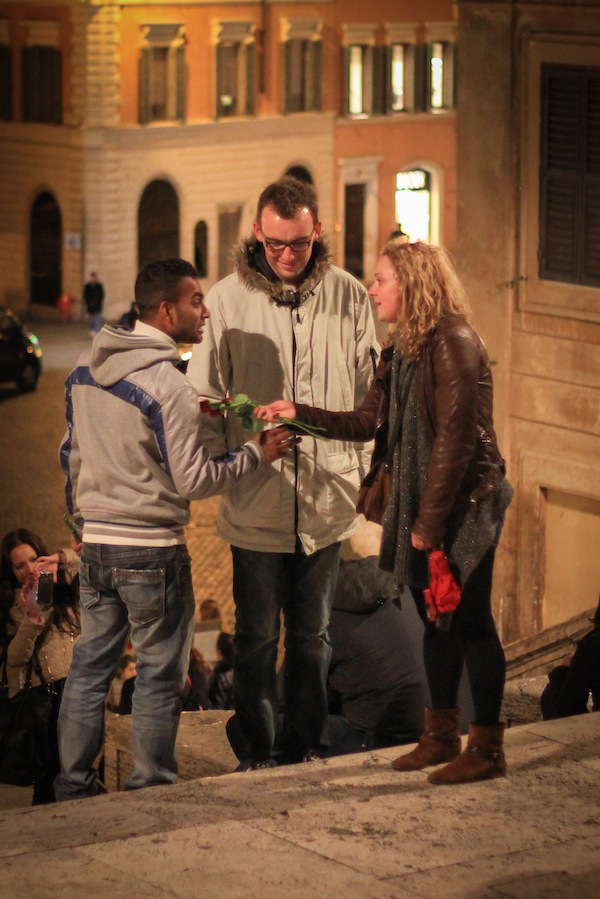 This flower/bracelet/shoe shine is a gift for you
If you're offered a free rose, a small bouquet of flowers or herbs, a friendship bracelet, or even a free shoeshine, don't accept. Smile and walk on.
They will tell you it is a special gift because you are beautiful or they want to welcome you to their country.
Once you accept the gift, they'll demand payment. When you refuse payment they'll follow and harass you until you give them something.
The fake tour guide
All guides need to show you their proper credentials. They will usually wear a badge. If they are not wearing the badge, ask them to show it to you.
Fake tour guides will overcharge you and they don't know what they are talking about.
A tour badge involves a lot of time, education and cost. It's best to just smile and thank them and then move on.
As long as we're on the subject of tour guides, if someone tries to sell you discount tickets to an attraction, monument or museum while you're waiting in the ticket queue, they are very likely to be fake.
Please help me, I've just been robbed
If you are approached by someone who tells you they were just robbed and they need money to get a train back home, direct them to their country embassy or tell them to call the police.
The will undoubtedly tell you they have already done so. This is a favorite scam of the unprofessional thief. They are very often foreigners (sometimes from your own country) who ran out of money and are hoping for you to make up the difference.
Unfortunately this is such a popular scam it would be very sad if the person was telling you the truth.
Please take this couture jacket as a token of my appreciation.
The scam goes like this. You'll be walking down a busy street when a car pulls over and a well dressed man (with perfect English) asks you for directions to an obvious place like, "how do I get to the Vatican, or how do I get to the Coliseum"?
You tell him you're a tourist but you point the direction he wants to go.
He'll tell you he works for a fashion house and he's in town for a special show and since you were so kind to him, he wants to reward your kindness with a piece of couture fashion.
He pulls a coat from the back seat and tells you it's your size. The coat is not a couture fashion. He picked it up at some used clothing shop for next to nothing.
If you take it, he'll go into the pitch about how he needs gas to get home and his credit card doesn't work. He'll ask you to give him anywhere from €20-€50 so he can get some gasoline. He'll even tell you he'll mail the money back to you if you give him your personal information.
Hopefully you haven't even gotten this far into the conversation with him. The first thing that tipped you off was that he is an Italian Fashion salesman in Rome and he spoke to you in English.
Best just smile and walk on.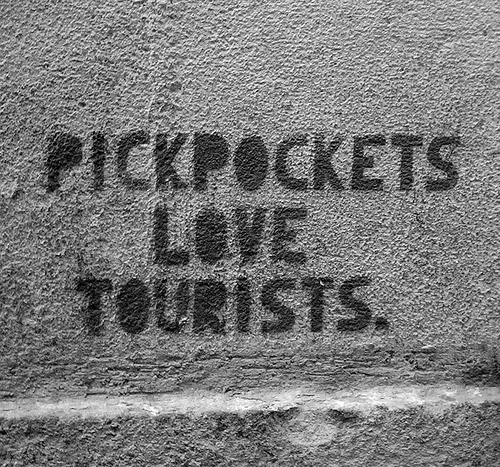 Pickpockets
Pickpockets love tourists.
Their ears perk up to the sound of rolling luggage across cobblestones or pavement. Their eyes grow wide when they see people looking at tourist maps.
Even if you think you're aware of their schemes, they'll surprise you.
You don't want to spend your entire vacation worrying about getting robbed but it's good to know they're out there. If you stay aware and follow a few guidelines you'll have a theft-free holiday.
Don't carry more than you're willing to lose.
Keep cash and jewelry to a minimum and bring at least two credit cards. Put one card in your wallet and the other in your hotel safe. If one gets stolen, you can cancel it right away and still have another.
If you go to the ATM (Bancomat) to withdraw cash, make sure you do not have a crowd of eager pickpockets watching you. If people come up to you while you're at the ATM, cancel the transaction and move on.
Always cover your hands when you enter your PIN number at the cash machines. Thieves are known to use binoculars to get your PIN number before they pick your wallet.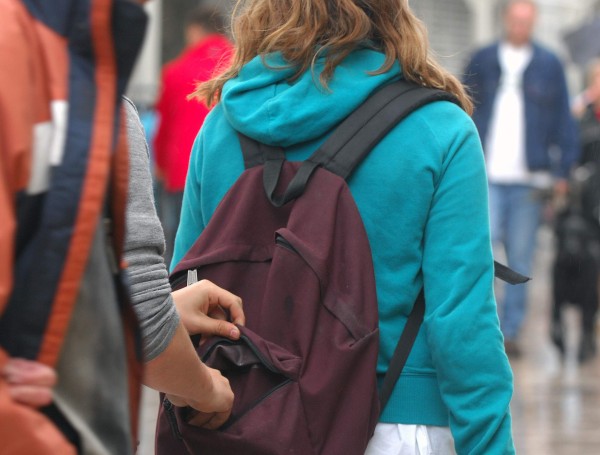 Don't wear a pack on your back.
If you do, please add a sign on the backpack they reads "please help yourselves" in several languages. Even if you bury your things into the bottom of the backpack, thieves can just cut the bottom of the pack and let everything fall out. You'll never know it's happening.
There are anti-theft bags out there with slash proof material. Pacsafe and Travelon are 2 of the companies that make them but it is still recommended to keep everything in eyesight, in front of you. Backpacks are the #1 attraction to thieves.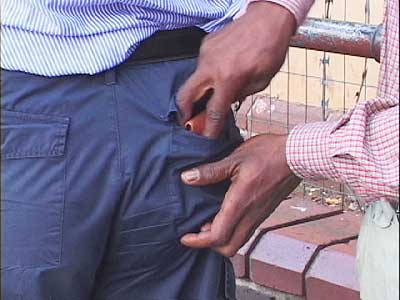 Don't put anything in your back pockets
Don't carry a bulging wallet or smartphone in your back pocket. Even if the pants have a security pocket or zipper in the back, thieves can be very clever with a razor blade and slit the pocket.
If you do carry a wallet in your pants, the best travel solution is to carry two small wallets, one small, thin card holder style wallet with multiple slots for credit card and ID in one of your front pockets and one small coin/card pouch for bills and coins in your other front pocket.
Make sure the wallets sit horizontal down in the bottom of your pocket with slash/opening side facing down. Jean style pockets are harder to pick than slash pockets.
If you carry a smartphone, carry it in your front pocket.
If you buy pants with security pockets, make sure the security pocket is in the front of the pants. Money belts are good but not foolproof.
Dress to blend in.
Baggy pants might be trendy in your home neighborhood but not good for travel to foreign places. First of all, they scream 'tourist". Secondly, they give the pickpocket the advantage. The baggier the pants, the less likely you are to feel their hands pick your stuff.
Don't tell the thieves where you have your valuables
Don't pat yourself to make sure your wallet is safe. This is a key tell to the thieves. You might think you are making sure you are packed correctly but in reality you're telling them where to go.
 Crowd Control your possessions
In all crowded places, hold onto your bags with zippers and pockets facing inward to make them harder to get into.
Always make sure your zippers are zipped.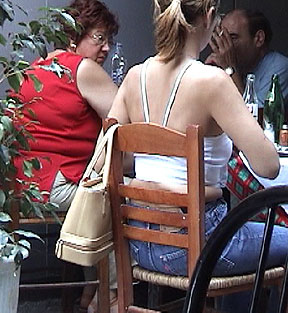 Never leave your bag unguarded, especially at restaurants or cafes. Slinging you bag over the high back of the chair is an invitation to get it taken.
Never leave your smartphone or camera on the table. You'll get distracted and before you know it, it'll be gone.
Pickpockets will take advantage of crowded places and naïve tourists. One of the most popular places to get 'picked' is on a crowded train, metro or bus. Rome's Number 64 bus goes from the Termini Train station to the Vatican. The Vatican is the number one tourist attraction in Rome (I bet you thought it was the Coliseum). As tourists get off the train and onto Bus #64 they are welcomed by a large group of seasoned professionals.
Protect your space.
Don't let people too close. If someone bumps into you, stop and make sure it was not an attempt to pick your pocket.
Pickpockets tend to work in teams. The most common pickpocket routine goes like this:
One person (called the blocker) comes at you from the front. This person will either knock into you, pretend to be drunk, brush past you or stop and bend down in front of you to tie a shoe.
Once you are distracted, the second person (the cannon) will get into your pocket and make the grab.
After they have your wallet or valuables, the cannon will pass it off to another person (the shade) who makes the grabs and walks away.
They all split up and there is no trace of the crime.
About 25 years ago, Gypsy women once carried their families through the street of Rome (and other cities). The scam was to approach you with a newspaper folded over their outstretched arm. One they got close enough, the other hand would end up in your pocket or the little arms of their children would be rifling through your bags.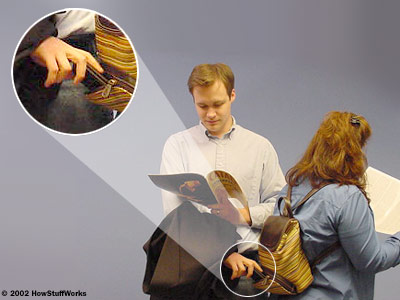 Pickpockets are no longer just the stereotypical shady looking guy or the poor gypsy woman with her children in tow. They now look like college students, well-dressed children, a group of teenage girls, mothers, activists or businessmen. Sometimes they even disguise themselves as police.
Many pickpockets carry something over one arm to conceal the hand that is reaching into your bag or pocket. It might be a petition, a newspaper, magazine or coat. Look out for people holding things over their arms when they get close to you.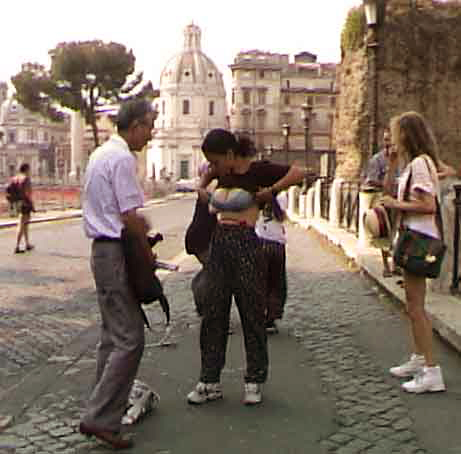 They are persistent. In some cases when the concealed arm doesn't work they'll resort to really bizarre tactics. Sometimes an old gypsy woman will put her baby into your arms (the baby ends up being a doll). Sometimes a young woman will lift her shirt to reveal her naked breasts in an attempt to distract you.
Don't let a stranger wipe a stain from your clothing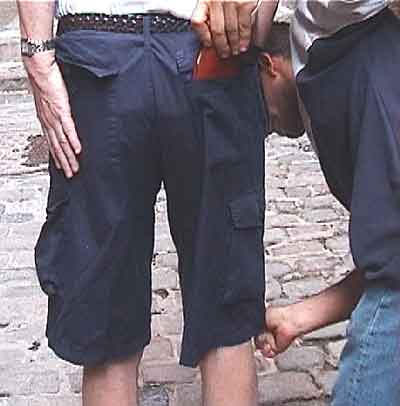 We came across this one in Barcelona although versions of it are catching on in Rome.
A man/woman points out that you have a large bird poop on your shirt. He opens up his bag, pulls out a bottle of water and some tissue and offers it to you. As you are cleaning up the splat, he informs you the bird (or another bird) got the other side of your shirt as well. He has a small device in his sleeve that spits the poop out as he traces his hand across your clothing. As you clean one stain, he cleans the other. Before you know it, he's cleaned out more than the stain.
The scam has been translated into the mustard stain, the ketchup stain or the mud splatter from a truck hitting a mud puddle.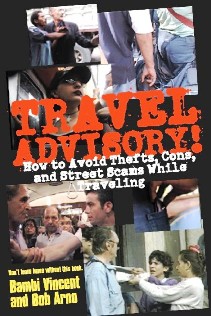 There are books and better authorities than me on this topic.
A few years back I had the privilege to work with Bob Arno, a stage pickpocket comedian. Bob mostly works in Las Vegas but he also does the Speaker Circuit as well as his work as an International Travel consultant helping law enforcement companies solve pickpocket crimes. His book "Travel Advisory: How to avoid thefts, Cons and Street Scams while traveling" is a very good read.
Their website http://bobarno.com/thiefhunters/ written by Bob's longtime partner, Bambi Vincent, is definitely worth a look. Bob and Bambi have gone undercover and exposed pickpockets and con artists all over the world.
I'd like to thank Bob and Bambi for some of the photos from their website.
Before I end this piece, I'd like to just mention a few other scams you'll most likely run into while in Rome.
Knock-off Vendors
Knock off bag vendors are everywhere. It's understandable why the Italian economy is trouble. Italians spend over $8 billion a year of counterfeit products and not much is done to stop it. You can find them on bridges, sidewalks and in some cases across the street from the shops that sell the real item for 300 times what they are selling it for.
The vendors have a good system, one stands by the blanket of goods laid out on the sidewalk, while 2-3 others keep a lookout for police. When the call comes in that the cops are near, they wrap up the goods and off they go.
In 2012, a 65 year old Australian woman was fined $1,450 for buying a $10 Louis Vuitton bag near Venice.
Fines these days can go from €3000 up to €10000. That's right ten thousand euros, more than the cost of the real bag.
You can get a knock-off bag for €5-€10 and it'll look very similar to the real bag. In most cases you'll get away with it. The police don't really get too involved in the knock-off industry.
However, be aware. If the police do decide to come down on you, that knock-off bag could end up costing €10,000.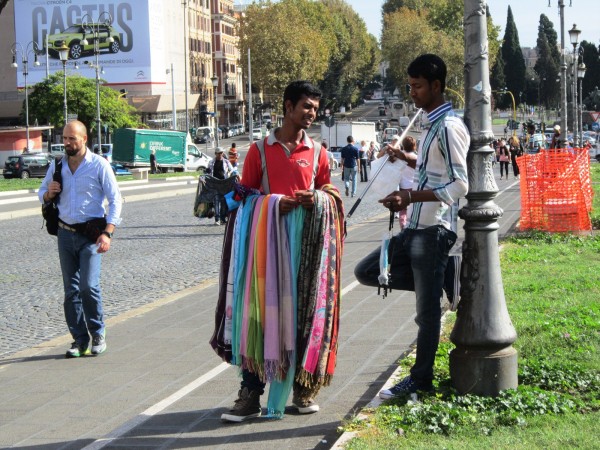 The black market vendors carry a complete line of goods from silk and wool scarves, to straw hats to things that go splat on the sidewalk. Recently the hot black market item is a 'selfie', a telescoping case for your smartphone so you can extend the phone to take a photo of yourself.
The vendors are harmless but annoying. If you make eye contact with them, they will follow you for a couple of blocks and try to intimidate you into buying their good.
Just ignore them or politely say 'no' and walk on.
Metro and Bus Tickets
Beware of people offering assistance. They'll tell you you need to give them (or more) and then buy the cheaper ticket. While you're distracted, they'll give you the less expensive ticket and take your change.
Metro and Bus ticket machines can be a bit confusing. However, you can change the language of the machine menu to English. Just press the British flag symbol.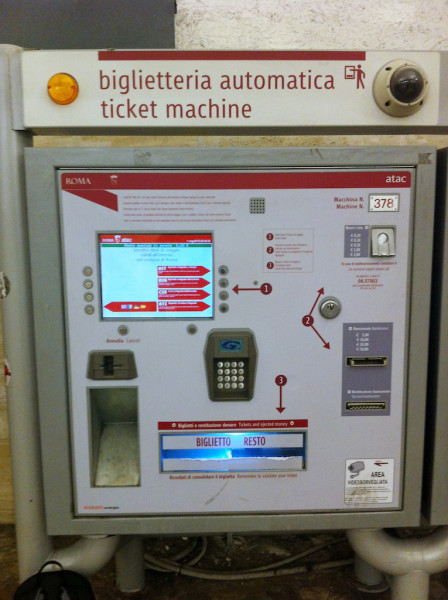 For the Rome ATAC (buses and Metro) the choices are:
€1.50 (single ticket) – Biglietto Integrato a Tempo or BIT is good for 100 minutes from the time you buy the ticket.
€6 (day ticket) – Biglietto Integrato Giornaliero or BIG, good for one day, however it is not a 24hr pass. It expires at the end of the day.
€16.50 (3 day ticket) – Biglietto Touristo Integrato or BTI is valid until midnight of the 3rd day after you buy the ticket.
€24 (7 day ticket) – Carta Integrata Settimanale or CIS is valid until midnight of the 7th day after you buy the pass.
If you are in Rome for a month there is also the €35 pass.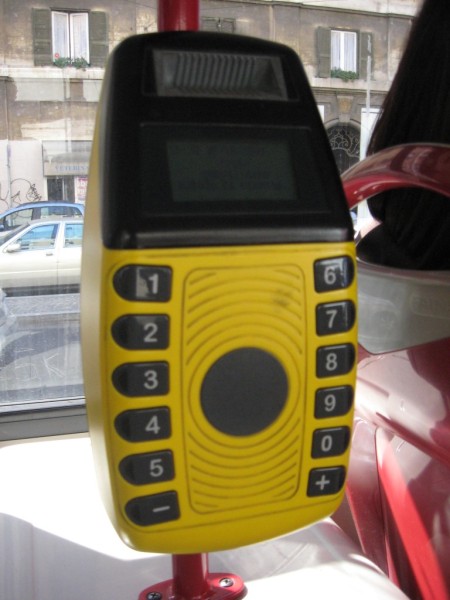 When you change from the metro to the bus, you must validate your card into the card reader on the bus. There are few different types of validation machines.
Some will allow you buy tickets, some will validate only. There is usually a ticket machine both in the front and the back of the bus.
They are yellow in color. Just put your ticket into the slot to validate.
You will need to make the same validation of your ticket if you are using the train system. Just look for the yellow validation machine on the train platform (binario).
You will probably notice many tourists getting on a bus and not validating a ticket. Some of them don't know what to do, some of them don't have a ticket. When the bus is crowded, the driver rarely checks on you.
However, if a transport inspector asks you to show your ticket and you don't have one, it's a €50 fine.
The key to survival is 'Be Smart'.