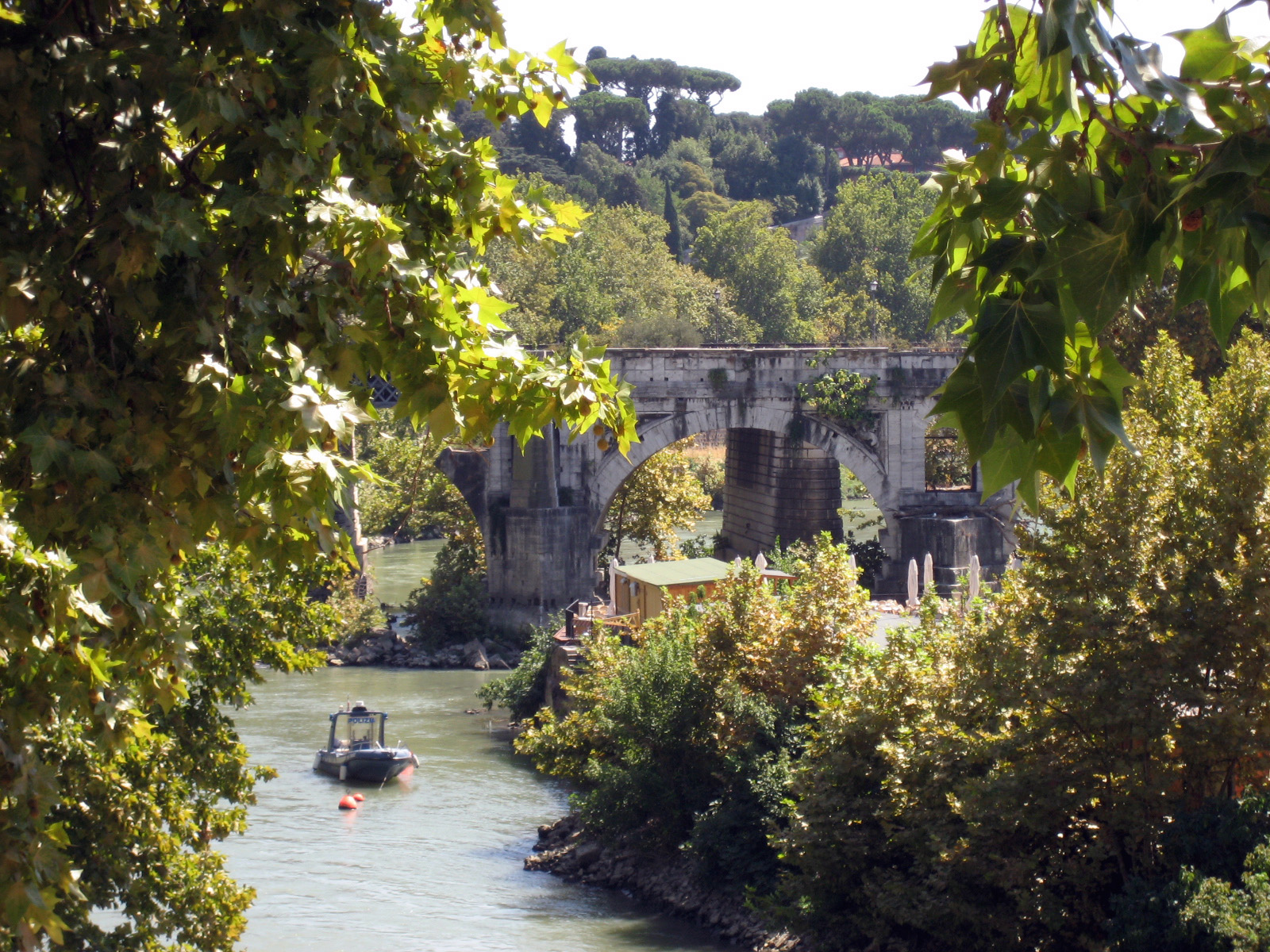 It's summertime here in Rome and there can be more people in the streets at 11pm than at 11am.  Even though the city seemed at ease ( Rome also clears out in August for the Ferragosto Holiday), Mr Vinood, our apartment greeter, reiterated (many times), the "rules of security". We were on the second floor but Vinood made sure we understood the need to lock all the security locks all time, even when we in the apartment. All of a sudden we weren't feeling so secure. We later heard a story of Roman thieves who sprayed some kind of sedative into a second floor apartment and as the tenants dozed off into a drug induced sleep, they cleaned them out. Sure, there is crime everywhere, but as long as you're aware of how to act in a big city, shoulder bag worn in front, wallet in front pocket, don't wave money around, don't look like a stupid tourist; you'll be just fine.
Rome is one of the best walking cities in the world, every turn at every corner is a new treasure; sometimes old, sometimes new. You can walk by the same corner a dozen times and it'll always be different.
We spent most of our days eating and walking, walking and eating, and a lot of eating. We ate pizza, gorgonzola gnocchi, pasta arrabiata and spaghetti carbonara near Campo dei Fiori and Piazza Navona. We ate carciofi alla giudia (jewish artichokes), fiore di zucca fritti (fried stuffed zucchini flowers) and saltimbocca in the old jewish ghetto near the Teatro Marcello. We drank ice cold Moretti and Nastro Azzurro beer with lunch and delicious red wines with dinner; Brunello di Montalcino and Sangiovese from Tuscany, Nero D'avelo from Sicily, Montelpucciano d'Abruzzo from Abruzzo and Aiglionico from Basilicata. We ate gelato, lots of gelato. In the mornings, we'd walk over to the Café St Eustachio in Piazza San Eustachio near the Pantheon for the best coffee in the world. Life could not get much better than this.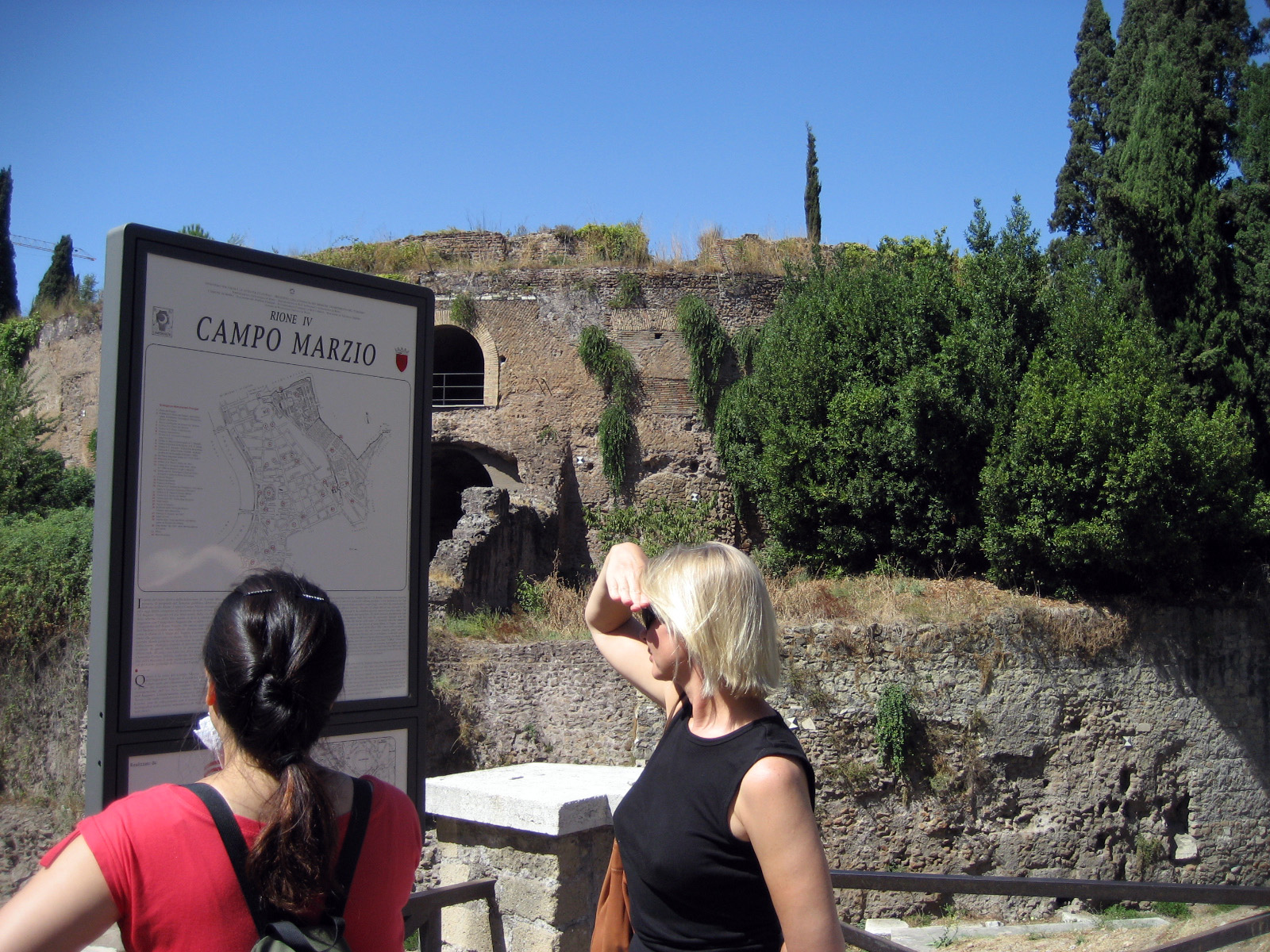 We took walks along the river, past the decaying Mausoleum of Augustus and the heart of the Campo Marzio. When the Visigoths sacked Rome in 410, they broke into the Mausoleum and smashed everything, emptying the funeral urns or Augustus, Livia, Agrippa, Tiberius, Caligula, Nero and a host of others. Their ashes were scattered across the floor and the urns stolen. It's still in a state of confusion. There always seems to be something going on there but I've never seen any plans for a restoration or re-opening.
It's a little cooler by the river and most of our walks have taken us this way, from going down towards the Aventine or going up towards Piazza di Spagna and the trendy clothing shops around the Via Condotti and via Babuino. We walked along the art galleries of Via Margutta where we bought a painting in 2000.  For all you "Roman Holiday" fans, Gregory Peck's character, Joe Bradley lived at #51 via Marguttta. We hiked through the grand Borghese Park and thought about taking a tour through the Galleria Borghese museum but it was sold out. They only allow 360 people per viewing every 2 hours. It's a hard ticket to get and worth getting it in advance. We didn't mind not going in. We've seen the collection and it was too beautiful a day to be indoors. Instead we walked through the park and over to the street streets of the Trastevere.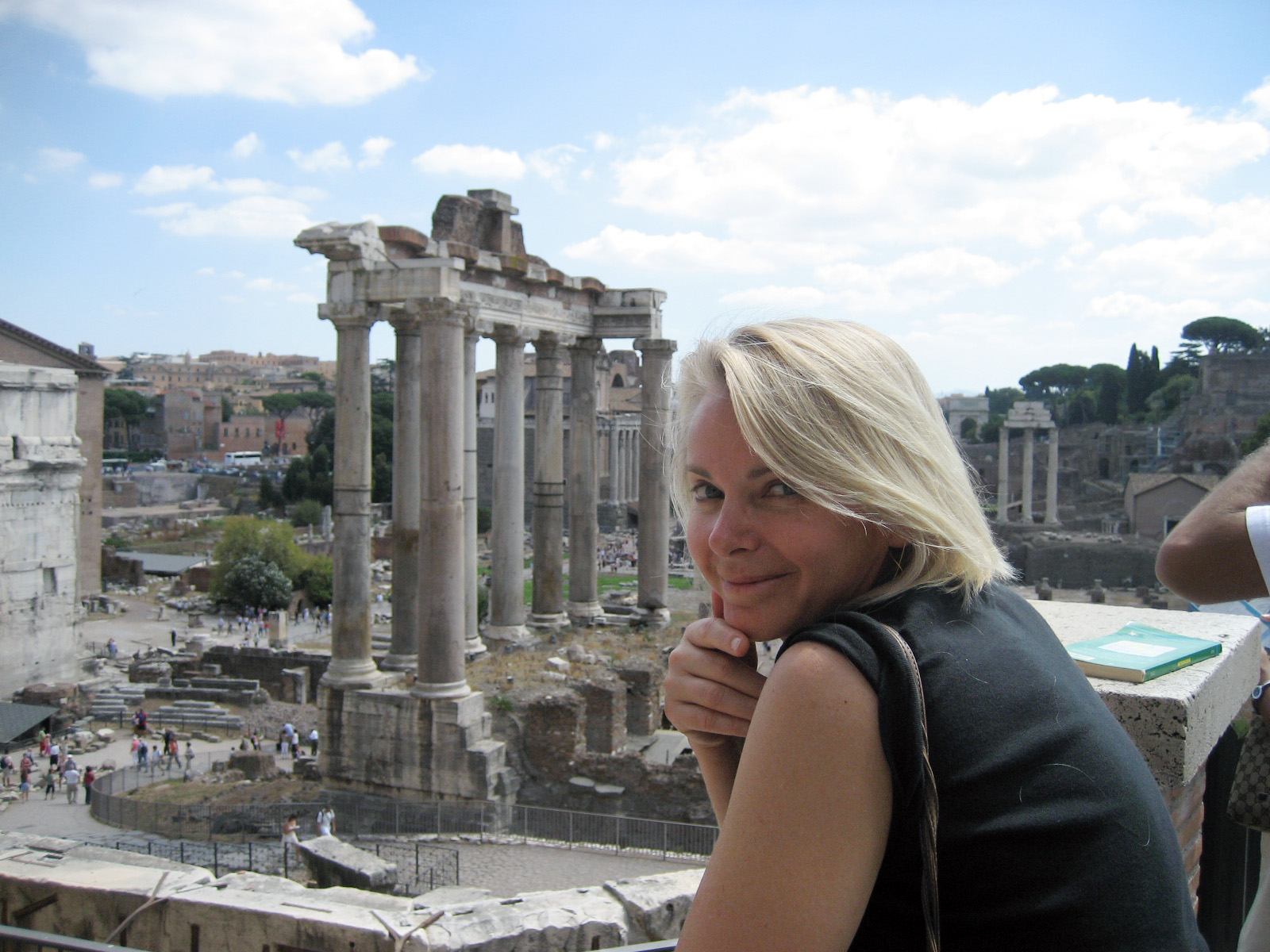 A day at the Forum –
I don't really remember how we met Antoinette. We were standing in the Forum, next to the Temple dedicated to Julius Caesar and suddenly, there she was, asking us if we needed a tour guide.  She was American, originally from Hershey Pennsylvania she said, lived in Rome for 27 years she said,  and spent her days giving tours to English speaking people. She charged 30 euros per hour, but she didn't wear a tour badge. Your not allowed to give a guided tour unless you have that very valuable badge that shows you've gone through the extensive series of classes and exams. You're also not allowed to solicit tours inside of the Forum. We chatted her up for a few minutes, but when we asked her why she didn't wear her guide badge, something strange happened.
One of my favorite Abbott and Costello routines involves Lou Costello sharing a jail cell with a strange old man (played by the amazing Sydney Fields) who, of course, has to tell the story of his life. He was young and in love. They got married. And then they took off for their honeymoon where she met another man and everything went wrong. As soon as he says the destination, NIAGARA FALLS, he goes berserk and starts to throttle poor Lou. Every time NIAGARA FALLS is mentioned he goes into it again; "slowly I turned, step by step, inch by inch, until I found them at NIAGARA FALLS".  Just thinking of it makes me laugh.
Antoinette's reaction was similar but not as funny. "Badges are only worn by slaves" she said. "Slave with badges return to their masters", she went on, getting louder and louder. Until she started barking "and for what? They're all barbarians. They're all barbarians. All these people in the Forum. They're all Barbarians". We had no idea who the Barbarians were, but we did manage to leave before anyone mentioned Niagara Falls.
Gretchen decided an audioguide would be a lot better than Antoinette and we picked up a couple of headsets by the entrance ticket window. I usually like audioguide historical explanations, and I am passionate about ancient Roman history, but this one, written and narrated by Lord Windbagus Plushbottomtook, was the worst drivel I have ever had the misfortune to hear. If the Roman antiquities weren't dead enough, Lord Windbagus drove the stake through it.
After an hour or so, we once again passed the Temple to Julius Caesar on our way out of the Forum. There was Antoinette chatting up a group of 5 or 6 Americans. All we could hear as we passed was, "Barbarians….. They're all Barbarians…" We looked back at the faces of her captors. They were wide eyed, desperate, looking for a way out. NIAGARA FALLS.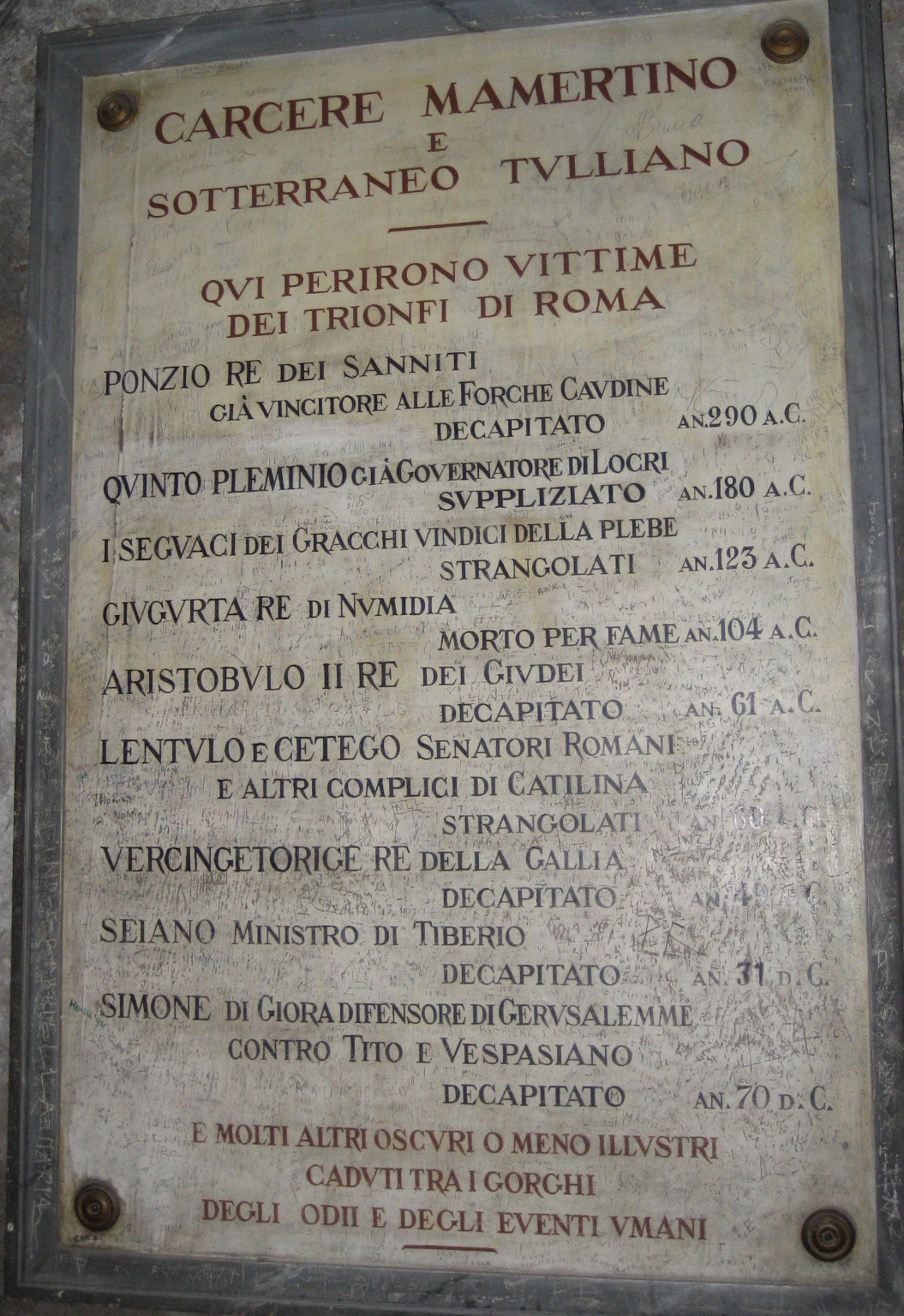 Speaking of Barbarians, there is a who's who of famous enemies of Rome in the Cacere Mamertino, an ancient roman prison. When it was created sometime around 600BC when it was a water cistern turned into a prison. It was known as the Tullianum. The Mamertine Prison came about sometime in the middle ages.
Prisoners were lowered down through a hole and into the dark pit below. Supposedly this was just a detention holding cell and prisoners never stayed here very long. Some of them made it out alive, some didn't. Victorious Roman Generals would put their most renown enemies here before they were paraded through the streets of Rome in a Triumphal parade. There is a plaque inside the prison listing some of the more famous quests of the prison including Jugurtha, King of Numidia, who was defeated by Lucius Cornelius Sulla in 104BC and Vercingetorix, King of Gaul, defeated by Julius Caesar in 46 BC.
According to Christian history, St Peter also spent time here although there is no proven evidence of this. Nonetheless, the rumor of his presence was enough to build two churches over the site; S. Giuseppe dei Falegnami and S. Pietro in Carcere where the cross on the alter is upside down in reference to the story that St peter was crucified upside down.