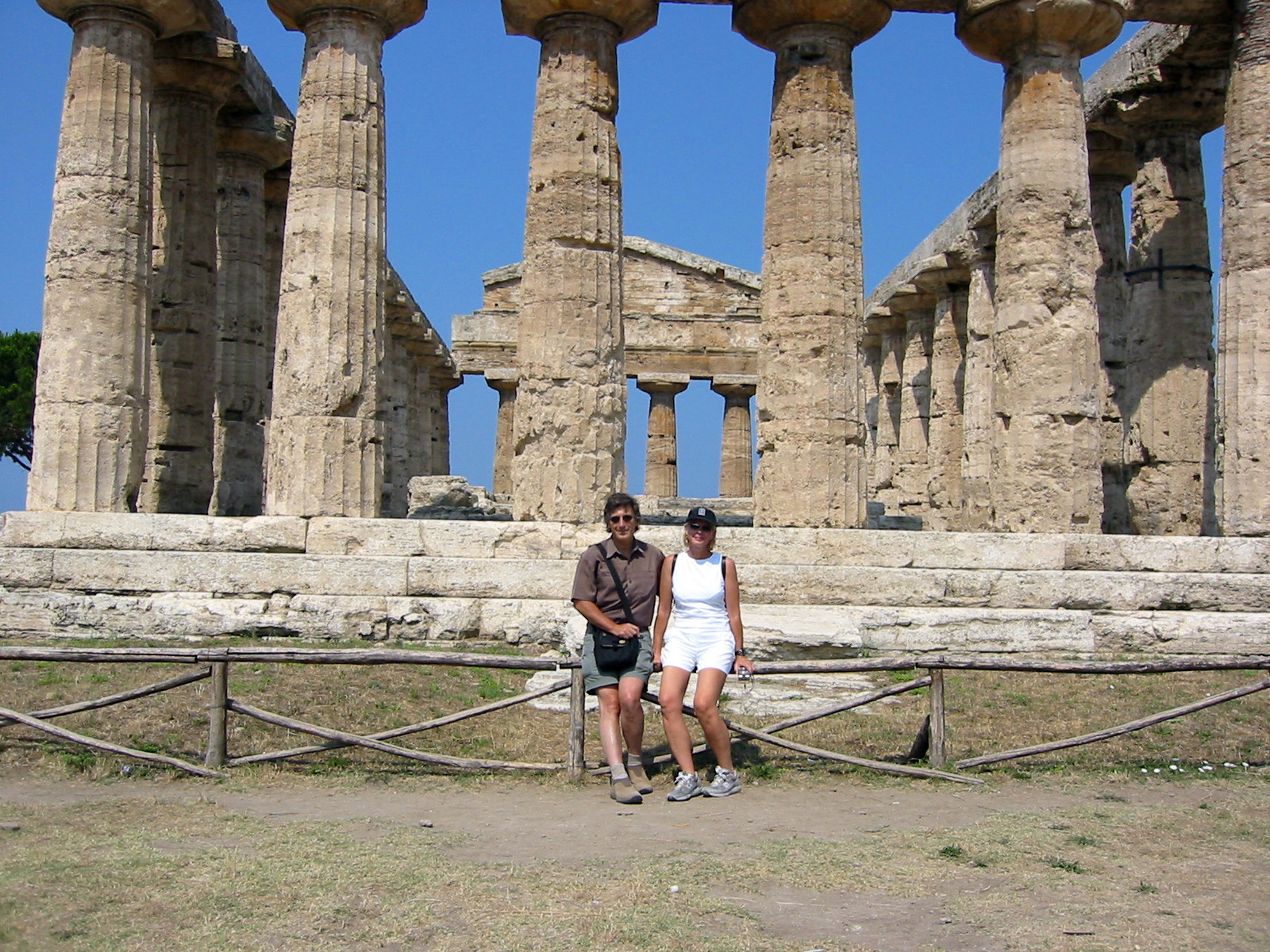 Paestum – July 12, 2003
The odometer clicked past the 3000 km mark as we boarded the ferry in Messina, Sicily and headed back to Villa Giovani in Calabria. The A3 is not one of better Autostradas in Italy. It's a 4 lane highway (that's two lanes in each direction) but thanks to the endless road work and lack of funding for the endless roadwork, it's been  compressed down to 2 lanes for quite a few years; that's one in each direction. There is nothing worst than traveling 60km per hour on an autostrada.
Checking the Via Michelin website, they informed us that the coast road SS18 would take only 25 minutes longer for the drive from the Calabrian toe up to Paestum, a little south of Salerno in Campania. The SS18 even looked to be a prettier road since it traveled most of the way along the coast. We love driving through beach towns. How bad could it get? You know I just realized, if you have to ask "how bad could it get?", it's usually pretty bad.
Actually the first 250 kilometers north from Villa Giovani to Scalea were easy. It was all fairly modern with boxy apartment houses to the right and beaches to the left. But then at Praia a Mare, the SS18 took a turn inland and then another turn and as we approached Maratea, the road narrowed and looked more like a large intenstine than a rural highway. The guide book called this stretch "spectacular" with fabulous views of the rocky coastline and small protected beaches. To tell you the truth, we were so nauseous  we could hardly notice anything; switchback turn after hairpin turn every 150ft. We could barely get the car past 40 kilometers per hour.  After 3 hours of this amusement park ride, we found a small roadside café. We hadn't eaten anything all day and although "Il Sombrero", as it was called, didn't really look like one of the meals we'd ever remember, I'm still thinking about it more than a week later. Actually, we're not sure if it was the bad panini from "Il Sombrero" or the spaghetti con cozze from the restaurant at the Savoy Hotel in Paestum that had us in bed with chills and spills. There were 2 cozze (mussels) on each plate of the spaghetti con cozze and each one of them was highly suspect.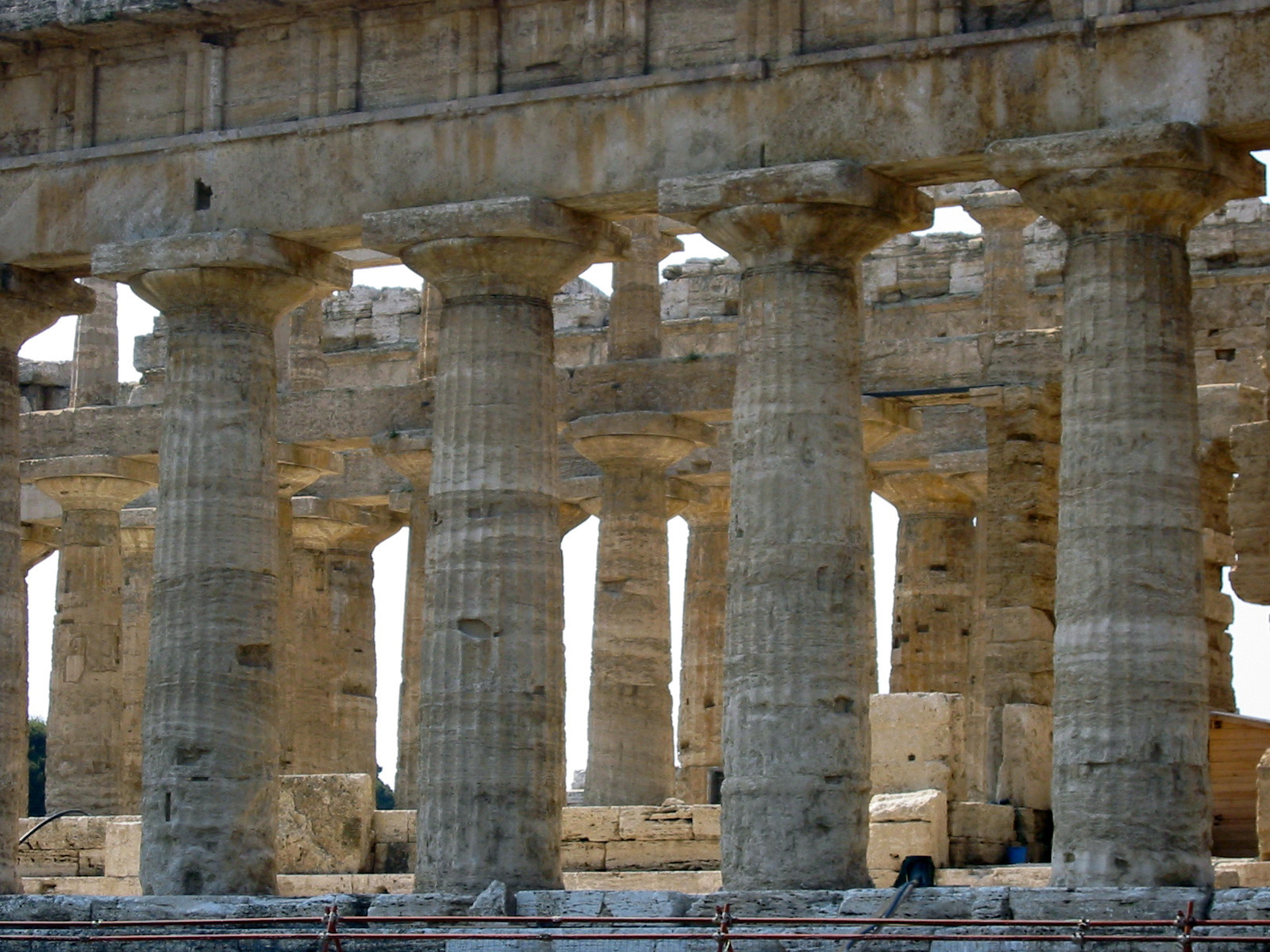 Paestum is one of the best preserved Greek cities in all of Italy. We were told it is second only to Agrigento in Sicily. But since we didn't made it to Agrigento while we were in Sicily, for us it was the best preserved Greek city in all of Italy.  Historically speaking, the city had a pretty good run, founded in the 7th century BC, absorbed into the Roman empire around 273 BC, changed hands a few times during the Punic Wars and then became a trading port. It was famous for it's roses; yes the Romans were nuts for roses.
By the 9th century, it finally died from economic decline, mostly from looting by rogue Arab pirates. But the best part of the Paestum story actually starts centuries later. As the people left town, the jungle swallowed it up. The malarial anopheles mosquitoes kept any live species away until the 18th century, when road builders for King Charles III were clearing our the jungle and literally stumbled upon the giant temples. And they are giant.. The temple of Neptune is 200 ft long and at least 30 ft tall.  And that's just one of the big temples. Paestum is a fairly complete city; amphitheatre, Greek theatre, plethora of temples, apartments, streets, stores. It's got it all.  It's hard to imagine losing a city this size for almost 900 years, but if it wasn't for the anopheles mosquito, these buildings would have probably ended up as building materials like so many other old ruins.
The other big attraction of Paestum is the beach. Starting a little further south in Agropoli all the way to Salerno is a 30 km stretch of long sandy beaches and simple campgrounds. The Italians are patzo (crazy) for the beach and would you know it, we decided to drive this stretch of beachfront on a sunday, the day when every family for miles around packs up the car and heads to Il Mare..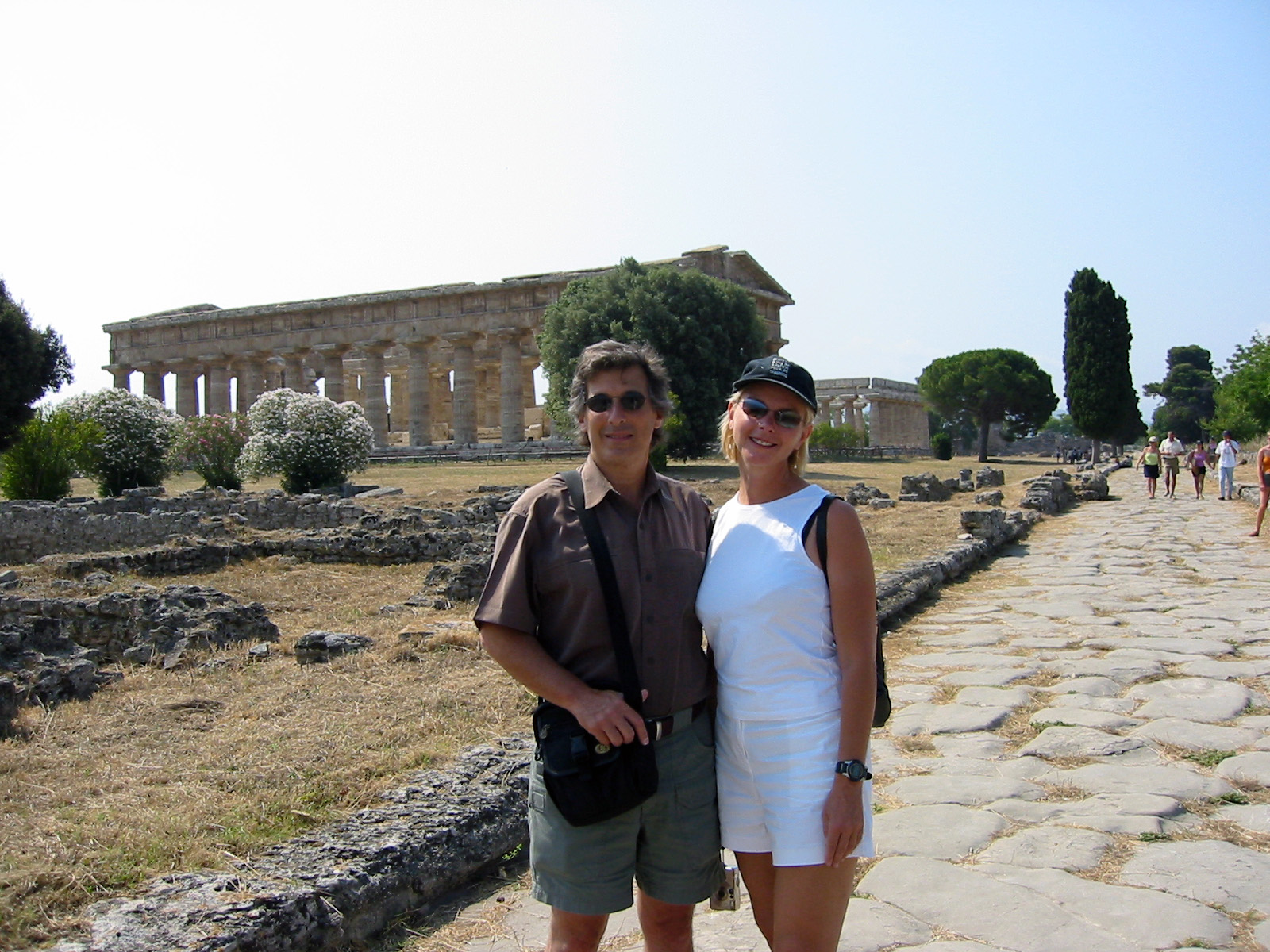 Even though it might have taken us almost an hour to go 30 km, it was a wonderfully silly experience. There were traffic lights and stop signs almost every 500 meters and at each stop we were rewarded with the Italians going to the beach and the Italians coming from the beach. There were old people, fat people, vain people and those who just didn't care anymore. There were cabana suits, trendy swimwear, towel capes, scuba masks and fins. There were straw hats, floppy pink hats with flowers, beach chairs, cooler chests, inflatable rafts and always lots of arm and hand waving. It was like Norman Rockwell meets Fellini.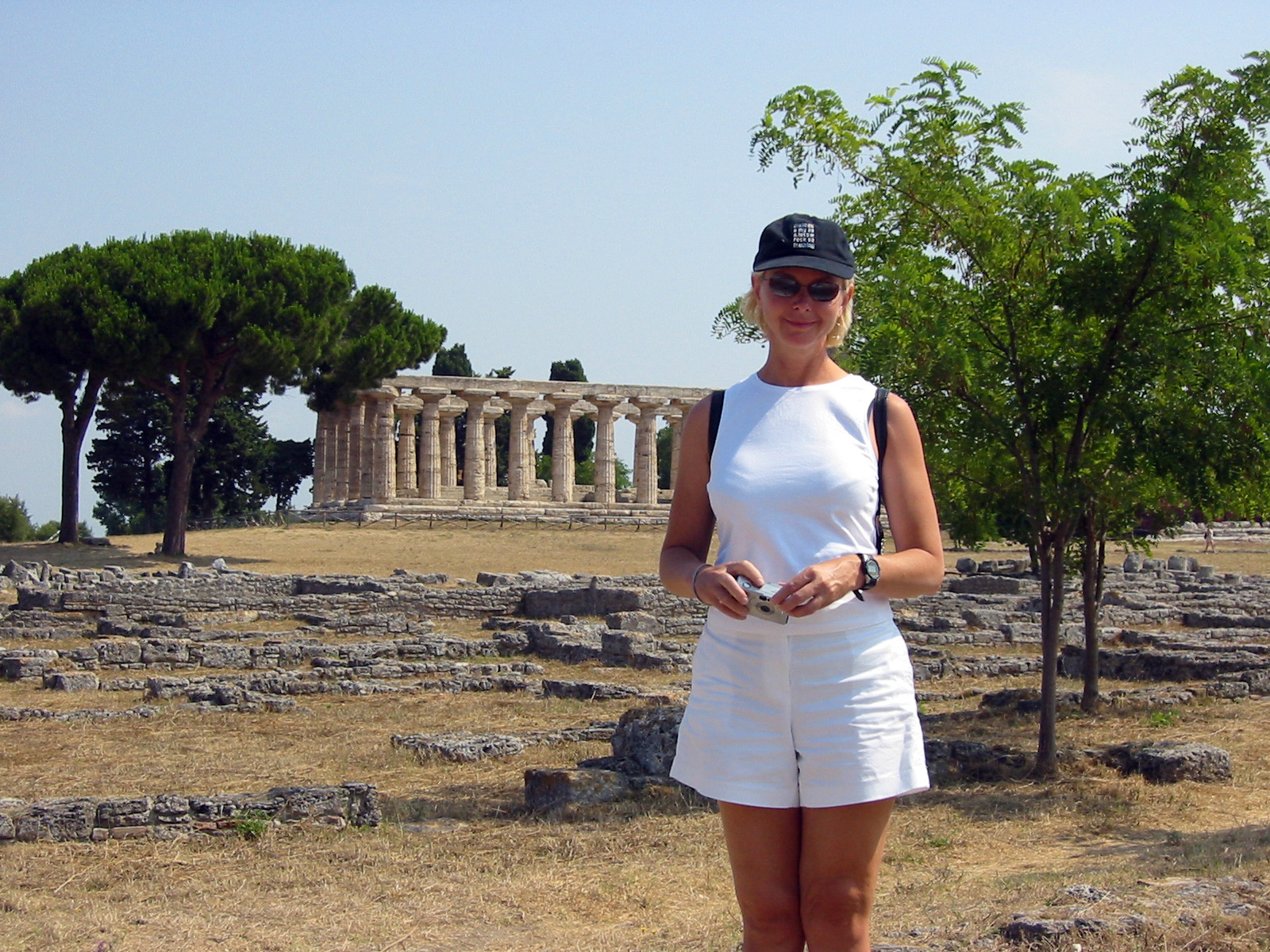 By the time we made it to Salerno and back on the real autostrada, we averaged over 160km/hr and made it to our next stop in 4 hours.
Ah, back home with friends in Lastra A Signa. Our friend Fabrizio was amazed we didn't get stopped by the speed police.
That night there was another small dinner party in our honor, small meaning less than 20 people. The Cinelli family is one of those fortunate Italian families to actually have a wood burning pizza oven in their kitchen, and Fabrizio Cinelli makes some of the best pizza I've ever eaten. Around 6pm there were about 24 balls of dough rising in the kitchen. Around 8pm, the guests started to arrive and around 8:15pm, the first batch came out of the oven. They kept on coming till 11:30pm. First the savory pizzas: sausage, ham, cheese, onion, mushroom, peppers and lots of spices. Later on, the sweet pizzas came out with strawberries, apples and and assortment of other fruit. And, of course there was the usual cantina of prosecco and local wines. What a welcome. The only thing missing was Gretchen, who remained upstairs and under cover. I still think it was the lethal cozze from Paestum.