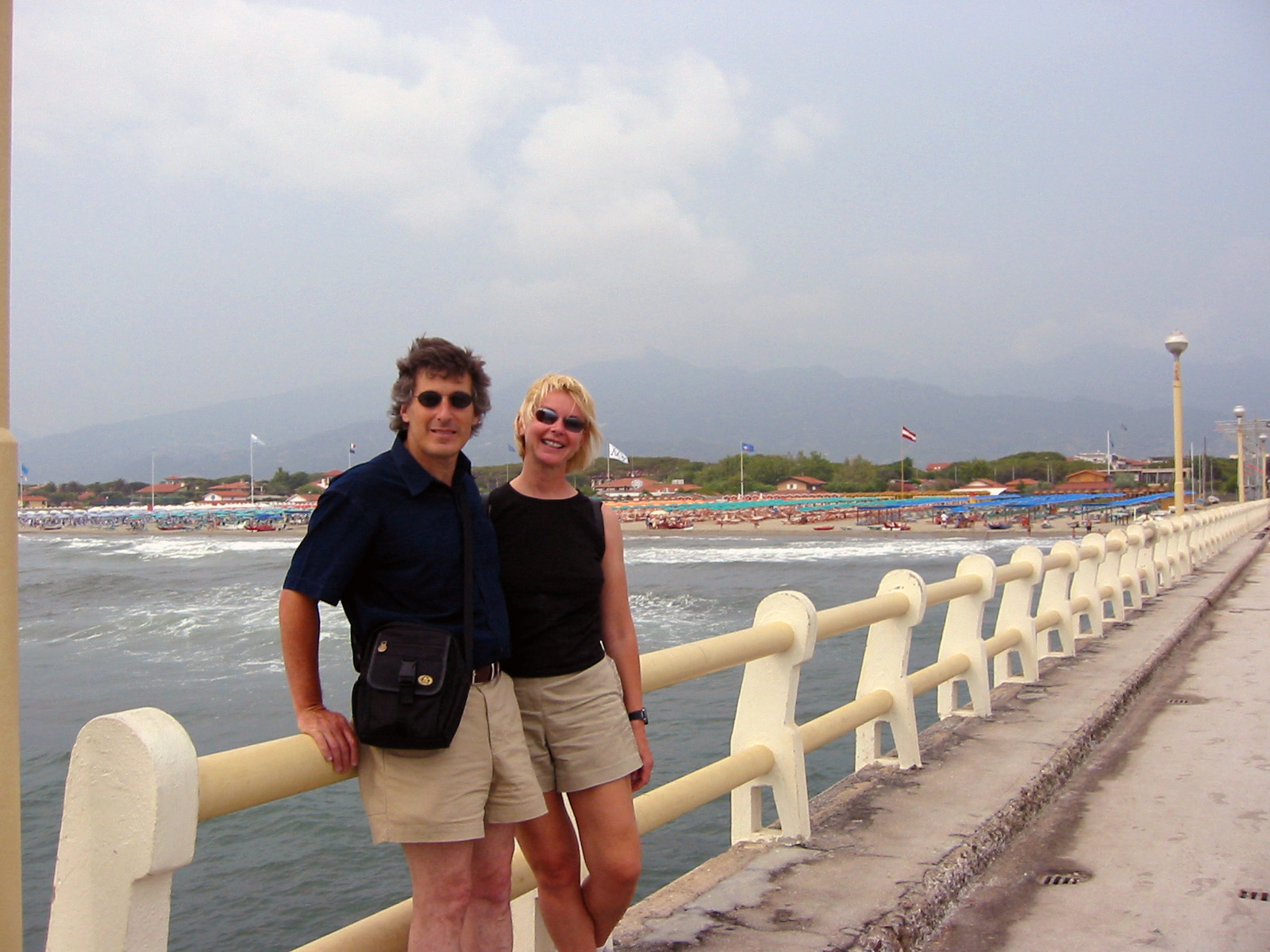 June 26, 2003
We love the United direct flight from San Francisco to Paris. Getting to Nice to pick up our leased Renault was a bit more difficult. It started with the fire in Charles De Gaulle Terminal 1. For all you United fliers, you should know that as the odious smoke filled the terminal and ticketing agents were fleeing the building, only the United desks remained open. Extra value service or extra stupidity? You decide.
We did eventually arrive in Nice, and there was our brand new Renault Laguna, so new that it didn't even have a key, or gas for that matter. We just shoved a card into a slot under the radio and pushed a start button to the right of the steering wheel, and after a brief stop to fill up the tank, we were on the way.
We started our journey from San Francisco at 12:30pm on June 25th. At 8:30pm, June 26th, 23 hours later, we arrived to Il Bottoccio di Montignoso, a small hotel near Forte Dei Marmi on the northern Tuscan coast.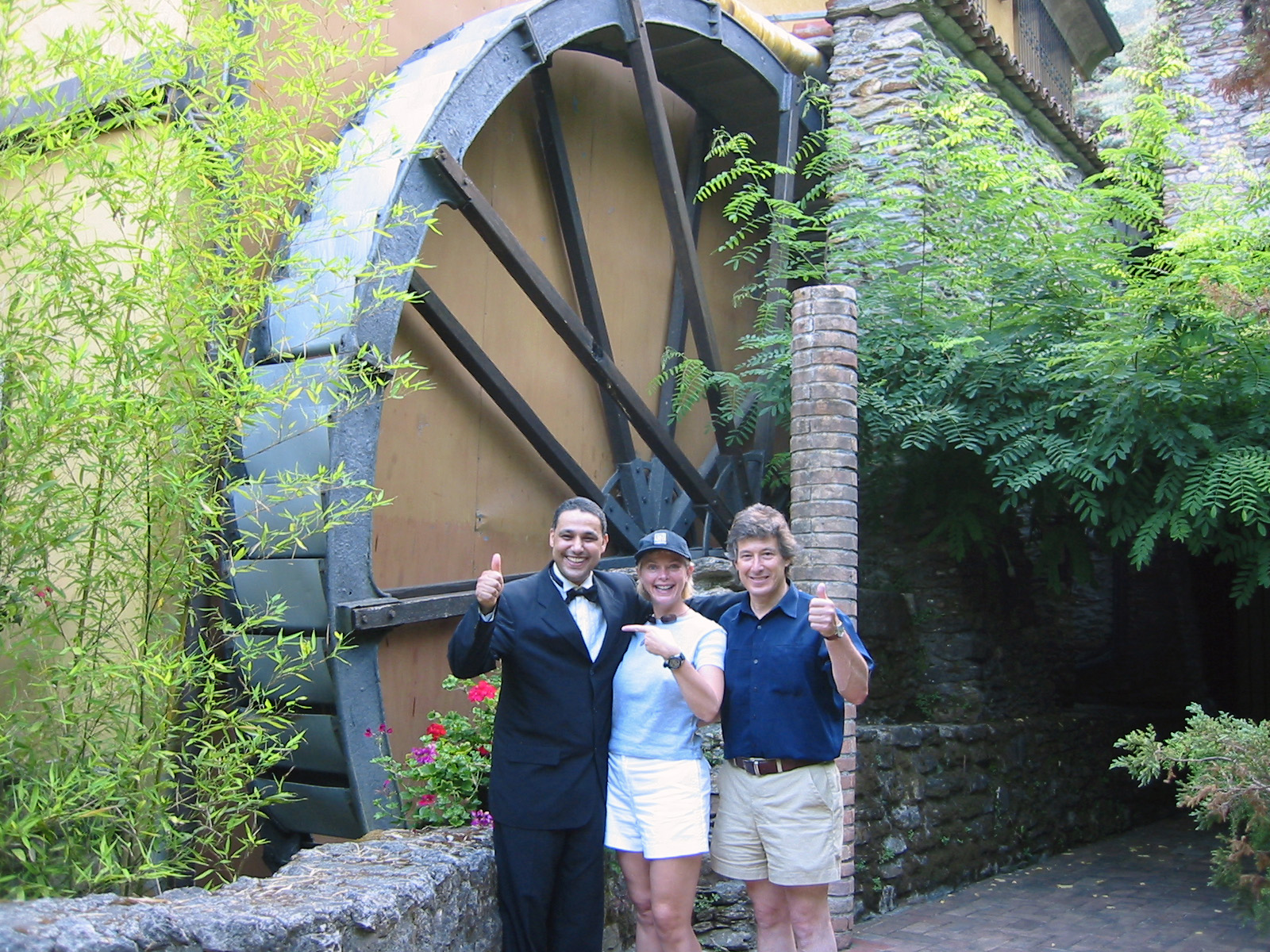 It was brutally hot!!!! The thermostat in the Renault Laguna read 33° celsius, about 95° Fahrenheit. But we didn't care. We were in Italia. As we pulled into the driveway, two beautiful women in formal wear ran out to greet us. We thought they were confusing us with some guests coming in for a wedding, but apparently Christy and Erika dress like this every night. The lobby was beautiful. The restaurant tables surrounding the indoor swimming pool were charming. The grounds of the old mill were most picturesque. Our room was very traditional with a beautiful view. The art, in the school of Michaelangelo, was so dreadful it was actually funny. The red tiled bathroom with the dungeon door was amusing. But then it struck us, there was no air conditioning and it was still 33° celsius. This turned out to be the worst heat wave in 70 years. People all across Europe were fainting and dying. No one was prepared. They did provide us with a small circular fan but all it did was blow the hot air around the room. I really need to remember to confirm the hotel has air conditioning.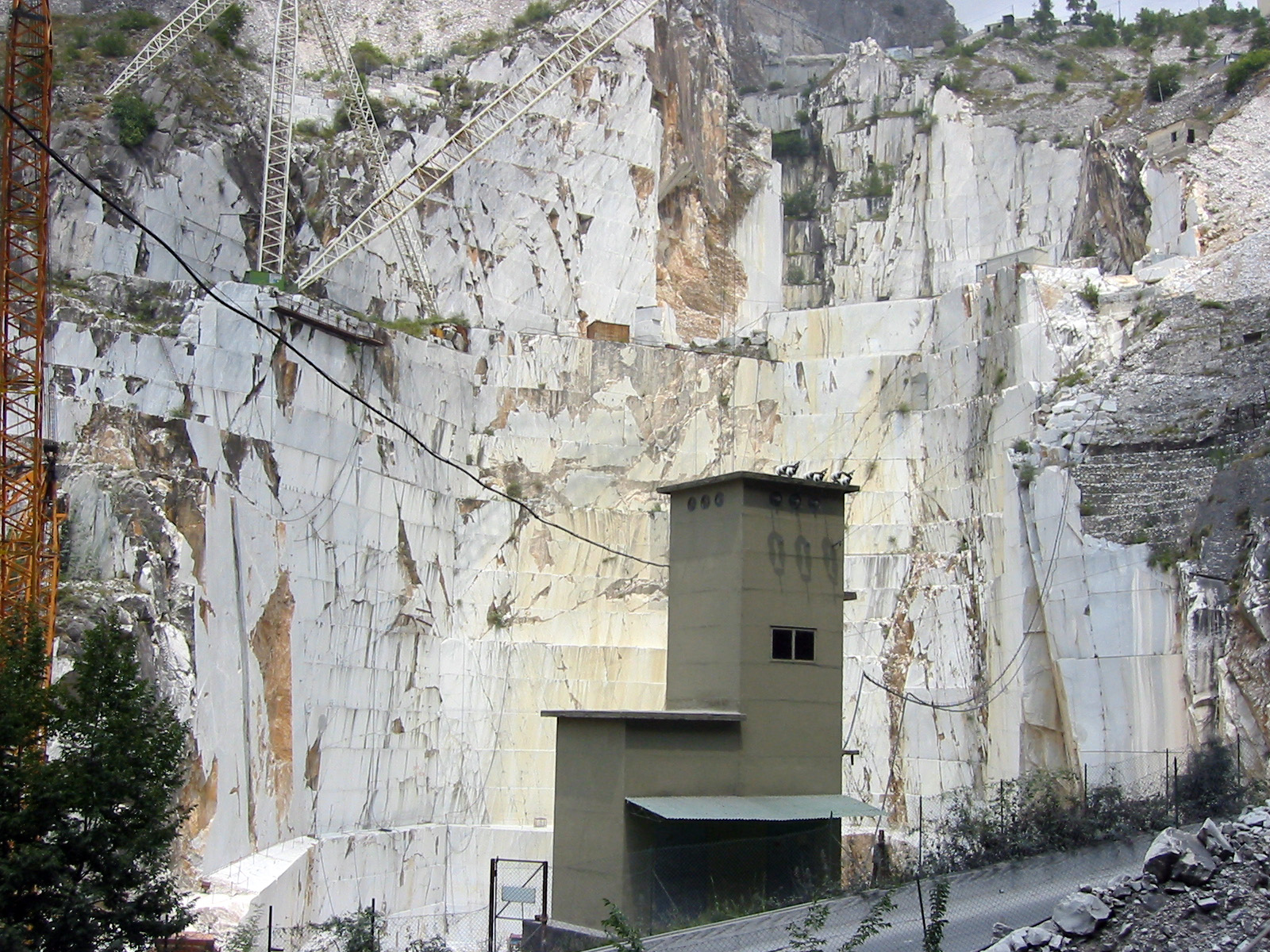 June 27, 2003
The ancient Romans took marble from these hills as early as 2nd century BC. The Pantheon and Trajan's Column were made from this white stone. The Marble Arch of London, the Duomo of Siena and the Peace Monument in Washington DC came from the hills of Carrara. Michelangelo's David was mined from these hills. The pure snowlike white stone was a favorite of Michelangelo, Antonio Canova and many others.
It took Michaelangelo weeks to climb the Alpi Apuane mountains to Carrera on the back of a horse. Even in the car, the climb took over an hour until we finally stopped near mine #136. From below, the 6,000 ft  peaks above Carrera  almost look covered in a blanket of snow, but as we got closer, we could see the carefully laid out negative shapes of building blocks removed from the mountain. We walked through the quarries, covering ourselves with a thick layer of white marble dust. Talk about occupational hazards. The workers up there must suck down a pound of dust a year.
Carrera is a city about marble. As one marble yard ends, another begins, layers upon layers of sliced slabs, leaning against each other liked oversized canvases stacked in a museum anti-chamber, and not just the white marble from Carrera. Within a 40km radius of the mine, there is amber marble, black marble, rust colored, white with grey veins and blood red. Trucks carrying 8 cubic ft of solid marble blocked the traffic along the narrow roads. Sawmills sprayed white dust throughout the neighborhoods, and stoneyards crush tossed away remnants into small pebbles probably to be used for terrazzo or landscaping.
There haven't been too many opportunities to wear shorts in San Francisco and consequently our legs were pale and pastey. But the additional white layer of marble dust got lots of heads turning as we hit the beaches of Forte dei Marmi and Pietrasante.
On a normal summer day these grand beaches lined with hotel cabanas, chaise lounges and umbrellas play host to thousands of people, but it was so hot, the beaches were empty with the exception of a few determined tourists and some children who just couldn't stay out of the water, even with the threat of the  jellyfish (le meduse) floating a mere 75 ft away from the shore. As the water gets warmer, le meduse come in closer, and it's been heating up here for two months.
Forte dei Marmi and Pietrasante became popular in the early 19th century when wealthy families from Florence built summer homes here in order to escape the summer heat of the city. Over the years these coastal towns have offered a refreshing breeze or a cool dip into the Mediterranean. But not today. The chaise lounges are empty. Everyone is indoors hugging the air conditioners.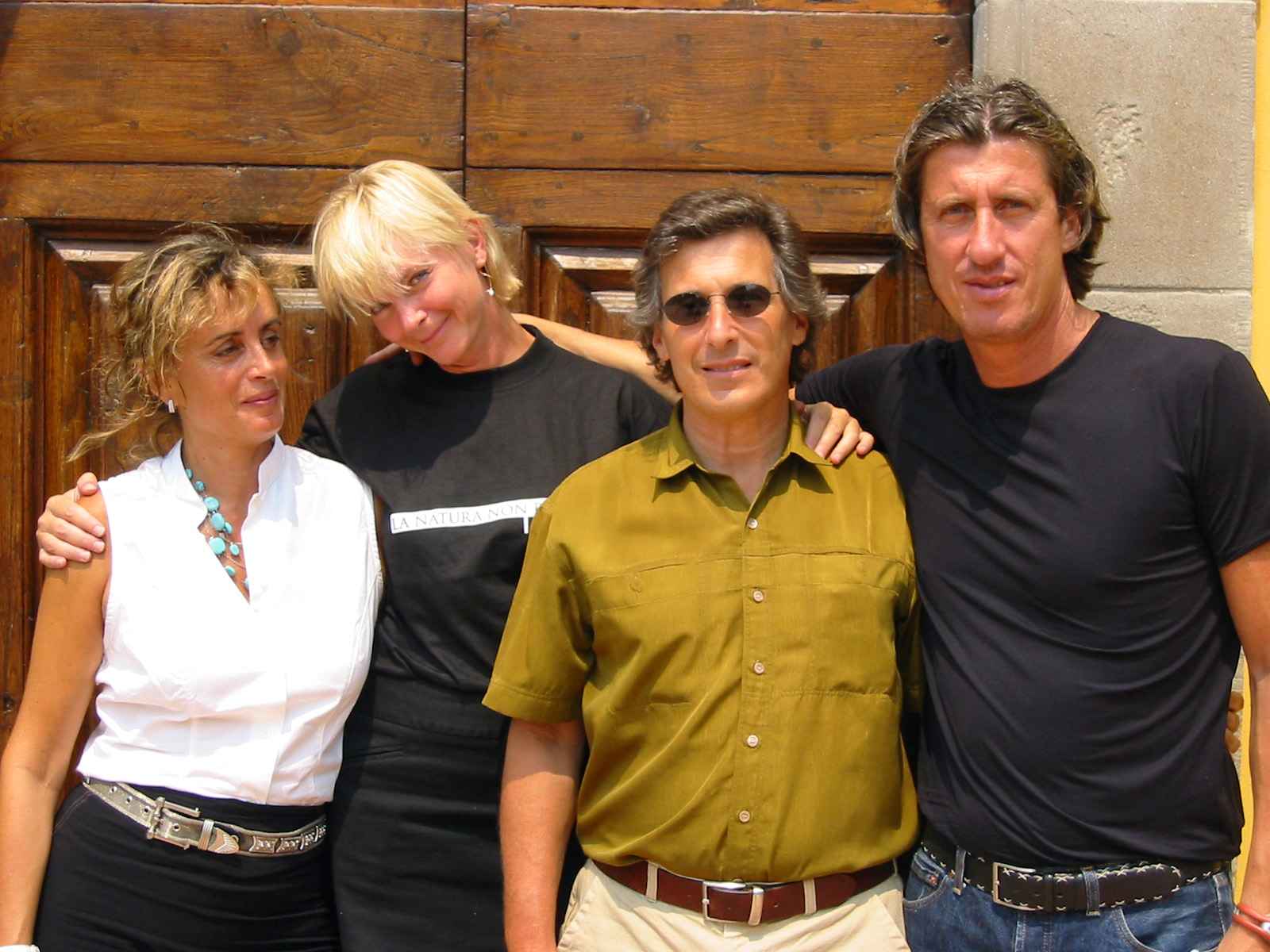 That night our Moroccan waiter, Simo served us samples of the fresh local fish, braided sole in lemon sauce and local gallinta, small hens. And later night I dreamt that all the old marble from Carrera came alive and decided to return to the Alpi Apuane. Marble countertops were tearing themselves from kitchens all over the world. Churches crumbled as the animated marble slabs tore themselves from archways, floors and alters. Anthropomorphic statues ran out of towns and villages, running back to the scarred mountains and throwing themselves back into the large white gash. Maybe it was the heat. Maybe it was the gallina. Maybe it was the ambien I'd been taking for the last two nights.
June 28, 2003
Simo and I washed the marble dust from the Renault Laguna, said our goodbyes to Christy and Erica and headed east towards Lastra A Signa, home of our adopted Italian family, the Cinelli. This was supposed to be a quick lunch before we headed south to Rome.
However, we learned that there is no such thing as a small meal in Italy. First of all, although a simple lunch was planned for us, there were 12 people at the table. We ate swordfish carpaccio, mussels with fresh tomatoes and olive oil, shrimp with fresh pasta, shrimp with large white beans and olive oil, a sweet meaty fish translated as "tail of the toad", fresh tuscan bread, coconut cream torta, lemoncello sorbet, prosecco and a variety of some of the best wines of Tuscany. This one hour quick bite turned into a 4 hour extravaganza and around 3:30pm we made it back on the road towards Rome.
Postscript: Unfortunately United Airlines canceled the San Francisco to Paris around 2006