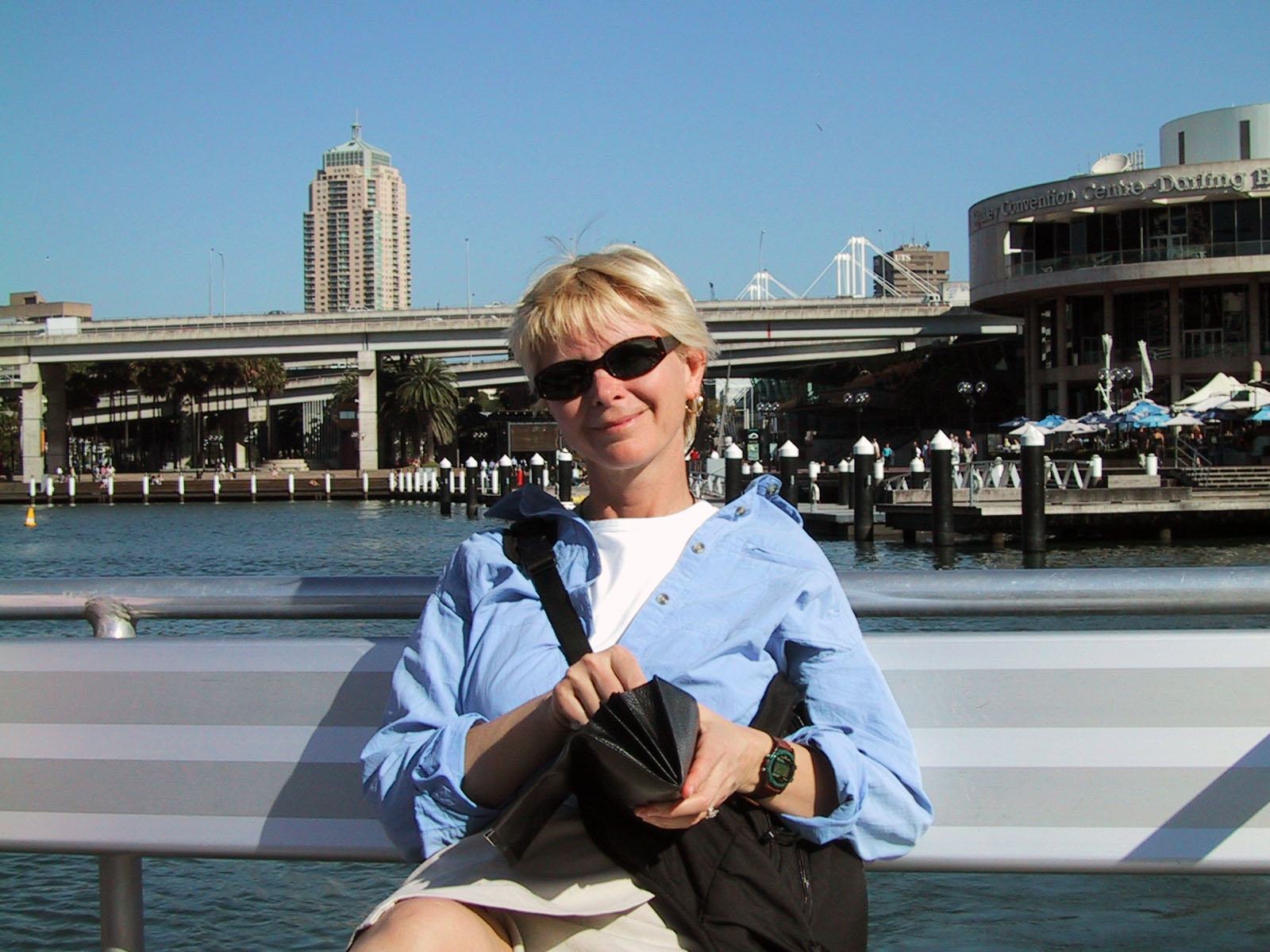 The weather forecast for Sydney was beautiful, warm days. bright sun, no rain. And each day after it just got better.  What a rush it was just getting to a real city with real food, real architecture and a real hotel.  Back in the real world. New Zealand was beautiful but we are so happy to be back in the civilized world, even if it is just for a couple of days before we're off to Bali.
April 4, 2001
We've been to Sydney several times and tis was more of a visit with old friends stop. The circular quay, George Street, the opera house, the rocks; all so familiar and all so beautifully laid out.  Sydney is a world class city with wonderful people.
We got upgraded to the Club Lounge section of the Hotel. Whoopee!. However, everytime we went in for a glass of wine or a bite to eat we were assaulted by a couple of Brits we referred to as Lord and Lady Plushbottom. They must have spent their entire visit to Sydney in the club lounge, scarfing down all the food, coiffing down all the wine and boring the other guests to tears with their loud pompous discourse, recalling their visits to other parts of the empire and the various delicacies they encountered, probably in the club lounge.
Oh, it wasn't so bad. It gave us an excuse to get off our own asses and get out into the city. Sydney is a great city. We've been here a number of times and we always look forward to coming back.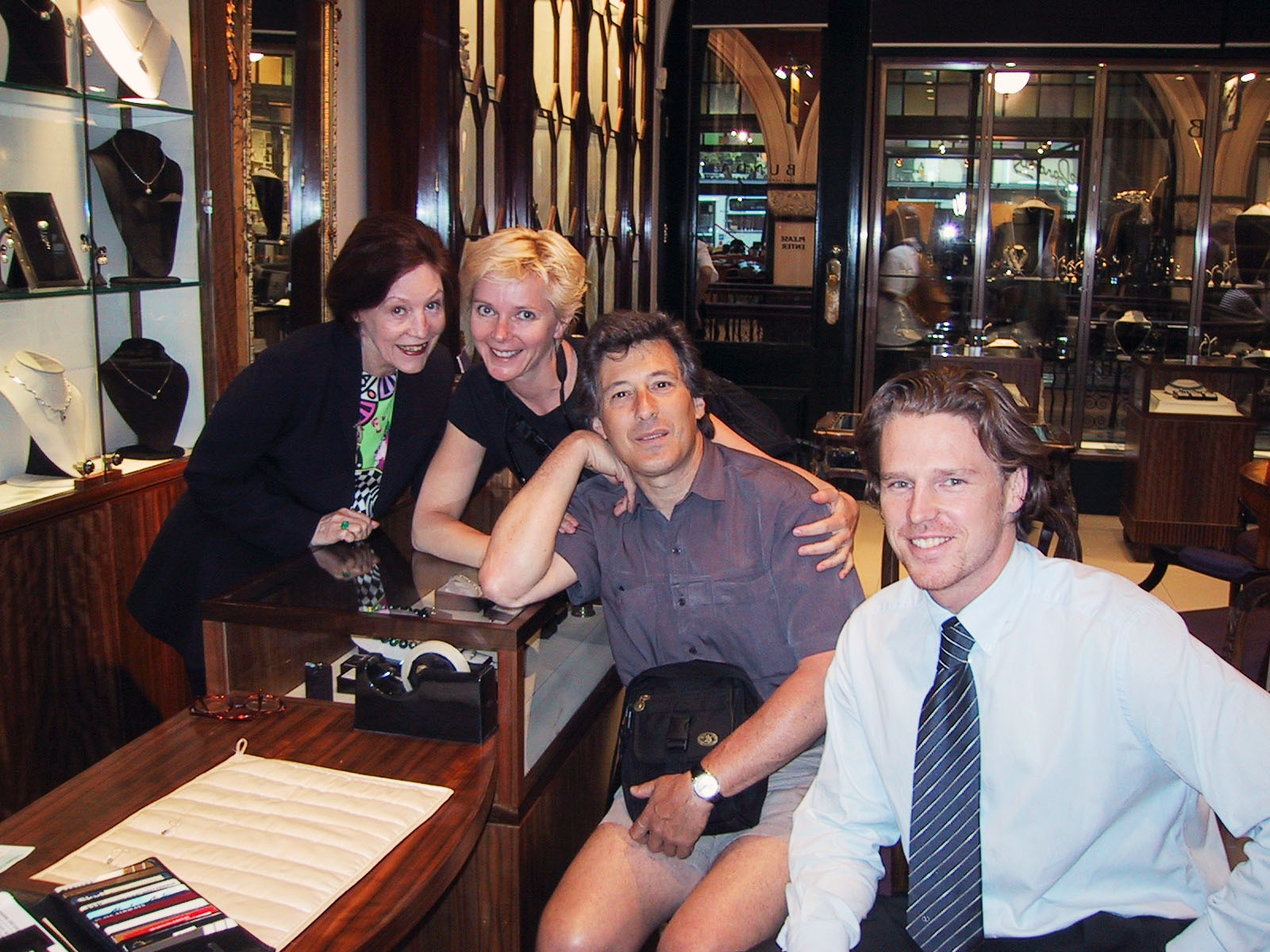 We went on a mission today.  Sometimes all you need is a mission to get you out into the streets. In the vitrine of the Inter-Continental, we saw a beautiful set of black pearl earings from a company named Bunda, located in the Queen Victoria building.  I said they were $300-$400, Gretch said $3,000-$4,000.  And so we went over to check them out.  And this was were we met Veronica Bunda and her son Matt.  The earings were much less than we epected, but more than we thought. But they did look fabulous on Gretchen. They still do.Matt Bunda is a great jewelry designer, one of the best I have ever seen.
Another long walk around Darling Harbour, a ride back to the circualr quay in the Rocket water taxi, a visit to the Australian Wine Center to pick up a few traveling bottles and a visit to the Opera House to see if we could catch a play that night.  No luck, the theatres were sold out, and so we went to the ver trendy Rockpool restaurant in the rocks, the flagship restaurant of star Australian culinary chef Neil Perry; a great meal.
April 5, 2001
Another early morning walk through the Botanical gardens and a visit to the new W hotel built on Woomolong Bay, built into an old warehouse; a very contemporary looking place with a lot of very clever modern touches and big rooms, not at all like the W Hotels we've seen in the US. There was a navy Destroyer in the harbor at Woomolong Bay that was so big it could have it's own zip code.  I think they said it had 4,000 people on board.  I think it was on a mission around the world to show every country how big it was.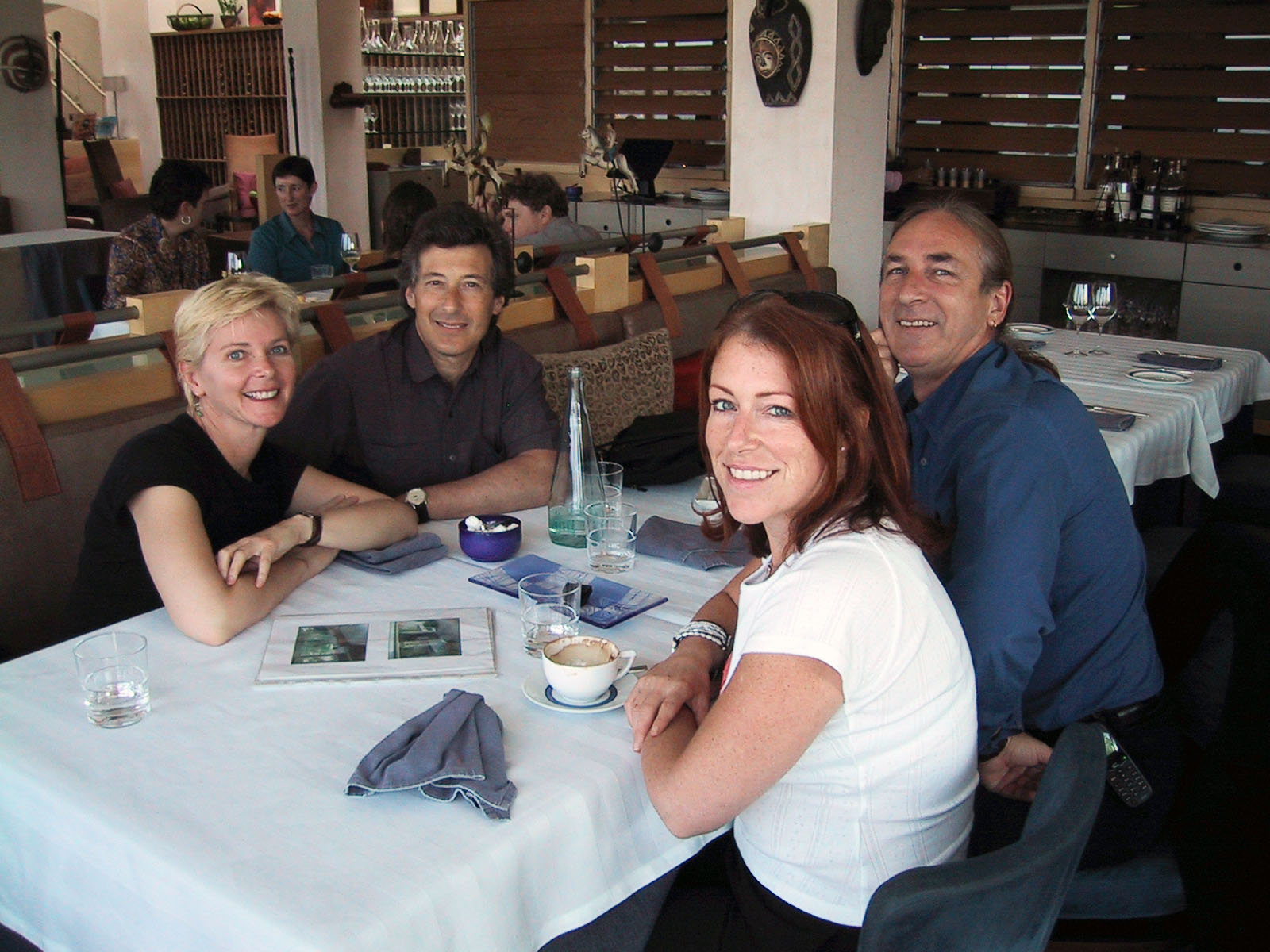 A walk back to the Hotel past the large trees with bats so big they could carry off small children, picked up our clothes from the laundry and met our friends Geri and Michael outside the hotel and onto a wonderful lunch at the Bathhouse Café, a beachside restaurant in North Sydney.
They dropped us off near the Queen Victoria building and we picked up Gigi's pearls. Then it was off to the Australian Wine Center to sample some of the Ozzie wines at the wine bar and ended up having a Moreton Bay Bug pasta dinner.  Moreton Bay bugs are like small rock lobsters. They are very tasty. After tasting a three or four wine varieties, the Sommelier brought out a bottle of 1998 Lindeman's Limestone Ridge, an excellent shiraz-cabernet blend from Coonawarra. Gretchen bought a case of it to be shipped home. She'll sometimes complain that I buy too much wine.  It was great to see her get the wine buying bug.