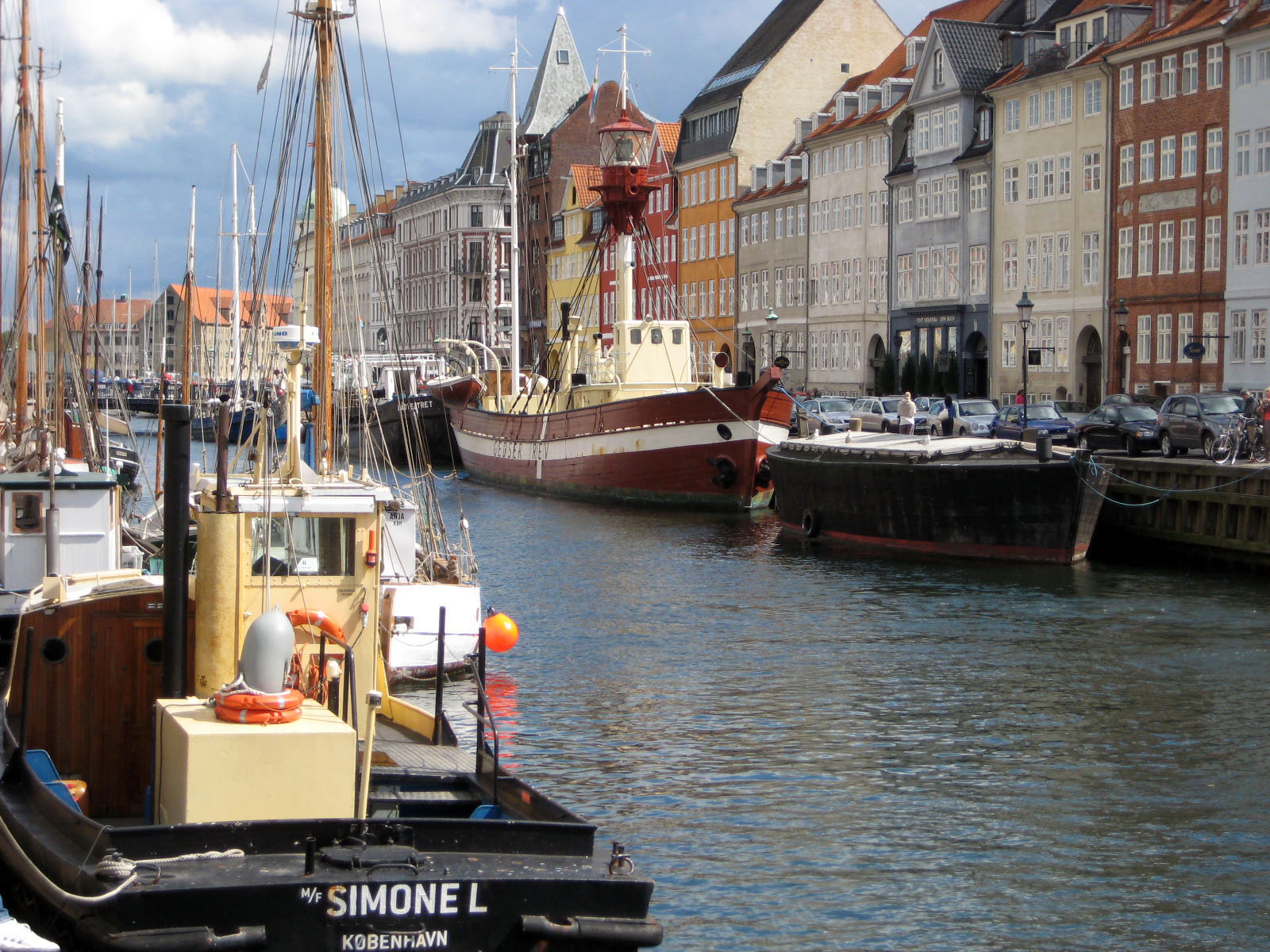 We just got out of the plane in Copenhagen. It's cold and wet and everyone is telling us the rain will be here all week. Lucky for us, we won't be.
We checked into the Front Hotel, a small boutique style hotel near the new Opera House. The Nyhavn harbor is three blocks away.
When I was booking our reservations for this trip (oh so long ago) I called the Front Hotel and asked my usual questions; "is the hotel in a convenient walking distance to the central/historical city?, does the hotel have internet access?, is breakfast included?, how large are the rooms?, is it in a quiet street?, are there nice views?" The women from Hotel reservations told me breakfast wasn't included (not a problem) and that the hotel overlooked an old harbor with lots of cafes and restaurants. Well, the beautiful old Nyhavn harbor was three blocks away; we passed it on the rain soaked drive from the airport.
The sea view from our room window was filled with sea containers and garbage. The hotel is literally overlooking the slummy old Copenhagen docks; our sea view included a recent deposit of someone's trash ebbing and flowing in and out with the tide.
The lobby was filled with out of control children and even louder unsupervised parents. Teenagers were climbing on the shoulders of adults and parading around the lobby. The reception agent, after letting loose a barrage of verbal assaults at both children and parents tried to welcome us, reassuring that the annoying guests would be gone in a couple of days. Since we were only here for two days, it meant they would be here during our entire stay. The cancellation policy was 48 hrs in advance. Yes, something was indeed rotten in Denmark.
We had to get out of there and pleaded our case to the hotel manager. At first she tried to give us a larger room with a nicer view of the garbage dump, but we told her if we stayed, our memories of Copenhagen would be so bad, we'd never ever come back. She understood and let us out of the cancellation cost.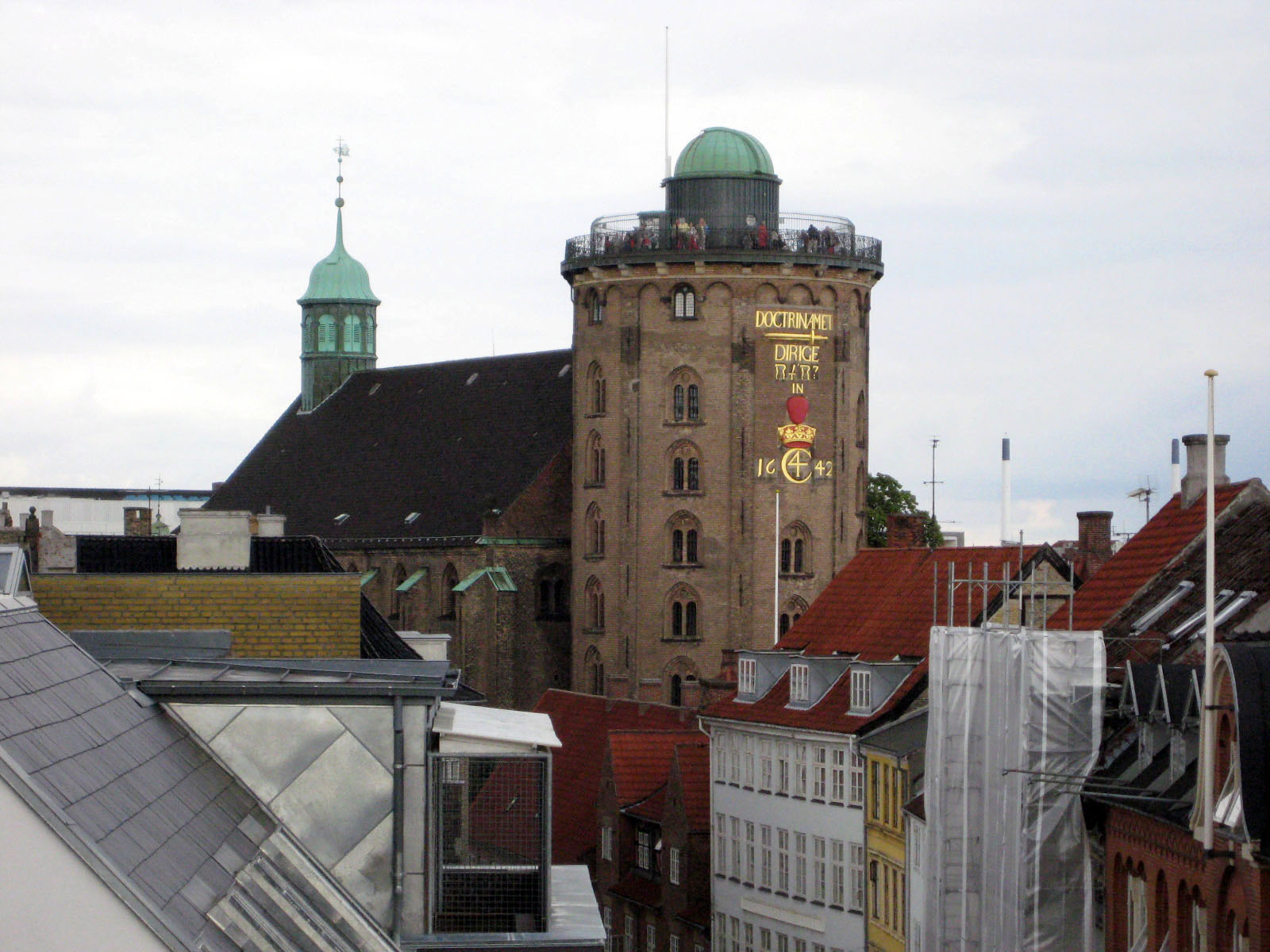 When I was booking our reservations (oh so long ago) I also looked into the Hotel Skt Petri but their rates far exceeded our budget. But when it's raining, and cold and you're depressed, an extra few hundred dollars really doesn't mean that much. As it turned out, they offered us a last minute super secret rate for a deluxe room with wall to wall windows and a corner terrace overlooking the Round Tower and the old city. We had, internet, a giant bathroom with a city view and an enormous breakfast for $50 less than the room with a view of the garbage dump. The Skt Petr is right in the center of the city. We couldn't be happier. Let it rain. Sometimes things just work out in your favor.
After a dinner of marinated herring, frikadeller (fried meatballs), potatoes and beer we fell asleep with a big sigh of comfort. They also have really comfortable beds.
The next day the rain stopped;, well, kind of stopped.. One of the hotel staff told us it was the best day in a long time.
We've been on a trip around the world and we're having great times digging up old history; the Monghols in China, Ghengis Kahn and the Ottomans in Hungary, the Hittites, Greeks, Romans, early Christians and Ottomans in Turkey, and the ancient mythology of Greece. We thought we'd find something about the Vikings here in Copenhagen but any evidence of the old Norse myths or the Vikings is nowhere to be found. I can't believe the lack of respect for their history. This is the land of the Dane Vikings, the kings of Beowulf; Angantyr the savage beast, Olaf the Brash, Sigurd Snake-in-the-Eye, Sven Forkbeard and Gorm the old. Where is the respect?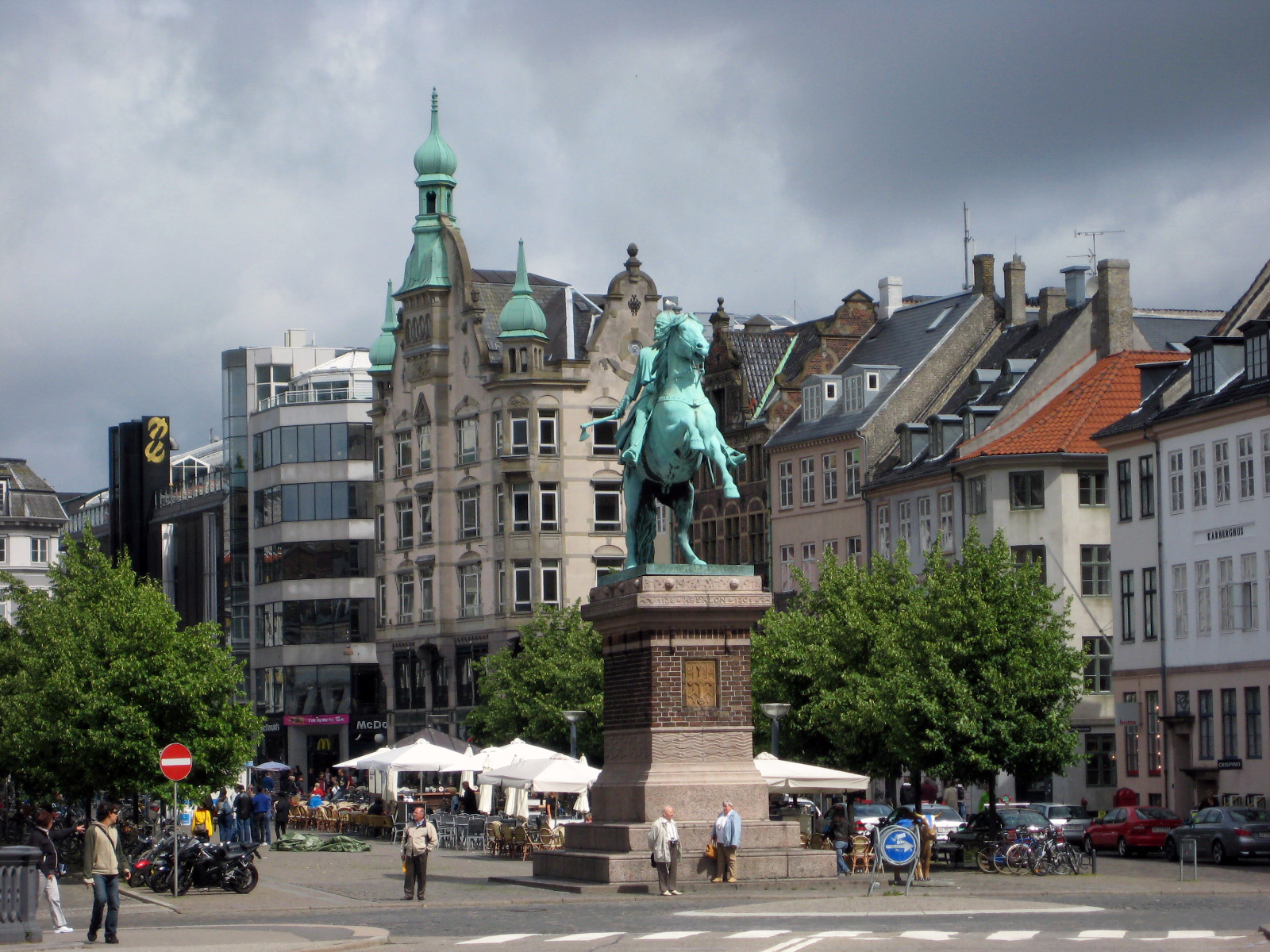 The city squares are filled with Kings from the 13th to 18th centuries. These same Kings decorated their Castle courtyards with classical  statues of Roman gods. We saw a statue of Hercules, but not one tribute to any of the Norse legends; no Odin, no Thor, no Vör, Frey or Loki. There are at least 50 Norse gods and NONE OF THEM are remembered in this Viking city.
One of old Protestant churches had a large statue of Moses, but where are the statues to Harald Bluetooth, who Christianized the Danish Vikings. Where was the thanks to Canute the Great. When he was King in the 11th century, Denmark included Sweden, Norway, England and Normandy.
In July 2007, a 100 ft long replica of a Viking long ship called the Sea Stallion sailed out of a Danish fjord for Ireland. It was the most ambitious Viking ship reconstruction ever, built with replicas of Viking era tools, 5,250 cubic feet of oak and 7,000 hand-forged iron rivets. At last, some reverence for the old heritage.
"The Vikings are coming back. Be prepared," the captain, Carsten Hvid shouted to the crowd of 4,000 watching the ship sail from one of the Danish fyords.
They figured it would take about 6 weeks to reach Dublin, about 1,200 nautical miles away. They lasted about three weeks before they were hauled back to Denmark. Even the GPS satellite system and modern medical support ship couldn't keep the Sea Stallion afloat.
And so, the Vikings have once again disappeared. What a shame..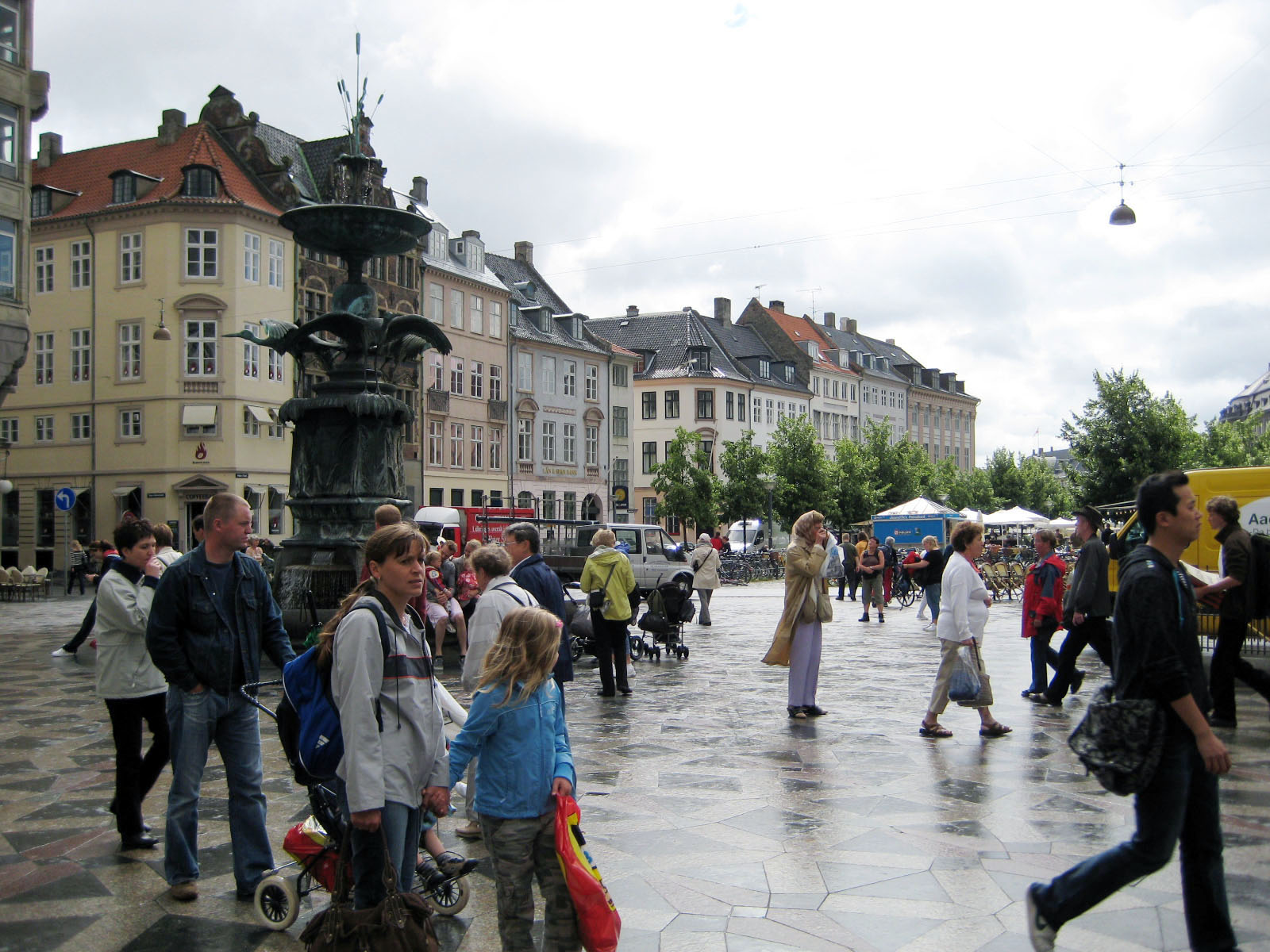 Well, since there were no Vikings, we decided to hit the modern shopping/pedestrain district called the Stroget and watch the people for a couple of hours. It's pretty entertaining; musicians, jugglers, unicyclists, tourist and painted fiberglas cows. Something called the Cow Parade has invaded the city for the summer. People bid on them to raise money for the arts. I have no idea what they do with them after they bid on them. Burn them I hope.
The Stroget is filled with the usual shopping royalty houses like Dolce and Gabbana, H&M, Ferragomo, Armani, but here in Copenhagen, there are also temples to local legends; silversmith Georg Jenson, the blue fluted floral patterns of the Royal Copenhagen porcelain, Bang and Olufsen, and Danish modern furniture from Morgensen to Wegner to Arne Jacobsen.
Just off the Stroget is the Round Tower,  a 17th century design by King Christian IV that houses the oldest astronomic observatory in Europe. We have a great view of it from the wall to wall windows and corner terrace of our hotel room.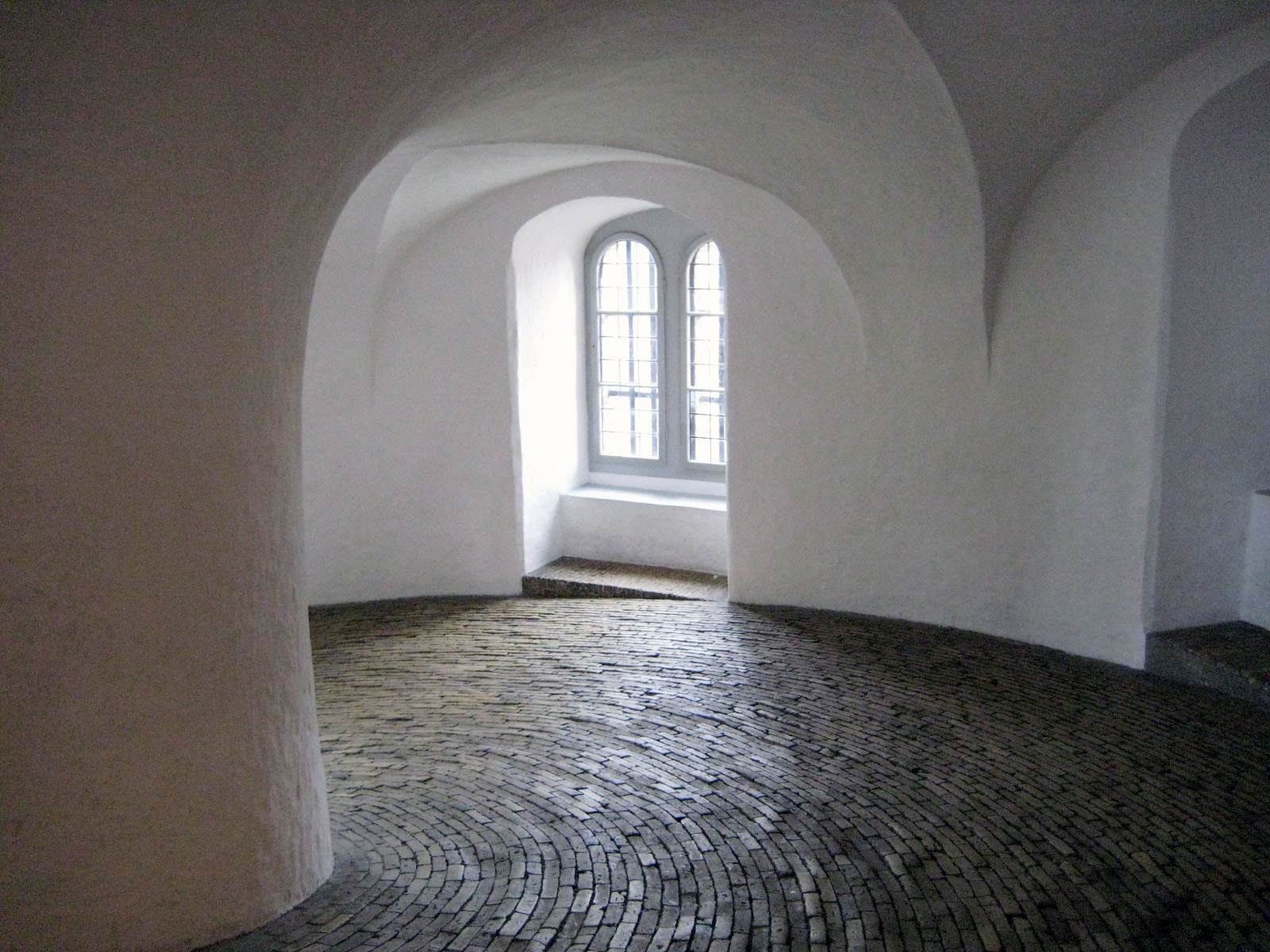 It's a lot of fun to walk up the 680′ long ramp to the top. It winds around itself 7.5 times. Peter the Great rode up the ramp on horseback in 1716. In 1902, a car drove up to the top. We couldn't get into the observatory, but there are some pretty good views of the city from the observation deck. There are the two 500 year old toilets that are no longer in use but you can sit on them just to see what it was like. It's your usual hole in the wall kind of toilet that emptied into a pit below, and I mean giant pit. How big was it? Well, they only cleaned it out only two times per century. The ceiling of the room is still stained with tobacco smoke from over 400 years of toilet pipe smokers. There are lots of new facilities these days so the old toilets are now just a curiosity. The last time the pit was cleaned out was in 1924.
We bypassed the Christiansborg Castle. It's big, dark and each room has a separate admission fee. I'm sure there are splendrous things to see there, but the rain was on hold so we decided to walk over to Rosenborg Gardens and take in the smaller, more charming, Rosenborg castle.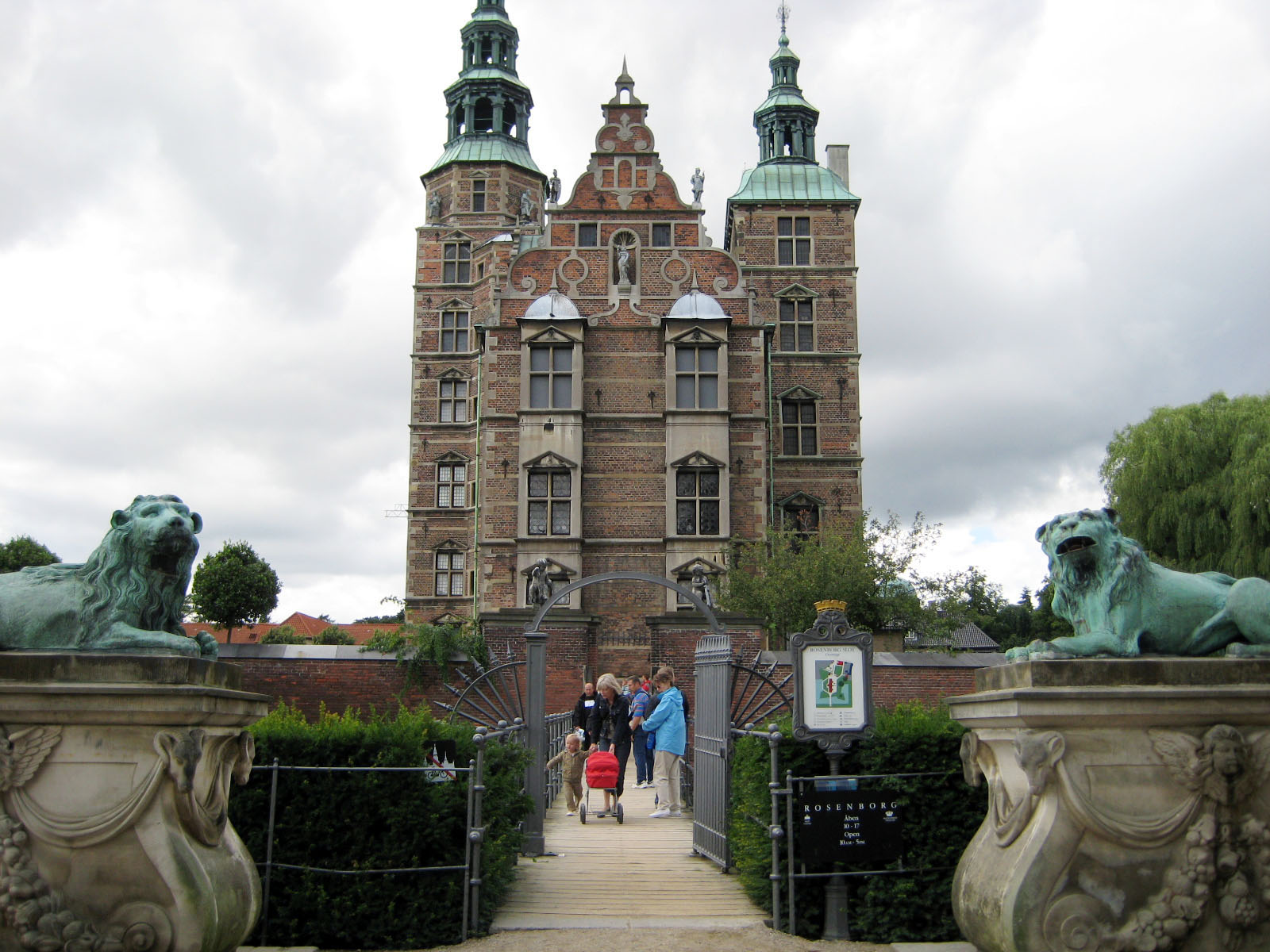 King Christian IV (1577-1647) built what he called "the big house in the garden" as a romantic getaway for he and his first wife, Anne of Brandenburg.
After Anne's death, he met Kristin Munk, the women he would forever refer to as the "true love of his life". He remodeled the "the big house" for her, adding the second floor and the towers, turning it into a little castle. Even though there was a court architect, Christian IV liked to put his own had into all his project. One of his creative designs for the Rosenborg Castle was to build several audio enhanced passageways to the Grand Hall, emanating from a basement music room. Beautiful music would fill the hall as guests entered. The music wasn't a new idea, but music without musicians charmed even the French. It was a 17th century home audio system.
Things were good for Christian IV for a while. He had 6 children with first wife, Anne, another 12 children with Kristen Munk and a few more with mistresses and hand-maidens. He was one of the most powerful Kings in Europe, ruling over Denmark and Norway and adding Sweden after the Kalmar War in 1611. He was probably the most important King since the Canute the Great of the 11th century.
The good times didn't last very long. He lost a war to Germany and almost bankrupt the country in less than 30 years. To top it off, Kristen Munk humiliated him by having a very public affair with one of his officers. Other Kings would have had her head, but Christian IV was still in lover with her.
In 1644, during another war with Sweden, a canon on the deck of his ship exploded and sent a splinter into his right eye. He got up and resumed the fight, but Denmark lost. Christian IV came back to Rosenborg Castle a defeated man. After 3 years of really bad headaches and pain from the wound, he died at age 70. He sent for Kristin Munk one last time, hoping to see his true love one more time before he died, but she never arrived.
By many accounts, both personal and photographic, he still haunts the Rosenborg Castle, walking the halls, waiting for Kristin Munk.
It seems like the height of Christian IV was the last upswing in the Danish history for a while. Between the 17th and 19th centuries, there were 200 years of war with Sweden. Ownership of land changed so often, the cartographers couldn't figure out what to do.
During the Napoleanic wars in the early 1800s, Denmark tried to keep their trade routes open with a policy of neutrality, but playing to both sides proved a bad idea. The Brits attacked Copenhagen in 1801 and again 1807. It was during the 1st battle in 1801 when Lord Nelson (he always makes it into my posts) famously "put the telescope to his blind eye" in order not to see Admiral Parker's signal to cease fire. Nelson went on to destroy most of what was left of the Danish Navy before he could be stopped.  During the second battle of Copenhagen in 1807, 30% of the city's buildings were destroyed. That was enough war to last for a long time. When Germany invaded Denmark in 1940, the opposition barely lasted for 2 hours.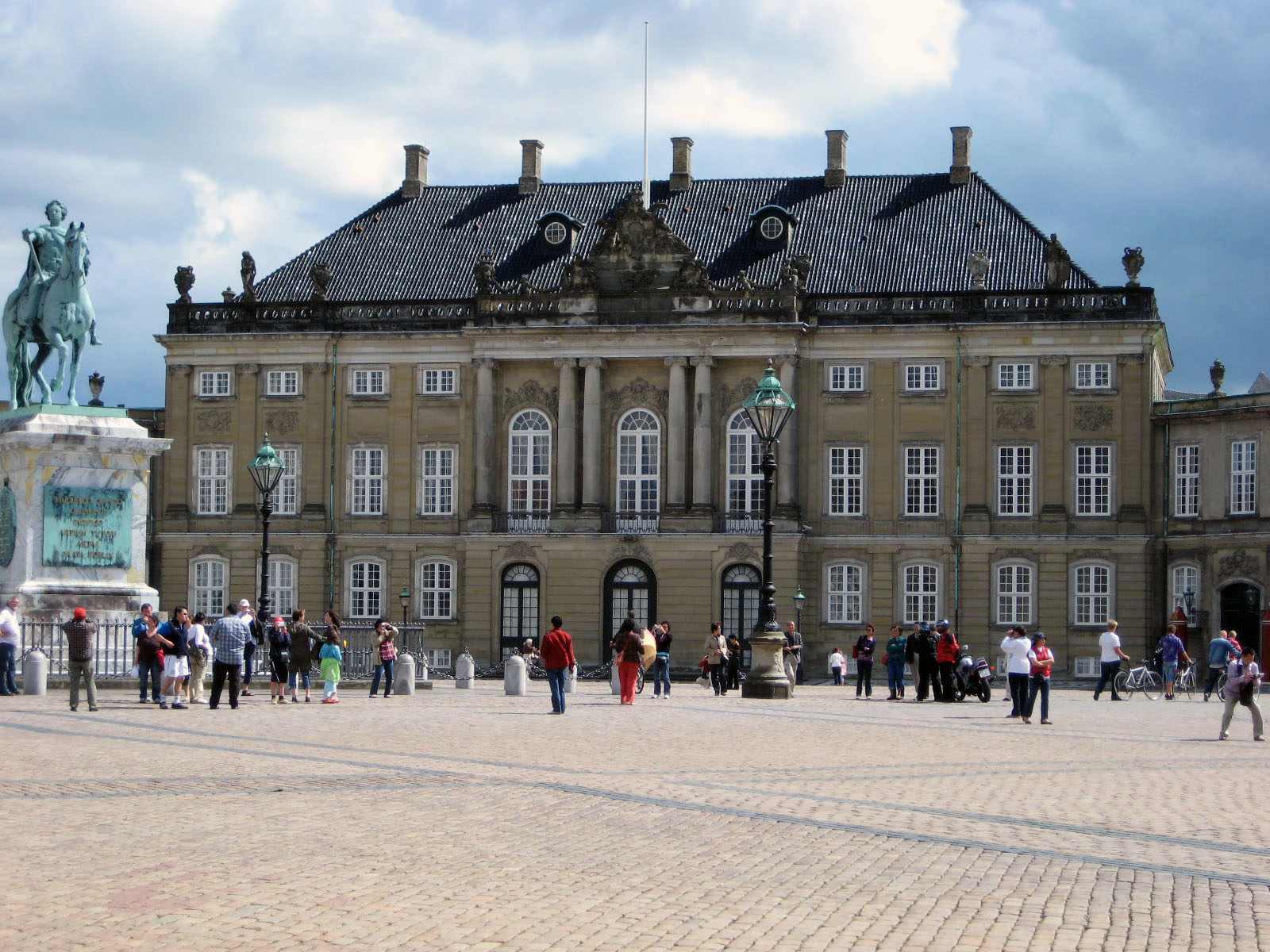 The admission ticket to Rosenborg Castle also includes the Amalienborg Castle, the home of the Royal Family. Amalienborg is made up of four identical baroque building built around an octangonal square. Queen Margrethe II, chain smoker, acclaimed painter and one time friend of Elvis, lives in one of the buildings. Her son, (the heir apparent) Crown Prince Frederick and his wife Mary (from Tasmania) live on one of the others. A third building is open to the public and is currently haunted with the wardrobe of Queen Ingrid, who died in 2000.
As the sun finally came out and we strolled along the Nyhavn Harbor, a beautiful canal of old wooden sailing ships. Once the sailors' quarters, it's now a fun filled stretch of bars, cafes, music clubs and tons of tourists. It's right near the first hotel we checked into. In fact, it's the harbor I thought we'd be overlooking.
Hans Christian Andersen also used to live near the Nyhavn harbor.
Andersen had a strange and controversial life. He might have been a happy child performing puppet shows and plays, but when his father died, he was forced to work in a cigarette factory where fellow workers used to bet on whether he was a boy or a girl, pulling down his pants to settle the wager.
He was dislexic, received poor grades in school and abused by his classmates.
The Little Mermaid, one of his most famous plays about a mermaid who takes her own life because she can't be loved by a beautiful prince, is now considered an allegory to his unrequited love of a young man named Edvard Collin. There were other attempts to woo a couple of Danish male dancers and the duke of Saxe-Weimar-Eisenach but they were never realized.
In 1872 Andersen fell out of bed and never really recovered. He died 3 years later in a small town outside of Copenhagen. Before he died, however, he was able to orchestrate his own funeral by directing the music composer to quicken the tempo of the funeral march so the children could keep in step.
I don't know how he was received in Copenhagen during his life but he pretty much owns the city these days. From the songs (which I promised Gretchen I would not sing or write any of Frank Loesser 1952 lyrics), to the little mermaid statue that sits off the harbor in Churchill Park. It's been there since 1913, thirty-eight years after the death of HC Andersen.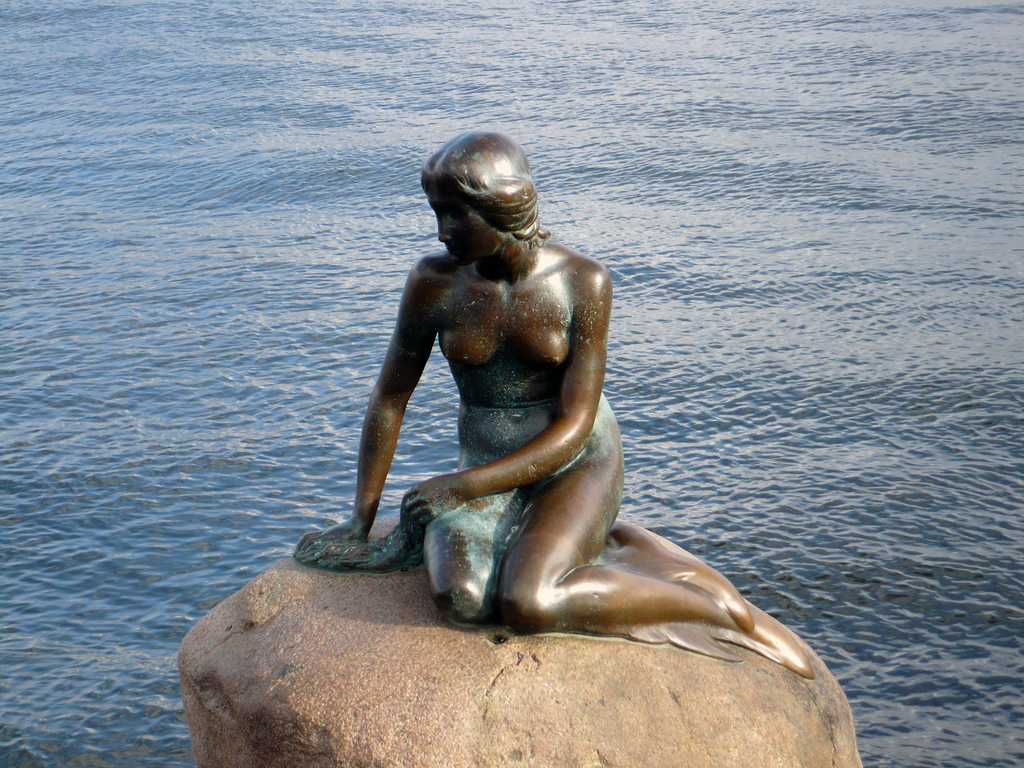 At only 4'4" tall, it's caused a lot of controversy over the years, and not because she gave her immortality for the love of a human prince, not even because it was written about Andersen's unrequited love for Edvard Collin. No, the statue has become a symbol of vandalism and political attacks.
In 1964, her head was sawn off and stolen. It was replaced with a new one. In 1984, her right arm was sawn off, but returned 2 days later. In 1990 another attempt was made to cut her new head off. The vandals never got it, but there's a large 7" gash in her neck. In 1998, she lost her head for the second time, the vandals were never found, but the head was left off at nearby TV station. In 2003, the statue was blasted off its rock. In 2006, a dildo was attached to the statue's hand. She's been draped in a burka as a statement about Turkey joining the European Union, covered with red and pink paint and just recently in May 2007, draped in a Muslim dress and head scarf.
Recently, Copenhagen officials have announced that the statue may be moved further out in the harbor, as to avoid vandalism and tourists climbing onto it. Hans Christian Andersen should be proud.