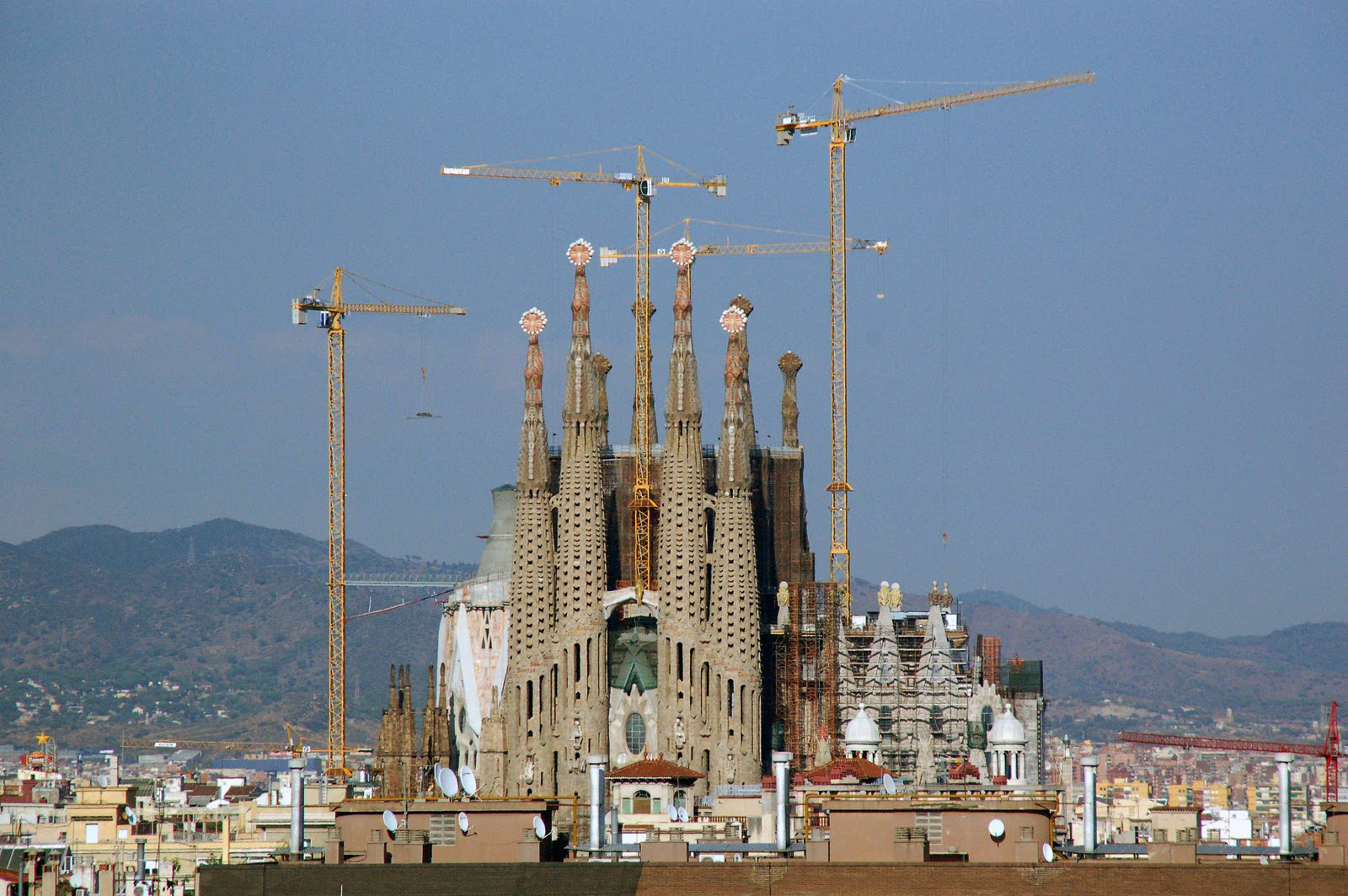 Barcelona
We're very familiar with this city. We've been coming here since 1994 and every couple of years we come back if for no other reason than to see the progress on the Sagrada Familia church.
Antoni Gaudi started working on this church in 1882 and spent the last 15 years of his life working on nothing else. Gaudi died in 1926, run over by a tram while trying to get home. Since he never cared much for his personal appearance, he looked more or less like an indigent bum. As he lay on the street dying, he was ignored at first and then taken to the Paupers Hospital.
It took a few days for one of his concerned friends to find him. The Pauper's hospital was one of the last places they looked. When his friends tried to have him moved, Gaudi just refused and told him he belonged there with the poor. He died 5 days later and was buried under his Sagrada Familia. It's been said that over half the city mourned his death, which is kind of strange since during his life, most people thought he was a crazy lunatic.
Even though Gaudi is now considered as one of the greatest architects of all times, it's amazing his church is getting built. First of all, there were no blueprints. All of his work was built solely from sketches. Gaudi would show up every day and instruct the workmen on how to achieve his vision. When he died in 1926, the project was given over to one of his collaborators, the architect Domenech Sugranyes, but in 1935, during the Spanish Civil War, Gaudi's workshop was firebombed by anarchists. Most all the drawings were destroyed.
When the war was over, a few architects who worked with the old master reconstructed versions of the original drawings and the project got underway again. It's hard to say how much of it is Gaudi's vision and how much is the vision of what the current architects thought Gaudi's vision might have been. With the aid of computer generated details and designs it looks like it'll actually get finished. The completion date is scheduled for 2026. That's the good news.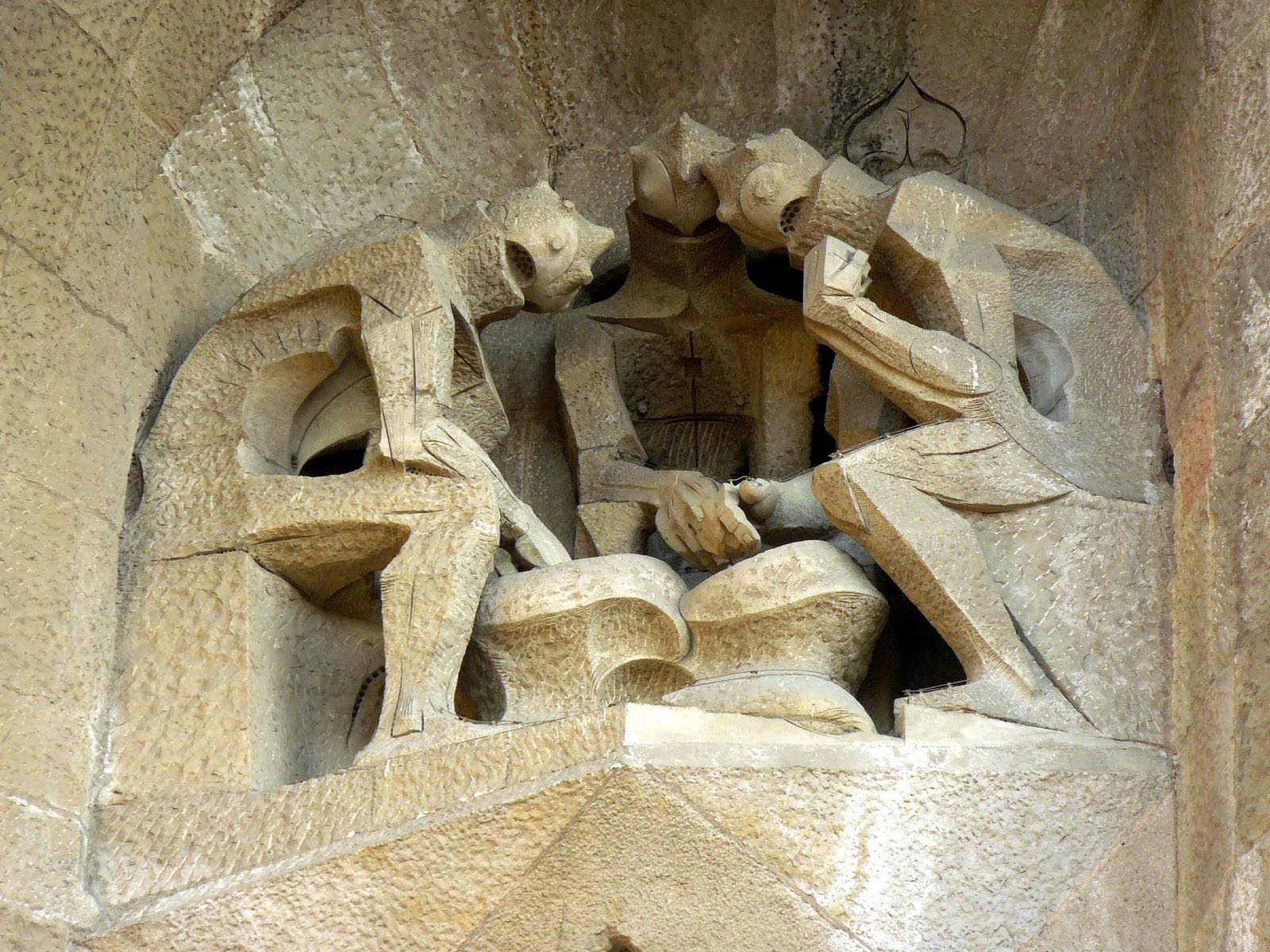 The strange news is that so many people have had their hand in this project that it's become bizarre and totally confusing. In many ways the original Gaudi elements tend to look old and almost out of date compared to the Gaudiesque additions. And then there is very modern, angular and controversial  "Passion" entrance by Catalan artist Josep Subirach. The Subirachs side was done 90 years after the Gaudi side. He did use some Gaudi elements in his design but he is totally different. I actually like them both, but I'll agree, they really don't work well together. It looks likes two different churches.
We have discovered the Hotel 1898 on the Ramblas. We actually discovered it by accident after we bolted from a really bad Hotel Grand Central in the Barrio Gotic. Sometimes you have to have a bad hotel reservation in order to find a good one. Hotel 1898 is a restored building that once housed the Philippine Tobacco Company. The rooms are beautiful, the building is lovingly restored and there's a pool on the roof.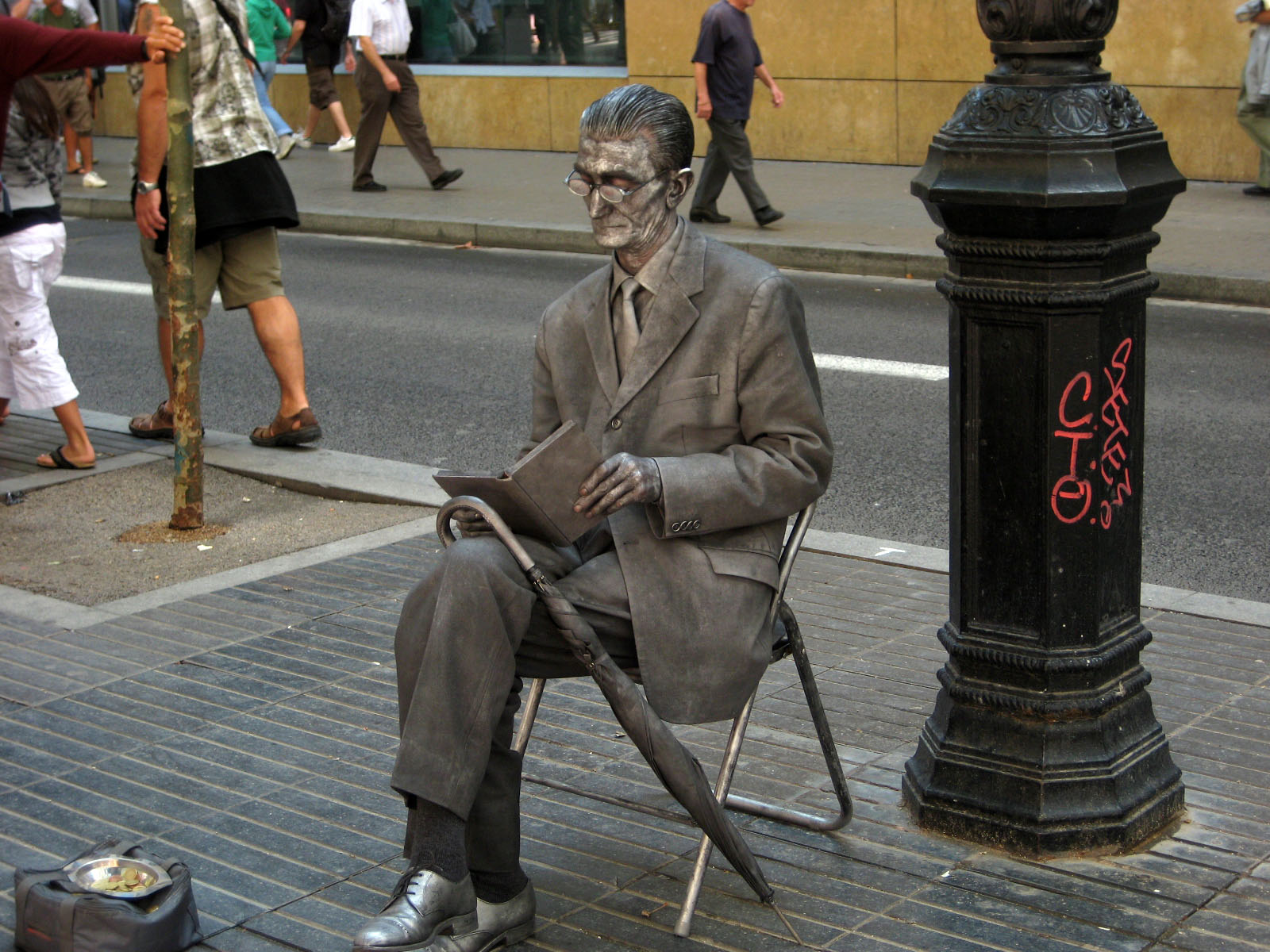 I know the Ramblas can be a pretty touristy part of the city, but we just can't seem to get enough of it. No matter how many times we stroll this street, the people watching is always too good.
We rate the street mimes in Barcelona the best in the world, and we usually hate street mimes. Their small performance spaces line adjacent to each, barely a few feet away, covering at least 1 km of the street, like some sort of Cocteau inspired statuary.
For the most part they're your typical gold or silver variety, but Barcelona is a vibrant city and the more experienced models have created kind of an arcade style attraction to their costume. They'll hide in a portable box, occasionally wagging a finger to the crowd, trying to seduce a passerby with some loose change. The crowd will build but they'll wait patiently. Someone will drop a 20 euro cent coin into their box but it won't be enough. Sometimes even a euro isn't enough. But eventually the price is paid and they come screeching out of the box like a banshee from hell. We all know it's coming but it still scares the hell out of everyone when it comes.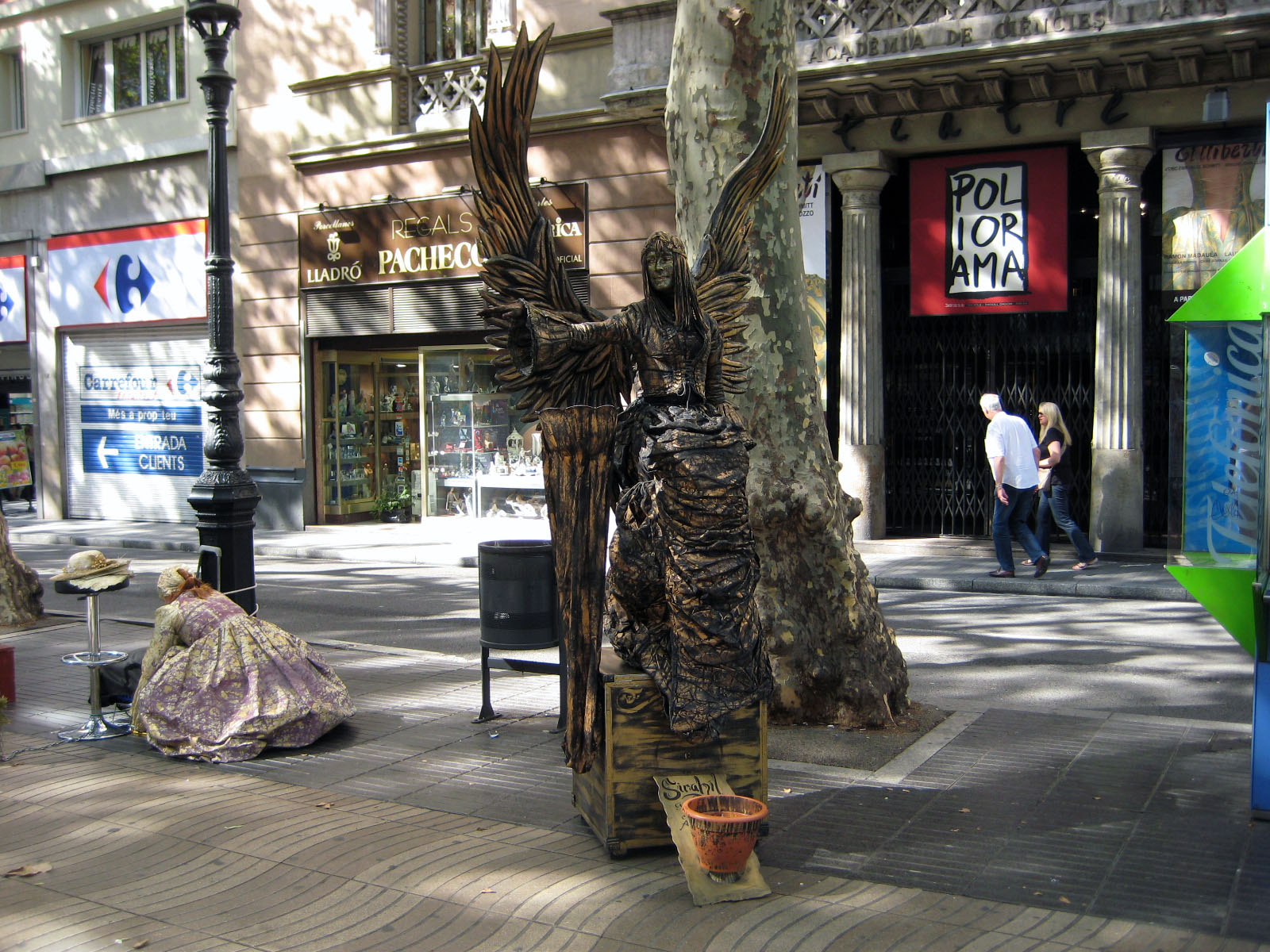 Ghouls, goblins and fantasy creatures are always a big hit on the Ramblas but there is a good representation of Hollywood screen legends, rock stars, Che Guevara, Billy the Kid and this year, soccer players keeping a ball in the air for 10 minutes or more as the crowd cheered them on. Yes, there are always a crowd. We've been here in the fall, spring and summer and it's always packed.
Bario Gotic
Even with a map, the small web of streets can be confusing and you'll always scrach your hear when you end up back again on Calle de Ferran between the twin governement buildings in the Placa de Sant Juame. They look so much alike you can't remember which side of the street you were on the last time you were there.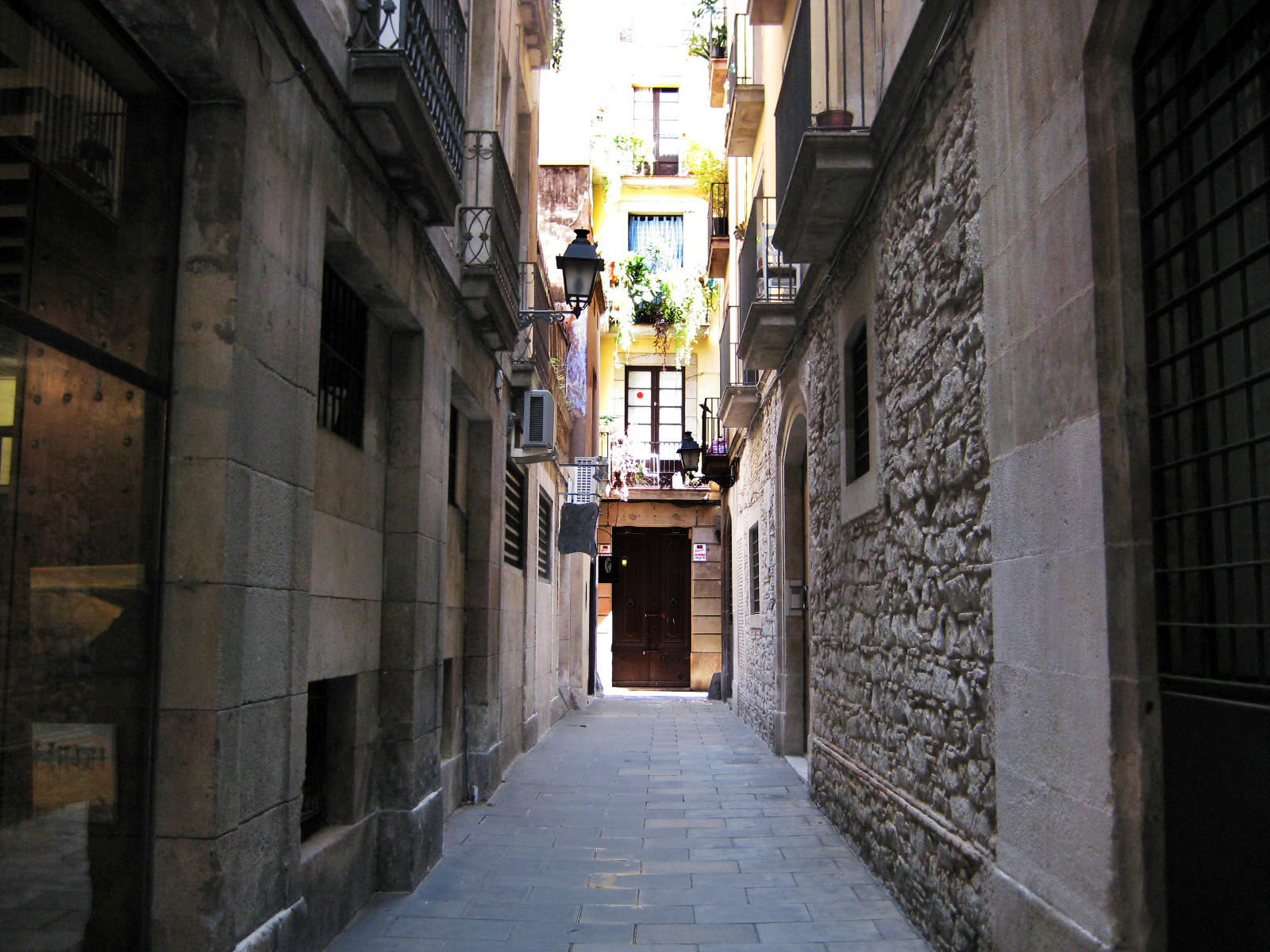 The Bario Gotic is one of the oldest medieval cities in Europe. You can find remnants of the old Roman city, Castrum, in the Placa del Rei and in the walls of the Cathedral.
The city's history actually goes back pretty far. Supposedly it was founded by Hercules and Carthaginian Hamiclar Barca (the father of Hannibal) rebuilt it as Barcino in the 3rd century BC.
The Museo de Picasso is one of the big attraction of the old quarter. Then, any Picasso museum in Europe is usually crowded. Picasso spent his youth here and in 1970 he donated a lot of his early works from the Barcelona years to the museum. There are drawings from his childhood, paintings from the blue period and paintings made during his early 1900's relationship with the Russian dancer Olga Koklova.
Over the years from 1970 till now, the museum collection has grown and now there are over 3500 pieces (paintings, sculptures, drawings and ceramics). There are also the 58 painting versions of Velásquez' Las Meninas that Picasso painted in 1957. He was obsessed with the painting (which is at the Prado Museum in Madrid). The museum continues to grow as more pieces are moved here. More pieces mean more publicity and more publicity mean more people and more people mean longer lines and longer lines mean we didn't stay around to see it on this visit.
But as I said, we come here often and we've been to the museum a few times.
Modernista houses along the Passeig de Gracia
There is a lot more to the modernista movement than just Antoni Guadi, although Gaudi's work is really amazing and he is possibly the defining achitect of the city. He had a genuine feel for natural shapes and his building almost feel as if they have an organic quality. They also look as if they were the inspiration for every science fiction comic book I read throughout the 1950's. His "Casa Batllo" has the presence of an underwater palace, which might have been influenced by the fact that he was a big fan of Jules Verne.
No one really knows how he did it. His parabolic arches were enormous and structurally untested, and yet, they've lasted (without damage) for close to 100 years. In his workshop at the Sagrada Familia you can see some of his models where he used gravity to form the shapes by placing weights into interconnected string sculptures and let them weigh down the string into a cat's cradle kind of string sculpture.. He figured if it would work upside down, it should work inverted the other way. It turned out he was right. Either it was really good guess or the guy knew more about structural strength than anyone else.
I read somewhere that suppposedly Gaudí was color blind. If this was true he's even more amazing. Light and color are such an important part of his creations. How he did it no one knows.
Gaudi might be revered as the father of Modernista architecture these days but history has a wonderful way of rewriting itself. While he was alive his buildinsg were given names like the "boneyard" or "quarry" and he was ridiculed by his peers. If it wasn't for the rich industrialist Eusebi Guell, there might not have been many buildings at all. When George Orwell came to Barcelona as a journalist during the Spanish Civil War he reported Gaudi's architecture to be horrid. Lucky for us, opinion has changed. Otherwise these great houses and buildings might have been torn down.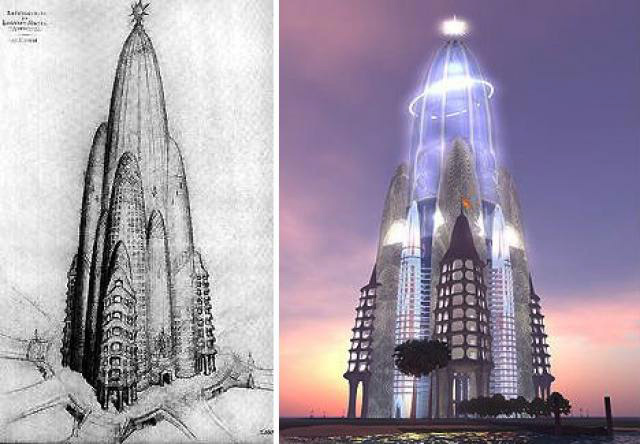 In 1908 Gaudí's was invited to bid on a design fro a New York Skyscraper, but the design was rejected. Nonetheless, the drawings still exist and they were re-proposed for the redesign of the World Trade Center after the September 11, 2001 attacks. It was considered for about a minute. I think it would have been a spectacular addition to the New York skyline.
There's a lot more to the modernisa movement than just Gaudi.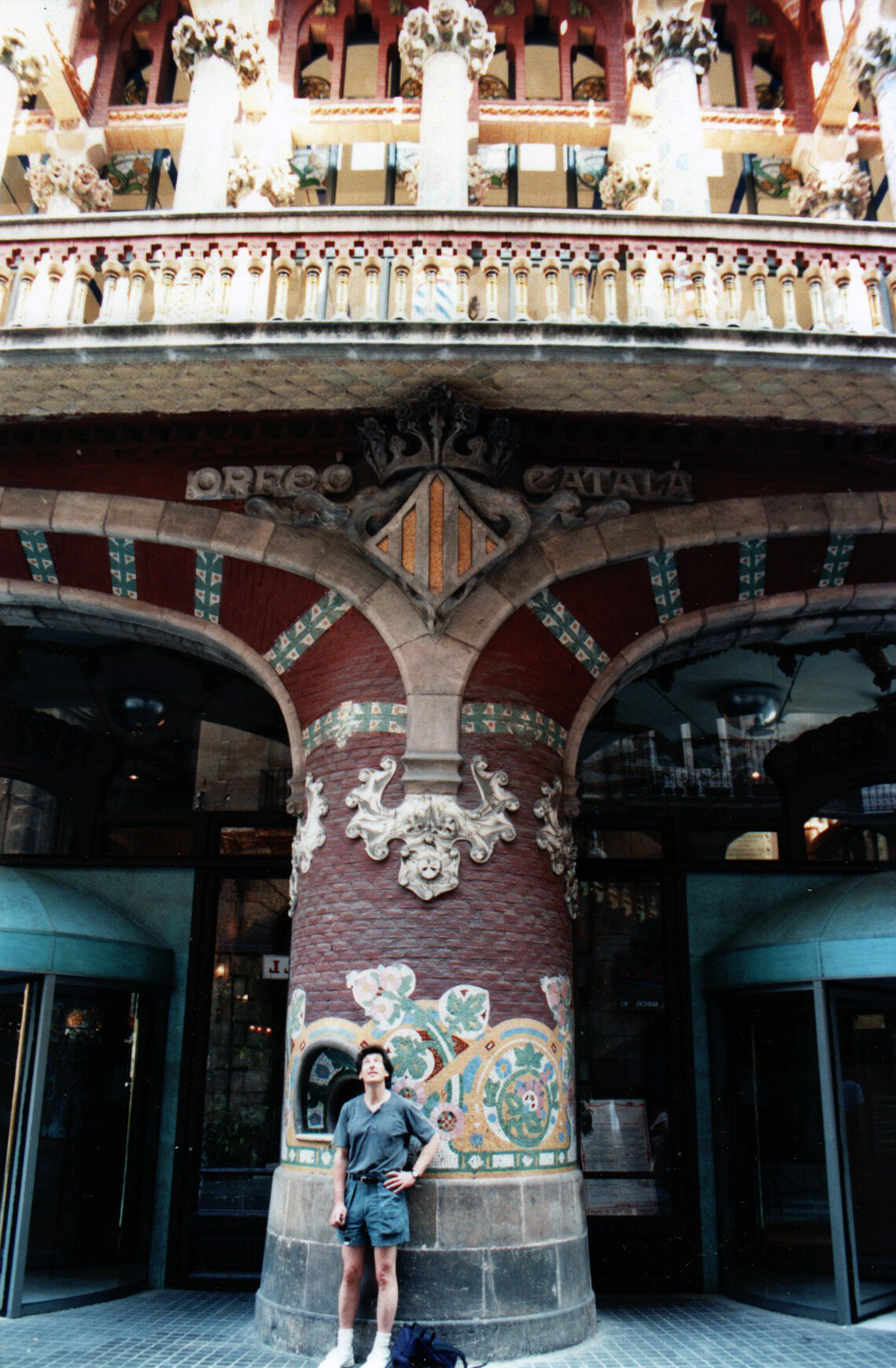 The Palau de la Musica Catalana is another of my favorite buildings. It's grand brick and glazed tile building not only accents the culture of Art Nouveau, it tips a nod to the early Moorish influence in Spain. The exterior is clever and understated and the interior is fantasy stained glass. The Music theatre, designed by Lluis Domenech i Montaner opened in 1908. Unfortunately it was under the wraps of renovation when we got there. But once again, we've been here before so we weren't totally disappointed. Now we'll get to come back to the newly refurbished Palau de la Musica Catalana.
The photo of the Music Hall is from 1994. Yep, that's me at the ticket window. This was our first visit to Barcelona.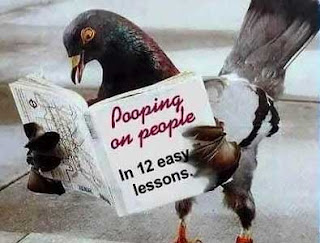 The Pigeon Poop Scam
We were walking down Calle de Sardenya back towards the Barrio Gotic when we were hit by the Barcelona Bird Poop Scam. We were somewhere in the L'Eixample district between Carrer de Casp and Carrer d'Ausias March when Gretchen dropped her sunglasses. As she bent down to pick them up, a young guy came out of the apartment house we stopped in front of. He walked by us and then stopped, turning towards me and pointing out that a bird had just shit on Gretchen's head. Gretchen replied, "shit, it must have just happened as I leaned over to pick up my glasses." The young guy, a nice college student type with a small backpack, handed me a tissue and I started wiping it off. The strange thing was that it didn't look like bird poop. It was brown and runny. I thought maybe someone in the building had tossed a pile of cat or dog poop down on us.
As I was cleaning to poop from Gretchen's head, the guy pointed out that the bird got her shirt too and within a minute he pointed out that it was all over her; her head, her shirt, her pants, both front and back. He started joking with us, everything from "it's good luck" to get pooped on by a pigeon to "wow, it must have been an elephant".
Soon he motioned for us to follow him back inside the building, and stupid us, we followed him in. We thought this was his home and he was bringing us in to help clean us off. Oh hindsight is so painful.
He led  us to a bench in the foyer and motioned for us to sit. He pulled a bottle of water from his bag and handing us more tissue. Then, as we were cleaning the stuff from Gretchen, he pointed out that I too had been pooped upon. Sure enough, there were spots on my shirt and a large glob on my shoulder bag. More tissue and more water followed. I was cleaning Gretchen, he was cleaning me out. As we remained in the foyer with his bottle of water and a wad of tissue paper, he smiled, waved "good luck" and walked out the door.
It took about 10 minutes to realize I'd been picked, another 15 minutes to get back to the hotel to call the credit card companies back in the US and cancel the credit cards. In that 25 minutes that passed from the time he got my wallet, he had already tried to use all three credit cards a couple of times. According to the Credit Card companies, he was trying for 2500 euros each time. It was the only time I was ever happy about the 300 euro limit withdrawal from the ATM machines. Since he didn't have my PIN numbers he probably just the threw the cards away along with my drivers license, proof of medical insurance and my Bell Market valued customer card. All in all he got about $320 worth of cash. I can't believe I just went to the ATM and withdrew 300 euros about an hour before he lifted them.
As I searched the internet for more information on the bird poop scam, I found it. Yes, others have fallen victim to the same scam and in the same neighborhood.
I also discovered Barcelona is known by many as the "Capital of Pickpockets", although I'm sure there are a lot of cities competing for this dubious title. But when you have the major part of tourism defined to a very small section of the city, it's literally like shooting fish in a barrel. It the crowds of the Ramblas and the Barrio Gotic it easy for a tag team of thieves to cause a distraction.  One of them will bump into you from the front while the partner thief in the back is picking the contents from a bag or pants pocket.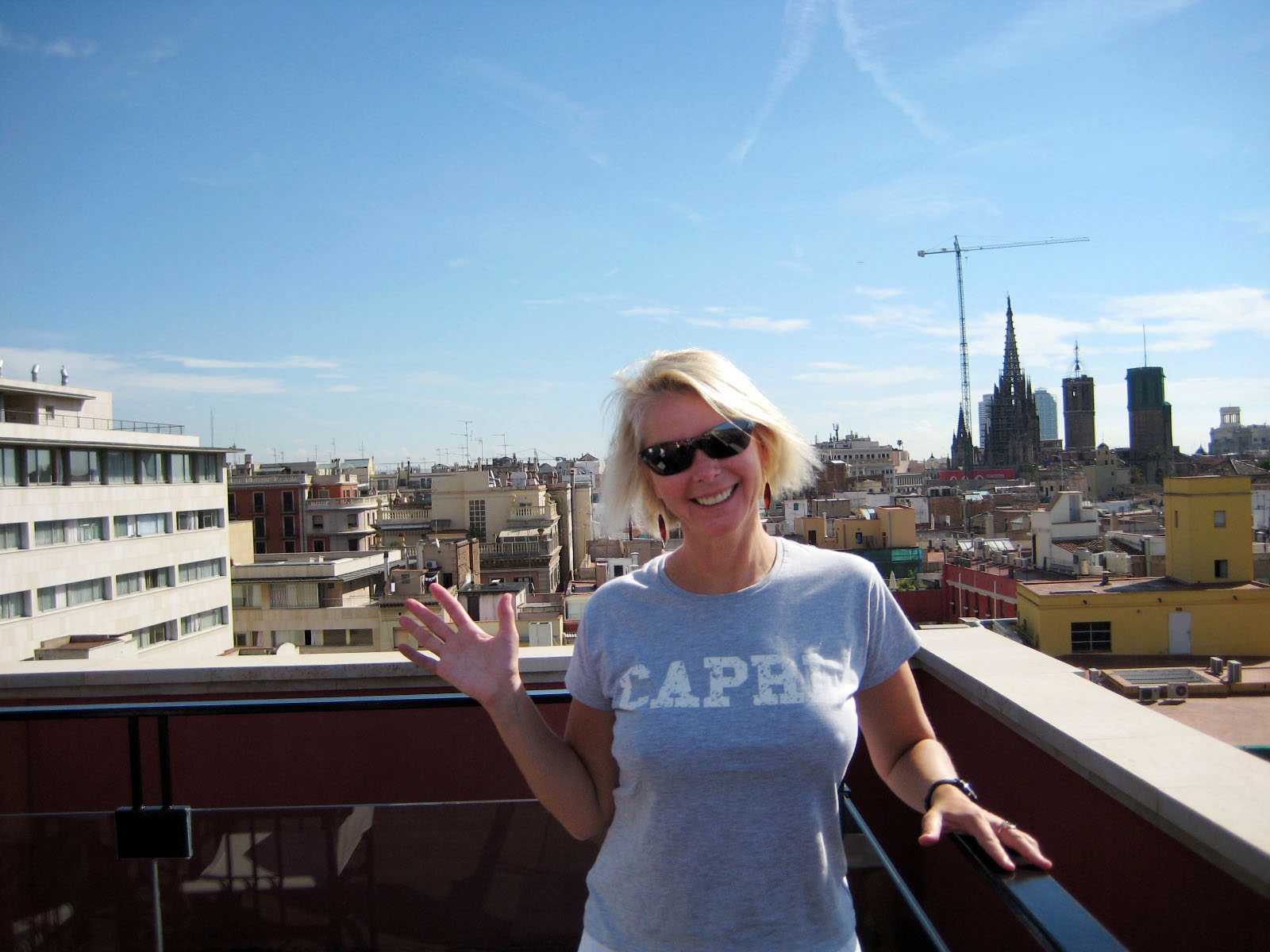 I thought I was so savvy when it came to protecting my valuables. There is always more to learn. It was an expensive lesson.
The front desk manager at the hotel told us we could go to the police to report the crime but they would keep us there for close to three hours and even if the thief was caught, he would spend one night in jail and be out the next day. There was not much he could do.
We had been traveling for close to 2 months and this was our last day. we were heading home to San Francisco in the morning. The thief got my wallet but he didn't get Gretchen's. We still had funds and one more night in Barcelona.