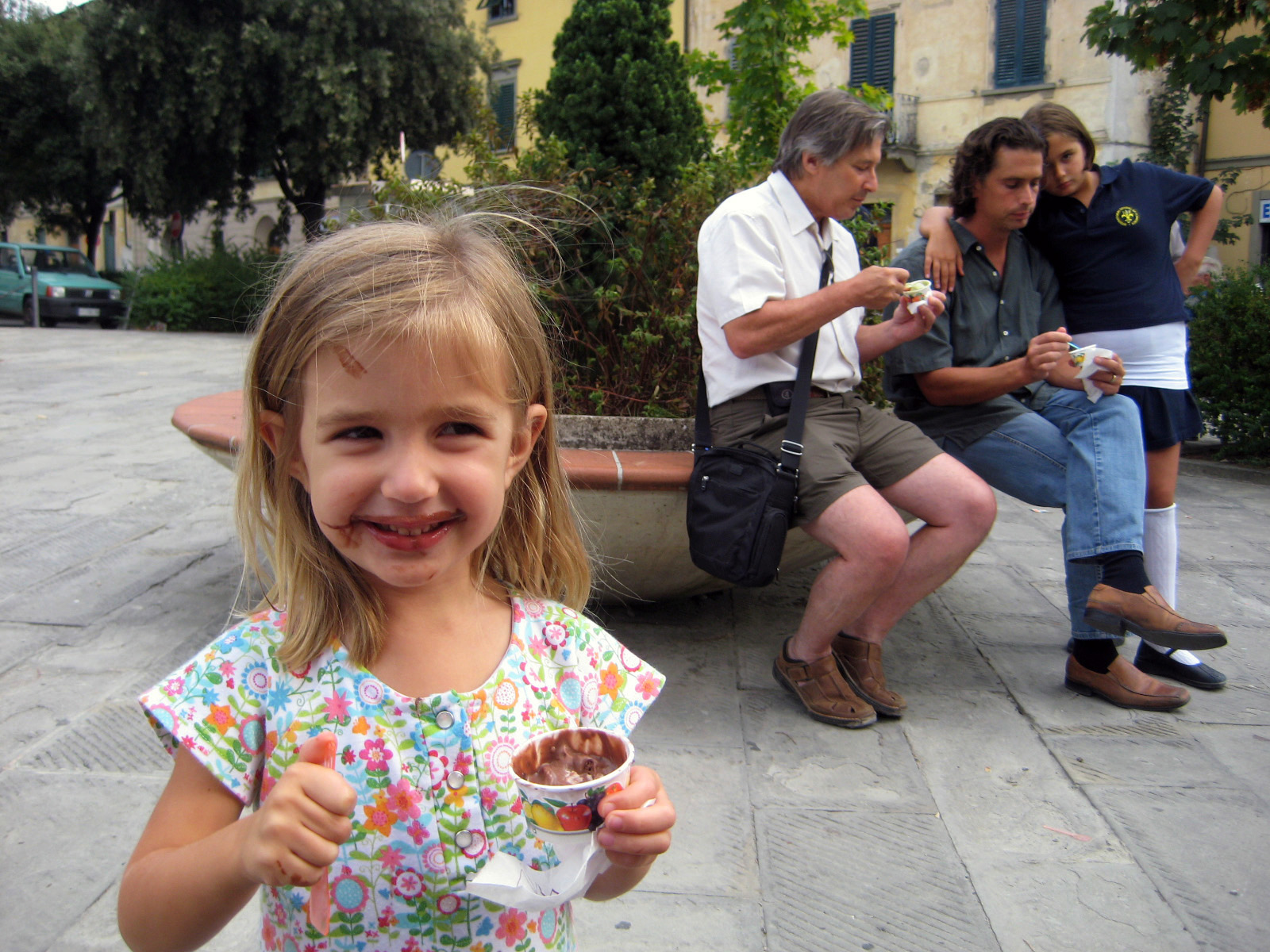 We made this quick visit to Tuscany to visit with friends. Neighbors from San Francisco decided it would be a great experience to pack up the family of three young girls and 12 suitcases and move to Tuscany for a year. They rented an sprawling old villa in Grassina and enrolled the kids into the American School a few kilometers away. Neither Jeff or Lisa or any of the kids spoke Italian, nor did they have any idea what it would be like to live over there with the family. For the first few months they travelled and hosted a lot of friends from America. A free place to stay in Tuscany always will always attract lots of friends. They even hosted a wedding on their property for some of their friends from San Francisco.
By the time we got there, the kids had just started school and they were loving it. We got the insiders tour as Isabella and Gabriella took us around to meet their teachers, see their classrooms and visit the lunchroom. The girls were very excited to tell us that every meal comes with bread, olive oil, a bottle of water and a big bowl of grated parmesan cheese. "You can put as much grated cheese as you want on your pasta". Beatrice (the 4 year old) missed school that day but we met her teachers and saw her classroom and her bathroom with really tiny toilets. Bea told us she loves the tiny toilets because it's just the right size and she doesn't fall in when she sits down.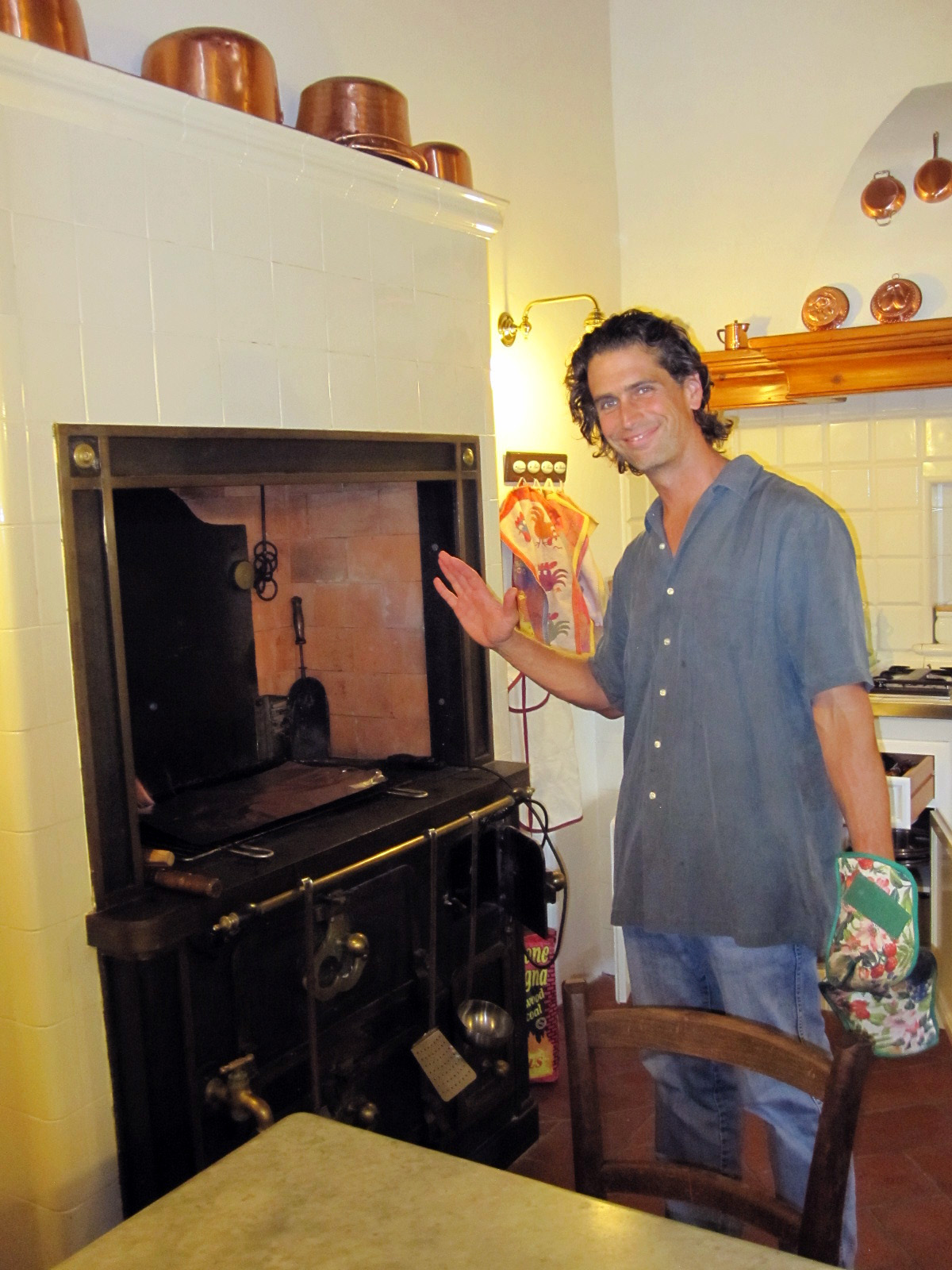 When we got to the Villa, the girls gave a us a tour of the swimming pool, the gardens, the olive orchard and the local cat.
We had a great visit with Jeff and Lisa and the kids and Jeff cooked an amazing dinner of homemade ravioli with sage, beef Florentine, a porterhouse cut from the famous white cows of Tuscany, grilled vegetables, salad and tiramisu. The Villa they rented has a very large and very old interior grill in the kitchen. What a joy.
We're staying with our Tuscan friends Poala and Fabrizio Cinelli. The Cinelli family has been in our journals for the past 8 years. They are dear friends. We consider them our family in Italy. We get together and laugh for days.
Paola and Fabrizio are living without the children these days. Their daughter, Maria Vittoria, has moved up to Emilia Romagna and their son Francesco decided if Maria Vittoria was gone, he wanted his own place as well. Francesco is still in Lastra A Signa very close to the family home but far enough away to have his own life.
Paola closed her jewelry shop a couple of years ago but instead of relaxing a bit, she increased her workload by 400%. Fabrizio says Paola will live to be 300 because she has too many things to do before she dies.
IN the past few years she has renovated her father's old Lastra A Signa factory into apartments and has taken on the rental management of apartments in Florence, Santorini, Greece and a place near Sharm-El Sheik Egypt on the Red Sea. She also still manages the apartment rentals at her own villa. We think the kids moved away because every time Paola took on another projects, it was more work for them.
Paola and Fabrizio usually travel during the Ferie Holiday in last 2 weeks of August (the big Italian vacation season) but this year Paola had to stay home to take care of the guests at the Villa. Fabrizio was pissed. This was their first Ferie Staycation. After a week of him moping around the house, Paola arranged a ticket for him to fly to Egypt to spend a week on the Red Sea in their friend's apartment. The flight departed from Milan Malpensa.
Fabrizio got up to the Tangenziale (ring road) of Milan when the traffic came to a halt. Unfortunately the car behind him didn't notice and as Fabrizio looked in the rearview mirror at the car, it plowed into his rear right side, pushing him across the lane into the oncoming path of a large outhouse cleaning truck that  plowed into the front left of his car. The ambulance came and took him away. His neck is really sore. His back hurt and the car needs 15,000 euros to repair the damage. But there were no broken bones and the insurance will pay for everything. Fabrizio was lucky. When I spoke to him about it he said he wasn't afraid to die, but he is so grateful that his life didn't end with a joke, "Oh yes, Fabrizio Cinelli, he lived through all kinds of shit during his life but then got killed by a shit cleaner."
On our second night in Toscana, we met up with more San Francisco friends Bill and Ineke in Florence. They were there for the Fragrance Fair, one of the largest perfume exhibitions in the world. Ineke is a extremely talented perfumer and her fragrances are very popular at the event. We even met a guy from Cremona at lunch in Florence who told he came to the city for the Fragrance Fair. When we told him we were friends with Ineke Ruhland he went crazy throwing his arms up in the air telling us "I love Ineke Ruhland fragrances". He even wrote a little love note for us to give to her.
We saved our last day for Florence.  Gretchen and I have been coming here together since 1993. My love of this city  began in 1980.
Our first stop was the Mercato San Lorenzo, the blocks around the Mercato Centrale filled with small bancarelle (booths) of leather goods. I bought a couple of leather belts as I've done for the past 29 years. My Florentine friends make fun of me for buying things at the tourist Mercato, but I still haven't found anything better for the price or the quality.
We met up with Paola and Fabrizio at the Baptistery near the Duomo. There has been a lot of restoration going on in Florence; a new train going to the small villages nearby; a light rail system is being built and many of the historic building are getting cleaned.
The Duomo hasn't looked this good in 500 years. The famous "Gates of Paradise" bronze doors of the Baptistery were designed by Lorenzo Ghiberti in the 16th century. Michelangelo gave them the name, saying they are so beautiful they could be the "Gates of Paradise".  The name stuck. The Florence flood of 1966 damaged them but they stayed in place. Then, in 1996, the city decided they were too important and too delicate to remain on the Baptistery. They were removed and put on display in the Duomo museum (next to the Duomo). The replacement doors were made from casts of the originals. Even though the new doors are only 10 years old, they've also been cleaned and now look brand new again. There were a number of casts made from the original Ghiberti doors. In 1940, casts was made for the doors of the Grace Cathedral in our hometown San Francisco.
Walking around Florence with Tuscan friends is a whole different experience. We've been to this city so many times and although we thought we knew a lot, there is still so much more to see. Paola and Fabrizio took us to some places right around the Duomo and Piazza Signoria we never knew about.  We went to the house that Dante used to live in before he left town for "political reasons".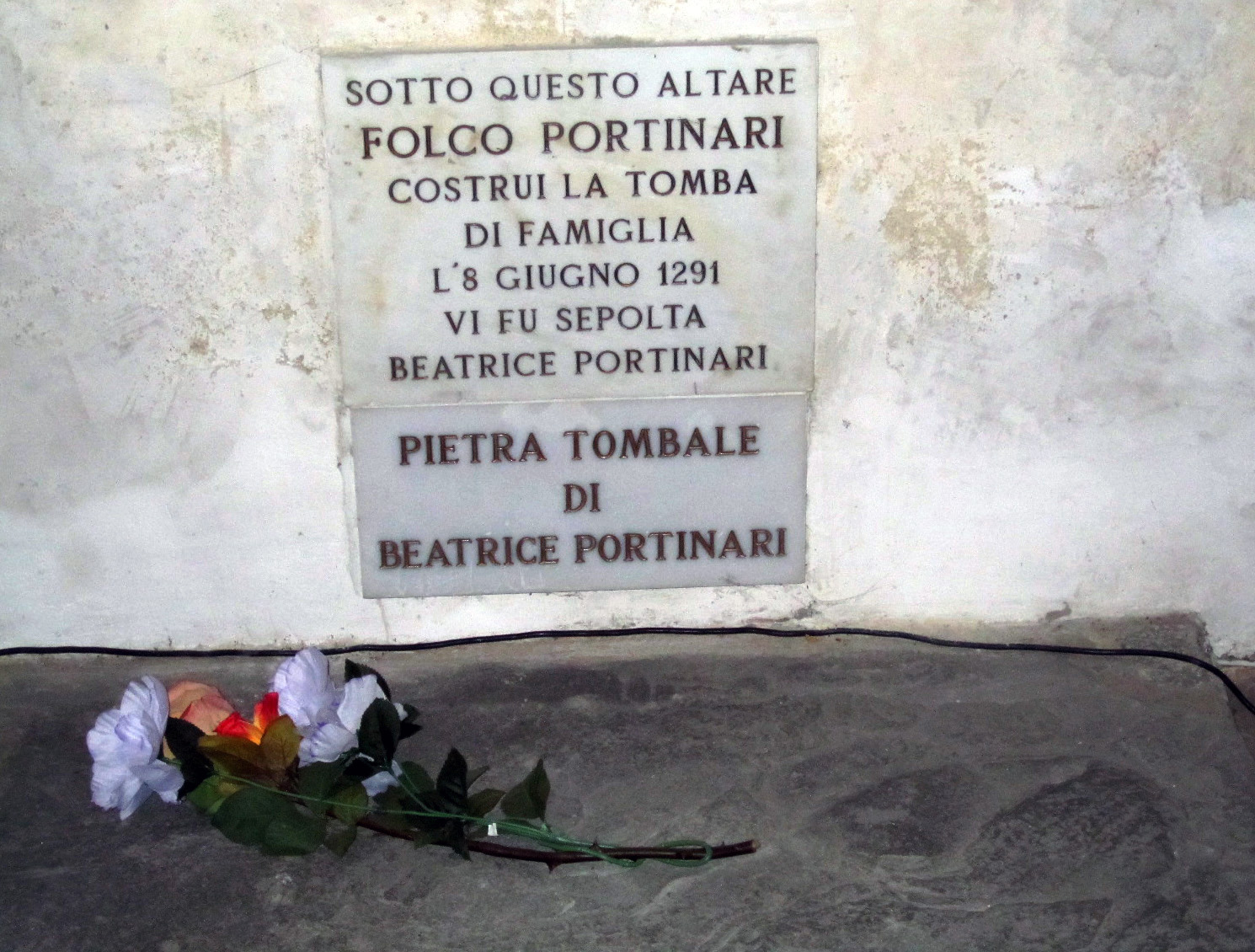 Dante and his wife lived next door to his girlfriend Beatrice Portinari; not the greatest arrangement, but although Dante and Beatrice loved each other, their affair was never realized. He wrote poems to her and she saved herself for him, but she died alone and unrequited.
Near her home, in the Church of Santa Margherita, she lays in eternity as the patron of unrequited love. Her burial tomb is always covered with notes and flowers of those who understand her plight and hope she might shed some guidance to their romantic problems. Beatrice Portinari has become the Saint of unrequited love.
Santa Margherita is near the Piazza Signoria and the Palazzo Vecchio. There is so much to see in this square; tourists, mimes, statues, illegal African knock offs scattered across blankets (until the Police come and they scatter) and lot of hidden treasures.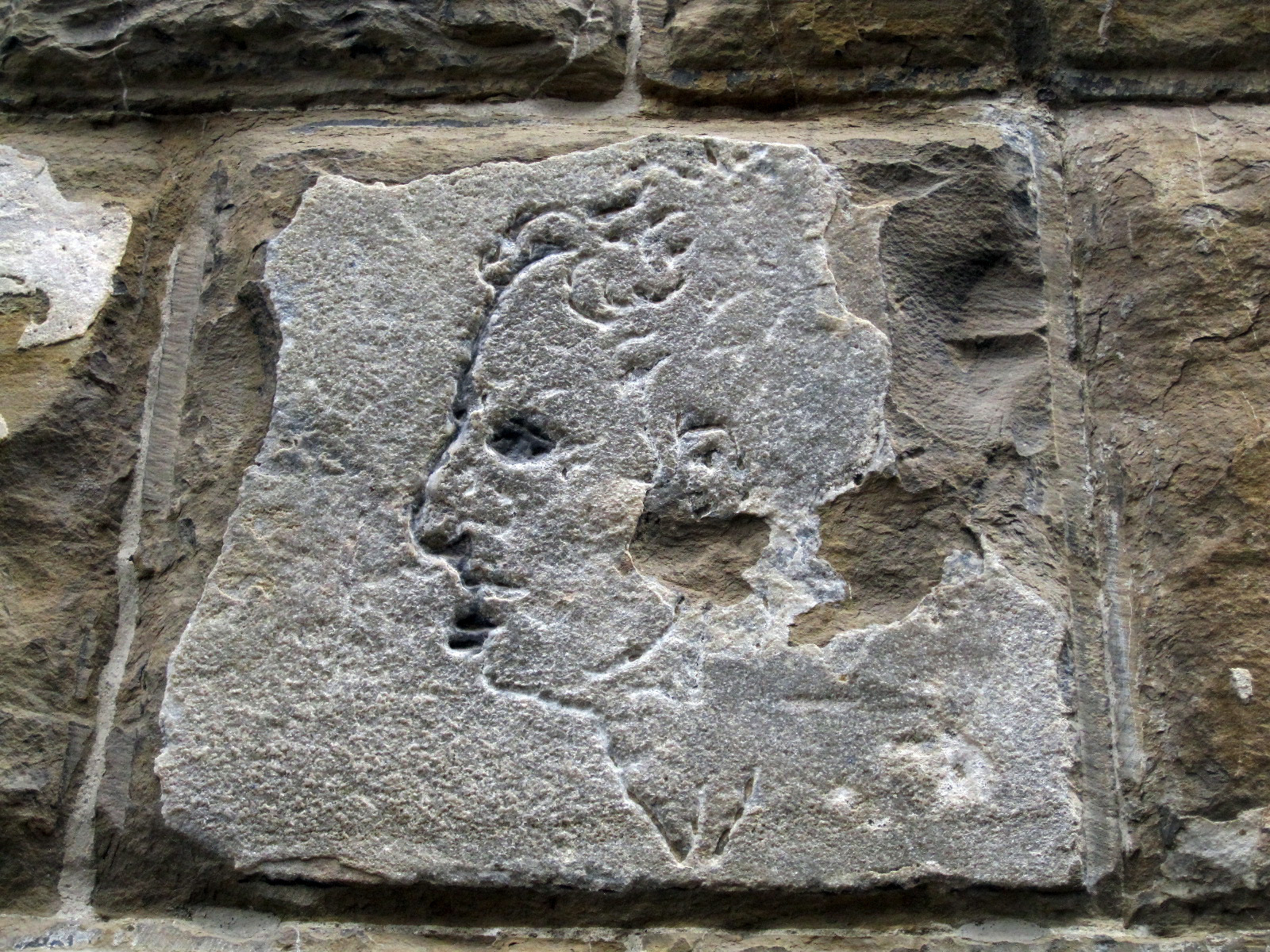 Fabrizio brought us to a small stone in the face of the building close to the Ufizzi. It's a carving of a face, simple and undistinguished until you find out it was carved by Giotto.
According to the story, someone made a bet to Giotto that he couldn't carve a portrait with his good hand tied behind his back. Giotto took the bet and this is the result.
Florence is all about art, history, leather goods, and great food. Every time we come here we find a new favorite place for a meal. Paola introduced us to Ristorante Sostanza on Via Porcellana. It's where the locals eat. You only get a menu if you ask for one. The two items that most people order are the Tortelli carciofi (grilled artichokes inside of an egg tortelli) or chicken breast in a sage sauce cooked in individual pans over a grill. They are both amazingly delicious.
For our last night in Toscana, we walked down the street from the Cinelli Villa to the Ristorante Edy Piu. This is a very country Tuscan style eatery. It's one of our favorite places in the area. Always a great meal and an easy 10 minute walk back to the house.