April 30, 2001
We are leaving Bali; Ayo Ayo; gelang gelang. We're off to Chang Mai.
A 3 hour flight to Bangkok, a 90 minute layover and a 1 hour flight to Chang Mai and around 12:30am, we were in a cozy hotel cottage and soon after, fast asleep.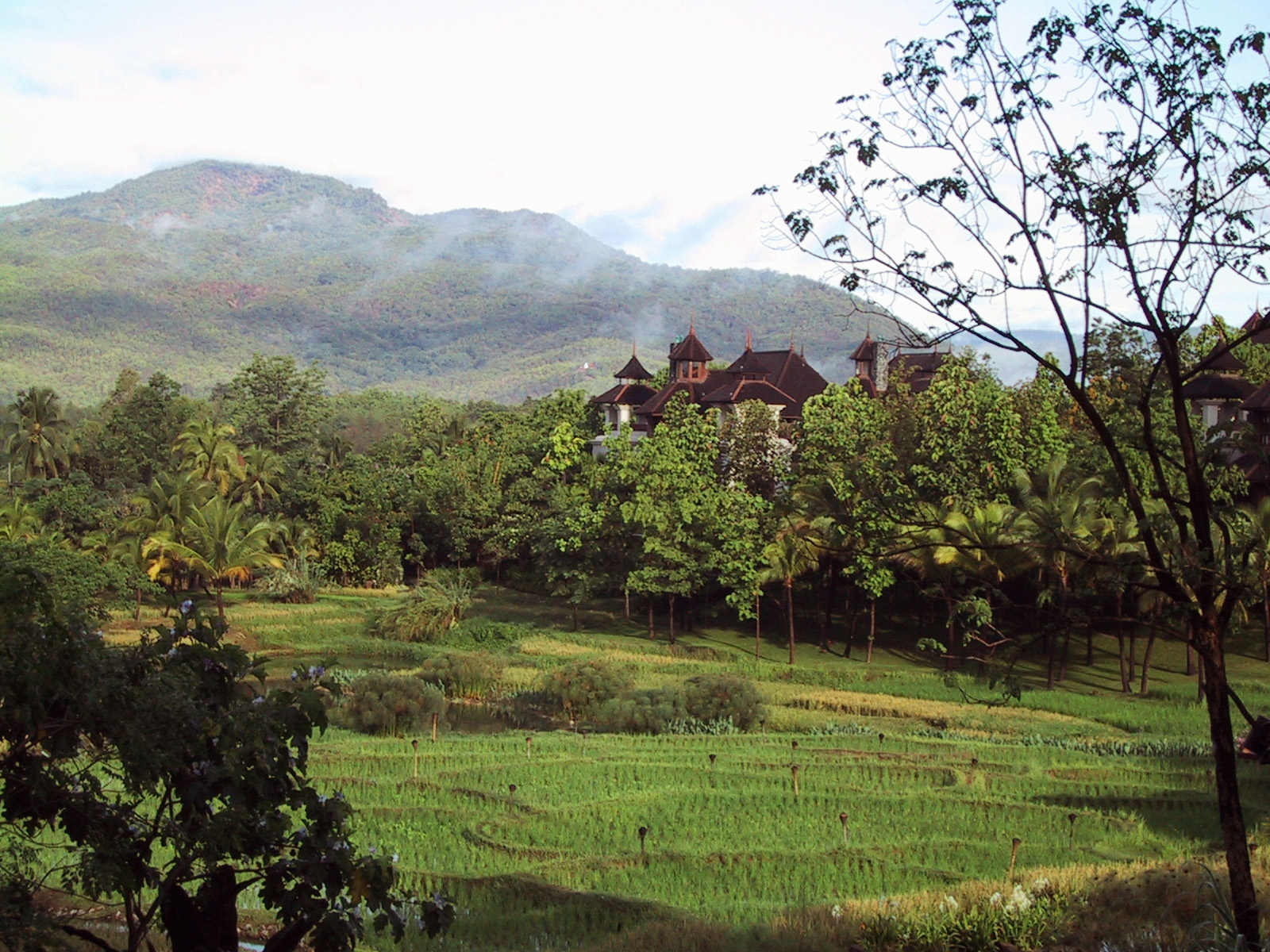 May 1, 2001
The architecture here has a very Asian look to it but there is a very western feel to the buildings.  Everything is built for western comfort and everything is built of teak.  The properties range from the Garden view villas, to the mountain view villas (where we are) to the penthouse villas, gigantic mansions.  We were told they sell for about $4 million but there is a rent back to the property if they can rent it to hotel guests.  They are four stories tall and must have at least 8 sleeping rooms.  The're also loaded with great design and lots of antiques.
It was a relaxed day today beginning with the best breakfast buffet I have ever seen; american eggs and omeletes with fixins galore; sides of  ham, bacon , sausages and potatoes. For those who preferred something different, there was a Japanese breakfast of miso soup, rice, pickles, grilled and smoked fish, fermented soybeans, seaweed and eggs, European continental style of cold meat, cheeses and breads including croissants, viennese challah, danish pasteries and exploding blueberry muffins.  For a more exotic style breakfast the offerings included Thai chicken skewers, loads of exotic fruits including dragon fruit, rombutan, jack fruit, watermelon and pineapple, dried leechee, dried banana and dried coconut. And, there was an assortment of yoghurts, cereals, and the best granola I've ever eaten. Beverages included an assortment of fresh fruit juices (coconut, watermelon, orange, apple, pineapple, guava), carrot juice, dozens of different tea choices and of course good strong coffee.
After breakfast, it was off for our first of many fabulous massages, this time it was the rice scrub in the ping room ; very comfortable , loved the outdoor shower.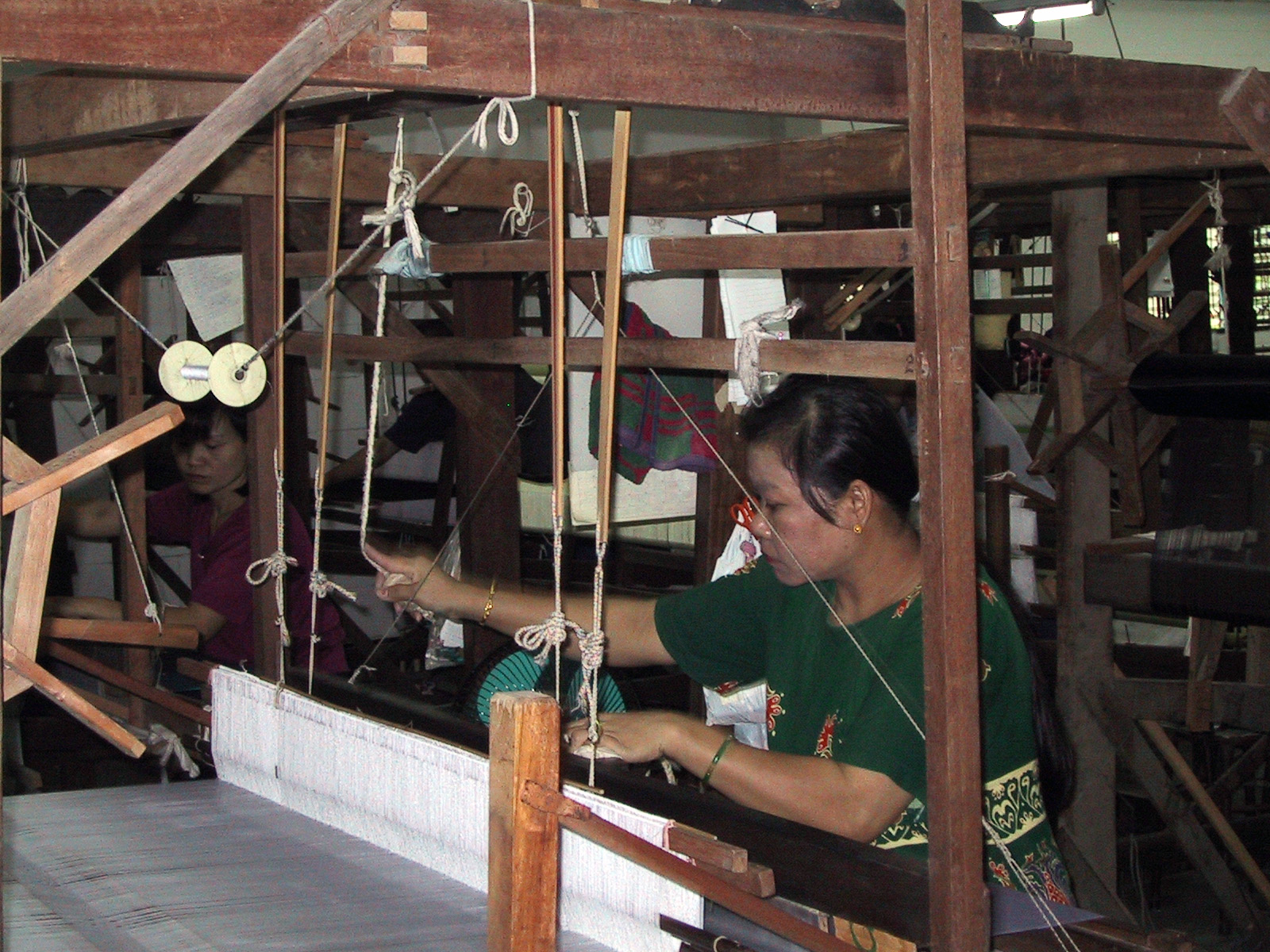 We hired the services of Charone to drive us into Chang Mai. We were in search of the Empire Tailor shop, highly reccomended by the hotel. We found the shop and I ordered 12 silk shirts. Next we went to Jolie Femme, a silk factory and clothes manufacturer where Gretchen bought 2 suits, 3 blouses and a skirt of thai silk.  They'll have it ready for us on in 2 days.
All the fabric is spun locally and clothing is made with one to two fittings. They actually come to your hotel to check the fit and then deliver it a day later. In San Francisco it takes a week just to get a hem altered.
A quick drive around Chaing Mai and back to the hotel for a dinner of Thai spring rolls, chicken and coconut soup, fried tofu, soft shell crabs in red curry and coconut milk and stuffed shitake mushrooms. I can't believe how much we're eating. I can't believe how delicious it is.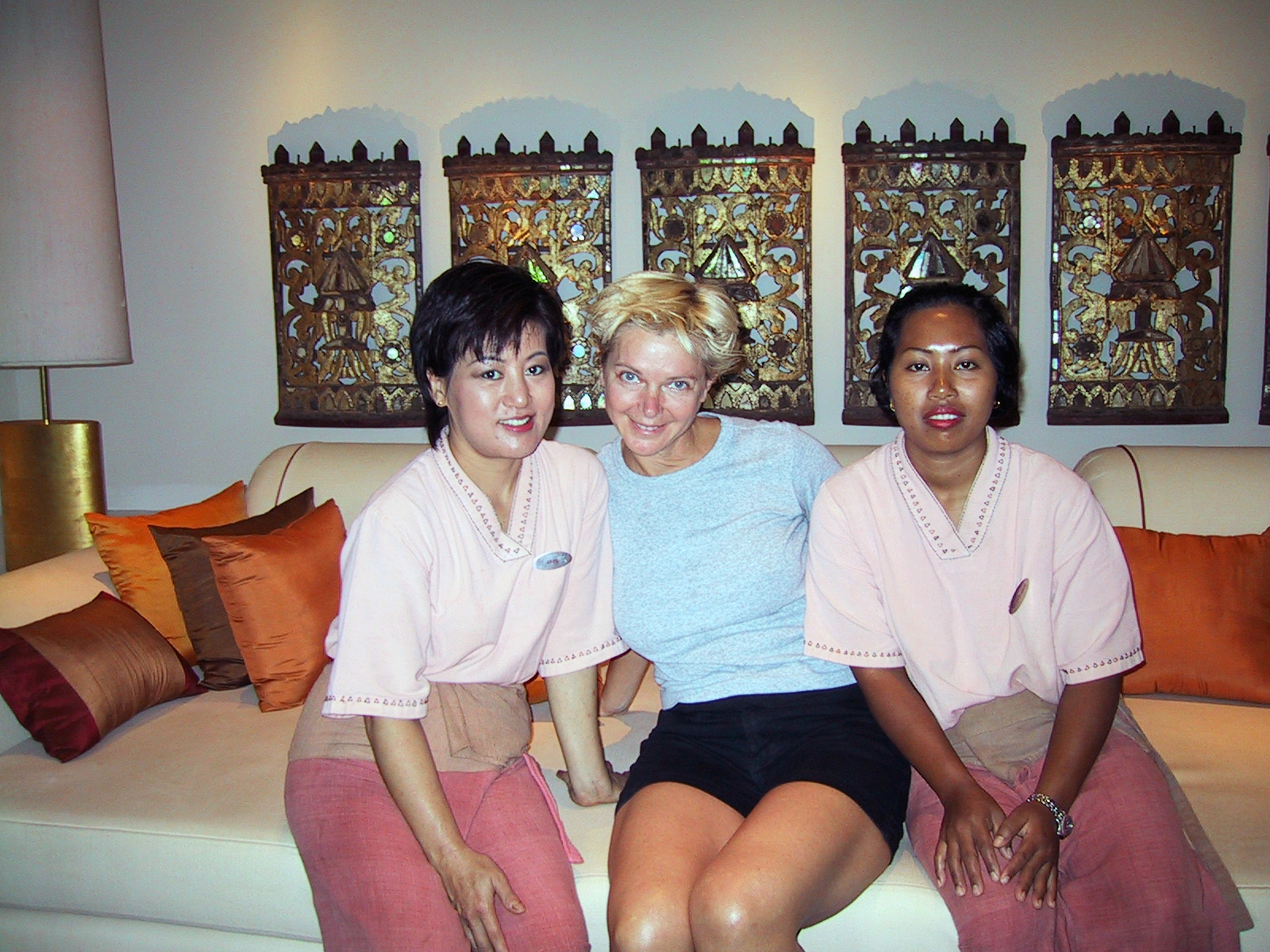 May 2, 2001
Oh Aree and Nucharine, how I praise your hands, your stregnth, your ability to fold my body into a pretzel.  As I was wrapped inside of the giant banana leaves covered with the warming yellow herb paste, I felt like a caterpiller in a cocoon waiting to hatch as a butterfly, but then came the Thai/oriental massage.  I have never experience anything like this.  Lifitng my body with such stregnth, pulling my arms and neck and head, lifting my legs until they almost touch my back, dancing with their feet on my ass and back, what pain, what pleasure.  Even the oriental massage which is supposed to be calming and relaxed also has it tuggs and pulls and as she examined my abdomen with her thumb, Nucharine unwrapped my colon as if it was a knotted cord. within moments after the massage, my body expelled everything inside of me, things that must have been clogged in my intestines since 1965 all came forth. I was clean.
Oh Ari and Nucharine, how can we smuggle you both back to San Francisco.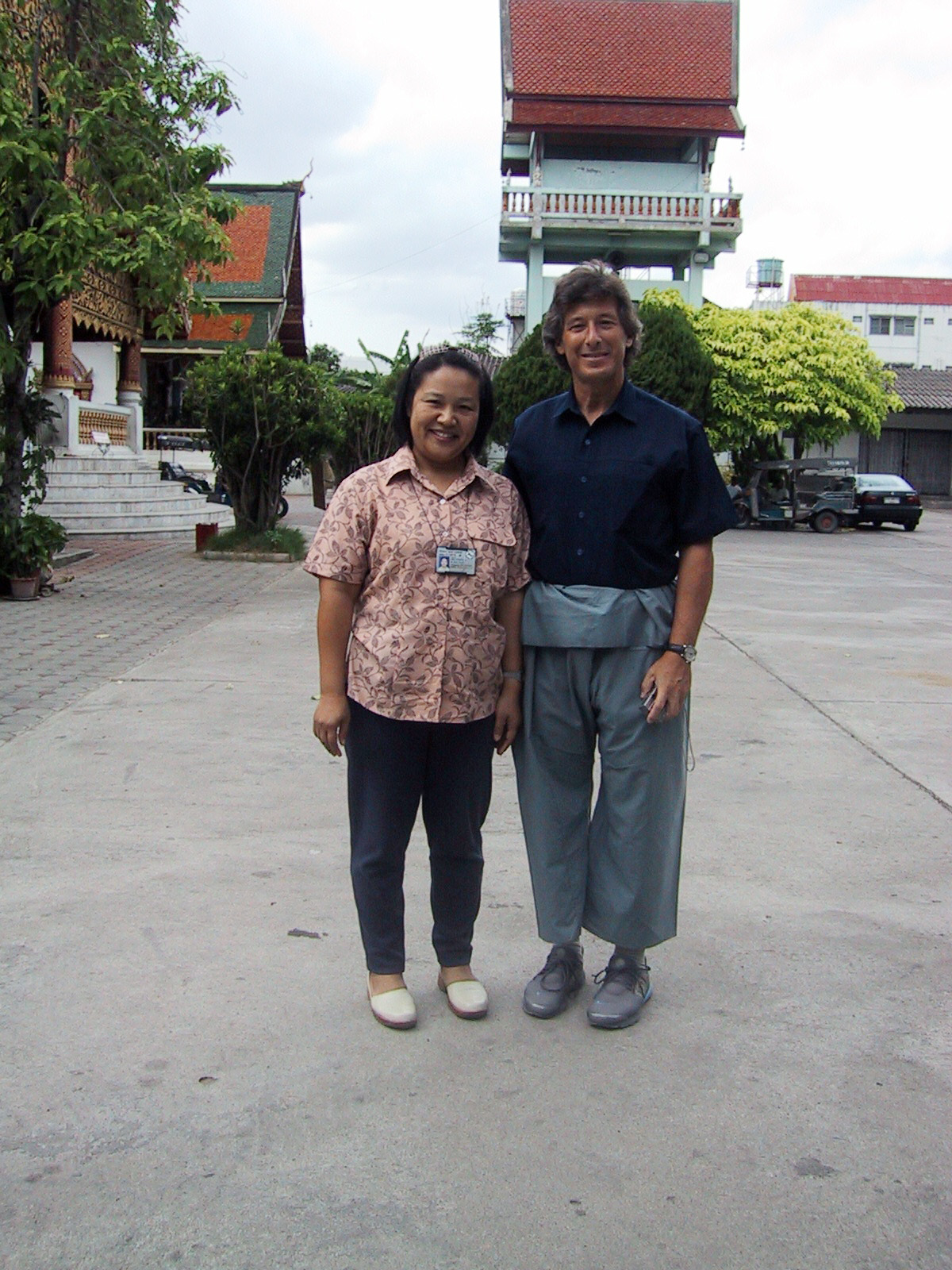 Off on a day trip to Chang Mai and a tour of the city with Nai (our tour guide) and Charone (our trusted driver). First stop, the burial place of King Mengrai of the 1st dynesty (late 13th century). He founded his capital city at Chaing Mai in 1296 and died when hit by a lighting bolt as he stood in the middle of the city.
Visits to the temples must be done with all due respect and proper attire. I didn't bring any long pants with me but not to worry, Nai was well equipped with temple pants, kind of a cross between hospital pants and a sarong.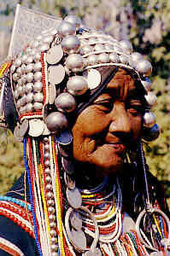 We are close to the Myanmar (Burma) border known as the Golden Triangle. The drug trade of Myanmar has used this border crossing for years, transporting opium through Tahiland and now methamphetamines. The Thai army is trying to hold the gate closed and the border is currently closed to tourists. The only thing we'll see of the border are the people from the hill tribes coming into Chaing Mai to sell things at the night market. They are a strikingly beautiful people wearing brightly colored sarongs, woven vests and woven headwraps or ornate silver hats. Their arms and necks are dripping with silver jewelry. The come ot the city to sell trinkets made of bamboo and wood, woven baskets, musical instruments and woven clothing.
That night we went into the city. Nai reccomended the restaurant "Whole Earth". It was at the restauant where we learned to say "Mak" for good and "Dee Mak Mak" for very good. We said "Dee Mak Mak" a lot that night.  They even sold Bud's Ice cream of San Francisco which is strange since Bud's went out of business in 1996.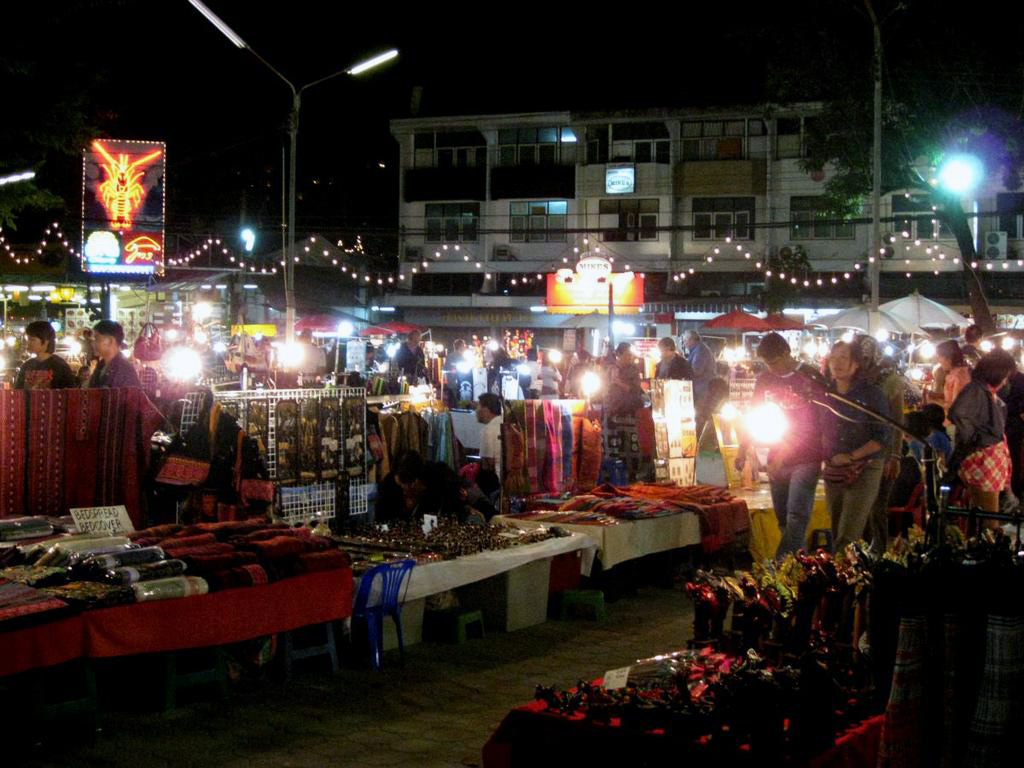 And then there was the night market. Everything from Polo to Calvin Klein to silk shirts to luggage to silk scarves, woooden carvings, laquerware , jewelry and a lot more that wasn't knocked off. It went on for at least 10 blocks by 8 blocks and after about 30 minutes we had enough. Even though we did manage to buy some gifts for the friends back home. We didn't want to wait for the Regent shuttle so we went to the Chaing Inn and ordered a cab. While we waited, we took in some of the local lounge act singing songs from the Cat Stevens song book; yes whenever we are on the road we always seem to hear Cat Stevens.
The ride back to the hotel was with a strange little thai fellow named Pichet, who with his wife in tow, was determined to hustle us up for touring Chaing Mai in the future.  I took his card and left it in the hotel room.  It was the easiest thing to do.
May 3, 2001
After another amazing massage treatment with Nucherine and Aree; a facial of many oils and lotions and another Thai massage, we met up with Charone and Nai and headed out up the mouintain temple of Doi Suthep.
This was another place with the relics of Lord Bhudda; his shoulder bone that had taken on magical powers; it glowed, it could vanish, and it could could replicate itself.  Apparently it did replicate itself. It split in two. One piece was put in a temple and the other was carried by a white elephant up the mountain. When it reached the top, it circled three times, trumpeted three time and then collapsed and died, which was interpreted as a sign and the King ordered the construction of the Doi Suthep temple at the site. I can understand how exhausted the whiter elephant must have been. We took a car up and I was tired.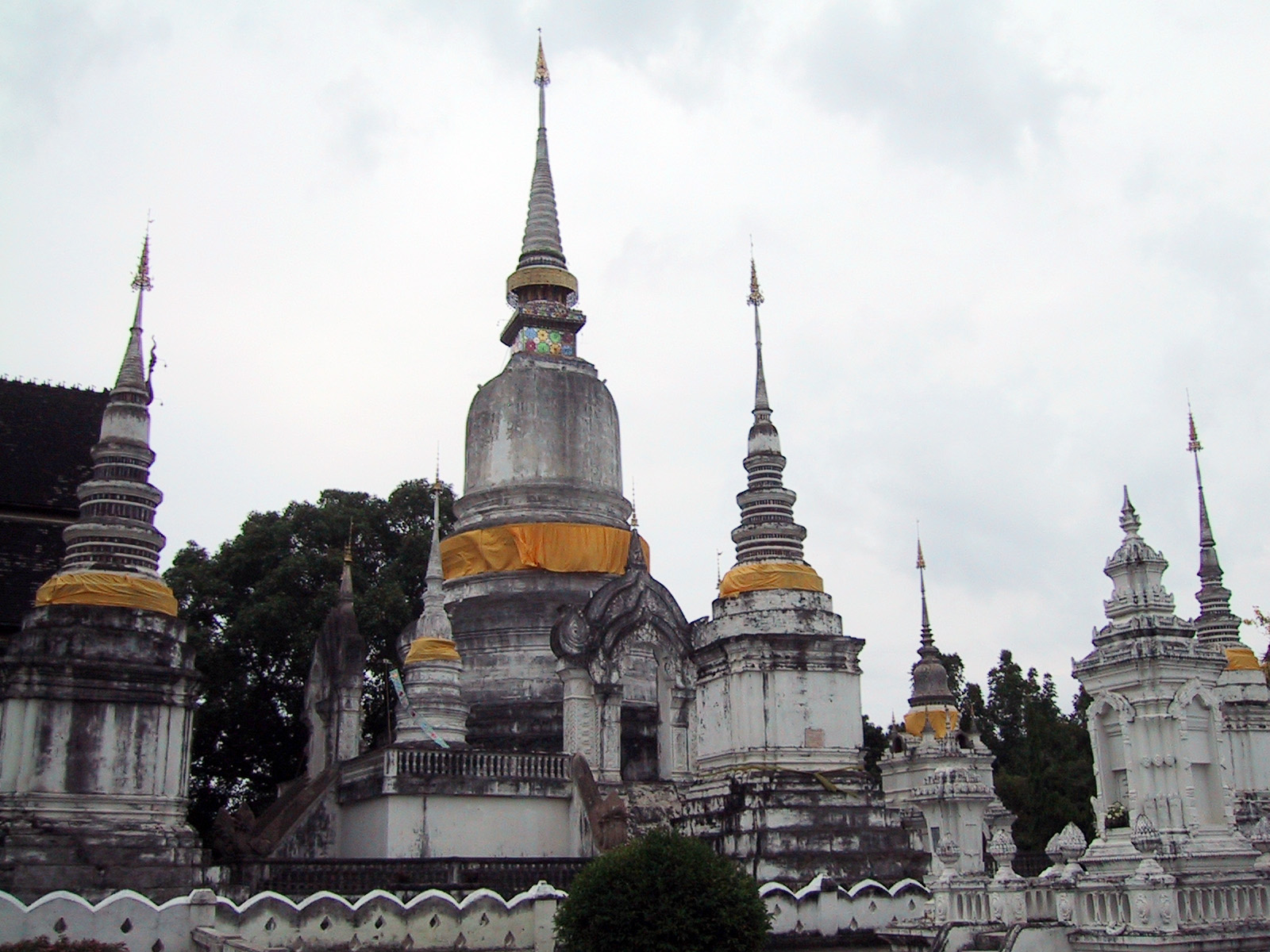 Once we arrived to the car landing, we were treated to the newly installed tram that took us up the final 600' to the temple mount.  The elephant was buried in it's own shrine at Doi Suthep near the pagoda of the relic of Lord Bhudda. There's a statue of it outside of the temple. The temple site dates back to the early 14th century. It must have been quite a pilgrimage to get there. The road wasn't built until 1935. Until 1920, when the railroad tracks were completed, Chiang Mai was only accessible by river and elephants. The first motor vehicle driven from Bangkok arrived in Chiang Mai in 1932.
We've been told there are four places in the world that hold the bones of Lord Bhudda. Two of them happen to be in or near Chang Mai. Aside from all of the temples on Doi Suthep, there is an enormous jack fruit tree in the complex, one of the largest trees I have ever seen with fruit the size of an elephant's head.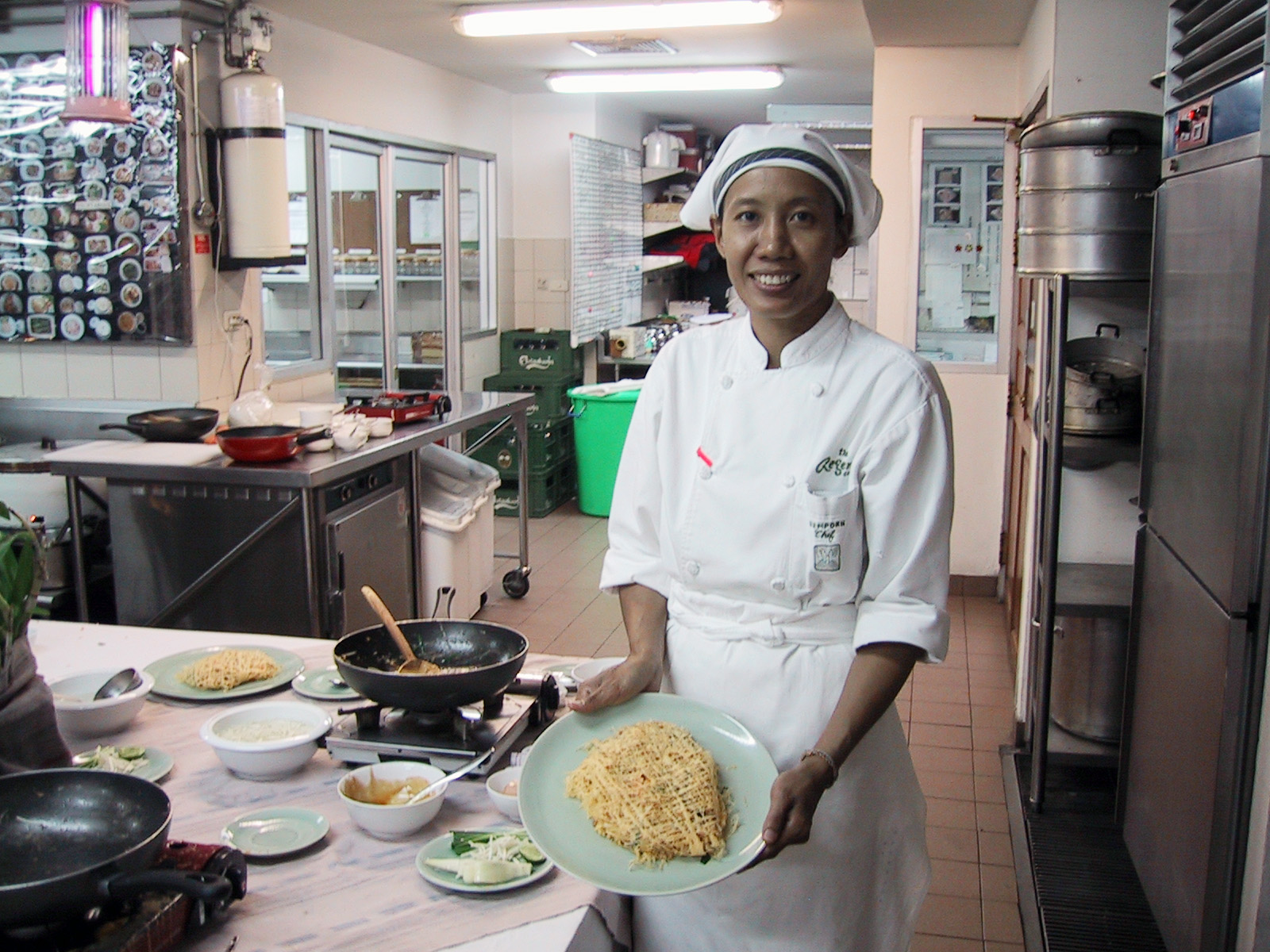 We made it back to the Regent, albeit quite dizzy from the curving road down the mountain, but in time for my thai cooking class with Nui, the head Thai chef at the Hotel. I managed to get a lesson in Thai cooking.
Chef Nui made everything from the chocolate, to the breads, the desserts, the ice cream, the sauces and condiments and all of the food for the 3 restaurants on the property, no small task. Quite a job in such a small kitchen.  And all the food we ate there was really delicious 'A roi mak mak'
I learned to make shrimp and chicken tartlets. I mastered Phad Thai (fried thai noodles with chicken)  Some of the ingrediants I used in Nui's kitchen will never turn up in San Francisco but I'll incorporate it all somehow.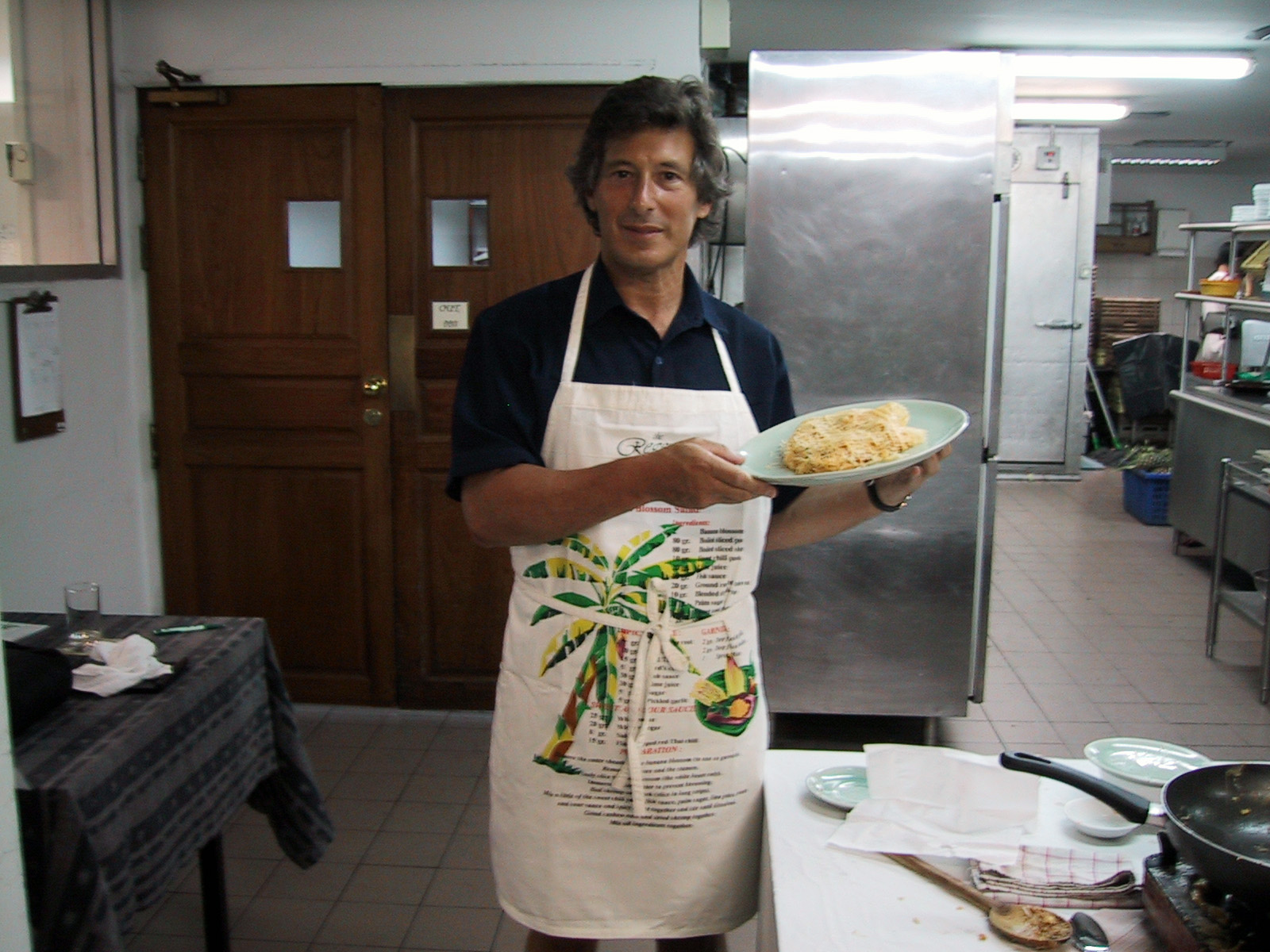 When we sat down to dinner later than night we were served the meal I cooked. It was excellent. However, we were also served the meal Nui cooked. It was better.