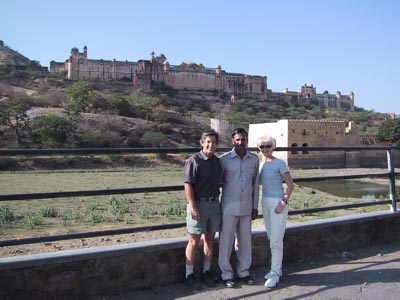 We walked back down the hill from the Amber Fort (it was much faster than taking the Elephant) and there was our loyal friend and driver Mr Behander Singh ready and waiting for us with the car.
After travelling together for over two weeks, we had become very close. Mr Singh was our driver, our protector and our new friend. It didn't matter that he only spoke a little english and we spoke no hindi. We communicated with each other just fine.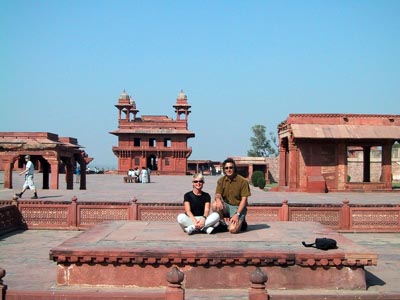 On the way we made a detour to the deserted city of Fatehpur Sikri, about an hour from Agra. This was the Mughal capital city of India from 1571 until 1585. Unfortunately when they designed the city they neglected to check out the dependability of the water supply. 15 years after the city was completed, the source of water dried up. The city has been deserted ever since.
Agra is a big noisy city, something like Delhi but on a smaller scale. When you see the photos of the Taj Mahal it seems so peaceful and serene. We later found out the the monument is not exactly in the city of Agra. It's about a 15 minute ride away. There was an election in Agra when we arrived and trucks with loudspeakers were shaking the building with inspirational pomises from the candidates. It went on late into the night. You could not escape the election.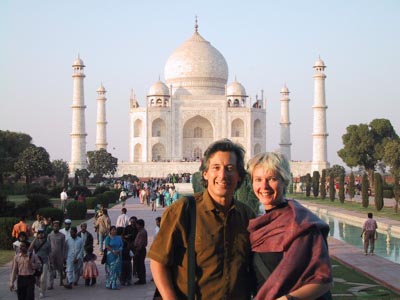 Gretch's suitcase died in Agra. The zipper had closed for the last time. And so Mr Singh brought us to the local bazaar and we picked up a temporary bag for about $5. It looked sturday enough to make it through the rest of the trip. We asked the hotel woman cleaning our room is she would like the old bag and she was very happy to accept it but first we had to write a permission slip to the hotel stating tha we were "in fact" giving it to her.
The Taj Mahal is situated in a park. First you arrive to the parking lot. Next you walk to the entrance gate where there are many signs explaining that this is a buiral site and please be curteous and respectful. Then you walk through the entrance and there it is. It is truly a wonder to behold. As wonderful as you would imagine it to be. The Mughal Emperor Shah Jahan commissioned it as a mausoleum for his favorite wife, Mumtaz Mahal, although after his death, he was burried next to her in the crypt below the dome.It took almost 20 years to complete the massvie marble mausoleum and is considered by many to be the finest example of Mughal architecture in exisitence. Although most people only see the Taj in the photographs, there are actually a few other smaller red sandstone mausoleums for other wives (who the Shah didn't like as much) and a Mosque which is still very much in use. Entering the tomb is like entering a church, there is an eerie feeling of something grander than you.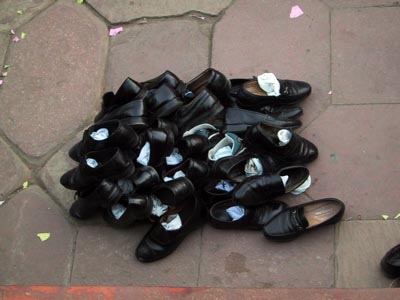 As in all religious monuments in Mughal India, all shoes are left outside the door or if you don't wish to remove your shoes, plastic covers are made available.
The following morning as we were checking out of the hotel we got a message from the front desk, "please call your home right away" Gretchen's dad had passed away. The last we spoke to him was a couple of days before when we were in Jaipur. he was weak but he was laughing and pretty cheerful. We know he was ill but we had no idea how bad it was. We cancelled the rest of the trip and Mr Singh brought us back to Delhi. From there we flew to Kathmandu and spent the night in Nepal. A woman on the plane advised us to light some Yak butter candles to help Gretchen's dad have an easier passgae to the next life. We figured he's rather have a martini. We were able to have a 1/2 day in Kathmandu and then onto Bangkok where we rented a room adjacent to the airport for 3 hours until we could get onto a flight for Japan. The short room rental is a great idea. You can relax, take a shower, have a meal, possibly even a few hours sleep. The short term room rental never really took off in America. Most people think it's only for hookers.
From Japan we waited a few more hours and caught a flight to Pittsburgh; about 48 hours after we got the sad news, we arrived to Sharon Pennsylvania.