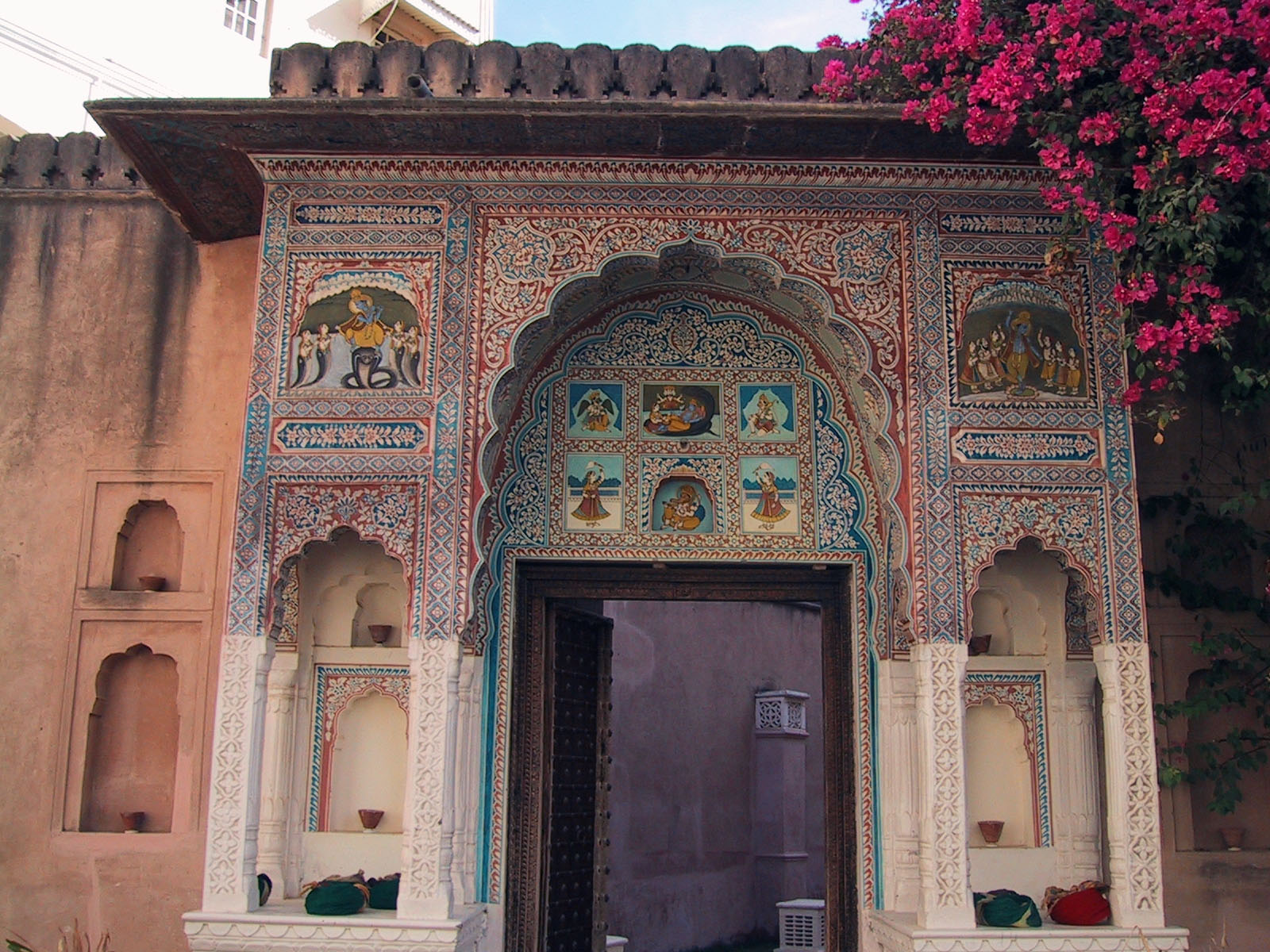 Our driver Mr Singh was late this morning due to heavy traffic inDelhi traffic, but then there is always heavy traffic in Delhi. But he did eventually show up and soon after we were off to Rajastan, the land of the fabled Maharaja palaces and impregnable fortresses. The land of untold wealth and poverty.
Mr Singh's car is a Suzuki Esteem, a compact car popular in India. We knew we'd be traveling for anywhere from 6-9 hours a day so we upgraded to the "luxury car". In India, I guess the Suzuki Esteem is considered a luxury car. It was a little cramped in the back and the head rests of the front seats did obstruct the view through the windshield, but we were comfortable, the car had air conditioning and it was always clean. Mr Singh took great pride in his car and his job, always arriving to work in a clean pressed grey driving uniform and the back seat was always covered with a clean white cotton cover.
We were off to a mostly desert region of India, a contrast of incredibly poor villages built around artisitcly astounding wealthy temples and oppulent Palaces andFortresses. It is a rich heritage of Mughal architecture and medieval culture. The smells, the colors, the dances, spices and food. We were ready and eager. It was definitely a place unlike anything we'd ever seen before.
Our first destination was to the medieval city of Mandawa in the Shekhawati region, in northern Rajasthan.  What was supposed to be a 6 hour drive ended up as 12 hours. It was a tough day, but a great story.
It is 248 km from Delhi to Mandawar. With a good road in nay other country it might take about 2-2.5 hours to travel. In India, most roads are barely two lanes; actually it's a wide one lane. When a car or truck comes in the other direction, you drive off the road to give them the right away. This was our first realization about driving in India. The second was that Mr Singh had no idea where he was going. But that was OK. At every village along the road, he rolled down the window and yelled out to the locals, where is Manadawar? After 5 hours of camels, oxen, cows, carts, scooters, trucks and villagers in very traditional clothing, we finally came to a very abrupt halt. Our one road was closed.  Apparently the locals were upset with their allotment of 6 hours of electricity a day and wanted more (I think they wanted an extra 2 hours). Since there was only one road, it was easy for them to cause a major interruption. And so we pulled off the road into the parking lot of the Hotel Pal, a 1950's ranch style motel and joined the other waylaid travelers; two busloads of Belgians, a car filled with Brits and another carfull of Germans, about 70 in all. The hotel had a swimming pool and a vending machine and within minutes of our arrival, the local villages were upon us with snake baskets and trinkets. After an hour or so, the collective group of tour agents managed to call several influential friends and arranged for a Police escort, but the police wouldn't go through the road block. They didn't want to cause an "incident". Instead, they took us on the secret back roads, through the desert; no roads, only sand…a place where only camels dare to tread.
The two buses seemed fine with the soft terrain. They were heavy enough to get some tracion. The cars didn' do so well, and every so often, people had to get out of the buses and push the cars out of one sand dune into another. The very tribal villagers of the Shekhawati ran out to the front of their huts and watched the convoy.  We were sure they'd never seen anything like us before. They were probably certain we'd never seen anything like them before either. By the looks of their huts, they should have been protesting for better living conditions, not just electricity. Some families were barely living inside the protection of old tree branches glowing in the night from a small fire. It was a very dark. Men stared at us through the car window gripping tight to their machetes and axes. There were a few times when I looked over to Gretchen and said, "Honey, this could be the last adventure".
Several times during the trip through the desert, the police stopped their jeeps for the "traditional" shake down. They refused to ake us any further until we all gave them 50 rupee each (about $1). We were told it was to pay people for the right to pass through their land. We knew better. After 3 "payments", the Police escort finally dropped us off a few Kilometers away from Manadawar.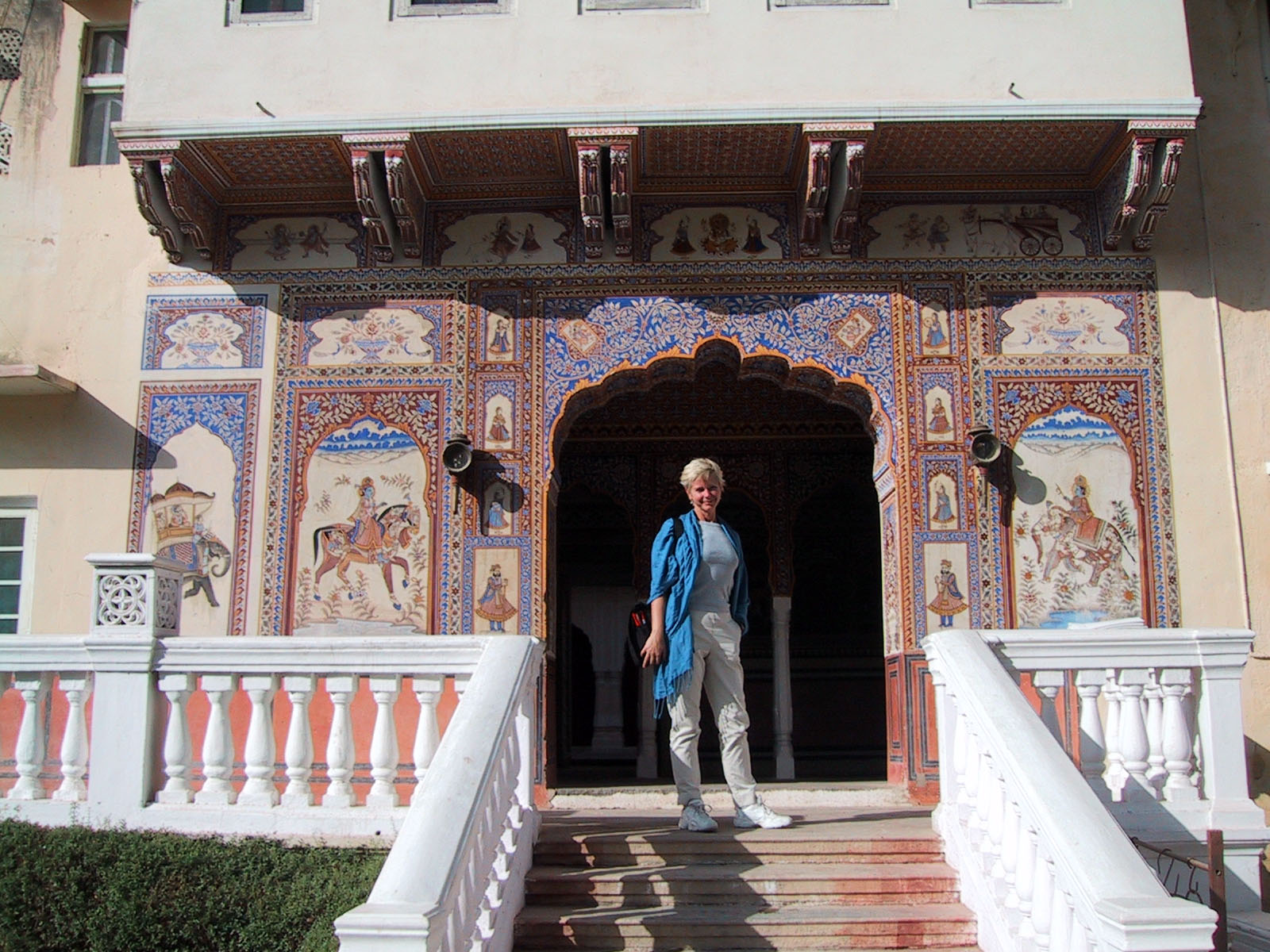 It was after 12midnight and the hotel desk clerk was extrememly concerned, not for our safey or inconvenience though, the grand buffet and entertainment he had prepared was waiting for us for almost 6 hours. The sterno cans were evaporating and the food was beginning to get cold and he had probably already paid the dancers and musicans.We were told to please hurry to the buffet. Our appearance in the courtyard was enought of a signal the start to the entertainment.
We're stayin in an 18th century Palace known to us as the Palace Mandawa. The desk clerk has given us the Maharani's apartments. There is a very large round bed in the middle of a Mughal style room surrounded by ornately carved windows.
We finally got to sleep around 2am, but only for an hour or so. There was a wedding in the village and traditional Indian weddings go on all night. Lots of signing, dancing and very loud music.
Mandawa is known for its havelis, the grand home of the wealthy families. In the Shekhawati, the havelis are painted with vibrant frescoes on the walls.