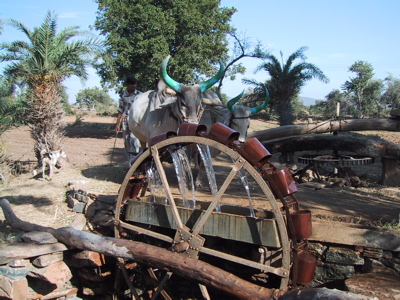 It was a short drive to Udaipur, only 5 hours. Mr (Behandar) Singh, made a detour and took us to visit an old brama bull powered water well. It was a sight right out of 16th century Rajasthan, the bulls resplendid with their blue brahman horns.
We passed trees filled with bats that could carry away small children and finally found our way to the Jain Temple at Ranakpur.
This is where we met up with Mr. Mumbles Singh (we could barely hear a word). But we didn't need to hear anything once we entered the temple.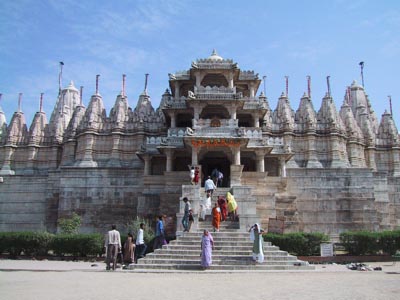 It was jaw dropping; 24 halls and 1444 columns of white marble carved in elaborate figures, and filigrees, both inside the temple and on the outside. The entire temple, about 3,900 square meters (42,471 square feet) was all elaborately carved, both inside and out. This is the largest of the Jain temples in India, possibly the world since most of the Jain sect lives in this country.
It has been recently nominated for the list of the new 7 wonders of the world. Jainism strives for spiritual reward based on the equality of all living things. Some Jainists wear masks over their faces so they won't accidently swallow a bug. They are vegans but they won' eat root vegetables because this kills the entire plant.They are completely non-violent and their compassion for all things human and non-human is the focus of their very disciplined lives. The swastika is one of their holiest symbols. I don't think the Nazis really understood the meaning of the symbol when they adapted it for their form of fascism.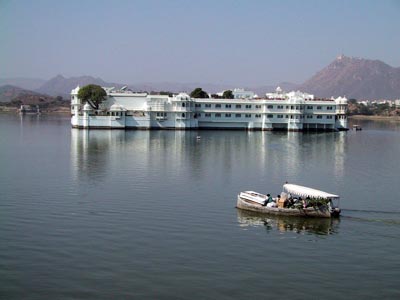 The drive to Udaipur was beautiful. We were coming out of the desert and green hills were starting to appear. We would be staying at the Lake Palace in Udaipur. The story we were told by Mr Mumbles Singh was when Jagat Singh II made the request to his father. Maharana Sangram Singh II, to spend some time at the Royal pleasure palace at Jag Mandir, the Maharana said "no way". The Maharana and his son were not very close. And so the son took a big bucket of the royal treasure and built his own pleasure palace in another, closer location on Lake Pichola. The 18th century marble palace took over 3 years to build and looks out to the Palace of Udaipur. I guess he built it here so his father could look down and sneer at him in disgust.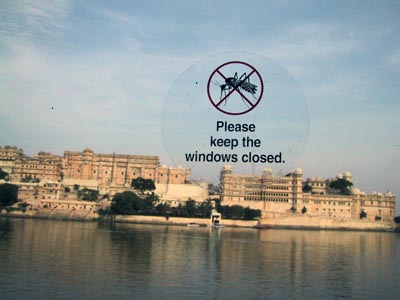 It must have been the lemon squash I drank at the Mehrangarh Fort in Jodhpur. We settled into our room in the Lake Palace and about an hour before the grand buffet (there's always a grand buffet in India) I started to get chills. Gretchen covered me up but my teeth were chattering as if we'd booked a room at the Lake Frozentundra Hotel. Outside of the room the fire dancers were entertaining the other guests. The music was loud and I couldn't sleep. I just laid there chattering and looking out the window. On the glass, there was a decal that read" Please keep the windows closed". Above the message was the international NO through a mosquito. That was it. I must have had malaria. At some point during the night, I started to sweat and the fever broke. Unfortunately, my intestines broke along with it. As it turned out, I didn' have malaria at all. It was a common case of "Delhi Belly".
All I can say about this is that India is not a good country to get dysentery. I stayed in the room for one day but I really wanted to get out and see the city. I figured how bad could it be? They do have toilets in India. Let's just say it was pretty bad. I have traveled with tissue paper in pocket ever since.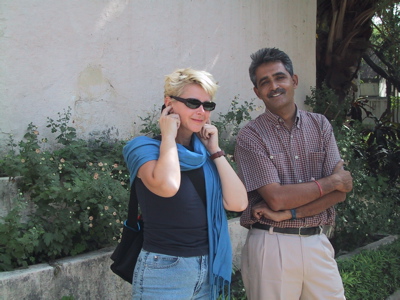 Mr Mumbles Singh was eager to fulfill his obligations to us and although I explained my problem, he felt we had already missed one day so now we had to see twice as much on the second day. We speed toured the Palace of Udaipur and the lush gardens. The Maharana had built different rooms and gardens with sounds that would immitate different weather conditions. In a place where rain is a luxury, you would learn the difference between a soft rain, a storm, a mist a drizzle and so on. He told us if we covered our ears, we could actually hear what kind of rain was being represented.