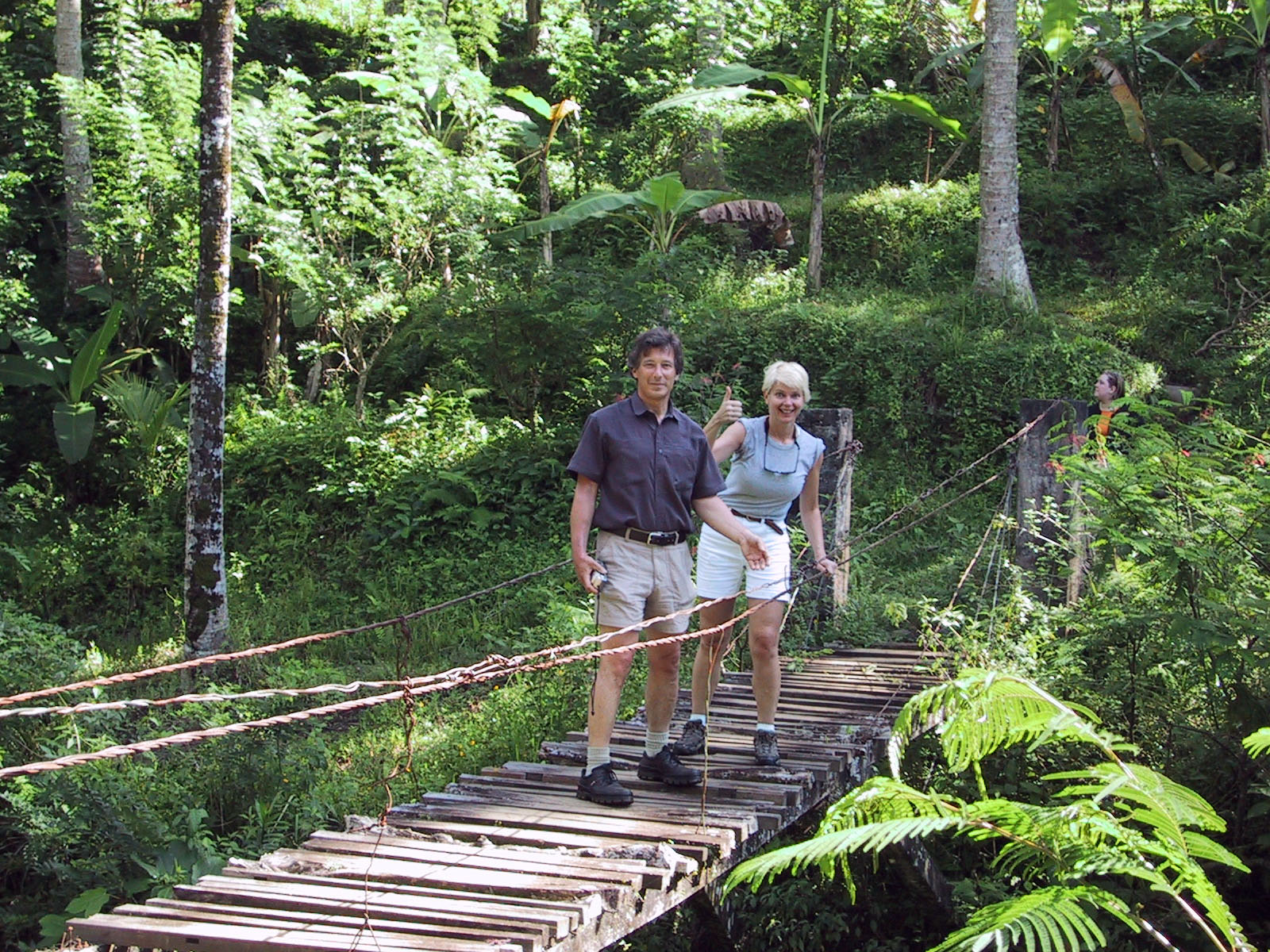 April 6, 2001
A long flight from Sydney to Singapore, 7.5 hours, but Singapore Air is the best airline in the sky or on the ground. Three movies later we arrived to Singapore.
A quick gulp down at the club lounge as we were entertained by an American man wearing a platinum fish hook around his neck, who was either really pissed off or had tourette's syndrome. He kept on yelling "damn son of a bitch".
One movie later we were in Denpasar with our bags and 16 bottles of wine.
I should have been tipped off when I saw the big white chalk X's on our bags, but I was too tired to think about it and sure enough, the customs agents made us open the bags to find 12 bottles of wine.  The customs agent told us we were 8 bottles over the limit, which according to Balinese law had to be destroyed. I tried to appeak to his sense of good will, but no luck. I tried to appeal to his sense of value. some of these bottle were really good vintages. No luck. Then I attempted to appeal to his sense of economics. I handed him $50 US. I figured he would do one of three things, refuse, put me in jail for trying to bribe an official or take the money. He looked around the room and put the money in his breast pocket. I walked out with passport in hand and all wine in our bags.  We opened one up when we got to the hotel.
We are here for 3 weeks. Three weeks in Paradise is what we thought, and most of it was. But then, we also came here to work on an IBM incentive meeting and sometimes mixing work and play can be a little stressful.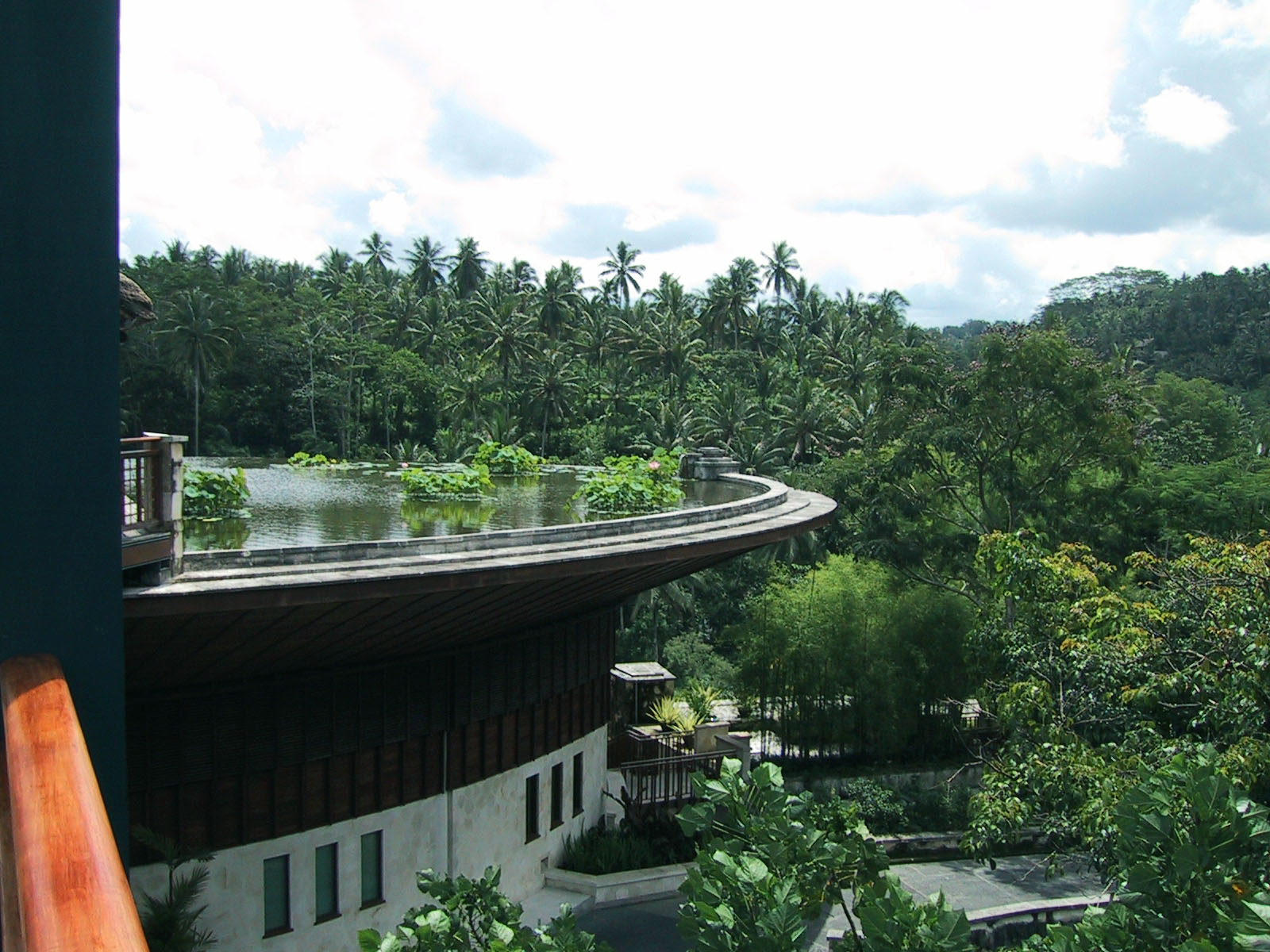 April 7, 2001
Relaxation and more relaxation.  I was a bit jet lagged but a day of lounging around in this fabulous resort did wonders to bring me back.  I discovered that I liked the workout room and after a good 45 minute workout, we treated ourselves to a balinese massage.  I was so relaxed that I fell asleep at 8:30pm.  We ordered a small dinner but I had a hard time finishing it; maybe the heat or maybe the relaxation and massage, but I was wiped out. If you are looking for the ultimate relaxation holiday, check out the Four Seasons Sayan Hotel along the Ayung River near Ubud in Bali. This is one of the best hotel experiences we've every had.
April 8, 2001
Awoke feeling great and refreshed, I also slept for close to 11 hours, but I am now somewhat a bit more acclimated to the island and the weather, although I can't stop sweating.  I picked up "American Pastoral" by Philip Roth in the hotel library and I am sucked in.
April 9, 2001
Ain't nothing to do but lie around in the sun and I like it. No cares in the world, no worries about what is happening at home; just hanging out at the pool and saturating my body with benies (beneficial rays of the sun).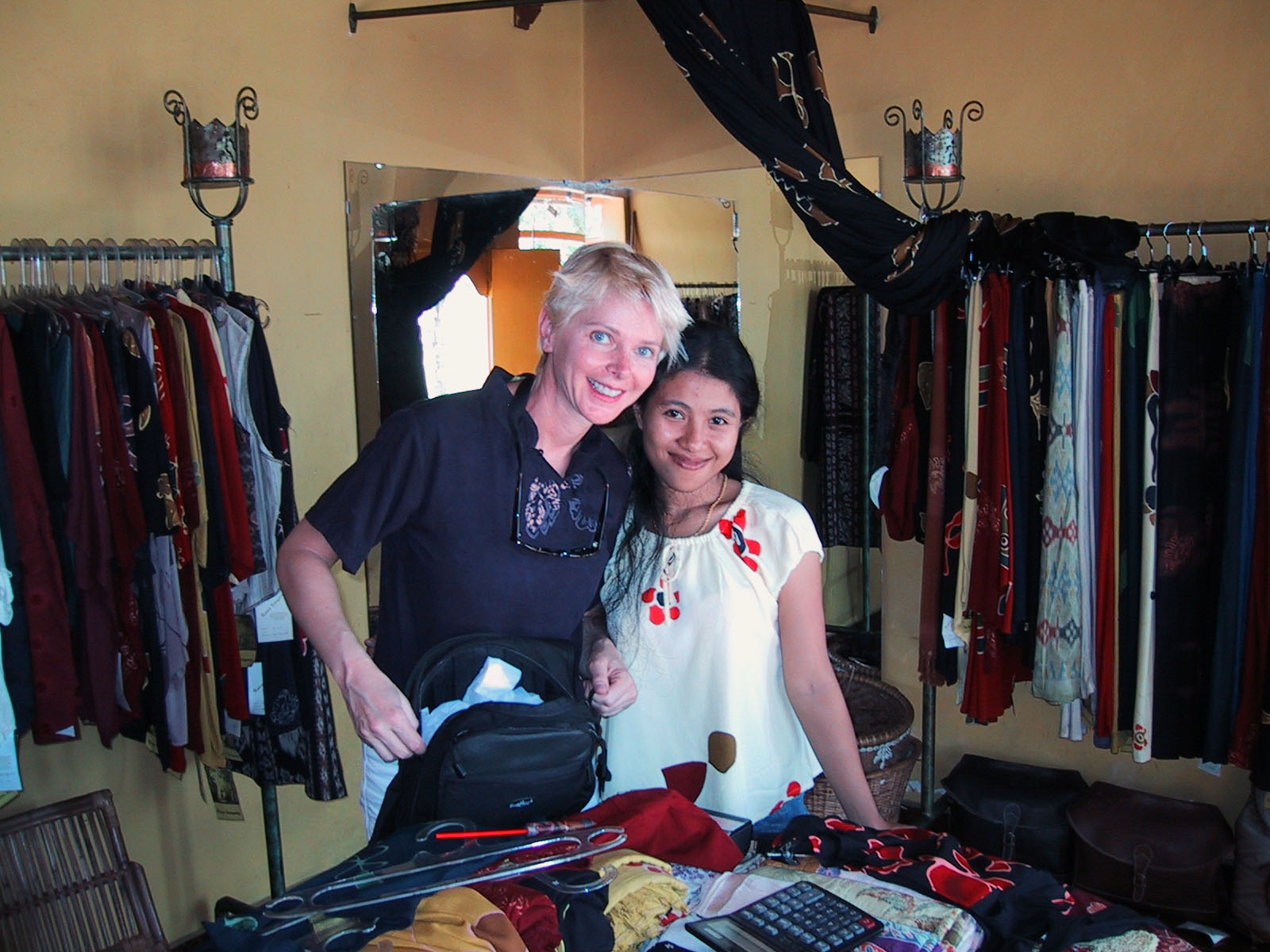 We did make the compulsory trip to Ubud, but it was even worse than I remember from the last visit; loads of boys hawking international newspapers, overpriced fake silk shirts, more sarongs than you could ever want to look. Ubud is the Balinesian crossroads of artist communities, where every tourist comes to get paintings, silver, cloth, wood or stone. Over the years, tourism has gotten bigger and so Ubud has gotten bigger, and unfortunately, trashier. It's getting harder to find the real art from the souvenir shops but we did manage to find a few. Even in the midst of massive tourism, some of the great artists of Ubud have remained.
We went back to Ary's Warung and had a great meal of cold vegetable soup, coconut dipped shrimp and avocado salad and chicken coconut curry.  We thought we had enough time to catch the shuttle back to the hotel, but we missed it and had to flag a transport for 25,000 rupee or about $2.  At first we were a bit taken back when he turned off the main road onto a small, short cut.  Once again the fear of being hijacked or kipnapped or just mugged, but he was just eager to show us the real soul of Ubud where painters lived and set up their galleries and where rich foreigners built their homes and where new grant luxurious resorts were springing up in the jungle where once there were only coconut palms and jungle brush. All the cab driverslove to put on the tour guide hat.
April 10, 2001
"Congratulation Mr Rome, you have won the first prize in our contest".  We made the mistake of answering a few questions on the streets of Ubud now I find out that we have been chosen as 1st prize winners of 7 days at the new Bali Masari Resort.  All we have to do is go to their office and then spend a 90 minute tour of the property. Ah, the time share scam hits paradise.  "No thank you," I said.  "Give the prize to someone else."
Our prize is more sun at the pool, more workouts in the gym, more massage in the Spa, more glasses of wine as the sun sets and tonight we will break down and actually see the balinese dance at the lotus pond and partake of the rijstaffel in the restaurant overlooking the Ayung river; our only tourist event of the stay.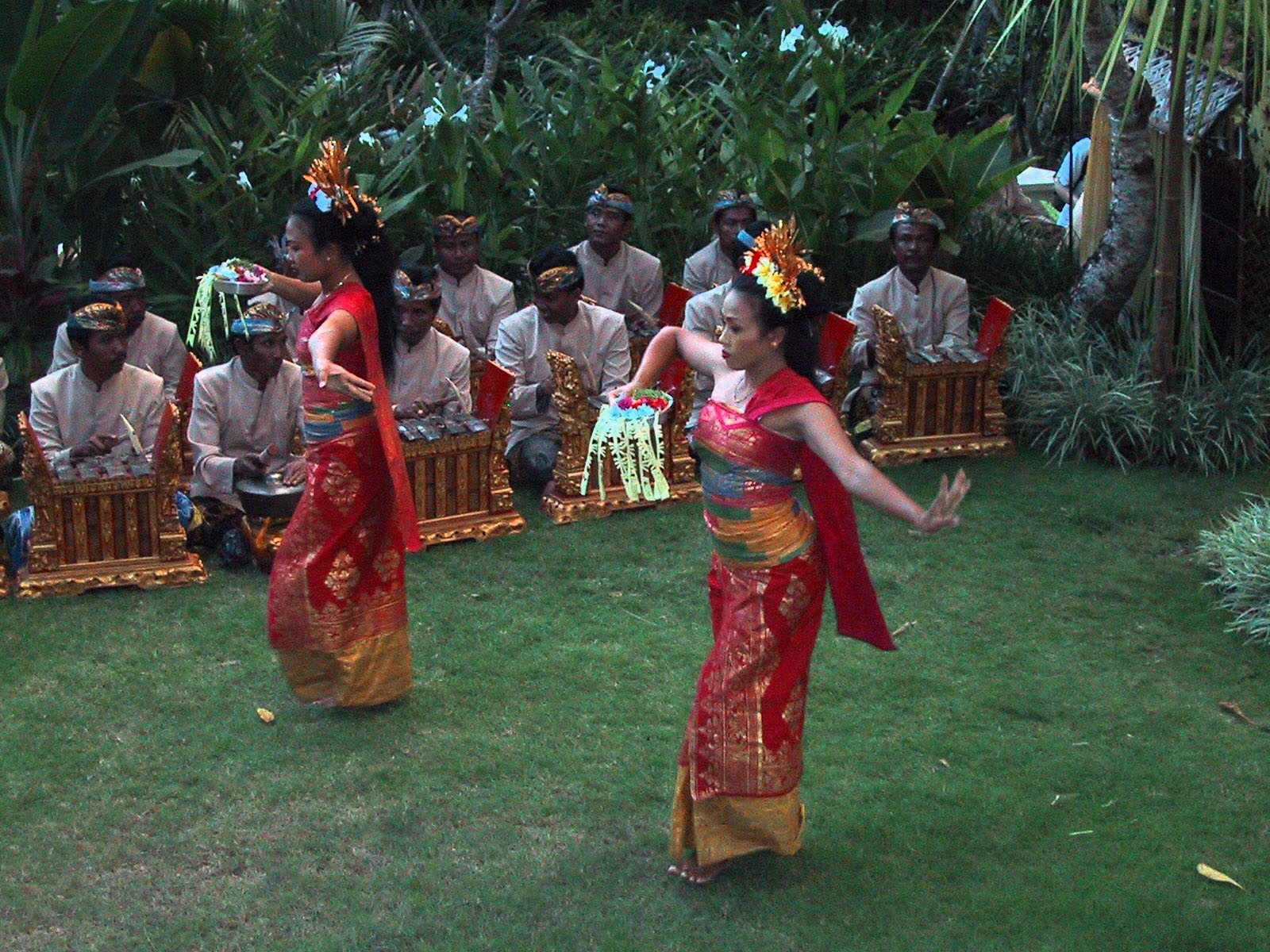 The local village of Sayan has assembled a Gamelon as the small towns of America would put together a baseball team.  They say it is to preseerve their heritage in this ever changing world of modern technology and tourism.  They perform at hotels and probably local competitions and make whatever is needed to keep it all going.  It was serene and beautiful and thankfully we didn't get too badly eaten by the mosquitos, flies and ants before it was over. By the way, the menu explanation of the rijstaffel was more impressive than the meal.
April 11, 2001
Our last workout at the gym; last large pot of torranja coffee and we checked out of the Four Seasons and headed south to Nusa Dua. A quick stop at the apotik for some 'Otopain' ear medicine and some ear plugs. The Otopain is great stuff. I'm actually getting to like it. I seem to have developed a problem getting water out of my ear canal.
Nusa Dua looks like Hawaii, grand lawns, polynesian/asian looking hotels and lots of colorful dress in the service.
April 12, 2001,
The 2nd day of 19, and I realize I don't like it here.  Too crowded.  I couldn't sit on the beach, I could sit at the pool.  I ended up walking to the little village of retail shops and bought some supplies from the grocery store only to find out that my credit card was declined. The reception desk at the Four Seasons entered the expiration date incorrectly and it sent up a flag.  All is well now.  I can spend freely once more.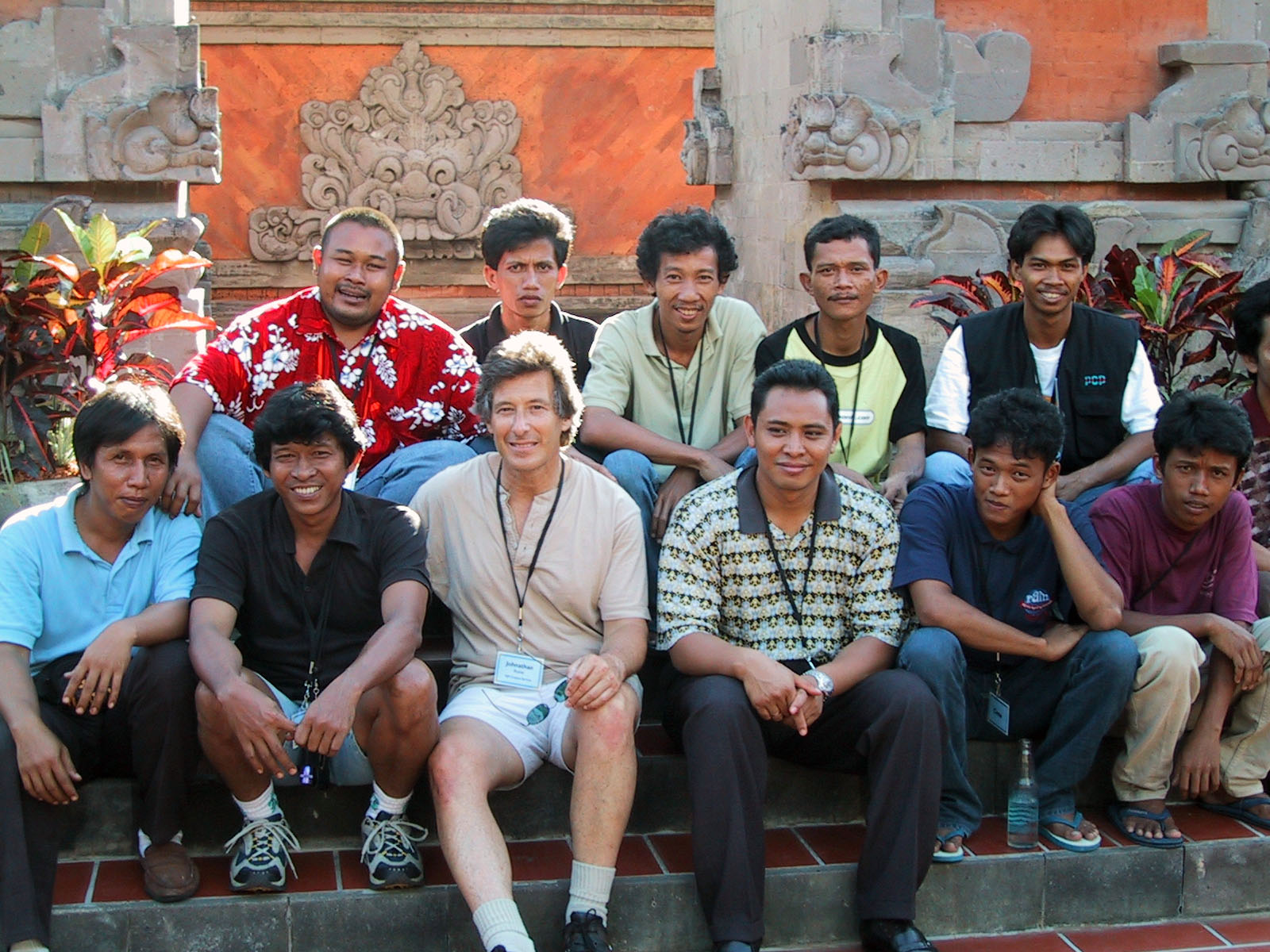 Gretchen was hired to work a 20 day job for a New York Production company. She is the Stage Manager for the General Sessions of an IBM Incentive reward conference known as the "Golden Circle". Since the production company knew I was also there, they asked me if I could help and produce the Gamelon concert at another outdoor venue. Why not. I was already there, the pay was good and the work was easy. I studied the Gamelon when I was in college. I never thought I'd ever use the experience for more than curious conversation at dinner parties, but what do you know. There is a beautiful little temple theatre with a tradional dance recital on one hand and on the other, a giant sound system, a big truss assembly and a mess of lighting gear.  This could be my first Rock and roll Gamelon experience.
April 14, 2001
We met Dr I Wayan Dibia and saw the dance recital in the University Auditorium.  Yes, there are lots of people and yes, this is going to be quite a show. Dr Dibia is a noted dancer, musician and choreographer who now heads the music department of the College of Indonesian Arts in Denpasar. He is one of the most respected people related to this artform. I am honored to be able to work with him. This should be a great experience.
April 16, 2001
My crew is from a company called PCP. I tried to explain what PCP was in the American drug culture but they didn't quite understand. Anyway, it's fun to try and communicate with Pipin, Made, Joseph and the PCP boys.  I can't understand much of what they are saying but I am amazed at what they can do.  Pipin built the dimmer racks with what amounts to radio shack parts.  The 24 channel dimmers are the size of refrigerators but they seem to work fine.  He has taken an ancient analog board and ran out a DMX cable to the rack and then converted it back to analog through a series of transistors and resistors.  It is incredible.  The instruments include Renke Strand lekos and RDS fresnels that are older than me, but they all look good and are in great shape.  In fact, Pipin Iskandar, the head electrician (seated to my right) is older than me. He's also in amazing shape.
April 17, 2001
The show is up and running and although we have just partially focused, the lighting designer came to see us at the end of the day.  He speaks very few words of english and so when I asked Pipin to translate, he said to me, " now, my head hurts from too much english."
April 18, 2001
For a small island, everything seems to get bigger and bigger.  Dr. Dibia wants more lights, more microphones, more decoration.  He is such a sweet guy I want to give it all to him but it is getting a bit out of control. We are reaching the 10 lbs of shit in a 5 lb bag syndrome.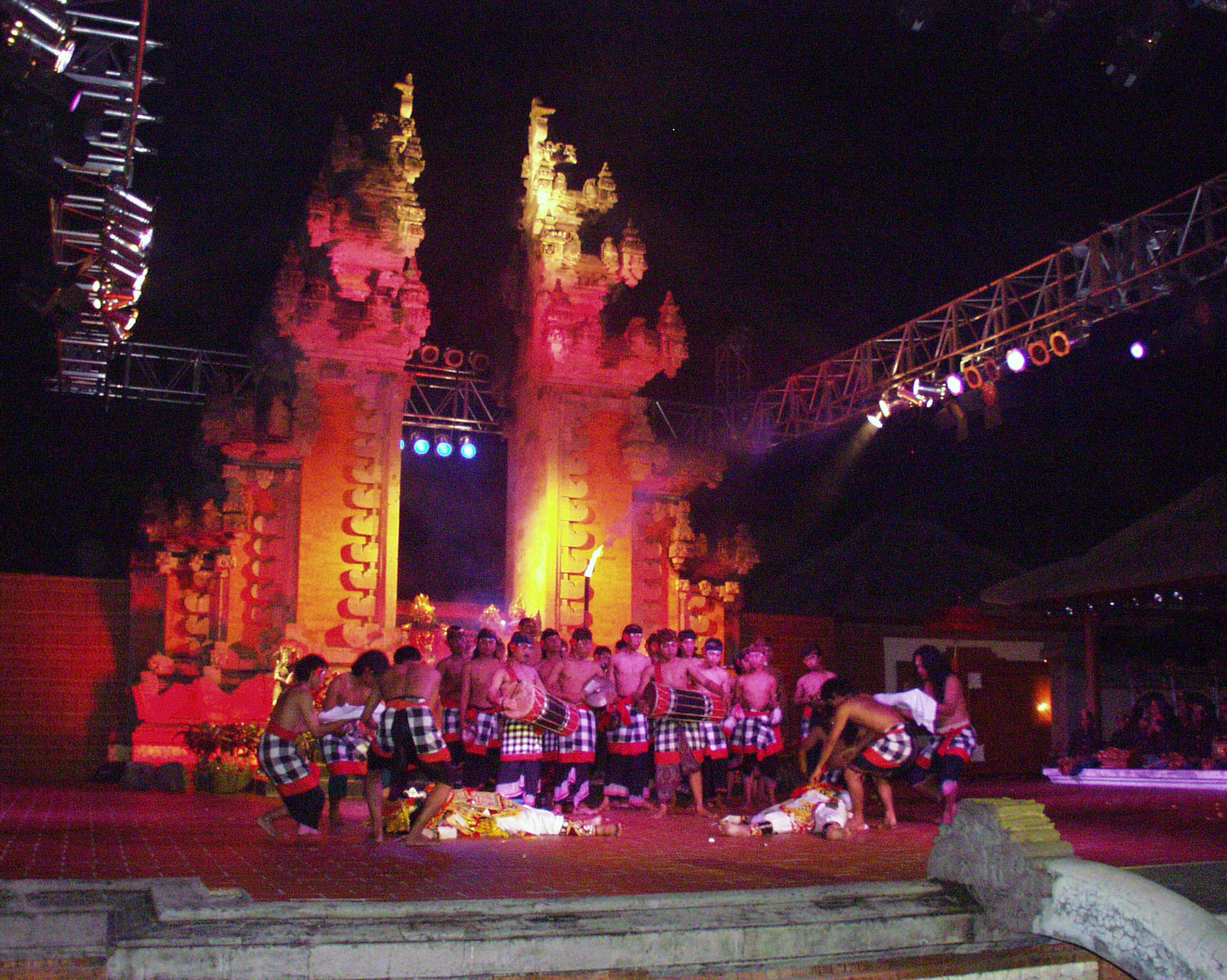 April 19, 2001
I went to the morning session at the convention center. The opening was cute; lots of local children waving flags and banners and 3 vocalists singing the show theme song. Lawrence Blair, adventurer, anthropologist, raconteur, author and documentary film maker of "Ring of fire" was the guest speaker, an amazing man with a great sense of humor.
Once again, my Ampi Theatre show gets bigger.  Dr. Dibia decides it would be nice if a jegog gamelon (bamboo instruments) would greet the people as they entered the theatre.  A good idea, but he needed a deck built to support the instruments over the seating.  And so we have a 16'x4' deck extension built.  Then the jegog showed up, or actually the monster that ate Jegog.  The main piece was easily 16'x8' and the other 12 pieces were each 3'x4'.  We kept the monster jegog outside of the theatre and put 3 pieces inside on the decking. Dr. Dibia was a little disappointed but he understood we didn't have any more time to build more staging.
The first show went OK, kind of like a show/rehearsal. There were a few miscues. The IBM client wanted to thank Dr Dibia on stage after the performance but  you got to be quick with Dibia. He didn't understand the American protocol and split the scene after the applause.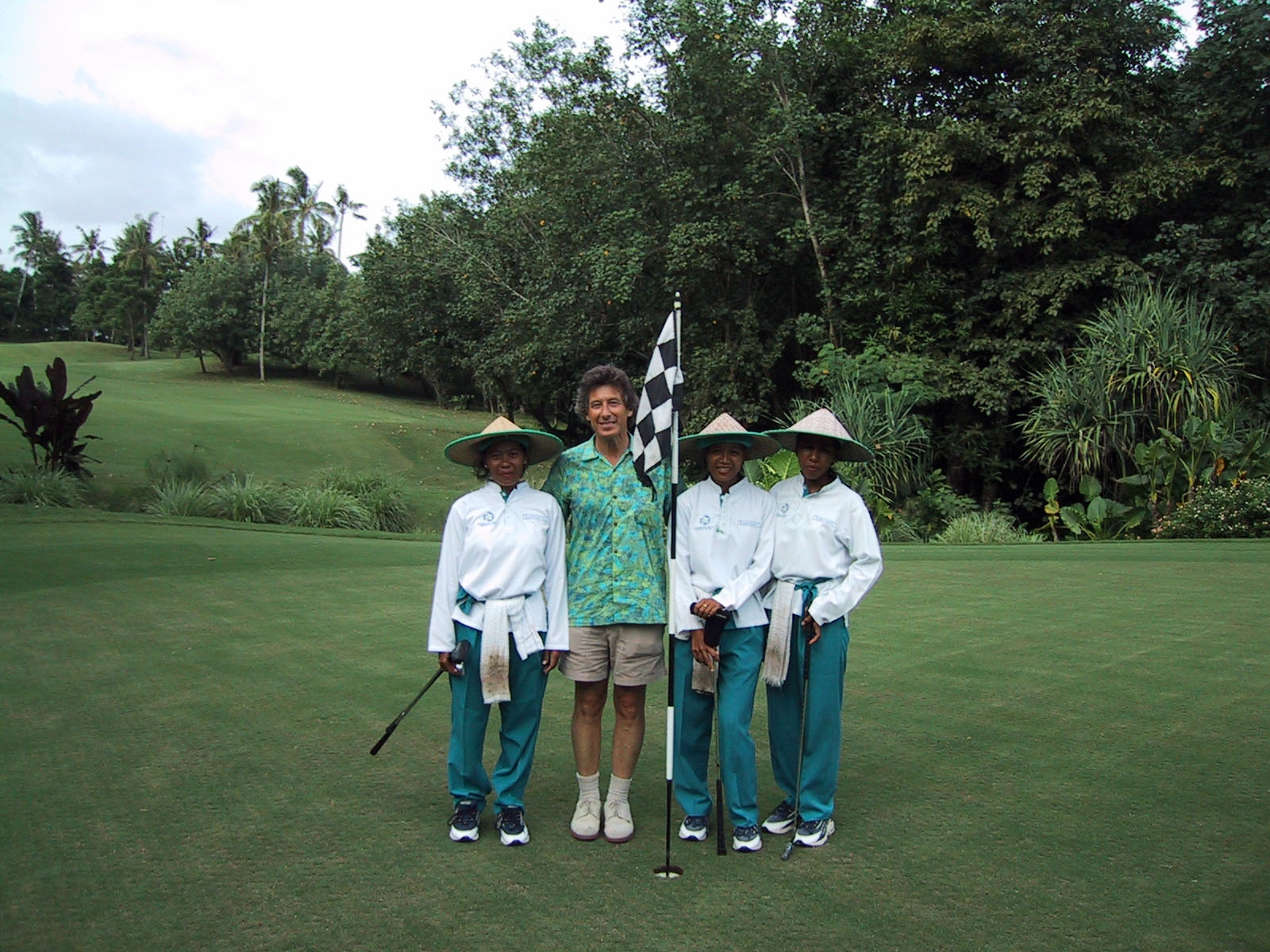 April 21, 2001
I have given up thinking about how much it costs to play golf in Bali.  Everything else is so inexpensive, I guess I can splurge on golf.
April 22, 2001
How about that, the local cable channel carried the World Heavyweight fight and so at 10am (yes in the morning), I got to see Hasim "the rock" Rohman beat Lennox Lewis with a big right handed blow to the chin.  The heavyweight title returns to the US.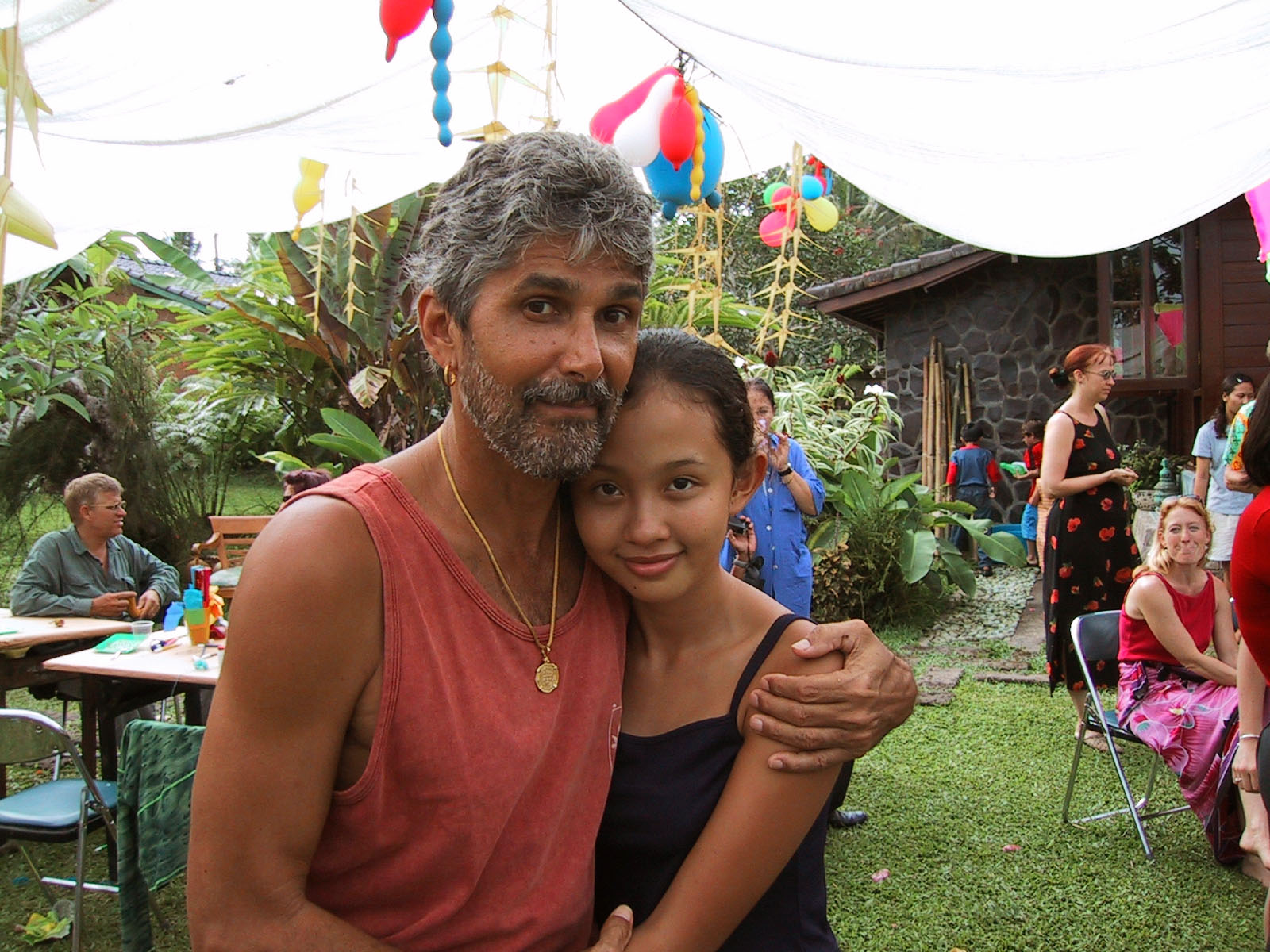 April 25, 2001
My friend Eddie Dunk picked me up at the hotel and we took a ride through the island villages watching beautiful Balinese women dressed in shinny golden silk carrying large baskets of fruit on their heads as they walked to the temple, getting everything ready for the evening celebration. We watched as local families bathed in the river runoff to the side of the streets. We looked at farmers till the rice paddies as the sun was setting, and watched the hordes of tourists go from shop to shop inspecting the local crafts and clothing in Semanyen, Kuta and Sanur.  This is an island of crafts that probably supports thousands of craft shops all over the world, from Pier One to local neighborhood shops like we have in our home neighborhood of Noe Valley. Eddie lives near Ubud with his wife Diana and daughter Kita. It's a large sprawl of lush gardens and several small houses. He's been in Bali for years, designing and crafting jewelry for international buyers.
April 27, 2001
After a good day of sun, I made it over to the general session for the last show and then met Eddie, Dianna and Kita for dinner. The four of us dines on lobsters and beer. The bill came to less than $75. It's pretty easy to live well in Bali.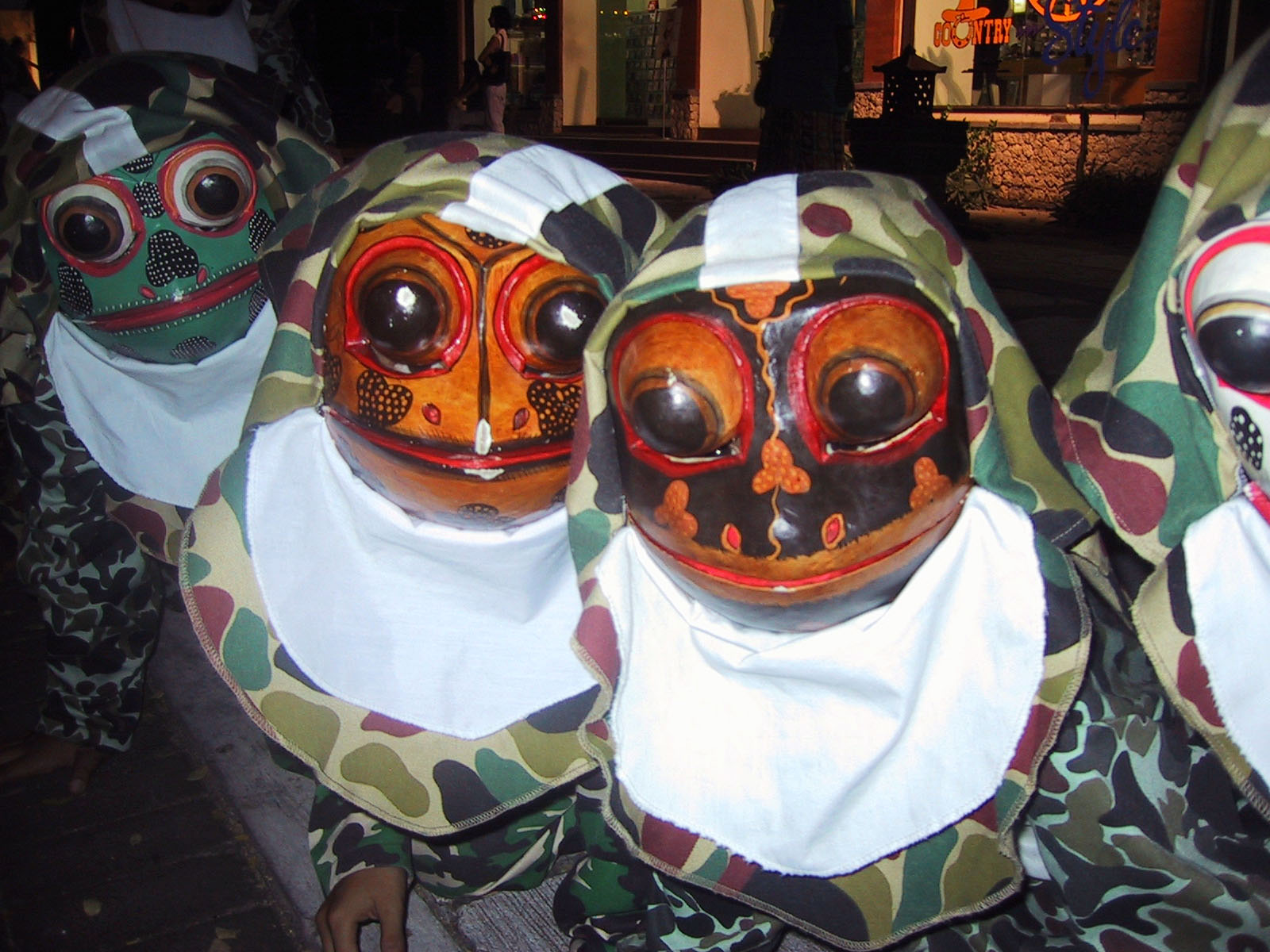 After dinner we all walked through the IBM convention final night party, a prosession of monkeys, torch bearers and 200 children in frog costumes.  It was adorable.  But aparently, the big news was that the Cirque Eloize Lighting Designer dressed up as a pirate and joined the procession. Cirque Eloize is a Canadian Cirque Du Soleil knock off show that was hired to work the IBM Incentive Meeting. Apparently the lighting designer was a bit too drunk and groped some of the Balinese girls. That's a big no no, in any language.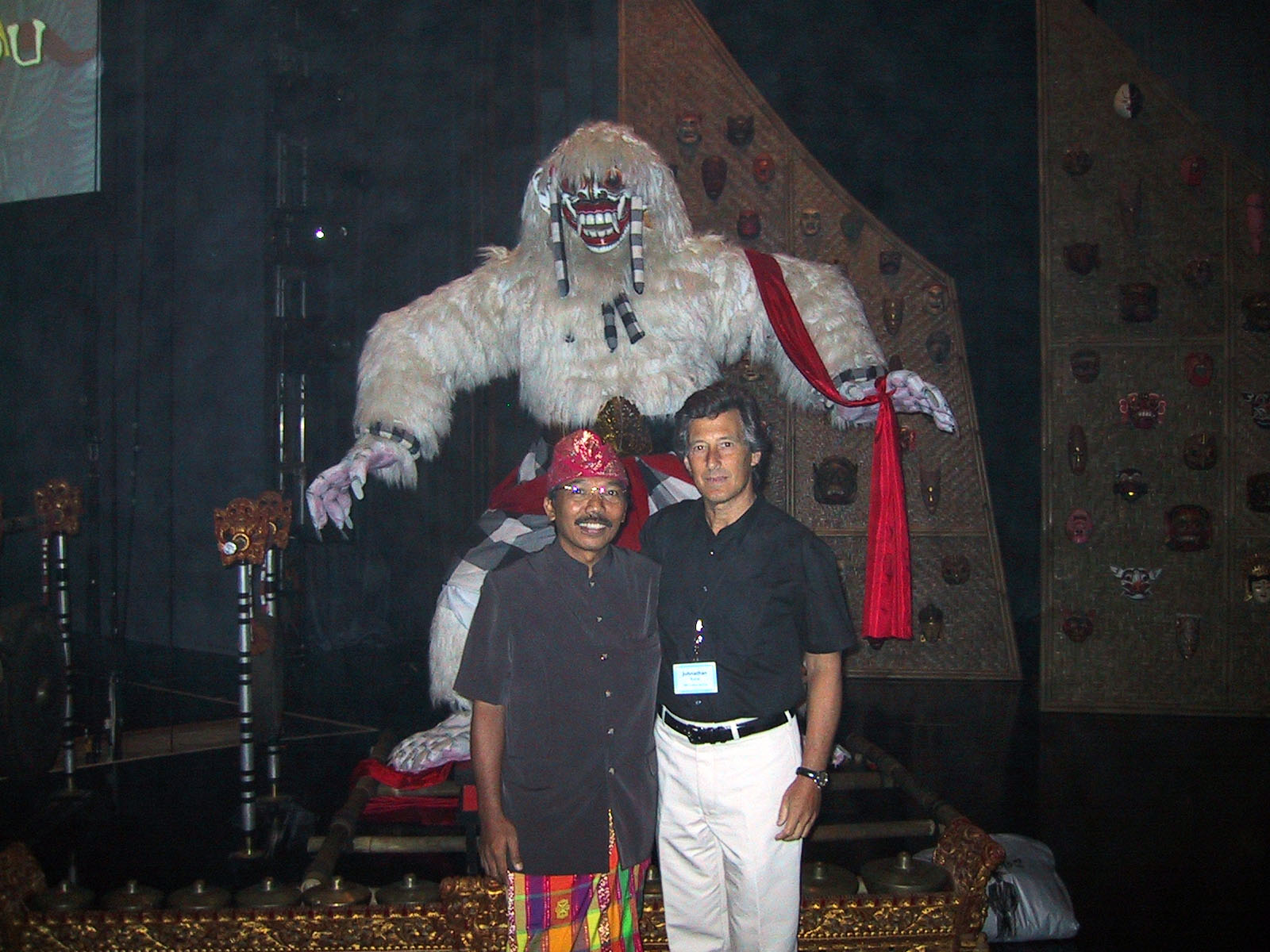 I said my farewells to Dr. Dibia, Pipin, Made and the rest of my Indonesian team and made it back to the hotel.
April 28, 2001
We were invited to Lawrence Blair's for lunch, well, we had to pick up the lunch at a favorite expat restaurant called the "Dirty Duck" I can't remember the Indonesian name.
The house of Lawrence Blair was the hand made house built by his late brother Lorne, a mass of levels and rooms constructed of old rice drying barns, of which Lawrence explained, "you buy the buildings on the hoof and then take them apart."  There was the usual kitchen and bathroom away from the house and then there were about 4 levels of staircases that brought you to any of the sitting areas, the bedrooms or the studies.  All of the rooms were open to the environment except one, which was used as a tape library and where Lawrence would write late into the night on his powerbook G3.
This was why I was there, to help Lawrence Blair fix his computer.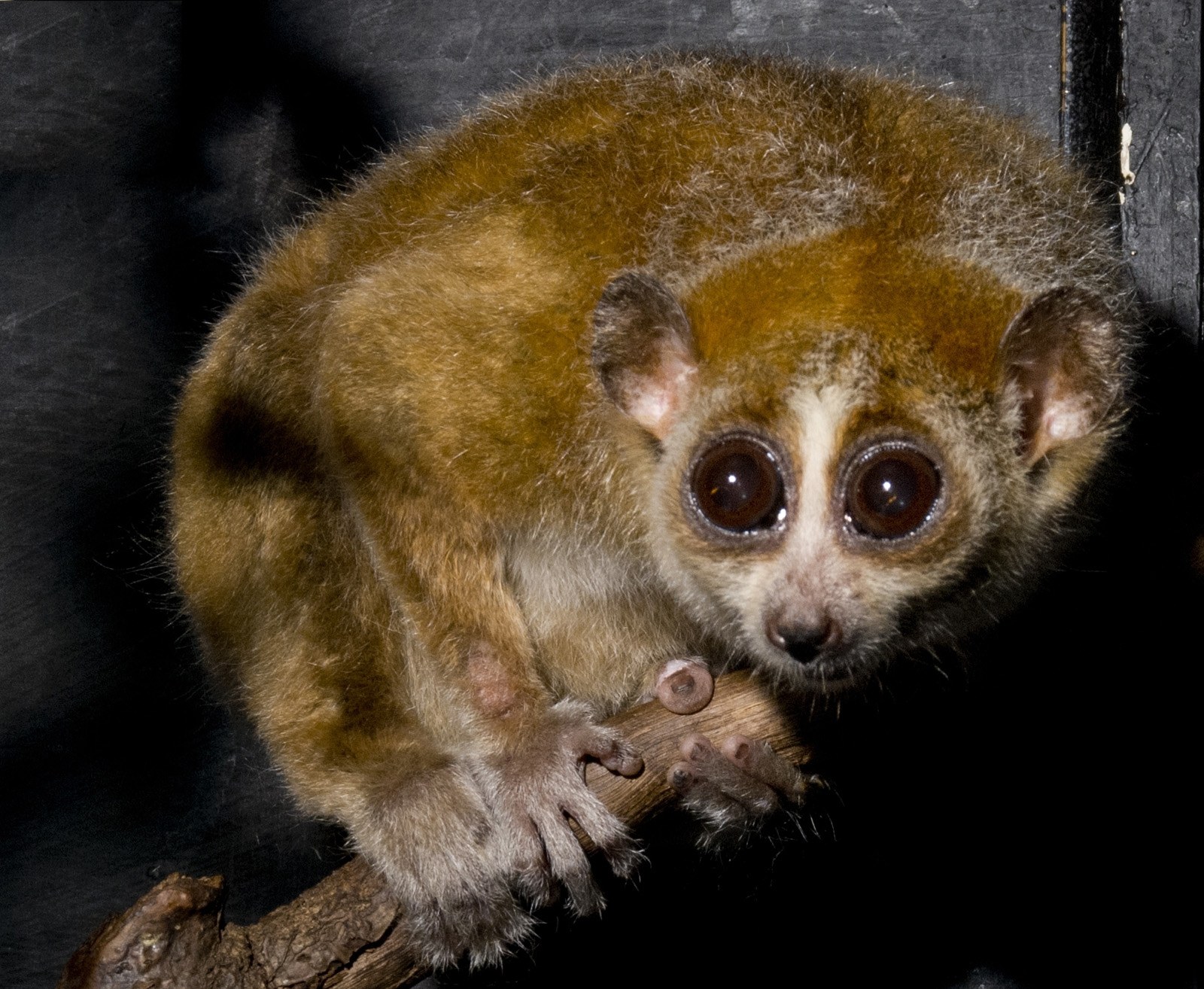 We had a good lunch and then went over to see the International Bamboo Foundation and renown designer and environmentalist, Dr. Linda Garland, a large Irish women wrapped in a white terrycloth towel who had designed several beautiful bamboo bungalows on her property and rented them out for nights at $350/night.  I went back to Lawrence's house to work on his computer. It took an hour to fix it up properly. I would have been fun to stay longer and play with his little slow lorus, a very rare indigenous nocturnal animal, but my driver was waiting to bring me back to Nusa Dua.