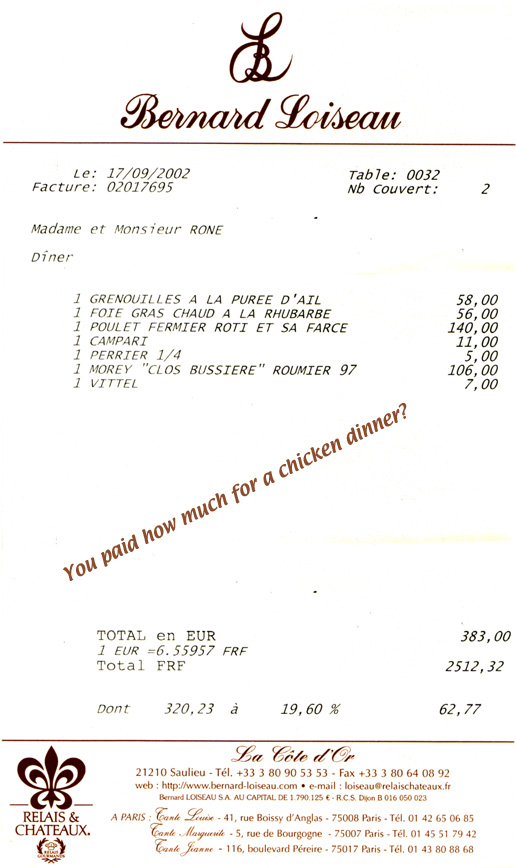 September  17, 2002
The Burgundy region is mostly an ode to wine, and driving from Dijon to Beaune, there is nothing but vineyards as far as the eye can see. Each little town along the way from Gevry Chambertin to Morey-St Denis makes wine from their vineyards, and each version is a little different. Instead of going to the vineyard for tastings, like you would in Napa or Pauillac or Tuscany, in the Burgundy Cote D'or, you drive into the small villages and visit the showroom of the winery. You can taste and buy. They'll even ship it to your home. But if you're not interested buying directly from the winery, there are loads of good wine shops in Beaune that sell all varieties. We bought a couple to take with us to Paris.
In planning this visit to Europe, I tried to give us the experiences of some nice hotels, some apartments and some memorable fine dining experiences. Our visit to the Hotel Cote D'or and restaurant Bernard Loiseau was the last of our "famous meals". Loiseau is one of those celebrity chefs of the world who has stripped away all the cream and fat and has developed new ways to cook with fresh, natural ingredients. All for a ridiculous price. His food Mecca is in the little town of Saulieu, about 50km west of Dijon.
The amuse bouche of puree of white bean soup was delicious, but nothing we couldn't prepare at home. The frog legs in garlic sauce (one of the house specialties) were beautiful to look at and quite tasty. The Morey-St Dennis "Clos Bussiere" Roumier '97 was a fabulous bottle of wine. But then the meal fell apart. One of the plates of foie gras with cepes came with a thick black human hair sitting in the cepes. Then we ordered the "Bresse" chicken. The blue foot chicken of Bresse is so prized throughout France that it's production is controlled like the wine or truffle industry.
We were seated with our backs to the dining room. We were given a view of the dim courtyard where absolutely nothing was happening. Actually nothing was happening in the restaurant either. We had to almost beg to get something to eat while we waited for our dinner to be served. For those of you are aren't familiar with the French fine dining experience, you need to figure on at least 3 hours. In other words, don't come to the restaurant hungry.
After an hour wait (yes, it was an hour after our last course was served), our chicken finally arrived, blue feet pointing up to the ceiling. It was carved in front of us and then elegantly served. It tasted like chicken. We couldn't figure out what the big deal was all about.
When they asked if we would like dessert or coffee, we declined. We just couldn't sit there anymore.
We left the restaurant, looked at each other and said, "Well, we never have to eat here again."
The next morning we ran into Bernard Loiseau at the front desk. He was also the owner of the Hotel. He asked if we would like to reserve a table to the restaurant that night. We declined. We ate at a chinese restaurant down the street.
When we checked out, we looked at the bill and realized we woke up, looked at each other and shrieked, "We paid $370 for a roast chicken dinner???"
A short footnote here: A few months after our visit to La Cote d'Or, on February 24, 2003, Bernard Loiseau put a shotgun to his head and killed himself. He was 52 year old. Many believed that it was because he had lost a star in his food rating. Some said he was greatly in debt and depressed. Some said he was bipolar and the pressure of keeping his 3star Michelin status was too much for him.
Post Script 2012: In 2002, the euro was worth $.85. This meal toady (even if it was the same price, which I doubt it) would be closer to $500.