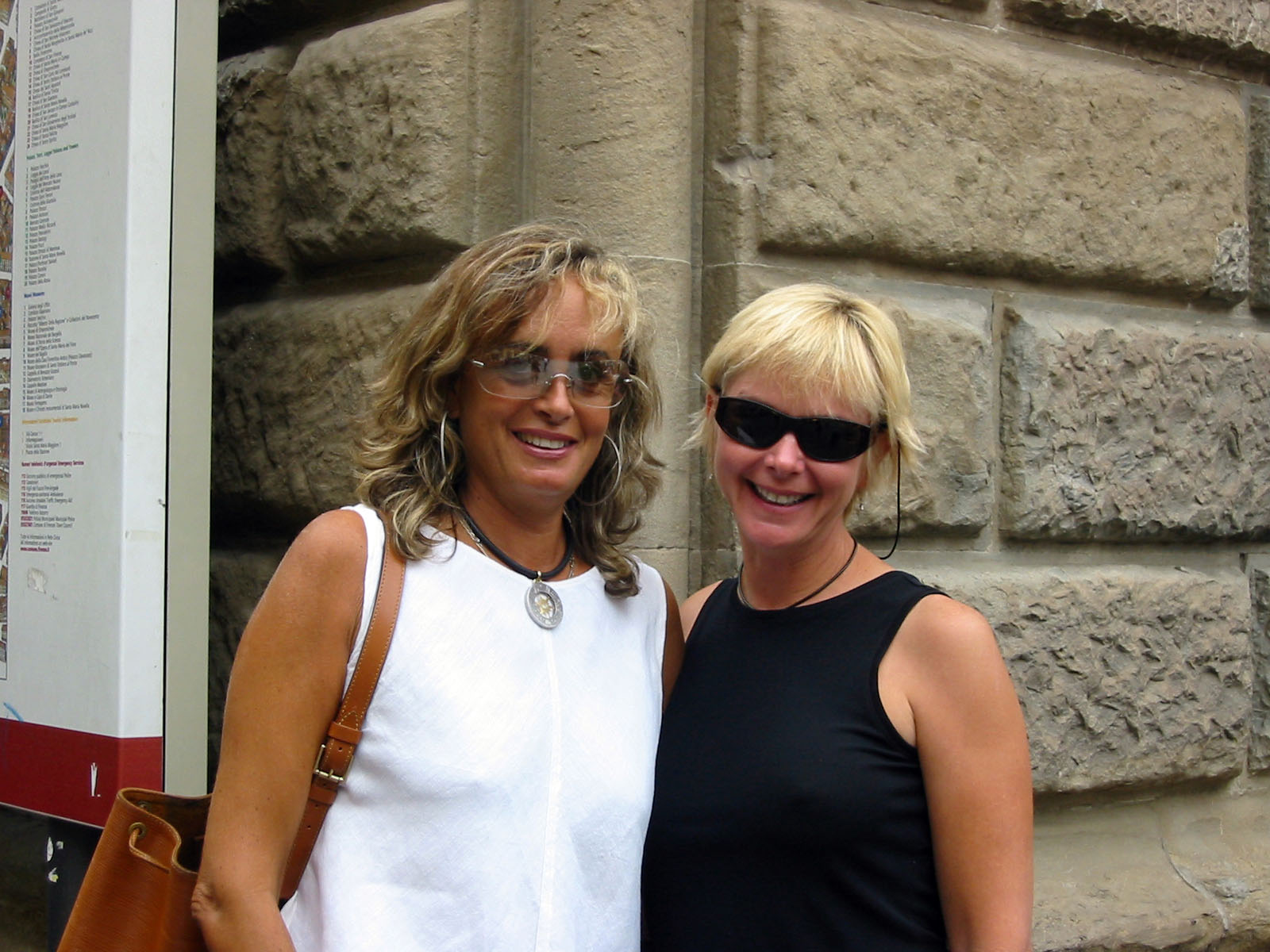 August 31, 2002
In most all of France and Italy, the last day of August is one of the most (if not THE most) heavily traveled days of the year. And there we were, our little wounded Peugeot, bumper to bumper with Campervans, RVs, SUVs, small trailers, and luggage racks overburdened with bicycles, canoes, kayaks, mattresses, suitcases and an odd assortment of personal oddities. Yes, summer vacation was over and it was time to go home.  We soon learned that this was probably not the best day to be one the road in France or Italy; however, we also learned some valuable driving techniques used in extremely heavy traffic by the French.
1. Always leave your left turn signal on. This way you can move into the left lane whenever you like regardless of who might be there. "Hey I had my signal on!!"
2. Always make sure that the windows and mirrors are totally obstructed by your stuff. This way it looks like there is no one behind you or on either side of you so it won't seem like there is a lot of traffic. It also helps if your car is not legally registered since your license plates will be hidden by the bicycles, baby strollers, mattresses and so on.
3. When you come to the tollbooth and there are only 5 lanes to the toll windows, make a 6th lane, or 7th , or even 8th. Eventually someone will let you into the legitimate lanes, although it could take up to 20 minutes or more of people staring at you like you are a complete idiot.
Even with all these helpful driving tips, we still managed to see 5 really bad accidents that help up traffic for miles and hours.
We were road weary. Every auto stop opportunity was packed with an assortment of travelers from all walks and classes of Europe, Africa and the Middle East. Some of them had taken to using the toilet rooms as their personal cleansing stations, taking sink baths while the rest of us waited patiently in queues to rinse our hands after using the toilets.
We brought some books on tape to amuse ourselves on the long drives but the traffic was so bad that at one point the traffic report station jammed the CD audio to tell us there was a bad accident ahead. I don't know if this was a feature of the radio transmission or just a malfunction of the audio system, but nonetheless, we got the report in both French and English.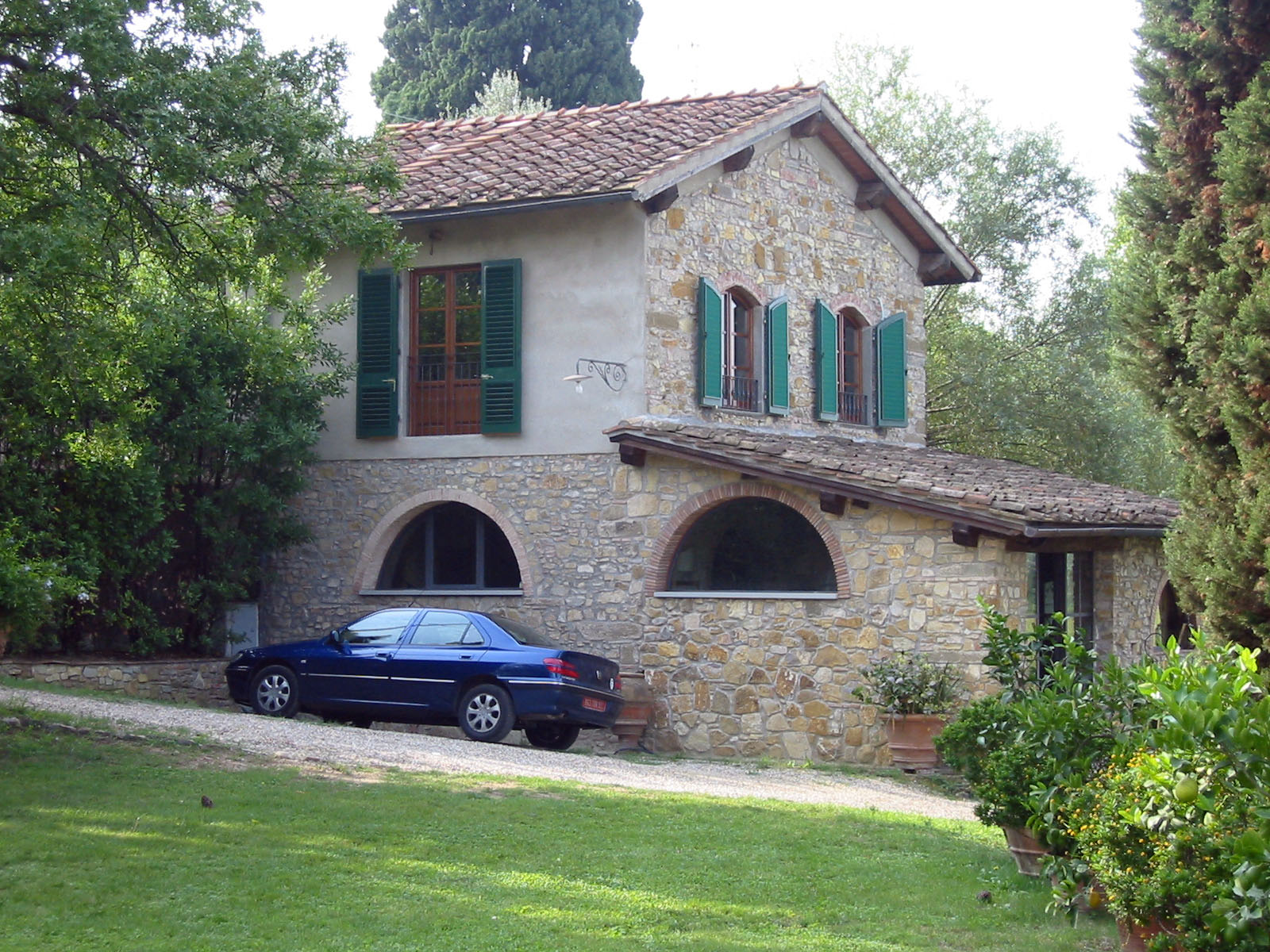 Before we left for Europe, I  downloaded road directions from the Michelin website. Michelin said the drive from Provence to Florence would take 5hrs and 40 minutes. About 7 1/2 hours later we arrived to our Tuscan rental home up on the hills overlooking the charming little village of Lastra a Signa.
Through the big iron gate and down the long Cypress lined driveway, we were greeted by Paola Cinelli and her 21 year old daughter Maria Vittoria. Instructing us to just leave the bags in the car, Paola brought us into the main house for a coffee and a glass of wine. She would take us to our little house after we relaxed a bit. We needed to relax a bit.
Husband and father, Fabritzio Cinelli arrived about 20 minutes later, and soon after we became fast friends.
A funny story. Our Italian language skills are getting better by the minute, but when we responded to the Cinelli inquiry of how old we were, they were very surprised, telling us we looked 20 years younger.  It has always been my favorite explanation to tell people my youthful appearance is a result from all the preservatives I ate as a kid (BHA, BHT and so on). And so, after explaining to our hosts (in italian) that our youthful appearance was due to alcohol and preservatives, there was a brief silence until they all broke out in a loud laughter. "In Italian" Fabritzio explained, "preservatives are condoms."
When you look at a website picture of a rental home, or hotel, you really have no idea of what it will look like. Some of them are so great, you can't wait to return while others get put into that amusing travel story that just didn't work out the way your thought it would.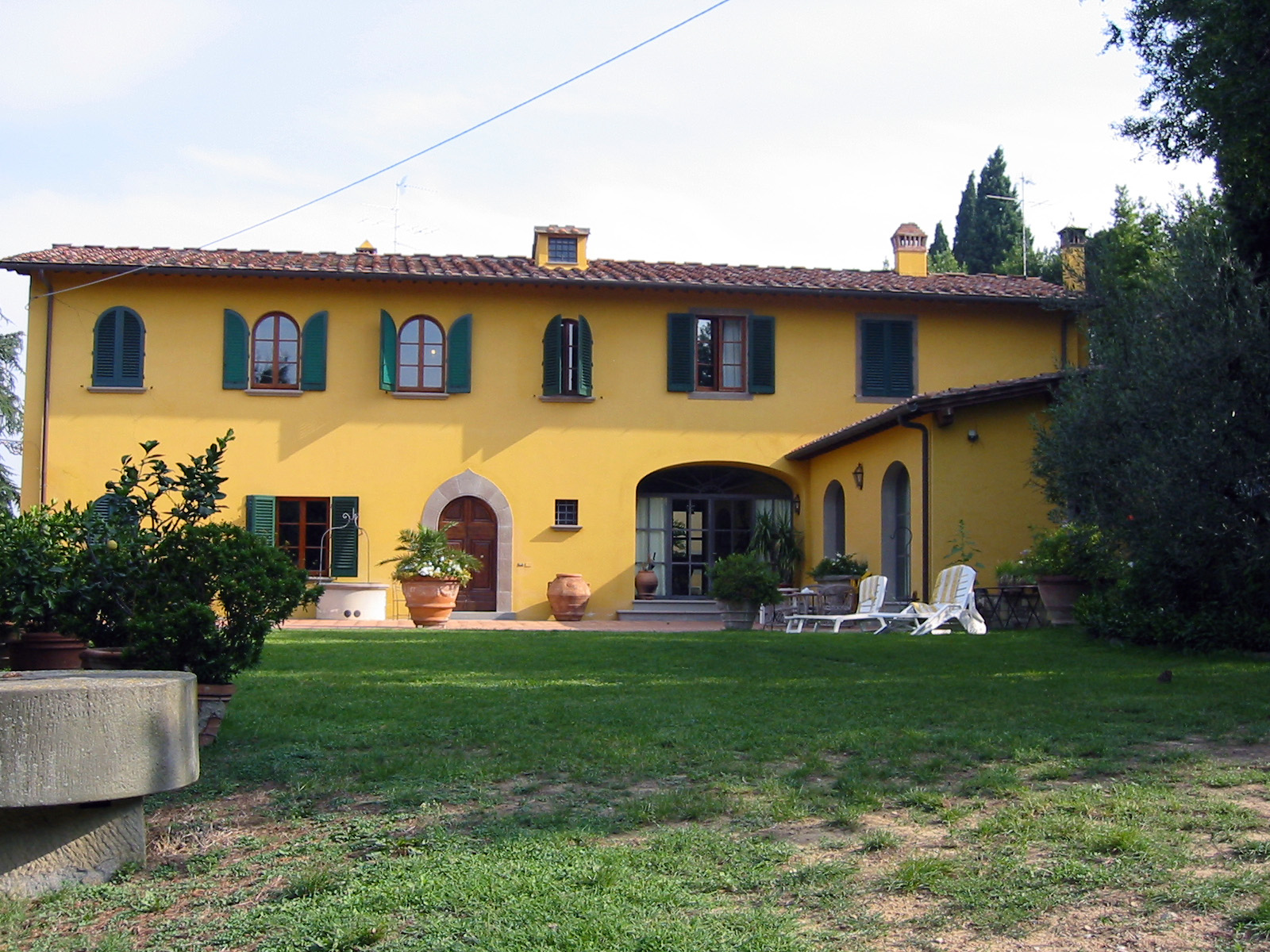 Our little house known as I Cipressi was was way over the top. The kitchen was stocked with fresh spices, coffee from the Cinelli's recent visit to Cuba, cold bottles of water in the refrigerator, olive oil from the Cinelli olive grove and a bottle of really delicious vino rosso, There is an ISDN line for our computerrs and TV with CNN and other English broadcasts. The water pressure is a little wimpy, but the beds are really comfortable and the view of the olive groves from the bedroom window is postcard magical.
As beautiful as our little house is, the main house, known as Villa Calcinaia, is the dream of the perfect Italian country villa; the brick barrel ceiling in the industrial size kitchen, the large family rooms and grand hallways, the detail of the architectural restoration (the origin of the house is from the 1400's) and the attention to the beautiful antique furnishings. Paola is "pazzo" for furniture shopping.
We were tired. The long haul from Provence was brutal but our new friends were determined to show us real Tuscan hospitality and so 30 minutes later, we were pulled back into a car (this time Fabrizio's) and off to a dining adventure up in the Chianti Hills. The restaurant, owned by Fabritzio's sister Gabriella is mostly catered to the Agro tourism crowd but has recently become so popular, that the locals now make the journey up the small windy gravel roads for this really wonderful home cooked country meal.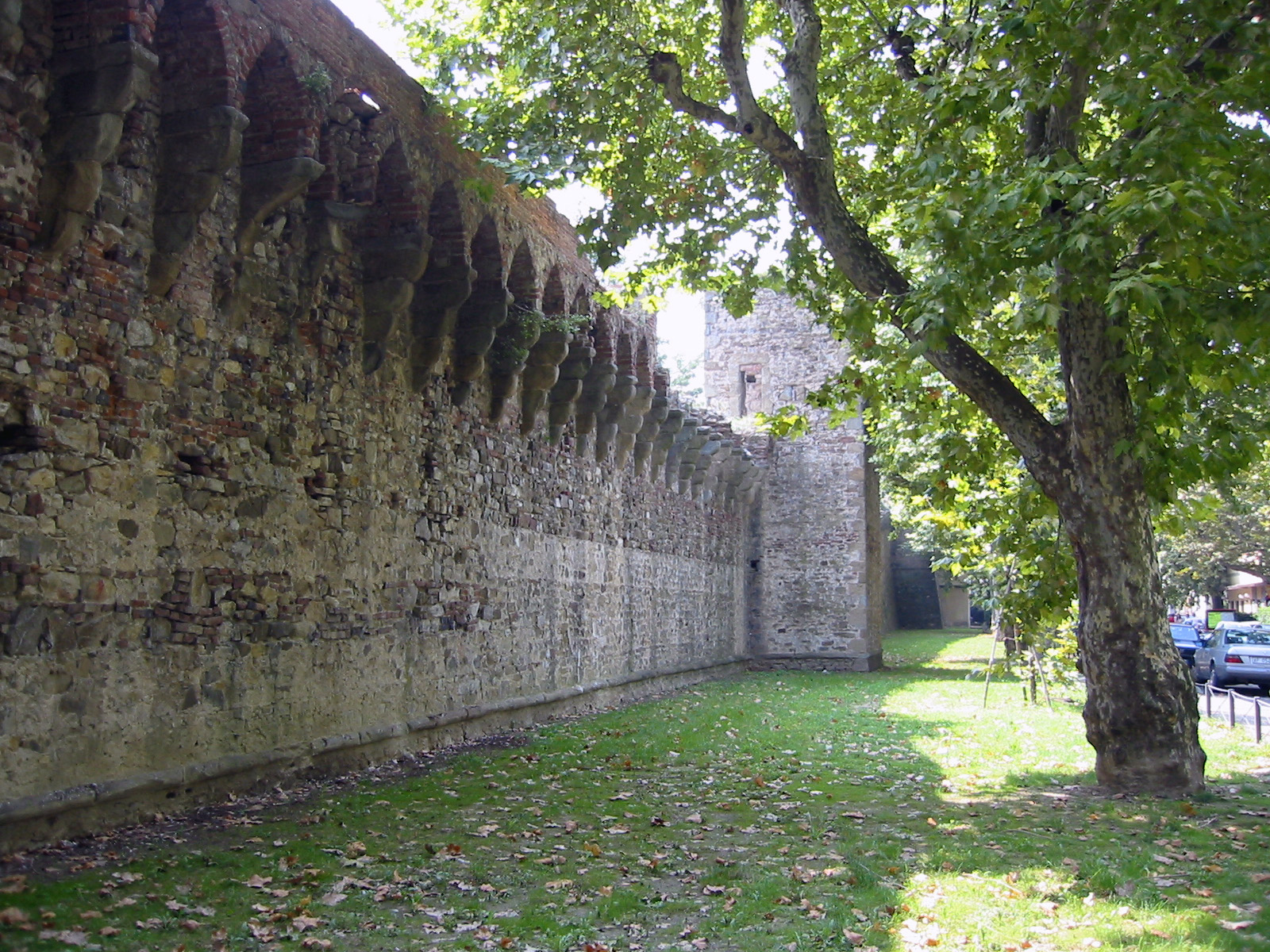 On the way home, Fabrizio drove us through the center of Lastra a Signa, a small village with the beautiful remains of a 15th century city wall designed and built by Filipo Brunileschi. Lastra a Signa was a military outpost for Florence in the 15th century and later a prison. The old prison tower is now the centerpiece of the historical town square. But on this night, there was a "Festa" and a local band blasted out Italian rock and roll as local residents from ages 8 to 80 sat, strolled and ate along the small, narrow streets. Paola and Fabrizio escorted us through the village, introducing us to many of their friends. We even met Paola's 75 year old mother who ran down to the town center in her pajamas to close up the family jewelry store.
Visitors and Tourists
We've been to Florence so many times, we no longer feel like tourists. We can navigate the city without a map; we can easily drive through the city to the parking garage at Santa Maria Novella. In fact, it is less than a 15 minute door to door drive from our house in Lastra. We set out on foot and easily find our favorite cafes, restaurants, leather goods, fashion, gelateria, and all the wonderful window shopping.
We've moved up the traveler's ladder from tourist to visitor. The next rung on the ladder is temporary resident.
Last year we rented an apartment in Florence, and yes, it was fun being in the city, but after 2 months of noisy motorbikes and tourists, we decided this time we'd rent outside of the city and drive in for the day.  It is so easy to get in and out, and so peaceful at night in this country setting. It was a good decision. I think the only thing we did wrong was in planning the length of our stay here. One week was not nearly enough.
We drove west for a visit with (Bunky) Pat and Marco Pezinni who run a cooking school in Fucecchio, about 30 minutes west of Lastra . Much of the food is grown right there at Villa Crocialoni, the vegetables, the chickens, the olive oil… Pat works the kitchen meals and Marco makes the bread in an 18th century outdoor wood oven. Marco also makes a killer tiramisu and his Lemoncello is legendary.  We sat outdoors under the large chestnut tree and enjoyed a 4 course lunch of salads,  chicken, white beans, cheeses and fruit before we got down to the Lemoncello and the real gossip.
The next night we had dinner in Piazza Carmine with our friends Lisa Perugi (the Florentine socialite extraordinaire) and Suzanne Pitcher (our rental agent of last year and former lady in waiting to the Queen of England). Many people came and left from the table, but mostly the evening was spent listening to these two wonderful ladies recount their tales of love, death, betrayal, disappointment, medical challenges, deceitful realtors, law suits against the disco bar next door, and problems with their children. As each of the 5 bottles of wine was consumed, the stories became more outrageous. Good gossip is an old Florentine custom, and even though our friends Lisa and Suzanne are transplanted here from other countries, they've kept true to the old traditions. Everyone is fair game. It was getting really late and I was one step past tired as the 6th bottle of wine began to pour.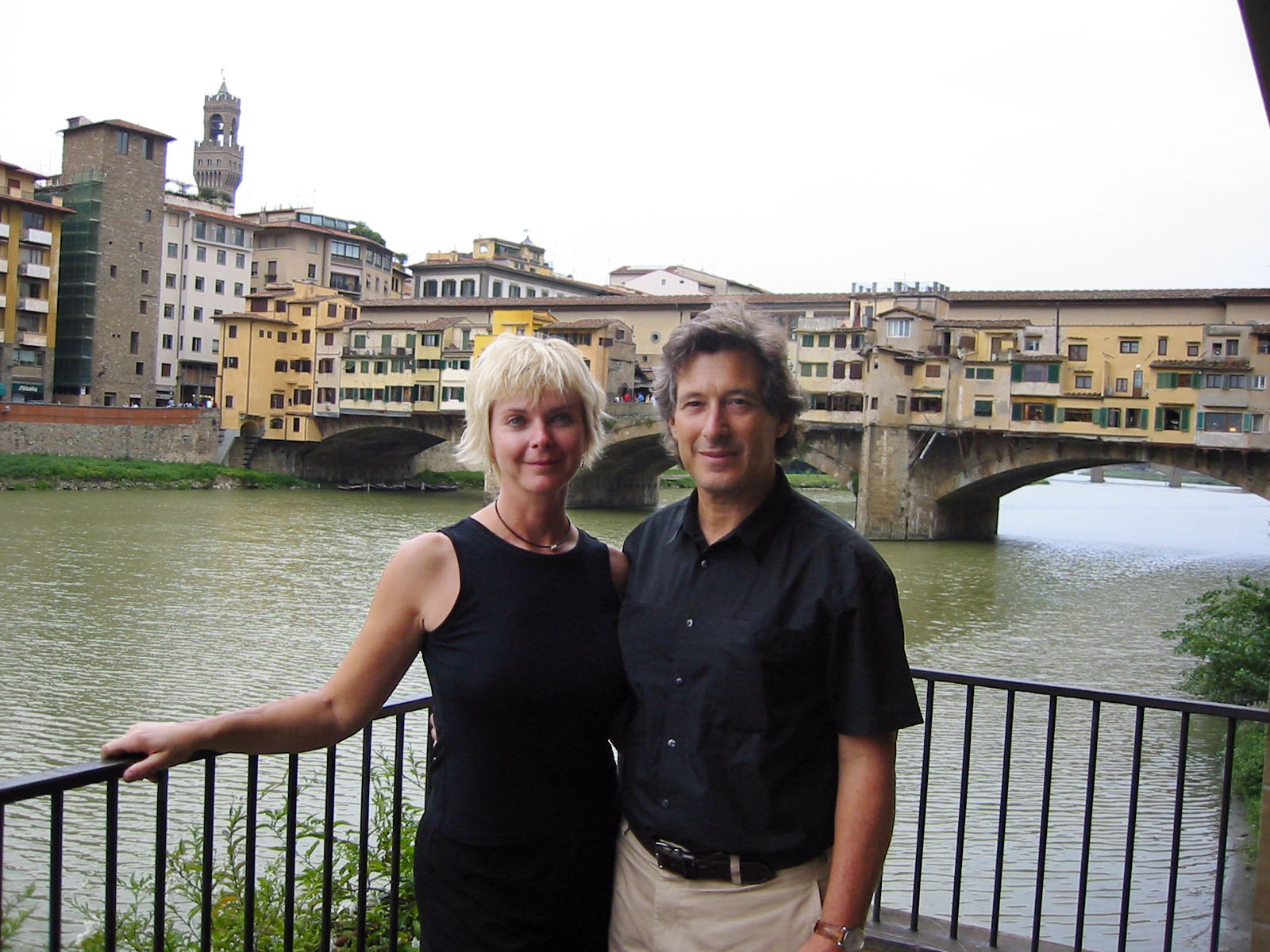 The next day, another shopping day in Florence and a brief visit to some of our favorite old haunts and that night we drove to Artimino for dinner at Ristorante Delfina with our friend Nella Nencini, who among her other ventures of olive oil manufacturing and marketing, renaissance Italian theatre and restoring an old farm house with her husband Giovanni, she has now created Italy with Nella, a specialized travel service. The Villa Artimino was used as a hunting lodge for the Medici family back in the late 1500's. It's been restored and is used as a function space these days. Paola and Fabrizio were married there.
Our final night in Lastra ended with a big dinner party with the Cinelli family (including la Mamma) and the Brit family living upstairs in the main house. I made an enormous amount of jambalaya, something I thought would be a different kind of meal for them until Maria, the Ukrainian maid told me she made the exact same dish in the Ukraine. Ah, so that's where Jambalaya comes from..
We were sad to leave our home in Tuscany. As I already said, a week wasn't nearly enough. Even Paola and Fabrizio were sad to see us leave and offered us the little house for another week for free if we could stay on, but alas, we'd already paid for the apartment in Rome.