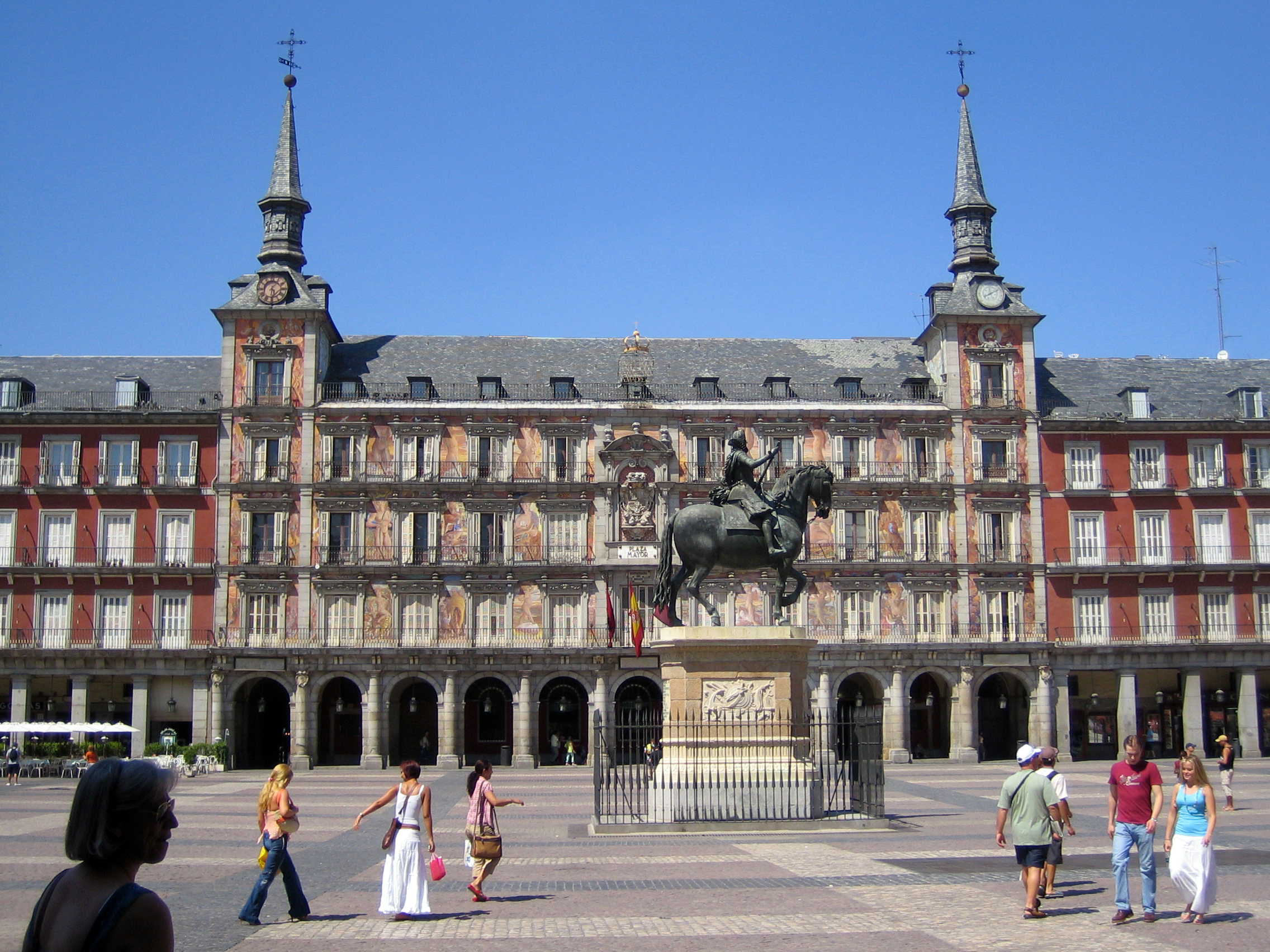 Madrid is just a short 1.5 hours away from Toledo by car; a good day by carriage. A walk through the Plaza Mayor brought back a lot old memories. We've been to this great city a number of times. We even stopped at our favorite fast food joint "Las Bravas" for a plate of pulpo a la gallega (broiled octopus), camerones (calmari) and their specialty, patatas bravas (potatoes with the secret las bravas sauce, patent #357942). They are so proud of this secret sauce that they emblaze the patent number throughout the restaurant. In fact, Las Bravas is so popular, there are three of them in the city, all within a five minute walk. As we popped the pulpo into our mouths, the waiter brought a plate of some weird looking things to the man to our left. "What are they?" we asked. He wiggled his ear at us and smiled. "Oreja" he replied. They were pigs ears in bravas sauce. Another of the house specialties. Yes, there they were a plate full of thirty or more little piggy ears drenched in the spicy rust colored sauce. I think the only part of the pig not consumed in Spain is the "oink". Patatas Bravas is now a generic name for any fried potato in a spicy red sauce. They might all claim the name but the original is right here in Madrid.
The Prado museum is one of the greatest art collection in the world, especially for the Spanish artists like Velasquez and Goya. The collection of Italian and Flemish masterpieces is also astounding. And  on Sundays, the admission is free. Unfortunately free admission means more people, especially more people who would normally not come to a museum of this caliber.
We've been trying to avoid the camera crazy Japanese tourists.  What do they do with all those photos? Their favorite  traveling pastime seems to be putting their family members in front of any great old piece of architecture or in fact any structure, road side restaurants, toilets, rocks. Well, for some stupidly naïve reason, the Prado allows people to use cameras to photograph the masterpieces inside; supposedly the tourists will not use their flash. And so it was Sunday. What a treat, we get to go to the Prado for free. And then, what a drag, there are Japanese camera nuts everywhere. Strobe flashes are going off like it's a rock concert. The guards can't do a thing about it. Irreversible light damage is attacking the 400 year old canvases and the worse thing about it all is that these tourists will probably throw away all the shots as soon as they get home. Afterall, why would want to see your son grinning like an idiot in front of Goya's depressing May 3rd firing squad.
María del Carmen Cervera Fernández de la Guerra was a former Miss Spain and fifth wife to American movie star Lex Barker, the only Tarzan who wore shoes, and previously the husband of Lana Turner. Then in 1985, she married Hans Heinrich "Heinie" Thyssen-Bornemisza and became María del Carmen Rosario Soledad Cervera y Fernández de la Guerra, Dowager Baroness Thyssen-Bornemisza de Kászon et Impérfalva, owner of one of the longest names I've ever seen and owner of the second most important personal art collection in the world. The first still belongs to Queen Elizabeth II. Carmen says, "Heinie taught me all about art". In 1992, Spain purchased a large amount of the "Heinie" collection and the Thyssen-Bornemisza museum is conveniently placed right across the street from the Prado. It's a really impressive collection ranging from medieval to the 1960's. There's even a Gilbert Scott portrait of George Washington's black cook. Heinie died in 2002, but Carmen has continued his love of art acquisition, although her eye is not as good as his was.
The Reina Sofia rounds out the big 3 of Madrid's great museums. We made our visit on a Monday which wasn't free, but it was free of the photo freaks. The jewel of the collection is Picasso's "Guernica", one of the most powerful anti-war paintings ever created. The painting was created for the Spanish Pavilion of the 1937 World's Fair. Picasso was devastated when the German Army used this small basque village for target practice. The town was pounded with incendiary bombs for three hours and then burned for 3 days. 1600 innocent people were killed or wounded. There are rooms of sketches associated with the painting. In these days of stupid wars and senseless killings, Guenica still makes a lot of sense.
But the Reina Sofia is so much more than Guernica. It's choc-o-bloc with 20th century Spanish artists ranging from Picasso and Dali to Juan Gris, Miro and sculptor, Julio Gonzalez. There's also a screening room showing two early films by Louis Bunuel. What a treat…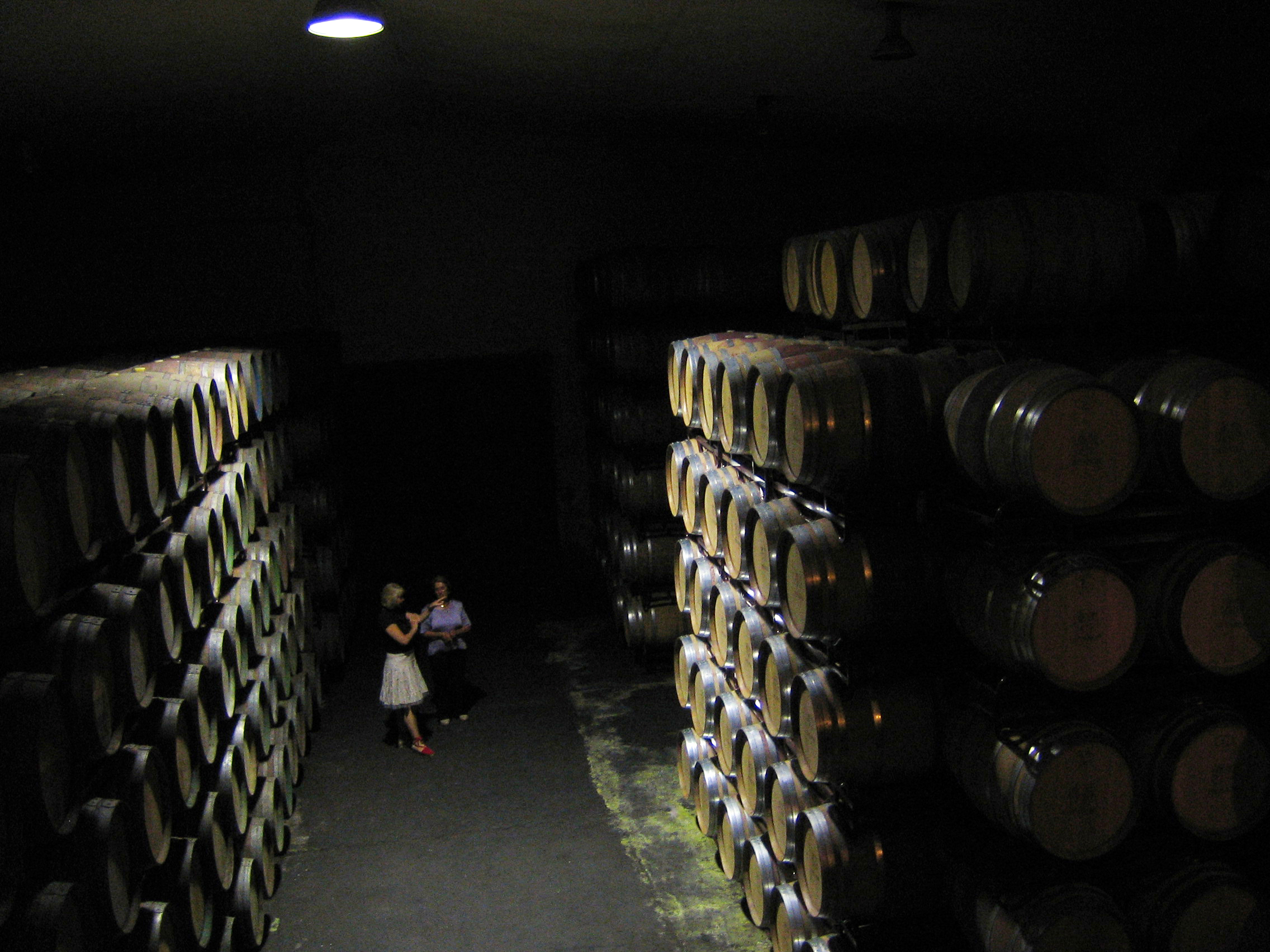 La Rioja
It was a 3.5 hour drive to Brinas, a small village north of Haro, the wine capital city of La Rioja. It was our second visit to La Rioja. This time I was going to try and get a small education in these wonderful tempranillo wines. When I was seaching for hotel accommodations a while back, I discovered the website the Hopederia Senora Brinas. This is one of the best hotel websites I've ever visited. Check it out for yourself. Here's their website. The photos make the place look like a Relais and Chateaux 5 star luxury resort in the midst of Spain's most famous wine region.
OK, so the highway was a mere 100meters from the hotel. We could live with that. And we totally understood why the horrible 1960's apartment houses that flanked either side of the old hotel never showed up in their website. They really did a great job of masking them out of the photo of the Hotel building. There was no parking. Odd for a hotel, but the manager told us we could probably park by the cemetery nearby and it would be all right. No one had recently died so there wouldn't be much need for the parking spots.
That should have been the first sign. As we entered the lobby, the hotel was a hodgepodge of bric a brac posing as antiques, including a spinet piano with candelabras growing from the harp; kind of a Liberace nightmare. Our room was clean but really hot. It was a toasty 34° C (88°F) and although there was a thermostat on the wall with instruction on how to adjust the temperature, we soon found out that the adjustment was only for the heating. Our luxury room had no air conditioning. We found this out right about the same time as the manager was telling us that the festival of the Assumption would happen in the old church square that night, culminating with the burning Toro at 12:45am (this was a local townsperson dressed in a bull costume waving torches). The burning toro sound great, but then we noticed 4 really young and very noisy children checking into the room next door to us. The noise got louder. The heat got more intense.
A few hours later, we checked into the Parador in Calahorra. The room was cool and quiet. OK, we did miss the burning Toro costume but sometimes you just have to give something up to get something else.
I've always wanted to visit a winery in La Rioja but with every other time we were in the region, they were closed or only open by special appointment. But the nice people at the Parador recommended the Bodegas Ontanon near Logrono in baja Rioja. This was another 90 minute drive through a small town; up and own the mountains, in and out of the same streets. evenutally we were asking the same people for the same directions and each time they were telling us something different. It's a spanish joke played on visiting tourists. Just as we decided to quit the search and get out of town, there was the sign that read Bodegas Ontanon. And there was a parking place right in front. The tour guide was charming, the storage cave was huge, the cave was impressive but they only way we could sample the wine was to buy a minimum of 3 bottles. Lucky for us they were selling their famous 1996 vintage. One more item to bring home to San Francisco.