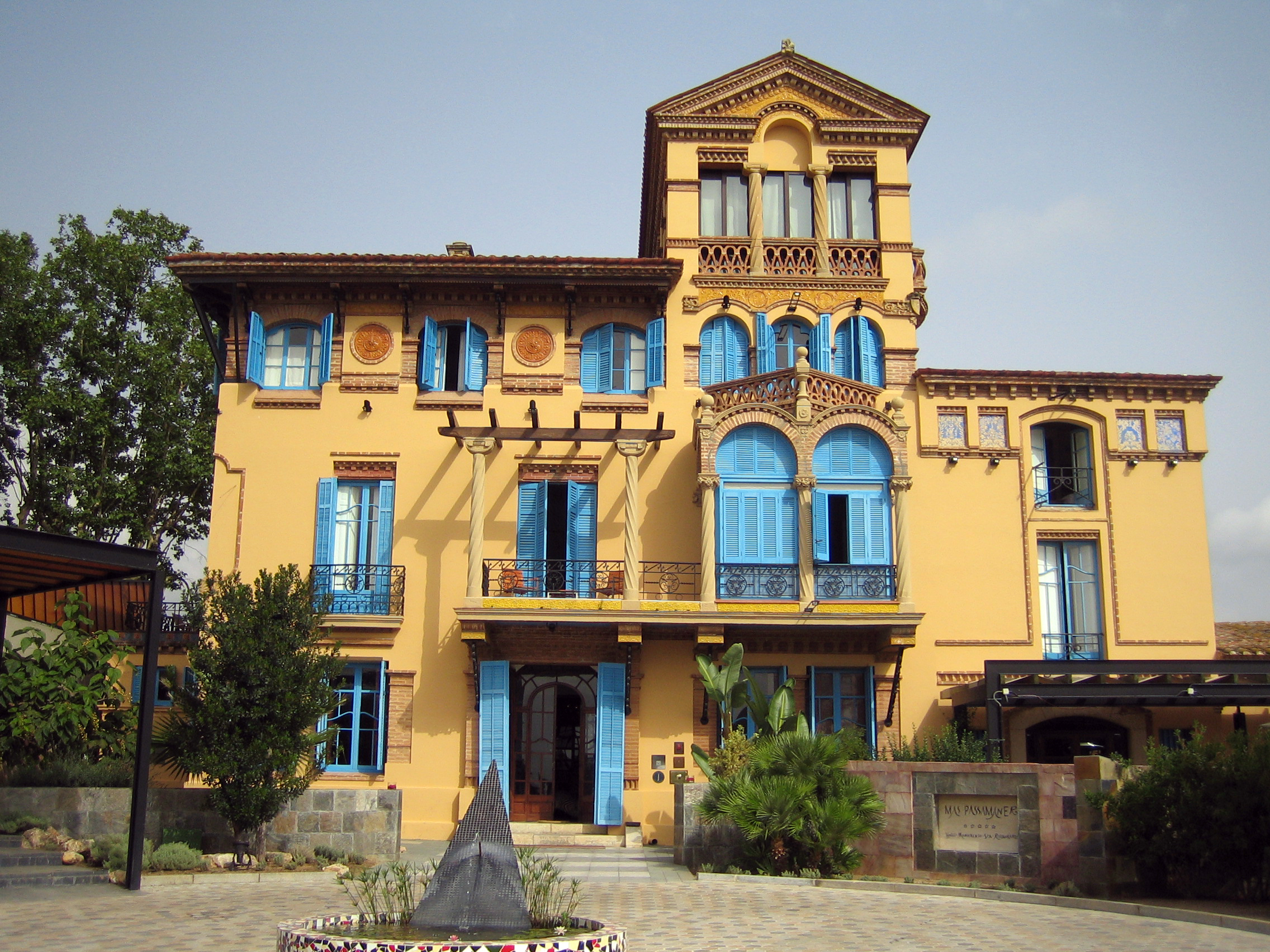 We're at a Modernista country home originally designed by Lluis Domenech I Montaner and now restored to the beautiful Mas Passamaner hotel. It's way the fuck out in the country about 25 km north of Tarragona but, with the exception of the flies, it's a good place to relax for a couple of days. Montaner is responsible for some of the most beautiful buildings in Barcelona, mostly the Palau de la Música Catalana and the Casa Fuster. This small country Villa isn't on his list of great architectural achievements but it's worthy of a visit and definiteley worthy of a reservation.
We took a day trip to Taragonna. When I lived in New Orleans, there was a fruit called an uglyfruit, a hybrid between an orange and grapefruit. It had a gnarly dense skin that was pretty ugly but the fruit inside was sweet and delicious. Tarragona is a lot like an ugly fruit.
The Romans settled in around 133 BC and there are some pretty good size ruins of an amphitheatre over looking the Mediterranean and a couple of villas. The Emperor Hadrian lived here. Pontius Pilot was born in Tarrigona.  The medieval fortress city sprung out of the roman ruins and it is still a pretty wonderful place. The ramblas nuova outside of the city walls is a beautiful avenue with stately homes and a few modernista buildings.
Then Spain decided, "hey let's really fuck up this place. Let's ruin one of the most beautiful beaches in the country by running the railroad right though it. But let's not stop there. Let's build a lot of really ugly buildings. Who cares about harmonious architecture. Let's just build lots of them and build them really fast." And so they did.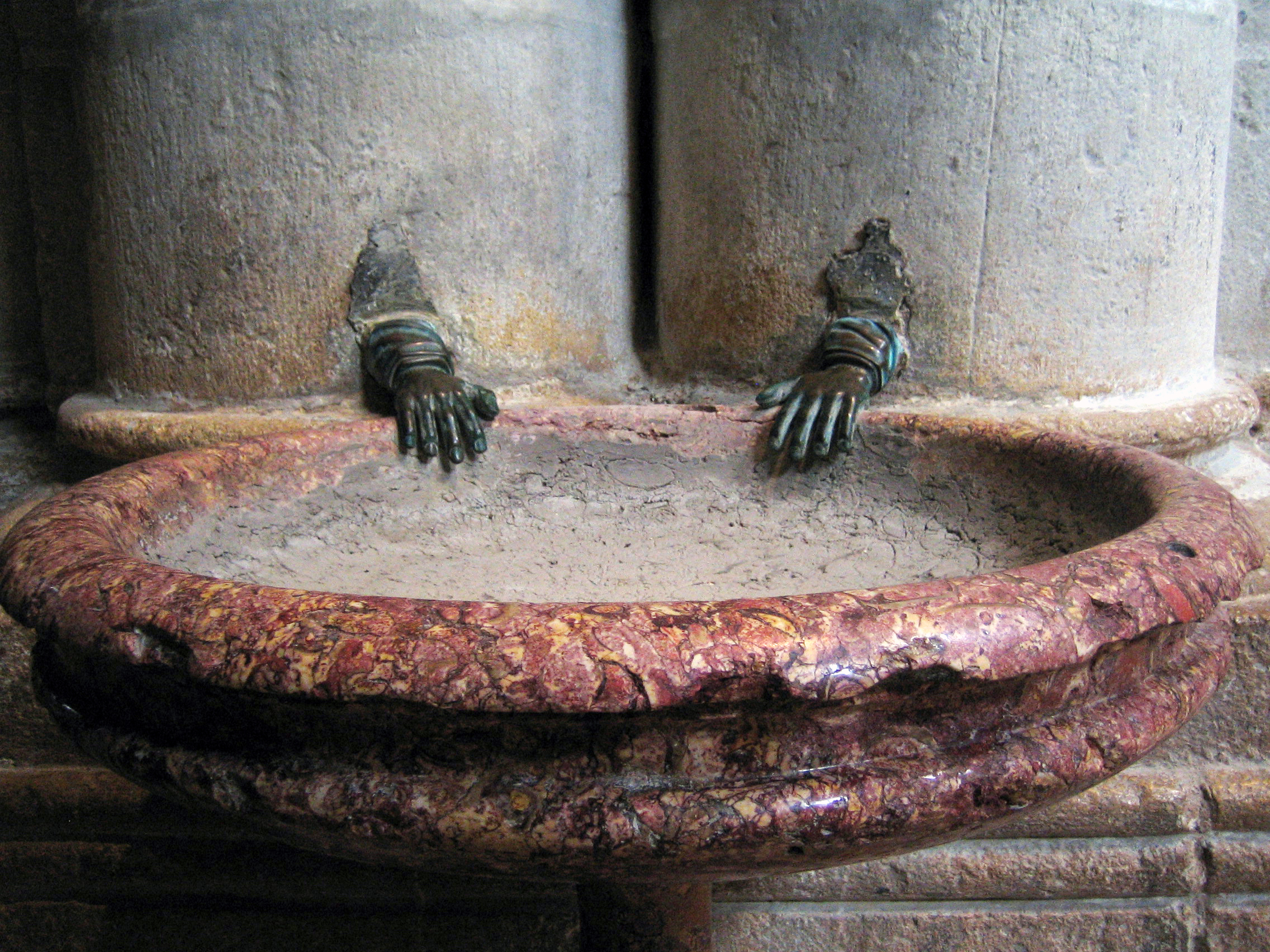 The Cathedral was built over an ancient Roman temple from the time of Tiberius. There was a Moorish Mosque here, then a Visigoth Church and in the 12th century, the foundations were laid for this grand Cathedral. Most of it was completed in the 15th century. One of favorite touches is one of the font for Holy Water. It was dry during our visit. Maybe it's not used any longer. It's a beautiful red marble connected to two tall grey granite columns with two hands extending into the font, as if they were washing themselves.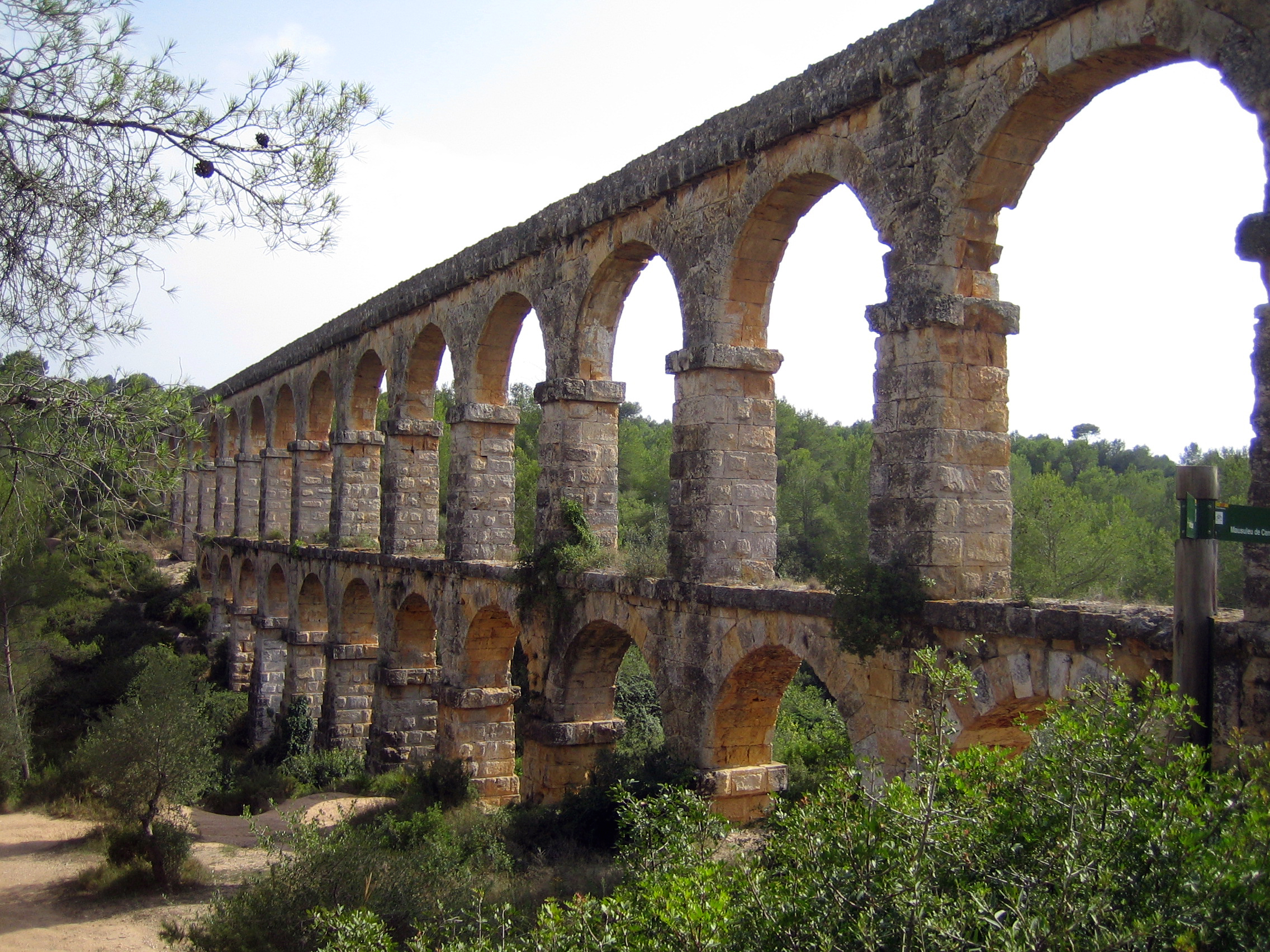 On our way out of town we stopped off to visit the Roman Aqueduct that once brought fresh water to the city. About 230 meters of it still exist and unlike other aqueducts we've seen, we were able to actually walk across this one. Brigitte Puig, our Parisian apartment caretaker told us that her family was originally from Catalan Spain and as it turned out, we were walking across an aqueduct on the property owned by the Puig family. We were sure we'd stumbled into the roots of Brigitte's family tree.
Costa Brava
This is the holiday destination for the rich and famous of Barcelona. There are lots of beautiful, small medieval villages with narrow streets filled with ceramic shops, Porsches and Maseratis. Golf courses and grand resort hotels lay out about 10 km apart. It's a beautiful landscape of farms, vineyards and rolling hills. There are small cove beaches for the intimate seaside experience or large beaches for the family adventure. By the way, why is it with these European nude beaches that the people who should be nude are wearing clothing and the ones who really should be wearing clothing are always nude?
We booked two nights at the Mas Salvi Hotel, another beautiful old farm house near Pals, the best medieval village we visited in the Costa Brava. The hotel was very much into self service, which was fine with us. Sometimes the formality of a hotel can be a bit too much.
The food was delicious but the most amazing discovery was the wines from Costa Brava. I'd known that the Cava (champagnoise style wine) came from the Catalan, but the cabernet, merlot, syrah, granache and carinia blends were fabulous. These are big, dark reds with up to 15% alcohol content. Our favorites were the Priorat. The Catalan reds are very "new world" in flavor and color, similar to California and Australia.